Help a millennial out, Seeking Alpha!
As a millennial who is reaching that point when it is time to start considering purchasing a home, I need some advice. Seeking Alpha is a community of the brightest and most prudent investors, so please help me think this decision through.
The topic of Canadian Housing has been controversial with all the discussions about Home Capital (OTCPK:HMCBF) recently and the run they had on their high interest savings deposits. Since the beginning of the year they have had their deposits withdrawn by over 90%, from 2 billion at the beginning of the year to about 100 million. For those unfamiliar with how fractional reserve banking works: not having a specific ratio of deposits hinders the ability for the institution to lend or create new mortgages. Now although the situation is not necessarily systemic, as outlined in this article, it does have a financial effect for home buyers. With less competition due to the ongoing headaches that Home Capital is going through, naturally this allows rates on loans to rise. In fact since April, rates have increased by about 150 basis points. This helps other lenders, such as MCAN Mortgage (OTCPK:MAMTF) and Equitable Group (OTC:EQGPF), with their net interest margins.
With the surging price of real estate in Canada lately, it is time to weigh the risks and rewards of investing in this hot sector. Here are 2 reasons why the Canadian housing market is nearing the end of its bull run. All dollar amounts in this article are priced in Canadian dollars.
1. Domestic (NYSE:UN) affordability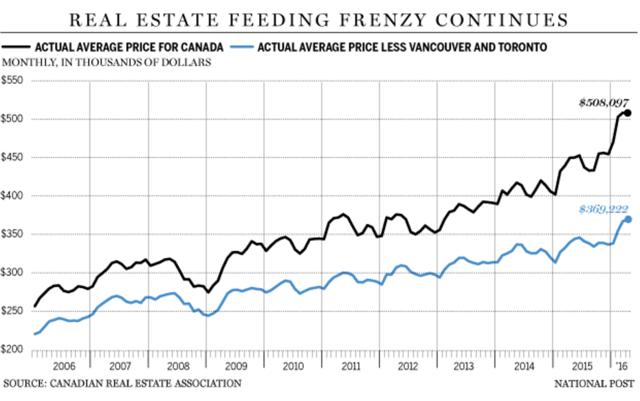 There is a rule of thumb in determining the highest priced home a family can afford: about 3 times annual income. The average annual family income in the following cities can be seen below. Each annual income is compared to the above chart to determine whether the average Canadian can afford a home based on these principles.

Based on that rule of thumb, it seems as if no Canadian can afford purchasing a new home. However we know that this rule leaves out a lot of the other economic factors, such as interest rates, the individual's current situation and other life events, so let's look at a more specific example and see what the highest price home the average Canadian millennial Jane and Joe can afford.
Interest rate: 4% fixed (assuming no change in rates for the duration of 20 years to keep it simple)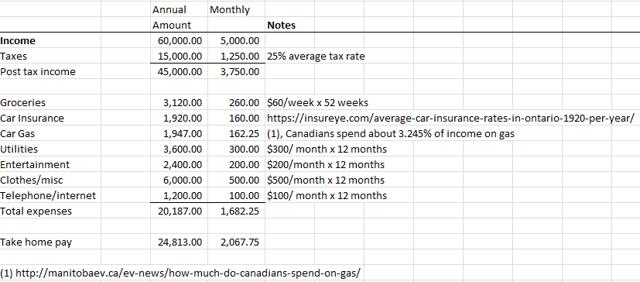 Based on this result, I can afford to put down about $2,000 a month for the house. So let's visits this handy website and see what we can afford.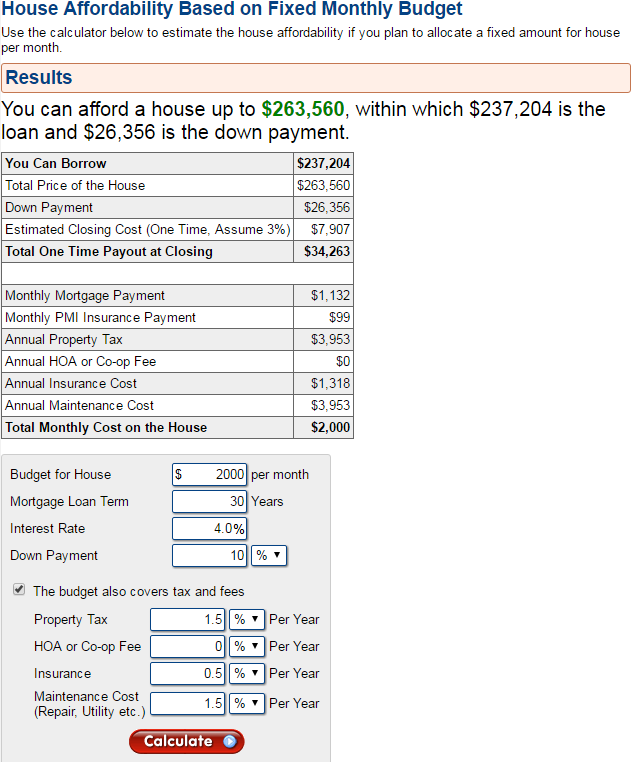 With their affordability well below both average home price metrics, it looks like Jane and Joe are just going to have to rent. Working backwards it takes about $67,200 in annual household income to afford the average home in Canada - for example, Tor and Van make about an $84,000 annual income, and can afford the average Canadian home.
Some items that I have not added to the calculation, which would make their affordability even worse, would be fluctuations in their interest rate. That would bring affordability even lower.
2. Lowered foreign demand
While domestic Canadians may not be able to afford real estate in Canada, we know that foreign rich folk certainly can. Now, although people speculate that only 5% of all home purchases are foreign buyers, let's entertain the fact that foreigners have been one of the main reasons for this continued bull run. There are a multitude of different reasons why foreigner demand has declined recently.
New foreign buyer taxes implemented that charge foreigners 15% in Ontario and Vancouver, which really did put a slow-down on growing demand. Obviously having to pay an extra 15% for something really eats into your potential investment returns when you resell the home at a different time.
Finally, with respect to foreign purchasers, the weakness of the Canadian dollar will certainly dictate how attractive the real estate market will remain. Foreign buyers are using US dollars to buy Canadian dollars to buy their real estate, and paying for repairs and maintenance. When they receive rent or look to sell they will be receiving back Canadian dollars.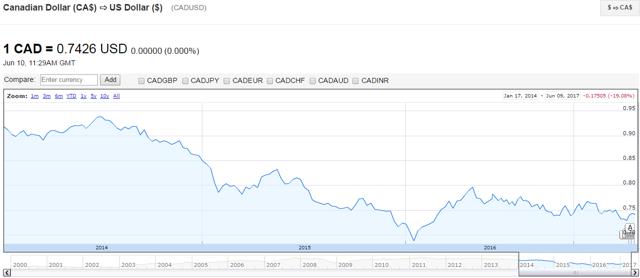 With the continued weakening of Canadian dollars, foreign investors may not be too keen on continuing to invest in assets that may produce foreign-exchange losses.
Conclusion
While many investors have made a lot of money already shorting the Canadian sub-lenders such as Home Capital Group, Equitable Bank and MCAN Mortgage, I would caution any new shorts from jumping on. Home Capital group is currently conducting settlement talks with regulators, and with their price to book at 0.47 today, it has garnered a lot of interest from private investors. With the price already coming down from the 30's, the risk is not worth the reward for me to short those companies now, even given the two reasons outlined above.
The current housing environment is priced out of my range anyway and I don't foresee the real estate market going any higher in the near future. With continued rate hikes from the Federal Reserve, which does affect all currencies and interest rates around the world, it seems unlikely that real estate prices will remain rising. For myself, I will most likely continue to rent and eat avocado toast.
Disclosure: I/we have no positions in any stocks mentioned, and no plans to initiate any positions within the next 72 hours.
I wrote this article myself, and it expresses my own opinions. I am not receiving compensation for it (other than from Seeking Alpha). I have no business relationship with any company whose stock is mentioned in this article.
Editor's Note: This article discusses one or more securities that do not trade on a major U.S. exchange. Please be aware of the risks associated with these stocks.