Weakening breadth and bellwether activity seems to be spreading. With the leading Nasdaq high flyers reversing into a serious sell-off on Friday, an important intermediate-term top may be at hand. The usual suspects including a lack of volume buying, weak industrial and retail company trading, a sell-off in financials and liquidity sensitive sectors, plus lagging transportation stocks all highlight an exhausted rising price trend that seems destined for a correction or bear market soon.
Buying Enthusiasm Has Disappeared
Believe it or not, a trend of weakening volume net buys in New York Stock Exchange-listed securities has appeared since February. Below is a chart of the daily cumulative difference plotting total volume in stocks trading higher in price vs. volume in those trading lower. You can see the non-confirmation or lack of follow-through in the buying interest of over 3,000 NYSE stocks the last four months. Compare this to the all-time highs for the 30 stocks included in the Dow Jones Industrial Average mentioned on the nightly news every evening. An old Wall Street saying is "price follows volume." If true, overall prices may find it difficult to climb in the short term.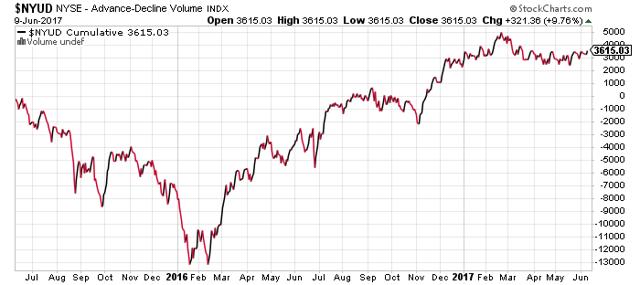 Bellwethers Are Racing Lower
I wrote a story in April about the heavy selling taking place in some of the largest industrial bellwether stocks in the U.S., companies employing millions of Americans. Below I am charting many of the same bellwethers, plus the lagging retail sector of the economy, economically sensitive areas like energy producers and real estate holdings, and liquidity mimicking tells from banking/finance to the gold miners. This list includes General Electric (NYSE:GE), General Motors (NYSE:GM), International Business Machines (NYSE:IBM), United Parcel Service (NYSE:UPS), AT&T (NYSE:T), Goldman Sachs (NYSE:GS), JPMorgan Chase (NYSE:JPM), the SPDR S&P Retail ETF (NYSEARCA:XRT), Financial Select Sector SPDR (NYSEARCA:XLF), Vanguard REIT Index ETF (NYSEARCA:VNQ), VanEck Vectors Gold Miners ETF (NYSEARCA:GDX), and SPDR S&P Oil&Gas Exploration & Production ETF (NYSEARCA:XOP). They are all experiencing various degrees of selling the last three months. As a group, this prestigious list of critical businesses often "leads" the market and economy higher or lower.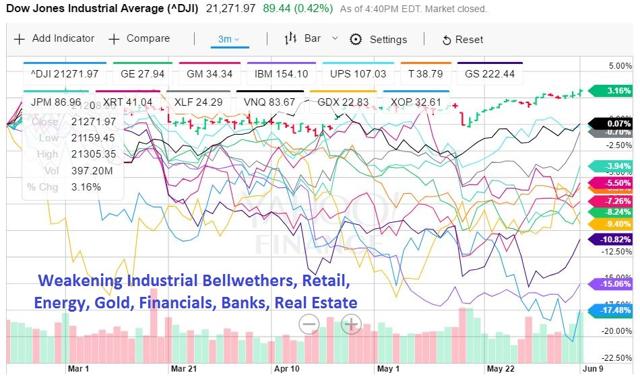 Dow Transports Not Confirming New Industrial Highs
One of the oldest market health indicators is the Dow Theory of contrasting the trading action in Dow Industrial and Transportation stocks. The basic idea is weakness or strength in the economy may show up in transportation-related stocks first. This group tends to be more cyclical and the smart money on Wall Street tries to enter this group near a market bottom or leave at a market top. Another slant is if goods are not being transported at the same rate at which they are being manufactured, the economy may be about to hit a rough spell. During healthy periods of trend activity, the two sectors move in unison. Below on the graph we can see the Dow Jones Transports peaked on March 1, 2017, and have not participated in the Industrial up move since then. Similar 3-6 month lagging action in transportation equities has occurred at a majority of meaningful turning points for U.S. stocks historically.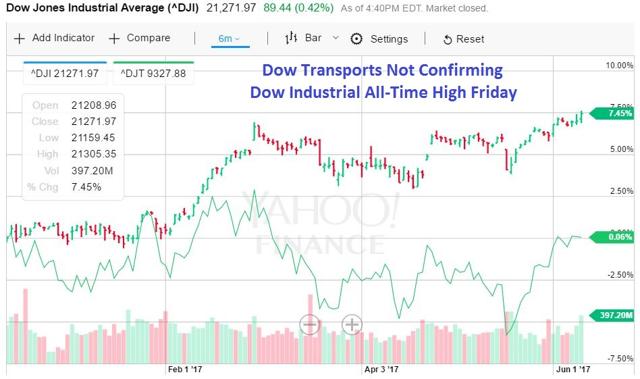 Large Sell-Off In Leading Technology And Utility Sectors Last Week
The final blow to the bullish argument may have appeared in recent days. When leading stocks and sectors roll over, and large Wall Street players start cashing in their profits, it is typically a signal that we are in the late stages of a rising short-term trend.
Without question, 2017 has been the year to own large capitalization technology companies. The Nasdaq Composite is higher by +15.3% so far this year, while the Nasdaq 100 ETF (NASDAQ:QQQ) blue chips are up +18.1% against the +7.6% price increase in the Dow Industrials. If you took out the positive contribution from high tech winners in the S&P 500, this index would be up only a few percentage points in 2017. Friday's reversal lower included the greatest selling volumes in the high-tech sector since last August's Brexit market panic. If you were to draw a classic picture of what an important turn lower in the technology sector would look like, it would look like the image seen below.
Additionally, the Dow Jones Utility Average often leads the market lower, just like the Dow Transports. This index is more focused on income investors hungry for high and regular dividend payouts. It tends to follow the bond market's health as much as the stock market, and liquidity concerns in the overall economy can show up in this index. Generally, but not always, utility stocks can gauge how worried investors are about the direction of interest rates. Rising interest rates or a weakening economy can downgrade demand for utility stocks, while falling interest rates and decent economic growth can propel utility stocks higher in price.
Problematic trading action last week in the hot 2017 technology and utility sectors, on top of lagging transportation performance, could be yet another sign that a 10% correction or even 20% bear market is drawing near.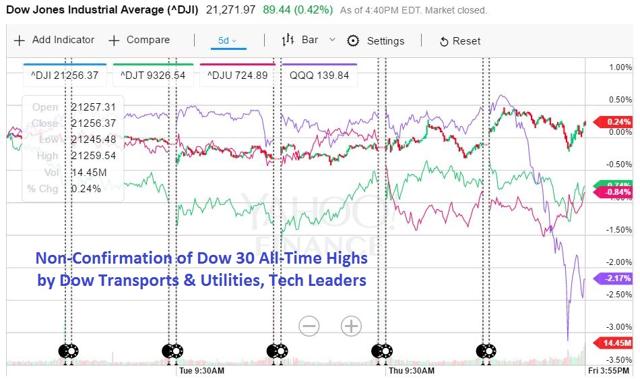 Final Thoughts
Today, important industrial, financial, utility and transportation bellwethers are heading in the wrong direction. Technology leaders may be on the verge of faltering. As an investor you can ignore these facts, or accept them and deal with it. Summer tops followed by sell-offs into the August-October time frame are a typical seasonal pattern, leading to one of the great Wall Street axioms of "Sell in May and Go Away, until November." Statistically, according to research highlighted on Investopedia:
Since 1950, the Dow Jones Industrial Average has had an average return of only 0.3% during the May-October period, compared with an average gain of 7.5% during the November-April period.
The question really is not "will" the market fall again. The question or debate we should be contemplating is whether U.S. stocks are about to enter a normal 8-10% correction (wiping out the Trump gains since the November election) or something worse involving a recession in the U.S. economy. I cannot honestly answer one way or the other. It depends on historical events yet to be written.
A war with North Korea could give us a quick 20% or 25% down move similar to that seen in the Cuban Missile Crisis of 1962, as fears of a wider conflict between the U.S. and China or Russia would gain traction. Stories and images of large death tolls would shock some consumers into cutting back spending plans. Political turmoil in Europe; economic problems in China; rising terrorism trends worldwide; trade protectionism measures originating in America; new wars in the Middle East; and a number of concerns could multiply any downturn into a 20% bear market price drop on Wall Street.
With valuations for stocks quite high after a 300% jump in the S&P 500 Index since 2009, it may not take much of a push to generate a decent correction or sell-off during the summer of 2017. Higher than normal cash holdings, plenty of direct hedges, shorting some stocks to offset your long exposure, and diversifying away from financial assets (particularly equities) may prove a sound strategy going forward for all investors.
Disclosure: I/we have no positions in any stocks mentioned, and no plans to initiate any positions within the next 72 hours.
I wrote this article myself, and it expresses my own opinions. I am not receiving compensation for it (other than from Seeking Alpha). I have no business relationship with any company whose stock is mentioned in this article.