The outlook for long term investors in UK stocks has deteriorated following the result in the UK general election, which was greeted with shock on 9th June.
The strength of the FTSE index since the Brexit vote reflects the weakened currency and the relatively buoyant UK economy. It seems impossible to maintain given the new political alignment in the UK.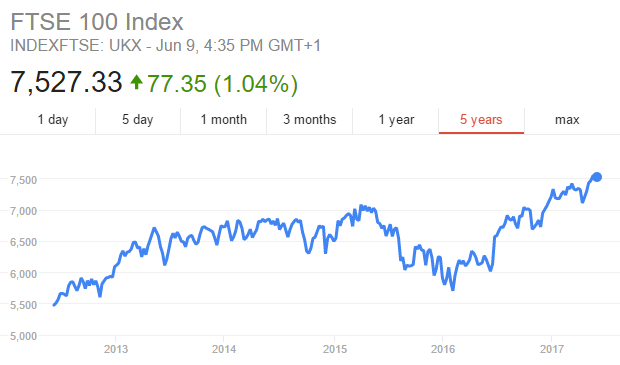 Before discussing how the politics will affect risk capital in the UK, anyone holding Lloyds bank shares (NYSE:LYG), about which I wrote positively in February, should consider an exit, with the shares trading at a similar level to when I wrote the article. There is a non-trivial possibility that the UK will have a hard-left prime minister in due course in the shape of Jeremy Corbyn.
The implications for bank stocks of this becoming a possibility can best be understood by watching this video, which was put together by Momentum, a campaign network that supports Corbyn.
UK politics in flux, but heading left with profound implications for investors
For any readers unfamiliar with these events, here is a brief summary. UK Prime Minister Theresa May called a general election eight weeks ago at a moment when her Conservative party enjoyed a more than twenty-point lead over the opposition Labour Party, which is currently led by the hard left veteran Jeremy Corbyn, a figure many have regarded as unelectable. There was talk of a 100 seat majority being achievable for May, which would have given her complete authority as the UK commenced Brexit talks with the EU. The talks are due to begin next week.
May's decision to hold the election was grounded in studies that suggested colossal support for her (and the opposite for Corbyn).
In the event, May lost 13 seats and no longer commands a working majority in the House of Commons after appearing remote and uncertain against Corbyn's surprisingly effective campaign, which was based on unadulterated 1970s tax and spend. May now leads a minority government while her shattered authority in her own party can no longer guarantee its various factions fall in when voting on government legislation. This makes a change of Conservative leader, as well as another general election, likely sooner rather than later.
With the UK economy now slowing amid high inflation and investment caution opposite Brexit, this unstable political situation is clearly unhelpful for UK risk assets in the short term. The longer term outlook appears poor as well.
To see why, read the various articles in the press from EU friendly British politicians over the weekend. Their argument runs that since May had embraced a "hard" Brexit, characterized by leaving the EU Single Market, her electoral disaster means the electorate has rejected this vision. This is a reasonable view, and is backed up by early reports that EU friendly ministers are preparing modifications to pre-election Brexit strategy.
Against this, investors must weigh the early intervention of the man who did the most to make Brexit happen, Nigel Farage, the former leader of the UK Independence Party (UKIP) who immediately threatened to come out of semi-retirement should Brexit be threatened due to this election result.
Farage is an immensely effective populist communicator who uses emotional nationalist messaging about freedom and sovereignty to offset his libertarian economic ideas, which in general would be bad news for mass UK labour. His appeal means that he threatens to take nationalist Conservative votes from the party whenever he is active in UKIP, giving members of the Conservative Eurosceptic faction outsize power opposite their party leaders.
There appears to be no way that the wounded Conservative government can escape these dynamics. The UK government faces pressure on public finances, uncertainty as to where it can sustainably (from a political perspective) increase revenue flows in a weakening economy and a resurgent Labour Party with an old school redistributionist proposition that has found purchase in a young generation of voters crippled with high tuition debts and who are shut out of the inflated UK property market. An unusually high turnout from this section of the electorate is a key reason for Corbyn's relative success in the election.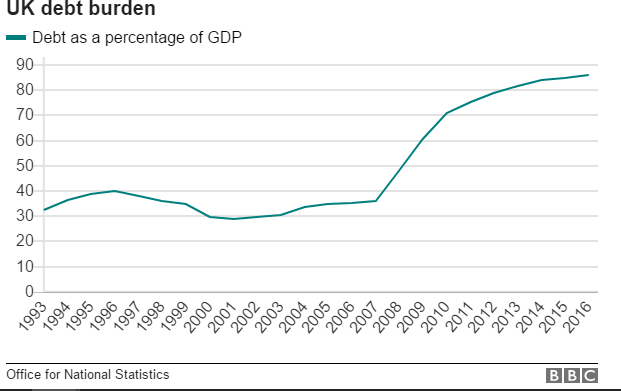 As Brexit exerts its detrimental impact on the UK economy, already showing up in weakening retail sales, more voters will be pushed into the arms of Corbyn, an avuncular figure whose appeal and messaging U.S. readers would find similar to that of Bernie Sanders.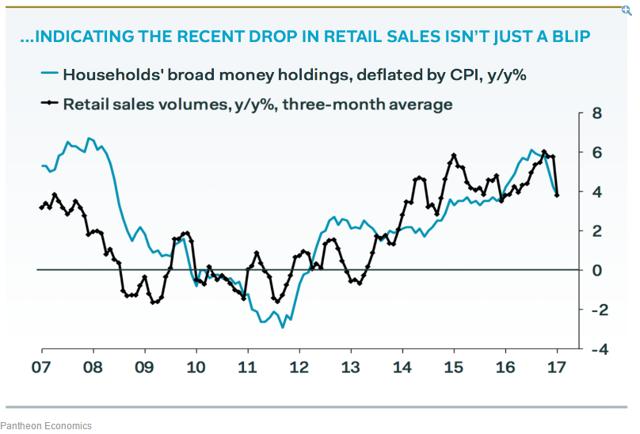 It's important for investors to realize that free market oriented backers of Brexit, who include Nigel Farage, generally envisage a less regulated, capital friendly economy than was achievable within the EU. Such a reduced regulatory regime would work for them, but not the masses of low skilled working-class voters who voted for Brexit in the hope of protectionist labour policies opposite immigration. Any of these voters not already voting Labour will do so as the privations of Brexit hit them anyway, let alone if the ending of existing wage protections come onto the Conservative legislative agenda in order to offer consolation to industry fearing the impact of Brexit and looking to shift investment and staff to the EU.
One caveat worth considering is that pro-EU Conservative and Labour MPs, who constitute a majority of both parliamentary parties, may form a new centrist party. This would have the advantage of giving an alternative to the economic nonsense talked about by Jeremy Corbyn and the nationalist nonsense stalking the Conservative Party. It would also speak to large swathes of the electorate and have a chance - if it managed to take power in an election near term - of securing a moderate Brexit "in name only". Such a party must first be formed, and then would have to gain momentum. Markets will not discount this until they see it happening.
Conclusion
Brexit necessarily poses challenges for capital flows to the UK. A weakened, minority government formed by a divided party being in charge of the process makes this worse. Throw an unreconstructed leftist such as Corbyn into the mix as "prime minister in waiting" and the capital environment for the UK starts to look extremely shaky indeed.
As this outlook sinks in, investors will consider selling sterling, and anything driven by UK domestic demand such as retailers, banks and property names. EU and US equities will get the money.
Disclosure: I/we have no positions in any stocks mentioned, and no plans to initiate any positions within the next 72 hours.
I wrote this article myself, and it expresses my own opinions. I am not receiving compensation for it (other than from Seeking Alpha). I have no business relationship with any company whose stock is mentioned in this article.