It is not too long ago that very few people wanted to touch Nvidia (NASDAQ:NVDA). It was almost universally accepted that gaming was moving away from desktops and consoles that required the cutting-edge graphics chipsets the company manufactured to more portable devices like the smartphone. Just looking at a chart of Nvidia from 2016 shows the meteoric rise of the stock. This is now quickly becoming another battleground stock, with analysts tripping over each other to up their price targets and short sellers targeting the valuation as unreasonable. So, which group is right? Or are they both right in some ways?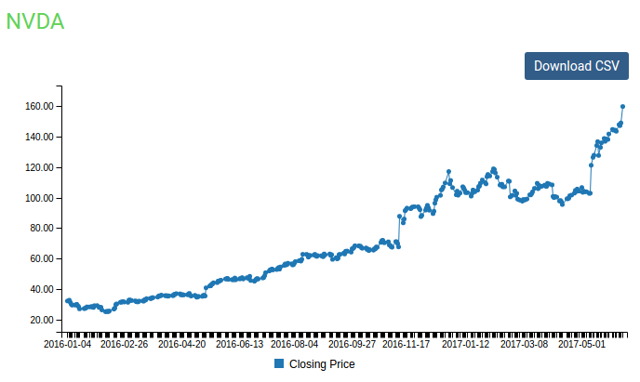 Quality at any price?
Let me first start of by saying Nvidia is one of my favourite companies in today's Technology space. I have been in and out of the stock, and most recently got out a little below $130 after getting into a small position just above $100. At the time I sold out of my position, our Momentum model had just triggered a bullish signal, but even that wasn't enough to get me to ignore the valuation question.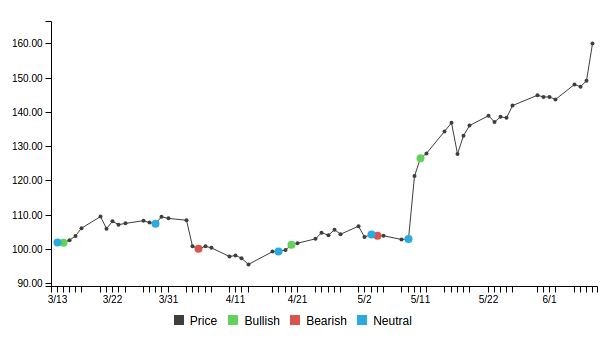 FundamentalSpeculation.IO Momentum Model
At a market cap of over $95 billion as of June 8th, you have got to start looking at the valuation and see if it can be justified. Very broadly, I consider Nvidia's potential in 3 segments:
Gaming: This has always been the company's largest segment, and after the scare of the shift from Desktop and Console gaming to simpler games on portable devices, things have started to look a little better with the advent of VR (Virtual Reality) and AR (Augmented Reality). There are still some challenges, though. VR gaming is still a very niche segment, and while there is a huge potential market for AR, there is no product on the horizon that can realize this potential at this time. I expect the revenues in this segment to decline, but on the flip side, you still get the optionality of being involved in the AR/VR segment if it ever takes off.
Deep Learning: A few years back, Nvidia made a big push to encourage people to use its GPUs for alternative applications by building the CUDA parallel computing platform. It spent a lot of effort to support and build a community on this platform. I do not believe even the company at the time could have predicted how successful this would become. The strong standard libraries and robust community support helped in making CUDA an excellent platform to build deep learning libraries, and it has, at this point, become the de facto standard. There is a lot of hype and hope about AMD providing alternatives through OpenCL, but I expect Nvidia to stay the leader at least for the next few years. The important point to remember here is that the typical client is a data scientist or researcher who does not care so much about debugging the technical details of the Neural Net infrastructure, but rather wants to use this powerful tool to build models that will provide meaningful insights in his/her domain. Not using the Nvidia stack at this point just means you are making it harder for yourself. This is the segment with the most potential and the primary reason to own the stock. As with everything in life, though, a dominant position draws competition. Alphabet (GOOG, GOOGL) recently announced its second-generation TPUs will be available on the Google Compute Engine, and given these will be able to support training as well as inference workloads, they may offer some competition to Nvidia in this space.
Automotive: The potential in the automotive segment is similar to deep learning with its application in driver-assist/self-driving systems. The only reason I break this out separately is because Nvidia has a significant head start in positioning itself as one of the leading solution providers, and based on the volume of cars sold every year, this has the potential to become a very profitable segment. There is, however, also the risk of significant competition from Intel/Mobileye (NASDAQ:INTC) and Alphabet, and I do not believe Nvidia has anything close to the moat it enjoys in research applications.
I fully expect Nvidia to deliver at the top end/exceed its guidance over the next few quarters. However, that does not mean you should chase the stock as analysts race to up their price targets. As with any industry leader, people always eventually end up overestimating its potential and discounting the competition. If we try to use a market valuation model to come up with fair values, we find that Nvidia is overvalued in every case. Whether we are looking at Sector/Industry multiples or multiples based on our proprietary clustering algorithm, we find the stock trading at a premium. Our Relative Value Model puts the Fair Value for Nvidia at $83.57.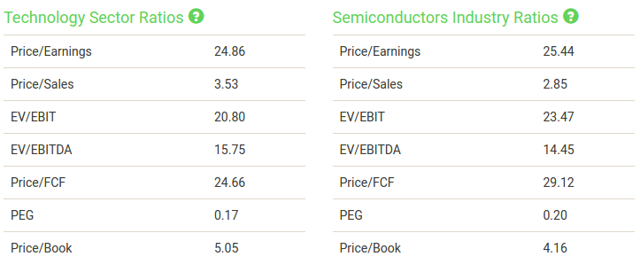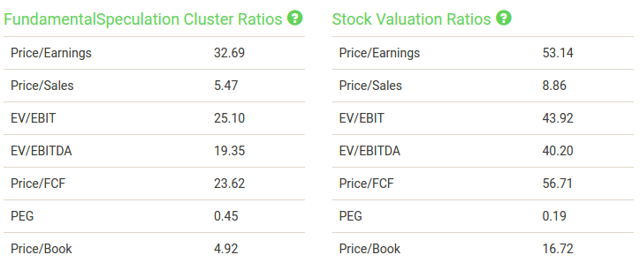 FundamentalSpeculation.IO Cluster Multiples
How do you feel about the overall market?
In the end, I believe your decision to invest in Nvidia depends on how you feel about the overall market. If you are neutral/bullish on the overall market, the stock must find a place in your portfolio. It is playing a big part in multiple secular growth stories, and I would argue should exceed market returns in the short/medium term. If, however, you have a bearish bias on the market like me, it makes it hard to hold on to such a high-flyer. If there is a market correction, you will find significantly better entry points for this stock. I would stay on the sidelines at these levels.
Disclosure: I/we have no positions in any stocks mentioned, and no plans to initiate any positions within the next 72 hours. I wrote this article myself, and it expresses my own opinions. I am not receiving compensation for it (other than from Seeking Alpha). I have no business relationship with any company whose stock is mentioned in this article.