Ted and Mary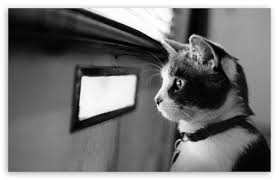 One of the most popular segments has been about Ted and Mary, who have returned to show how they are going to deal with retirement. It saddens me to hear retirees state they need a 14% return per year. Retirees need to know how to plan cash flows, build a steady portfolio, and what to expect in the future. Trying to sustain a 14% return would require an insane amount of volatility and risk. It would be a rocky portfolio which would risk significant losses. Ted and Mary, this time around, are going to get by on a Dividend Champion portfolio, Ted working a relaxing job and taking social security out early.
Skip to "Building a portfolio" if you don't care about Ted and Mary's unique situation.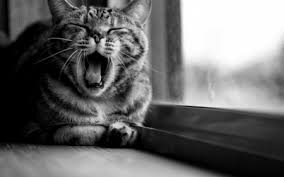 Building the plan
Ted and Mary face situations many readers may face. They aren't professional investors and weren't able to save up an enormous amount of money for retirement. Ted made a material amount of money as an accountant for car dealerships for 30 years. Mary worked her dream job for most of her life, helping run a non-profit organization. Her income wasn't nearly as much, so she is relying on spousal benefits.
Ted and Mary were both born in 1954 and are already 63 years old. It would've been nice if Ted and Mary could have waited several more years for the maximum benefit of social security, but they aren't going to be able to. The only way they could live off their retirement of $460,000 with their current lifestyle would be to search for risky investments. Both know this wouldn't be a good idea and want to go the safe route and just take social security out early instead of risking their portfolio.
Normally, taking social security would be a losing proposition. However, Ted and Mary are focused more on the next decade and are not convinced they will need to plan 30 years out. Whether retirees should take social security early depends on how long they expect to live and the relevant cost of waiting for payments. If they had significant amounts of credit card debt, it would make more sense to take social security early. Regardless, Ted and Mary decided filing for social security benefits immediately was the right choice for them.
The couple have five ways they've decided to bring in cash or cut expenses:
Mary has spent a lot of time reading on Seeking Alpha and has decided that her favorite way to invest is in companies which have a long track record of raising their dividends. Mary gave Ted all her research, and he also agreed that dividend investing is the best route to take. If they are able to live off the dividends and keep the rest invested for another decade or two, then they will be in good shape.
Ted worked a great job for 30 years as an accountant, but the stress of working 50-hour weeks has caught up to him. He has decided to take a relaxing job and drive a shuttle for a hospital at $15 an hour. He enjoys driving around and conversing with all the hospital staff and really enjoys his job. Ted plans to only work 20 hours a week to stay below the earnings threshold for reduced social security payments. You can read more about that here.
Ted and Mary have decided to take out social security early so they won't need to tap into their retirement or choose investments which are too risky and may land them in a horrible situation.
Mary's father, whom she learned from, was a very successful carpenter. She wants to stay home and do repairs around the house to save money.
The couple moved to Colorado Springs after Ted retired as an accountant and loved the area. Instead of going on expensive vacations, they've decided to make sure they have good transportation to travel around the state. They both love the outdoors and would rather spend a day photographing nature, hiking, fishing, swimming, etc. As a result, vacations should only cost gas, travel supplies, and Ted taking time off from work. Luckily, most of the places they love to visit are within a 2-hour drive, so Ted doesn't have to take a lot of time off work, if any.
Ted and Mary's current life
Ted retired at 60 and Mary retired at 55. They both wanted to move somewhere with a lot of sun and mountains and a relatively low cost of living. They ended up moving to Colorado Springs, as it fit all these criteria. Mary started trying to figure out how to make money online at 62. During her research, a friend suggested she learn more about investing by reading on Seeking Alpha. Most ploys to make money online are nothing more than a way to waste time. Unfortunately, many retirees want to make money online and end up infecting their computers with malware.
Following her friend's advice, Mary became an avid reader of Seeking Alpha. Most evenings, she would browse the site to learn about Dividend Champions. She could stay up to date on what happened in the stock market today, but her goal was investing for the long-term with high dividend yields.
The couple wanted a single story house after they retired and ended up buying a very affordable house in a nice neighborhood. They had the benefit of spending a year looking for a good deal in Colorado Springs.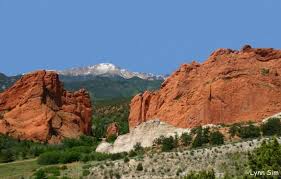 Building a portfolio
Because Ted and Mary agree on the importance of dividend investing, they have worked together to build a portfolio with several of their favorite dividend payers. Many of these companies are Dividend Champions, which means they have a record of raising dividends every year for at least 25 years.
Equal-weighting
Given Ted and Mary's relatively short time span for learning about investing, they have decided to stick with a very simple weighting strategy. Therefore, the portfolio will have equal weights across each company.
You can see the stocks they selected below:
| | | | |
| --- | --- | --- | --- |
| Ticker | Name | Allocation | Div. Yield |
| | Northwest Natural Gas Company | 3.45% | 3.02% |
| | Procter & Gamble Company (The) | 3.45% | 3.13% |
| | Emerson Electric Company | 3.45% | 3.16% |
| | 3M Company | 3.45% | 2.27% |
| | Vectren Corporation | 3.45% | 2.75% |
| | Cincinnati Financial Corporation | 3.45% | 2.79% |
| | Coca-Cola Company (The) | 3.45% | 3.27% |
| | Johnson & Johnson | 3.45% | 2.55% |
| | California Water Service Group | 3.45% | 1.92% |
| | Target Corporation | 3.45% | 4.22% |
| | Stanley Black & Decker, Inc. | 3.45% | 1.66% |
| | Altria Group, Inc. | 3.45% | 3.23% |
| | Sysco Corporation | 3.45% | 2.39% |
| | Black Hills Corporation | 3.45% | 2.59% |
| | Universal Corporation | 3.45% | 3.23% |
| | Wal-Mart Stores, Inc. | 3.45% | 2.57% |
| | Pepsi, Inc. | 3.45% | 2.78% |
| | Exxon Mobil Corporation | 3.45% | 3.75% |
| | McDonald's Corporation | 3.45% | 2.48% |
| | National Retail Properties | 3.45% | 4.81% |
| | Realty Income Corporation | 3.45% | 4.57% |
| | Lowe's Companies, Inc. | 3.45% | 2.09% |
| | Kimberly-Clark Corporation | 3.45% | 3.01% |
| | Consolidated Edison, Inc. | 3.45% | 3.32% |
| | AT&T Inc. | 3.45% | 5.05% |
| | T. Rowe Price Group, Inc. | 3.45% | 3.11% |
| | Chevron Corporation | 3.45% | 4.06% |
| | Philip Morris International Inc. | 3.45% | 3.46% |
| | Verizon Communications Inc. | 3.45% | 4.94% |
Why do Ted and Mary like these holdings?
Mary wanted PG because of its varied product lines. She also knows you can find the company's products selling every day at major retailers. She also liked 3M because you can literally look around the room you're sitting in and chances are there are supplies within arm's length that came from the company.
Ted wanted Johnson & Johnson because it's been one of the most consistent among dividend investors for years and he figured it had to be a great choice.
Mary realized KO was smart enough to take a significant stake in Monster Beverage (NASDAQ:MNST). The company gave MNST a major enhancement by sharing its expertise in handling distribution. Because of Coke's investment in Monster, both companies are better off than they were before. Monster should see growth in sales relative to their trajectory before Coke's involvement. If there is one thing KO and PEP know, it is how to effectively build brands. Mary also liked Pepsi because the company offers a growing portfolio of healthier snacks - well, maybe not healthy, but less bad.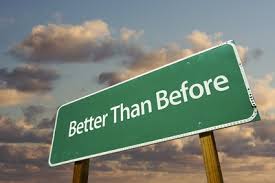 Ted wanted Exxon Mobil and Chevron because of their great dividend history and being in a strong industry. Oil prices have been under significant pressure, but the incentive to ramp up production isn't there with cheap oil already on the table.
Cash flow
Ted and Mary are planning on receiving $1,700 a month from social security for an annual value of $20,400. Ted's job is adding in approximately $15,000 per year, and the dividend portfolio is producing $15,144.60.
I put together the following table to make it easier to visualize all of the cash flows and which companies they are coming from: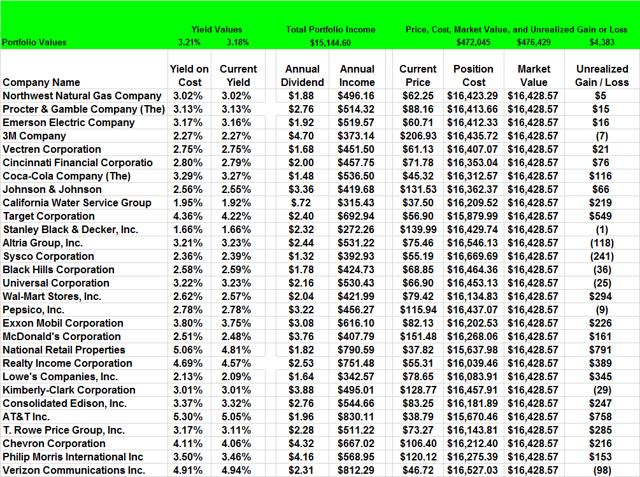 That gives them a combined $50,544.60 per year in pre-tax income. Because qualified dividends are treated favorably for taxes, the portfolio income will not take any major hit.
Expense planning
In Colorado Springs, $40,000 per year is more than enough for two people to live comfortably if they have no rent or mortgage payment. Until filing for Medicare, they will receive health insurance through Ted's job. The plan they have selected will reduce their income by $600 per month, or $7,200 per year.
Margin for safety
The margin within this portfolio is relatively low. Income is exceeding expenses by only a few thousand dollars per year after taxes. To avoid a liquidity crisis, Ted and Mary are putting the extra income into a savings account each year.
If either Ted or Mary need long-term care in a nursing home, it will probably break the bank. Even if they had saved significantly more money, they still might not be able to afford a nursing home. The annual cost for nursing home care borders on insanity.
End of Story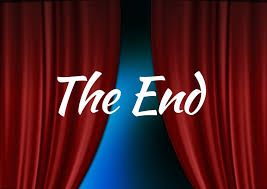 It is now 10 years in the future, Ted and Mary are doing great. Over the last decade for Ted and Mary, the next decade for us, they witnessed another significant recession. The student loan bubble came back to bite the economy. It turns out, massive amounts of debt, especially those that are not discharged in bankruptcy, are not the basis for a prolonged economic expansion. Because Ted and Mary had enough income each year without selling off part of the portfolio, they were able to ride out the storm.
Want SMS alerts when I find an actionable opportunity? They are a free service for subscribers to The Mortgage REIT Forum. This is your opportunity to lock in prices at $330 per year before the next price increase on July 1st, 2017. For the next few days, I'm offering free trials. On the sign-up page, you can see why I love the preferred shares so much. These preferred shares are offering high yields and dramatically lower volatility than investing in the common shares.
Disclosure: I am/we are long MO, WMT, TGT, PM, FSIVX, FSITX, BMNM, WPG, ANH-C, GBLIL, CYS-B, CMO-E, ARI-A, CBL-D.
I wrote this article myself, and it expresses my own opinions. I am not receiving compensation for it (other than from Seeking Alpha). I have no business relationship with any company whose stock is mentioned in this article.
Additional disclosure: No financial advice. Investors are expected to do their own due diligence and consult with a professional who knows their objectives and constraints. CWMF actively trades in preferred shares and may buy or sell anything in the sector without prior notice. Tipranks: No ratings in this article.