CVS Health (NYSE:CVS) continues to trade down towards multi-year lows as weak earnings and fears of Amazon (NASDAQ:AMZN) entering the pharmacy space have weighed on the stock. The company though is raking in billions in free cash flow and returning that cash to shareholders, making the stock appealing on several metrics.
CVS Health now trades below $80, valuing the stock at about 12x forward EPS estimates. Is Amazon really a big enough threat to avoid CVS Health at this price?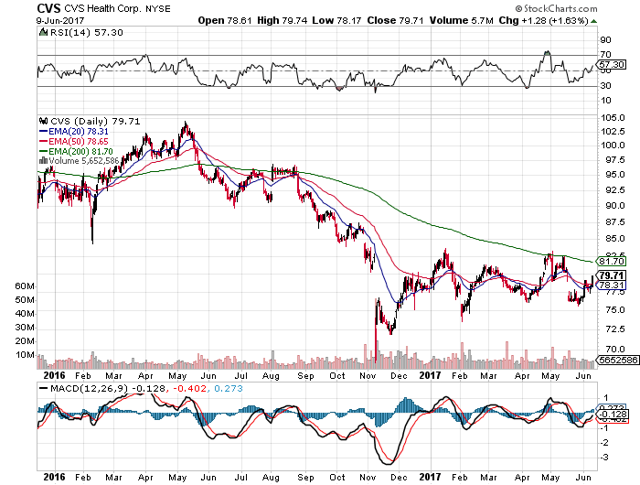 Cheap Value
First and foremost, CVS is a cheap stock based on traditional financial metrics. The drugstore chain dropped a bomb on investors earlier this year by lowering profit expectations due to lost business, but the company has mostly overcome those issues and headed back onto a path of returning to growth.
In the process, CVS is using the dip in the stock to repurchase shares at a fast clip. Via the use of an accelerated stock repurchase plan during Q1, the company bought $3.6 billion worth of shares at a price of $78.74 per share.
With an annual $2 dividend, CVS has a solid 2.5% dividend yield and a total net payout yield (combination of dividend yield and net stock buyback yield) of 9.7%, rivaling one of the largest in the market.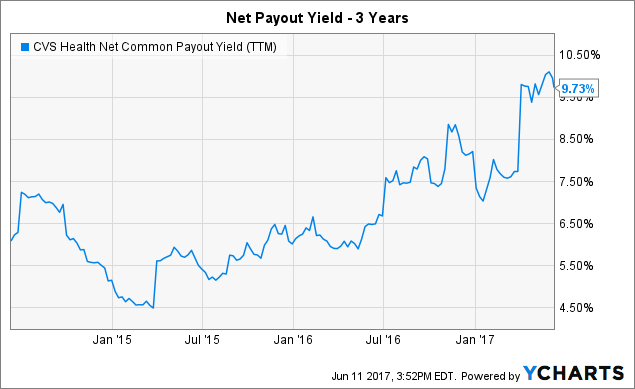 CVS Net Common Payout Yield (TTM) data by YCharts
Amazon Threat
The biggest issue for CVS is the sudden threat of Amazon entering the pharmacy sector. The company reportedly hired a general manager to explore the concept and, at the very least, set up an internal pharmacy benefits plan for employees.
The views on the Amazon threat are not surprisingly mixed. Some see the e-commerce giant as a threat due to the delivery capabilities or telemedicine possibilities while others make compelling arguments that the current process isn't in need of disruption outside of pricing.
Mail order deliveries have taken place for decades now, and most pharmacies are conveniently located near consumers or co-located at the place of medical service. The efficiencies in the system may be difficult to solve if Amazon isn't a part of the current chain of medical services.
Unlike a book where the purchase is based almost entirely on cost and convenience, prescriptions are based first and foremost on health and safety concerns with costs a secondary and sometimes after the fact concern. Not to mention, the company typically provided expanded book options not always available in physical stores that aren't present with drugs.
The Conversation makes a compelling case that the biggest problem facing Amazon is the move from a customer focus to a patient focus. Medication-related issues account for thousands of deaths per year, and data suggests the effects are due to a lack of communication between physicians, nurses, and pharmacists.
The amazing part is the studies showing that direct engagement and drug counseling with a pharmacist improved patient adherence to medication while mail order drugs typically were far less used. Local pharmacies only showed 17% of the time where the prescription bottle hadn't been used compared to 39% with mail order.
Still, Amazon could change the equation with telemedicine. The tech giant could utilize Amazon Web Services to disrupt the current method of medical delivery. The argument by The Health Care Blog is that the company can integrate the process of ordering drugs with the virtual visit though dispensing the prescriptions outside of the normal local pharmacy of the patient adds extra risk.
The suggestion is that underserved markets would provide an opportunity for entering the pharmacy market; yet, these locations are where the local pharmacy would provide a more convenient drug delivery option over what would be a two-day delivery from Amazon in these more rural locations.
The argument for some of the technology integrations could well help with the above problems surrounding patients not using prescriptions, though again the ones struggling the most are probably not ones willing and able to interact with a voice assistant like Alexa. Unlike with a book, Amazon is going to have a hard time breaking into the pharmacy market where necessity has already made access to drugs more efficient.
Takeaway
The key investor takeaway is that Amazon always remains a threat to any industry the e-commerce giant enters. Due to regulatory issues and the biggest argument of not wanting the added risk of turning customers into patients, a move to become a pharmacy provider appears doubtful for now.
CVS is an appealing stock with one eye on this key competitor. The drugstore chain needs to work relentlessly on curbside and delivery initiatives to make sure Amazon doesn't have an entry into improving the access to drugs, but for now, the e-commerce giant has a long way before becoming a major threat to a CVS shareholder.
Disclosure: I/we have no positions in any stocks mentioned, but may initiate a long position in CVS over the next 72 hours.
I wrote this article myself, and it expresses my own opinions. I am not receiving compensation for it (other than from Seeking Alpha). I have no business relationship with any company whose stock is mentioned in this article.
Additional disclosure: The information contained herein is for informational purposes only. Nothing in this article should be taken as a solicitation to purchase or sell securities. Before buying or selling any stock you should do your own research and reach your own conclusion or consult a financial advisor. Investing includes risks, including loss of principal.