Subscribers to "Retirement: One Dividend At A Time" got an early look at this material and receive instant text message trade alerts which often produce lower entry price points and higher yield and income.
How Can We Harden Our Portfolio Fortress?
Continuing to hit new record highs, investors are growing nervous again. Reaching the heights means we can't be too far away from the next crash, or at least the beginnings of one, right?
Not really. If an investor had adopted this attitude after the last crash, when the market first recovered its way back to 2007 highs, they would have bailed and missed out on the last several years of excellent gains.
2007 high to new recovery high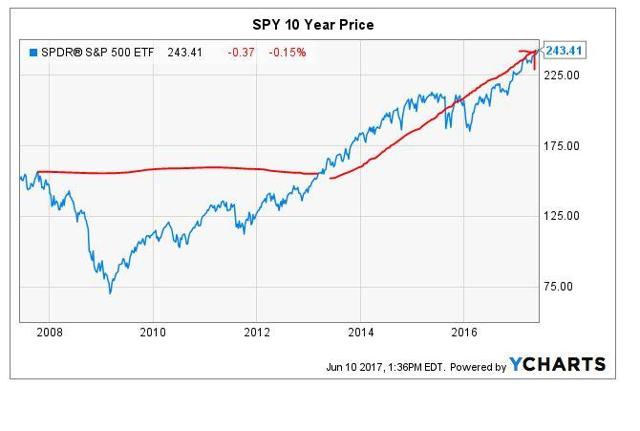 The above chart of the SPDR S&P 500 ETF (NYSEARCA:SPY) informs us that after hitting a high of about 150 in 2007, it took a nosedive during the financial crisis to the 70 level, losing more than half its value.
By the fall of 2013, this ETF, representing a broad index of the largest companies in the S&P 500 index, had recovered to its 2007 high. Follow the red line with the arrow at the end and you'll see that approximately four years since recovering the former high, this ETF has continued to make new market highs with very few corrections along the way.
Closing above 243 this past Friday puts the market 55% above its former high, first reached in 2007, which was recovered in 2013. Those who simply held their positions through the debacle are 55% richer today for their stubborn belief in the recovery powers of our stock markets. Those who bought more shares at the bottom of the debacle in March 2009 have seen even greater wealth accumulation in their portfolios.
Rising from 70 to 243, those investors who let history be their guide and stepped up to the plate in March 2009 have seen their large cap portfolios more than triple in value; they enjoyed 247% growth of their wealth.
Let's examine some solutions to the dilemmas we all face.
1. Buy And Hold
So, one way to steel yourself emotionally against the next crash is to look at several charts like this. You can fortify your portfolio by filling it up with high quality companies that have shown resilience through all market cycles. Once constructed and bought, just hold.
2. Educate yourself
Become educated by examining many charts throughout history. Come to the realization that the market goes up much more often than it goes down. Understand that the key is making a plan and sticking to it for long periods of time. Seeking Alpha users have free access to all the charts they may desire at Ycharts.com. Make use of them in your research.
3. Diversify, Diversify, Diversify
I can't even count the number of times commenters on articles accuse me of being a chicken, or not having enough conviction to place larger bets on just a few concentrated positions. I take these attacks as a badge of honor. I remember well the early days of investing when I was just a youth and thought swinging for the home runs with one or two names was the fast track to instant wealth. I learned at the school of hard knocks that an approach opposite to this was required. Luckily, huge percentage losses in those days didn't amount to many dollars. So my lessons came cheap, fortunately, and have lasted a lifetime.
Remember, you don't always have to be right. The few stocks that turn out to be lemons will be easily overshadowed by the enormous capital gains you'll achieve by the great majority of your stocks over long periods of time. It's just another way of saying that time heals all wounds.
4. Worried you'll retire just when the market has crashed?
Sock away two to five years of cash to satisfy your spending needs. When the next crash arrives, look at it square in the face and laugh at it. Reassure yourself that you don't need to sell any of your shares at ridiculously low valuations simply because other investors are dumping their shares in panic mode. Draw on your cash reserve for your spending, knowing full well that - from the charts you've studied from suggestion #2 - your portfolio value will recover and go on to hit new highs, just as the markets have done for decade upon decade. Once your portfolio value recovers to its past high, congratulate yourself for not turning tail and running away.
5. Fortify Your Portfolio With Consumer Staples And Utilities
Though consumer staples and utility stocks will take it on the chin in a crash, they usually fall less so. This is because smart investors understand that such stocks sell products and services that will be consumed, no matter the economic cycle.
New moms and dads will continue to demand the diapers produced by Procter & Gamble (NYSE:PG) whether it's a recession or not, crash or not. Unless our bodily functions suddenly change, folks will continue to need the facial and toilet tissue made by Kimberly-Clark Corp. (NYSE:KMB) without regard to whether the Dow is up or down. Telcos like AT&T (NYSE:T), Verizon (NYSE:VZ), and CenturyLink (NYSE:CTL) will always be selling their communication, internet, entertainment and data services to consumers as well as businesses. People will not go back to the Stone Age. They'll continue to use electricity from the likes of Con Edison (NYSE:ED), Duke Energy (NYSE:DUK), WEC Energy Group (NYSE:WEC) and Southern Company (NYSE:SO).
6. Fortify And Protect Your Dividend Stream
If you're primarily an income investor like me, you may have constructed a portfolio with some of the equities just featured above, or others that are similar. Most of these are constituents of the Fill-The-Gap Portfolio. Most have rock-solid histories and reputations for sharing some of the earnings with their shareholder base.
If you stock your portfolio with some of these stalwarts, there is less of a chance that they will freeze, cut or eliminate the dividend, which would negatively impact your income stream.
To take one example, AT&T has continued to increase its dividend for decades, oblivious to market crashes.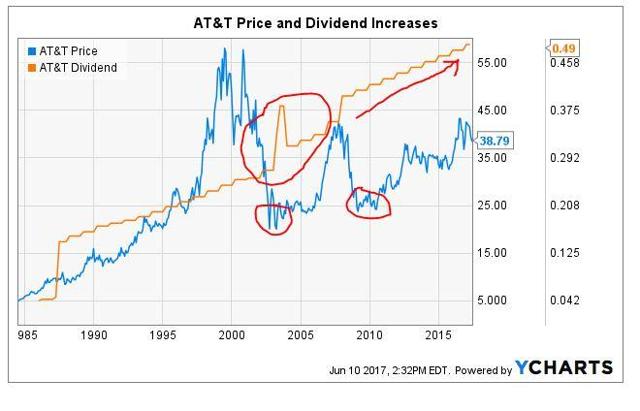 Going back more than 32 years, notice how dividend increases are unrelated to the price that investors are paying, notably during times of stress. While the stock price of T fell in concert with the market in the dot.com crash of 2001, the company continued to increase the dividend. Note, too, that during the financial crisis of 2008-2009, AT&T persisted in raising the dividend. Dividend Aristocrats are noted for this.
In fact, it is what distinguishes companies like T from others. Of course, it is impossible to predict if these companies will be able to do so ad infinitum (some have fallen out of the club over the years), but choosing stalwarts with similar dividend histories can increase the probability that your portfolio will continue to coin money for you, no matter the economic winds blowing outside your door.
Study historical charts like this and burn them into your memory. When the next crash comes, take comfort in what you've learned from them and know that your income has a good chance of not only being preserved, but also of growing for you.
7. Mitigating Risk To Total Portfolio Income Failure
You can guard against a disaster befalling your dividend income by equally weighting your stocks for balanced income. What's this?
This simple concept will guard your portfolio from certain income destruction that might befall the concentrated investor with just one stock. Imagine you own just one stock, say Microsoft Corp. (NASDAQ:MSFT) and one of the reasons you bought it is because you felt this tech giant was firmly established and you could count on its $1.56 annual dividend in perpetuity (at least as long as your retirement lasted till you bid the world farewell). You decided the 2.15% dividend yield was sufficient, in combination with your Social Security benefit, to pay all your bills in retirement.
Well one day, for one or a host of reasons, smaller competitors begin to nip at MSFT's heels, taking business and profits away. You had bought 10,000 shares with all your investable cash, paying around $700,000 for your stake, and you had counted on the $15,050 in dividend income to fill the gap between your Social Security benefit and your spending needs. You have nothing else in your portfolio buy Microsoft. One day, you open the paper, or read on your tablet/computer that Microsoft has experienced a big hit to earnings due to this new competition.
Being a responsible corporate citizen, MSFT does what it has to do to protect the company from failing and they decide to cut the dividend in half. Now, all of a sudden, that dividend income you were counting on has been reduced to just $7525 annually. In one fell swoop, you have to decide whether to move to a cheaper location, sell the house to take the equity out of it, reduce or eliminate necessary medications, cut back on vacations to visit the kids and grandkids, or, heaven forbid, eat less, or smaller portions just to survive this calamity. Of course, if MSFT eliminated the dividend in its entirety, you'd be facing a disaster I like to call "total income failure."
The simple way to guard against such a total failure is to buy stocks in such a way that each position generates essentially equal amounts of income. If you own 50 stocks and each one represents just 2% of portfolio income, the worst scenario is a 2% temporary reduction to portfolio income if a company eliminated the dividend entirely.
If two companies do this, you'll temporarily suffer a 4% reduction to income. Why only temporary? Because even with the reduction in stock value that normally accompanies a cut, you'll be able to sell your shares and redeploy that cash into another name with better prospects for paying a reliable dividend. In some instances, you might even wind up with higher income than before if you're able to replace those MSFT shares with a higher yielding name, like AT&T that yields close to 5% today. Because the yield is 2 ½ times greater than that of MSFT, you can see that it may not be that hard to replace your former income.
Strategy Session: Why Iron Mountain?
I thought it apropos for this article to use the image of an iron mountain to symbolize ways we can conceive of to harden our fall-out shelters, so to speak against the ravages that a crash can visit upon our portfolios. Just imagine a mountain built of iron, impenetrable to all conceivable forces arrayed against it and its contents. All inhabitants and contents completely protected against the elements, fortified against attacks by any and all outside forces.
This pretty well describes the business operation of a company we recently added to the Fill-The-Gap Portfolio. Yep, you guessed it. The company is Iron Mountain Corp. (NYSE:IRM).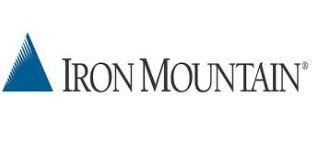 Company Overview
Iron Mountain Incorporated is the global leader for storage and information management solutions. Through their network of more than 85 million square feet of space in 1,400 facilities across 46 countries, they help their diversified customer base reduce costs and mitigate risks associated with protection and storage of their information assets. The financial model is based on the recurring nature of the revenues. The predictability of this non-cyclical revenue stream and the resulting strong free cash flow allow IRM to support high-return investments and attractive stockholder returns.
The company shreds businesses' sensitive paper. IRM protects, stores and recovers their clients' data. They cut their clients' costs by securely storing their records for them.
IRM converts paper documents to electronic documents, bringing companies into the digital age and allowing their clients to sort and data-mine their collected information more efficiently. This REIT provides a service that is in ever-growing demand as more and more of the world's economy is driven by digital records and data.
Some of their facilities are truly built into fortified mountains.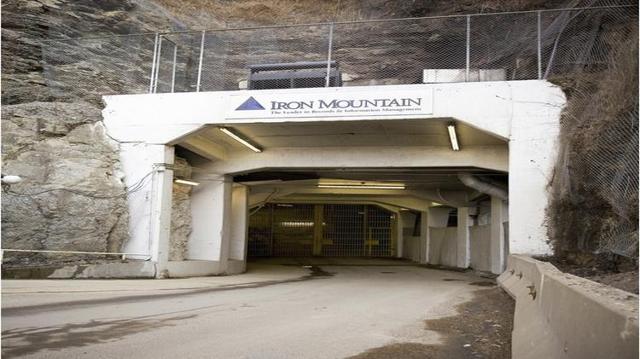 It is instructive to take a long-term view of this company.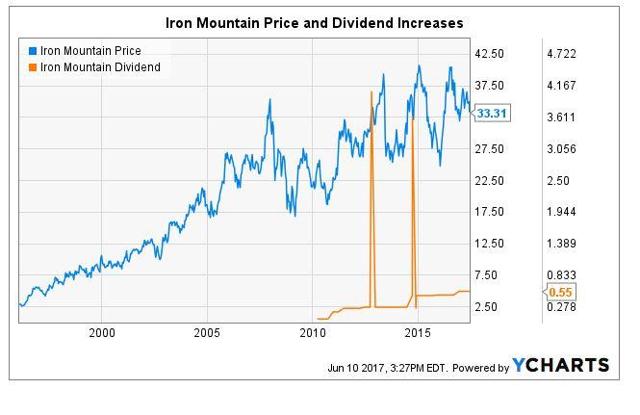 Every time IRM has suffered a dip of any consequence in its price (blue line), it has not been long before recovery has brought the share value back to previous highs then goes on to set new highs. Since 2010, the company has paid out a dividend (orange line) that has continued to grow, with several large special, extra dividends paid along the way, indicated by the orange spikes. In the intervening 6 1/2 years, the quarterly dividend has doubled, from $.27 to $.55 today.
We have had IRM on our watch list for some time. From its 52-week high of $41.50, we watched it sell off for several months and decided that risks and rewards came into balance at a price of $33.10 at a 20% discount, where we bought 200 shares for the FTG Portfolio. This new purchase added $440.00 to our annual income. Because we were patient, we obtained a yield of 6.65% on these shares, compared to the much smaller yield obtained by earlier investors, last year, who paid $41.50 for their shares. They obtained a yield of just 4.67% on the then smaller dividend of $1.94 per share.
Waiting for a better entry point brought us 42.4% more income:
6.65% - 4.67% = 1.98%
1.98% / 4.67% = 42.4% more income
Average Dividend Yield
IRM's average dividend yield for the past 4 years is 5.2%. Getting our entry position at a yield of 6.65% gives us a margin of safety as we generate almost 30% more income from this position than the historical average.
Dividend Growth
The company, in December 2016, increased the dividend from $.485 quarterly to the current rate of $.55 quarterly, for a solid increase of 13.4%. The board has made a powerful statement of dividend sustainability and their determination of the future growth prospects of the company by awarding such a large increase. In fact, over the last five years, the dividend growth rate has been 113.5%.
Caveats
Its P/E is an uncomfortably high 88, but REITs are normally valued on their free cash flow, not the P/E. In this instance, the company has $648 million in cash flow but only $264 million of FCF. With 264 million shares outstanding, this translates to FCF per share of $1.00 and a price/FCF ratio of a more acceptable 33.
With dividends at $2.20, the FCF is falling short of covering the dividend payout.
Revenues have been growing at 23%, so it is a possibility that continued growth will translate into higher earnings and with that will come better FCF coverage.
Of the 264 million shares outstanding, 227 million of them, or 86% are held by institutions, and 5.7% are held by insiders, conferring a strong vote of confidence.
As an assist to my research, The Real Time Portfolio Tracker helps guide me to balanced income, better entry prices and higher yields on those stocks I've placed on my watch list, in addition to allowing me to track my entire portfolio in real time throughout the day.
Real Time Portfolio Tracker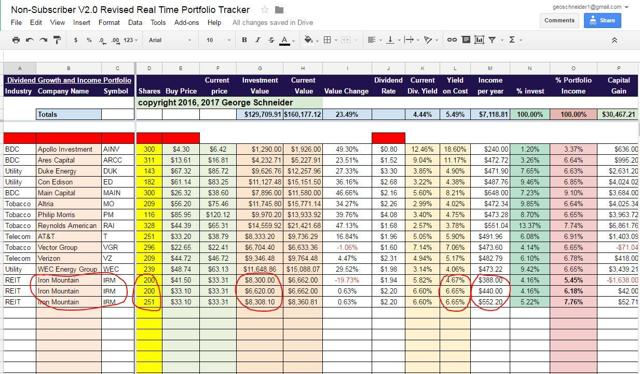 As discussed earlier, I've been monitoring IRM for many months now, but not with the purpose of hitting a home run.
I tried swinging for the fences when I was a kid. It didn't work out too well. Now I'm focused on hitting singles and doubles. The home runs, though, can come in the form of increasing dividend yields and income on the order of 42.4% as demonstrated earlier. You can read more on how this is done in my recent article, "Waste Not, Want Not."
Circled in red, you can see that investors who paid last year's high of $41.50 for Iron Mountain paid $8300 for their 200-share purchase, received a dividend at the annual rate of $1.94 for a yield of just 4.67% shown circled in red in column L. Column I indicates the percentage loss in market value, and column P indicates the dollar loss of $1638.00. Annual income for those investors amounted to just $388 shown in column M.
Had those earlier investors not overpaid for their positions and exercised patience with us, perhaps they would have saved themselves that capital loss. They would also have more money to invest at cheaper prices today and bought even larger amounts of shares if they chose.
If they had stuck with the same 200-share allocation, at the $33.10 price that we just paid, investors would pay only $6620, circled in red in column G. Again, at that price point, we're getting a much enhanced yield of 6.65% on our new investment, indicated by the automatic calculation made in column L.
Notice that if an investor had chosen to invest the same dollar amount of $8300 as the investor did a year ago, they would have been able to buy 251 shares instead of just 200. And this would result in $552 of annual income, which is that 42.4% of additional annual income we detailed earlier.
By adding IRM to the portfolio, we have further diversified our holdings, continued to balance income, grown portfolio income by almost 2% from last month and fortified it further with a solid dividend grower.
The Fill-The-Gap Portfolio At A Glance
Two years ago, I began writing a series of articles on December 24, 2014, to demonstrate the real-life construction and management of a portfolio dedicated to growing income to close a yawning gap that so many millions of seniors and near-retirees face today between their Social Security benefit and retirement expenses.
The beginning article was entitled "This Is Not Your Father's Retirement Plan." This project began with $411,600 in capital that was deployed in such a way that each of the portfolio constituents yielded approximately equal amounts of yearly income.
The FTG Portfolio Constituents
Constructed beginning on 12/24/14, this portfolio now consists of 21 companies, including AT&T Inc., Altria Group, Inc. (NYSE:MO), Consolidated Edison Inc., Verizon Communications, CenturyLink, Inc., Main Street Capital (NYSE:MAIN), Ares Capital (NASDAQ:ARCC), Reynolds American, Inc. (NYSE:RAI), Vector Group Ltd. (NYSE:VGR), EPR Properties (NYSE:EPR), Realty Income Corporation (NYSE:O), Sun Communities, Inc. (NYSE:SUI), Omega Healthcare Investors (NYSE:OHI), W.P. Carey, Inc. (NYSE:WPC), Government Properties Income Trust (NYSE:GOV-OLD), The GEO Group (NYSE:GEO), The RMR Group (NASDAQ:RMR), Southern Company, Chatham Lodging Trust (NYSE:CLDT), DineEquity (NYSE:DIN) and Iron Mountain, Inc.
Because we bought all of these equities at cheaper prices since the inception of the portfolio, the yield on cost that we have achieved is 7.09% since launch on December 24, 2014. Current portfolio income now totals $29,174.
Here is how we focus on the growth of income in the Fill-The-Gap Portfolio:
FTG Annual Dividend Income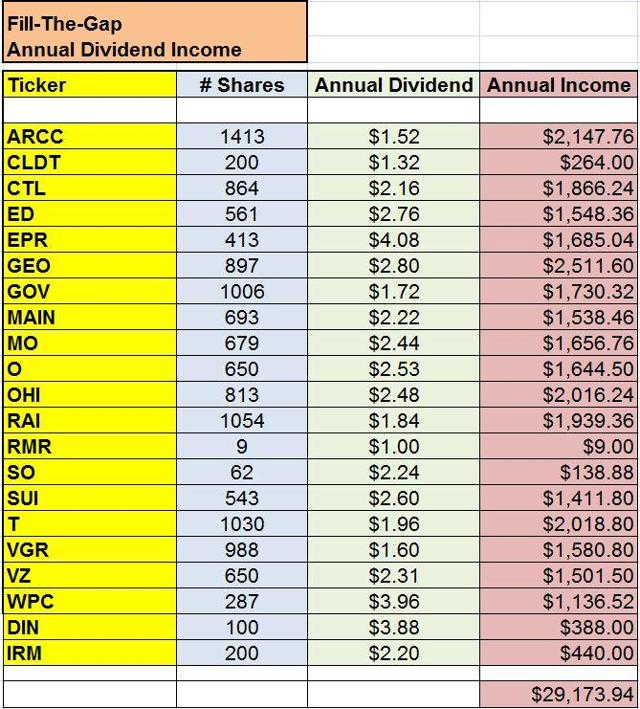 FTG Portfolio Close, 6/9/17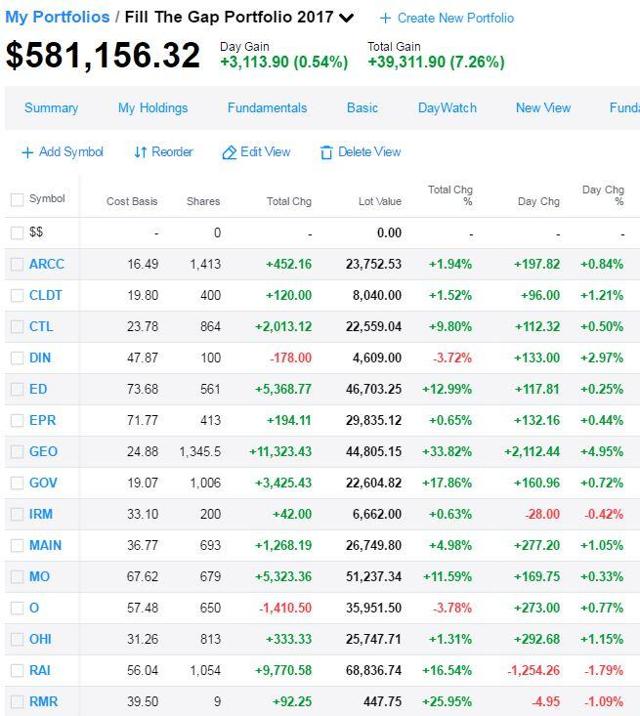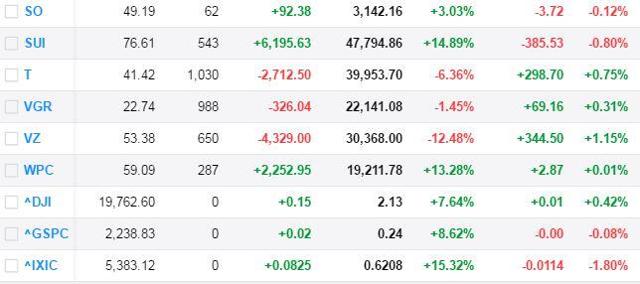 Your Takeaway
Who's not worried about risks to their portfolio? Certainly, investors who are counting on portfolio value to draw down shares in retirement to meet the bills are most concerned. Dividend investors who have grown their dividend income enough to pay the bills are less concerned about portfolio value, but have concern surrounding the sustainability of those dividends.
Will they be frozen, cut or eliminated in the future? These are all real concerns and must be faced squarely and dealt with in order to maintain the viability of our chosen retirement plans.
It is my hope that by discussing ways to harden our portfolio for the inevitable bear market that will visit us, and suggesting ways to mitigate some of the risks we all face, we can all come out whole after the next crash, recover to former highs and go on to set new record highs in portfolio value as well as dividend income, in concert with the historical record.
Note: For five days only, we're offering a free two-week trial to our premium newsletter subscription.
As always, I look forward to your comments, discussion and questions. Please share your thoughts. What are the methods you use to protect your portfolio value and dividend income? Please share with us, in the comment section below, how you deal with the risks we all face. Are there additional risks that keep you up at night or do you SWAN?
If you'd like to receive immediate notification whenever I write new content, simply click the follow button at the top of this article next to my picture, then click "Follow in real time."
As part of our premium subscription program, all subscribers receive a free Portfolio Income Tracker to track income production in the subscriber portfolio and stay focused on income production in their own portfolio. To learn more about this premium service, see Retirement: One Dividend At A Time.
Disclaimer: This article is intended to provide information to interested parties. As I have no knowledge of individual investor circumstances, goals, and/or portfolio concentration or diversification, readers are expected to complete their own due diligence before purchasing any stocks mentioned or recommended.
Disclosure: I am/we are long T, MO, ED, VZ, CTL, MAIN, ARCC, RAI, VGR, EPR, O, SUI, OHI, WPC, GOV, GEO, RMR, SO, CLDT, DIN, IRM. I wrote this article myself, and it expresses my own opinions. I am not receiving compensation for it (other than from Seeking Alpha). I have no business relationship with any company whose stock is mentioned in this article.