Every Monday I am going to post 3 trades that I will be looking at on an Intraweek basis. They will primarily be FX based, with entry, exit, direction, and how I will manage the trade all posted. I cannot guarantee how long the trade will last (for obvious reasons - it could be flat for the whole week), but I will also do a post on Fridays of a round up of the week in FX and how the trades have progressed, and I shall keep a tally in terms of risk multiples as we go, and that shall be included in each Friday's update.
AUDUSD
Direction: Long

Entry: 0.7568

Stop: 0.7482

Target: 0.7724

R: 1.82
I'm looking at AUDUSD this week. We're at a very nice looking zone where price has to decide what it wants to do pretty quickly. Take a look at the daily: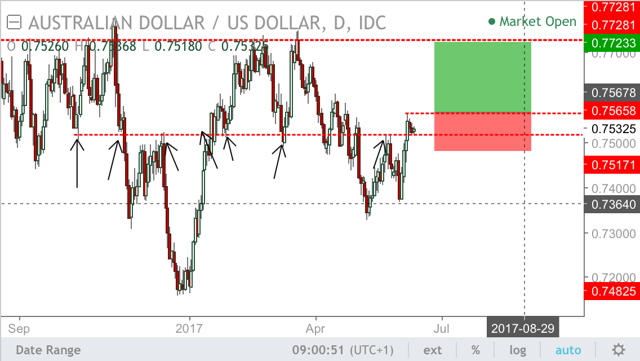 I have noted the current level that we are at as being a 'flip' zone - price has found resistance and support here daily often previously, and the fact that it is a daily level gives further significance.
This trade screams to me to wait for the flag breakout. We can see this on the hourly: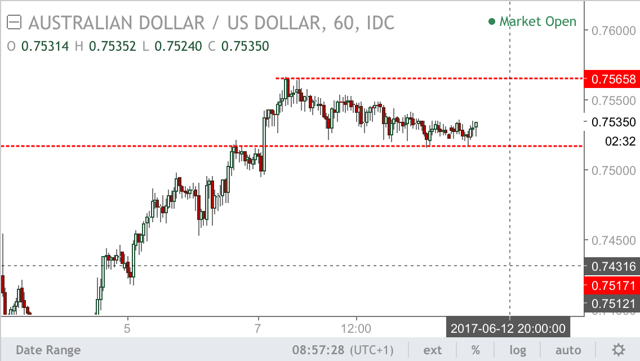 The lower red line is our 'flip' zone. This is where buyers are likely to pile in. However, I would forego a few ticks to wait until we break above 0.7565 and buy that number if we find that that level finds support. I prefer to have confidence to increase sizing this way.
GBPCAD
Direction: Long

Entry: as close to 1.658 as possible

Stop: 1.634

Target: 1.72

R: 2.57
This trade is a long way off and I wouldn't expect it to trigger this week, but it's stood out to me as trade that you could really get aggressive with if we have a good initial move off the 1.658/1.66 level.
Daily chart here: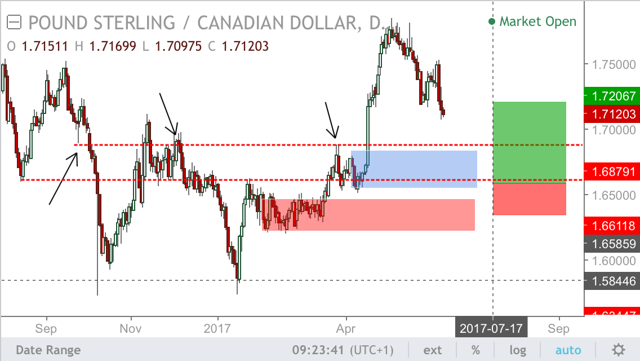 As you can see, we are making a return back to a 'flip' level and a previous key level of demand. There are some fundamental backgrounds to this too - oil price is dipping again and I believe that in the next few weeks, the Loonie will face some downward pressure. The uncertainty with regards to U.K. politics will subside and the GBP will strengthen. However, for this to happen we must return to a previous level where buyers actually want to enter the market at again, and this means shorts distributing their positions to buyers.
One risk here is that we move through the first demand zone and straight away hit the second, identified in red. If we get stopped, that's ok. That gives us more information on where the market is going. That would lead me to initiate a long position lower down. However the current 'flip' zone is key for me. I'm also not wanting to enter right on the red line of previous support & resistance to maximise R. Someone once told me to enter as close as possible to where you will be wrong. It's served me well. However if we see relevant downside rejection, we take the trade at the 1.688 level.
EURGBP
Direction: Short

Entry: 0.8883

Stop: 0.8975

Target: 0.8675

R: 2.14
I'm looking for a run of short stops into a previous zone of supply/inflection point here and a quick run down to previous resistance turned support. It's pretty self explanatory and I quite like the fact that EURGBP is relatively directionless on the daily.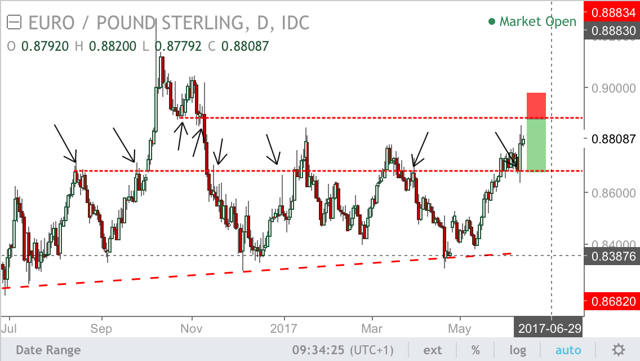 Please let me know your thoughts in the comments!
Disclosure: I/we have no positions in any stocks mentioned, but may initiate a long position in AUDUSD over the next 72 hours. I wrote this article myself, and it expresses my own opinions. I am not receiving compensation for it (other than from Seeking Alpha). I have no business relationship with any company whose stock is mentioned in this article.