By Parke Shall
It would maybe seem counterintuitive to move into retail at a time when all we have done for the last year is argue that this latest market boom will be coming to an end soon. As household debt rises to levels higher than before the 2008 crisis and as consumer credit card debt continues to rack up, one might think that restaurants and retail aren't really a good place to be.
However, we think Friday's move in the market tells us otherwise and we wanted to do a quick recap of why we do own some retail and why we think it may not be a bad idea going forward. Here's what the rotation on Friday, visualized, looked like: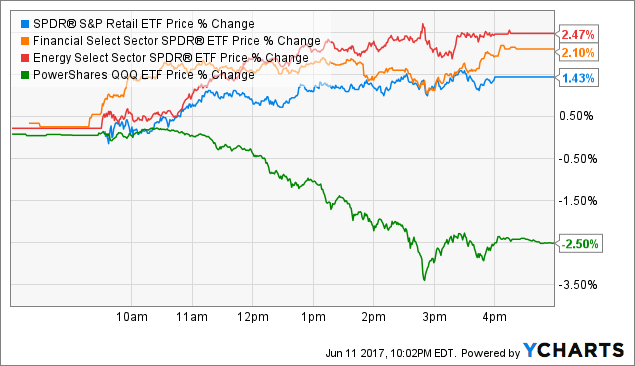 Friday was a crazy, crazy trading day. We saw a significant rotation out of technology companies and into companies like financials and retail. A lot of the reason that people are moving out of technology and moving into these other sectors has to do with valuation. It's relatively simple. Before the market can truly start to pull back and correct, one of the things that happens is some type of flight to safety or flight to quality.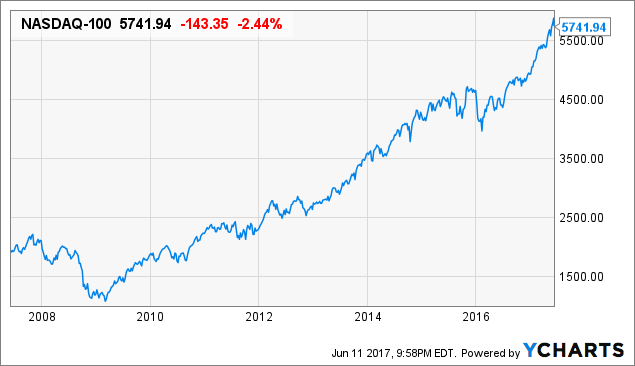 As you can see from the above chart, the NASDAQ has gone absolutely haywire over the last couple of years and as money has been pouring into technology, valuations have expanded to extremely optimistic multiples. At the same time we have seen a lot of software as a service style IPOs take place and the market really start to embrace technology as the sector that led the other indices higher over the last 10 years.
All the while, as this has been happening, online retailers have been eating the lunch of brick-and-mortar retailers as we have watched any name that is located in the mall get hit hard over the last couple of years. For comparison to the NASDAQ, here is what some brick-and-mortar retailers have done: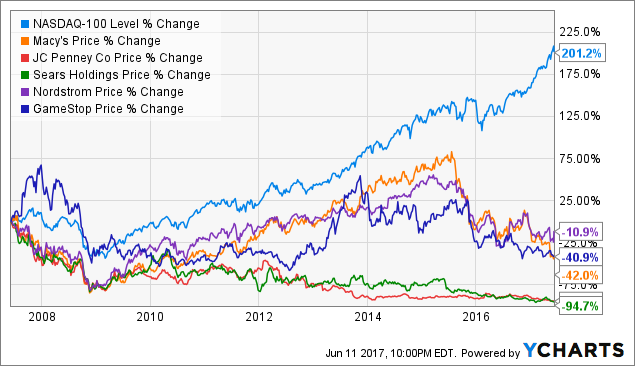 Many of these brick-and-mortar retailers are still a long way off from the bankruptcy that we saw with companies like RadioShack and Wet Seal. Companies like Macy's (NYSE:M) and GameStop (NYSE:GME) are still very much cash flow generative companies with strong asset bases and decent in-store presences. Companies like GNC (NYSE:GNC) could also wind up being lucrative turnaround stories. Some, like Sears (NASDAQ:SHLD) and J.C. Penney (NYSE:JCP) do have a real chance of going lower or just failing outright.
And while the average technology multiple has just been doing nothing but go up, the average retail earnings multiple for brick-and-mortar stores has come down significantly. We can see this with companies like Macy's, which now trades under 8x earnings despite not only still being cash flow generative but having a real estate asset base that has been valued over $10 billion. The market has hated on retail so much that it is blindly bludgeoning away at brick-and-mortar stores while all of the euphoria in the market has basically been reserved for technology. Other valuations of decent retail names like Kohl's (NYSE:KSS) and Bed Bath & Beyond (NASDAQ:BBBY) have also come down while money has poured into technology,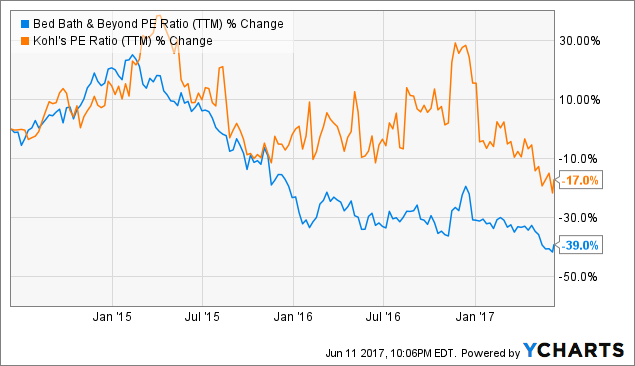 BBBY PE Ratio (NYSE:TTM) data by YCharts
In other words, on Friday, it looked as though the market may have realized that it had thrown the baby out with the retail bathwater over these last few years.
What we predict we are going to see going forward is money moving out of high flying technology stocks with aggressive valuations and into smaller companies that are in the retail and financial sectors, where valuations are still fairly conservative.
For a long while we have been writing about the retail sector and trying to make the case that there are some good values buried in between the companies that have been going bankrupt. Companies with good business models like T.J. Maxx (NYSE:TJX) or Costco (NASDAQ:COST) continue to prove that all brick-and-mortar retail are not created equal and that these types of niche companies can find success. For sometime now, we have been nibbling on shares of retail companies in anticipation of things eventually leveling off and valuations getting a little bit more breathing room. In fact, we have argued in the past that most retailers will find a hybrid model between online and in-store and that all brick-and-mortar retail won't die completely.
We continue to think that this is going to be the case moving forward and we think once analysts start to realize this and that some of these really compressed names have bottomed out, the market will give the sector some room to breathe again. When you combine this with the fact that we think the larger overall market is getting ready to turn and that Friday showed us obvious rotation into the sector, we think retail could still represent a good opportunity for value investors going forward here.
Disclosure: I/we have no positions in any stocks mentioned, but may initiate a long position in M over the next 72 hours.
I wrote this article myself, and it expresses my own opinions. I am not receiving compensation for it (other than from Seeking Alpha). I have no business relationship with any company whose stock is mentioned in this article.
Additional disclosure: Long BBBY, BBY, COST, GME and will be buyers of M this week