Oil (NYSEARCA:USO) bulls must be feel pretty hopeless right now as it would appear that prices are not budging despite the best effort of OPEC. Realistically I think this is the best scenario the bulls are going to get (read OPEC Can't Save Oil). Although Chevron (NYSE:CVX) is integrated and has fared better than many E&P players, it has been unable to overcome the commodity headwind, as evidenced by the stock price (-10% YTD). However, I believe that the Downstream segment could provide the offset needed to overcome investors' disappointment in the price of oil.
Upstream Upside Is Limited
The segment's profit has surged year over year from a loss of $1.459 billion to a gain of $1.517 billion. This shouldn't be a surprise to anyone given the fact that oil prices have more than doubled from its low in February 2016. Despite this increase however, there isn't a lot of room to grow without the help of higher commodity prices since much of the cost cutting has been done already. As the CFO noted on the Q1 conference call, they are "striving to have the remaining quarters of 2017 broadly continue this pattern (referring to the cost structure)," implying that the low hanging fruits have been dealt with already.
You can read more about my bearish stance on oil here, but I think it is fair to say that absent a rebound in oil, the Upstream segment is not going to be the significant driver of value. However, I believe that the largely ignored Downstream segment could be a material contributor of profits going forward.
The Unloved Segment
Crack spreads are still low domestically, which is why I believe that there is still plenty of runway for the Downstream segment.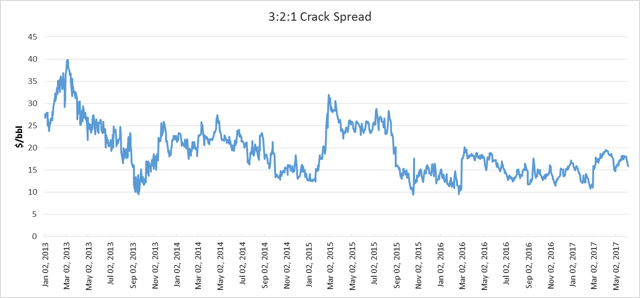 Source: data from EIA
The spread has recovered somewhat, but it is far away from its historical average of $19.21/bbl (since 2013). I have more confidence in the recovery of the crack spread because it is independent of crude oil movements. In fact, refiners profited massively in 2015 as oil (i.e. the cost) fell at a much quicker pace than refined products, boosting refining margins.
Despite crack spread's cyclicality, I believe that historical data does serve as a good indicator of a normalized environment. That's because over time, the crack spread should represent a fair markup on oil. If we compare it to retail, there will be price wars from time to time, but ultimately things get back to normal. I find it very hard to believe that the spread will stay at the current level for an extended period of time as many refiners are struggling; even Chevron only posted a paper thin margin of 3.8% during the first quarter in its U.S. Downstream segment.
If spreads were to rebound to the historical average of $19.21/bbl, Chevron could experience a 64% increase in margin improvement based on 912 MBPD of input in Q1, the incremental profit impact for the U.S. Downstream segment would be a whopping $300 million in Q1 based on the effective tax rate of 13.7%.
Conclusion
Chevron will likely continue to struggle in its upstream segments as the low hanging fruits are gone, but a rebound in downstream profits could help the company overcome additional upstream headwinds. This is the beauty of investing in an integrated company such as Chevron as it has multiple avenues for profit. Even if oil doesn't go anywhere, I believe that the incremental upside provided by the Downstream segment could provide some lift for the stock.
Author's note: Click the "Follow" button beside my name on the top of the page to be updated with my latest insights. To learn more about the Core Value Portfolio, whose goal is to compound capital at 20% over the long term, I encourage you to read the introduction to my investment process. Premium subscribers get full access to the Core Value Portfolio.
Disclosure: I/we have no positions in any stocks mentioned, and no plans to initiate any positions within the next 72 hours. I wrote this article myself, and it expresses my own opinions. I am not receiving compensation for it (other than from Seeking Alpha). I have no business relationship with any company whose stock is mentioned in this article.