Today I'd like to discuss a dividend growth opportunity which I've been following for a couple months, CVS Health (NYSE: CVS), and the possibility that it could be a value trap. Buying a beaten down CVS would normally fit in perfectly with my simple investing philosophy of finding dividend growth stocks trading at a discount. The strong balance sheet, well covered and growing dividend, along with the low price tag, should make them a no brainer. However, upon further inspection I have found three major issues that have prevented me from making a purchase, at least for now. These include the threat from Amazon (NASDAQ:AMZN), the value-based drug pricing movement, and the rise of generic drugs.
Before I get to that I'd like to begin with the Q1 Earnings, which also worried me slightly. Usually CVS has a rock solid balance sheet and earnings are a joy to go through, but this quarter turned out to be mediocre at best. There are always bright spots with a company as strong and well-managed as CVS but falling EPS, falling revenue and a growing payout ratio don't leave me brimming with confidence. Even if the company surpassed its expectations the actual numbers aren't exactly rosy and don't indicate a company with the type of strong organic growth you'd like to see.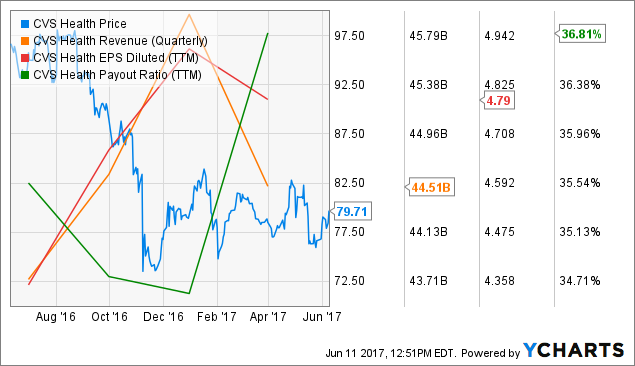 The well covered dividend illustrated by the still very low payout ratio was one of the reasons I began looking into the company. This in addition to its high revenue vs market cap, and its easy to make the argument that CVS is undervalued at this point. However, I think its important to be aware of potential earnings issues and market pressures that have come out of the woodwork(and were seemingly glossed over) in the Q1 2017 conference call.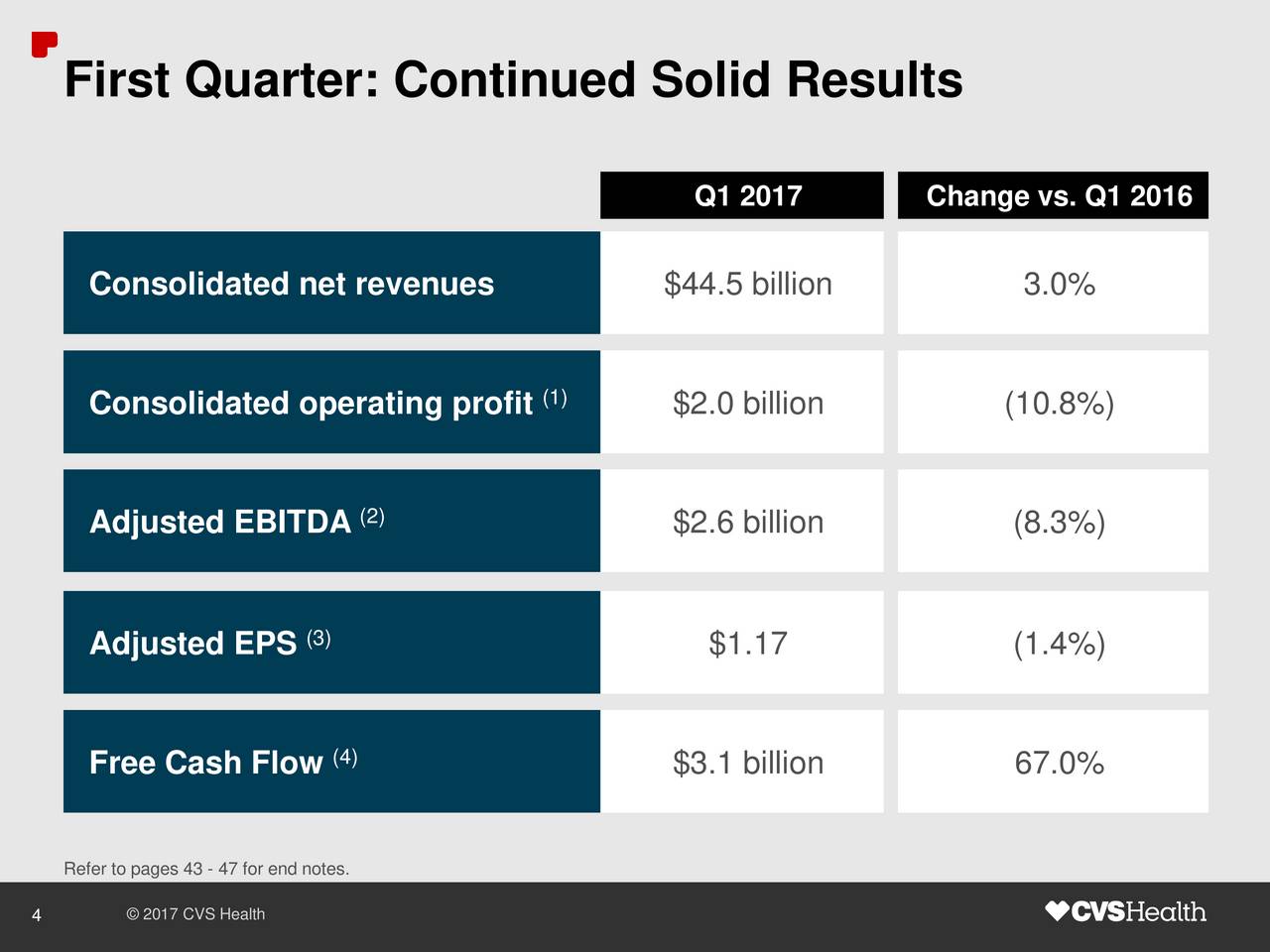 The company continues to expand its revenue and earnings estimates for 2017 even in spite of potential market pressure from Amazon, its closing of over 60 stores in the first quarter, and same-store prescription volumes declining 1.4%. CVS' management seems overly bullish on their future. Perhaps they are predicting potential tax cuts will boost their bottom line. With a 37.7% effective tax rate any relief would be a huge benefit. Still, at least in my opinion, the idea that tax relief will be the savior is a foolish one. This over reliance on Washington is a sentiment I have seen echoed across the markets and I just don't understand it given our congress and president's seeming inability to get legislation passed. CVS' first quarter was by no means bad, nor are they in financial trouble. They have been able to maintain a decent revenue with low debt and solid free cash flow, but I believe upcoming market pressures have the potential to change that.
The Rise of Generic Drugs
Total same store sales and pharmacy same store sales both fell 4.7% in Q1 2017. President and CEO of CVS Larry J. Merlo said this can be explained by Pharmacy sales comps that were negatively impacted by approximately 480 basis points due to recent generic introductions. If increased generic drug introductions can have this much of an impact on pharmacy sales then the company may face real headwinds going forward given the rise of generic drug approvals. This recent Bloomberg article which discusses Trump's FDA commissioner Scott Gottlieb says it all.
The FDA approved 813 new generics last year, up from 500 in 2013. Gottlieb would like to ramp up that growth, telling Bloomberg News he wants to work through a backlog of 2,640 drug applications in one year.
Add to this slipping branded drug prices and the concerns are growing for CVS.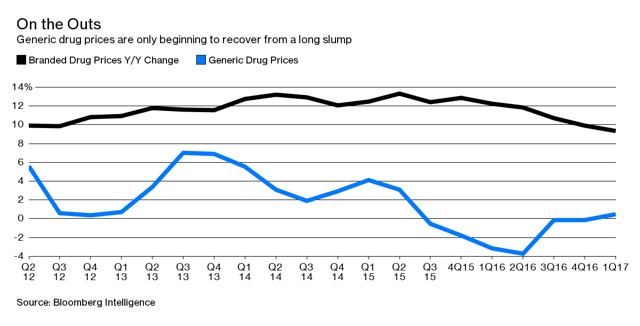 The more expensive and more profitable branded drugs are being prescribed less and less. This is really nothing new, in fact, in 2015 the American College of Physicians called on doctors to prescribe more generic versions of drugs in order to lower costs for consumers. This has affected and will continue to affect CVS' revenues and leaves them more vulnerable to the Amazon effect. The rise of generic drugs, and the fall of branded drugs is just one of the issues that the company will face going forward.
Value Based Drug Pricing
Martin Shkreli brought the ridiculous game of drug pricing to the public's attention by raising the price of his toxoplasmosis fighting drug Daraprim from $13.50 to $750 a pill. This slap to the face of AIDS patients caused a media fire storm and extreme public backlash, the repercussions of which are still being felt across the healthcare industry. Drug makers and sellers are now being forced to be more transparent about the way in which they price their drugs. Johnson and Johnson's (NYSE:JNJ) statement from back in February is a perfect example of this.
We understand the concerns of patients, families and other stakeholders who are worried about health care costs, including the costs of prescription medications. They are calling on us to provide greater transparency about how we operate-including disclosing more information on our pricing and marketing practices, our patient access programs, and our clinical trials.
Chart created in excel by Author
Although the Trump administration seems to be distracted by other more pressing issues the move toward value based drug pricing hasn't been forgotten and clearly presents a serious issue for CVS going forward, particularly with the activist FDA commissioner Scott Gottlieb in charge.
The Threat from Amazon
On May 16th CNBC reported that Amazon (NASDAQ:AMZN) was "hiring a business lead" to help them break into the pharmacy market. After witnessing the devastation Amazon has put retailers and retail REITs through(warranted or not) this has to be startling to investors in the industry. The company already sells medical supplies and equipment and now it is thinking of offering its 80 million plus prime subscribers yet another service.
With only around 14% of CVS' sales coming from its mail-order business, Amazon once again seems to be attacking traditional brick and mortar stores with its low cost online options. In the long run, I believe they will be able to offer convenience and value that will be hard for CVS to match. This well written article here on SA explores the possibilities of Amazon taking market share in the pharmacy business.
Although it will take time for Amazon to push through the regulatory procedures and logistical issues that come along with prescription drugs, the company will be able to begin the sale of OTC drugs almost immediately. This will be a big hit to CVS' bottom line. They also face fierce competition from a veteran of the industry, Walgreens Boots Alliance (NASDAQ:WBA), whose purchase of drugstore.com and impending purchase of Riteaid(NYSE:RAD) have helped them expand their operations.
Conclusion
CVS Health is a well managed dividend growth stock that I would normally jump on given their current price tag. However, I believe they face stiff market pressures from the newcomers to the industry and with their current dividend yield of only 2.51% I think my money may be put to better use elsewhere. As we have seen with the overblown "retail apocalypse" Amazon's competitors don't fair well against the giant. This pressure, along with falling prescription drug prices and increasing generic drug approvals, leads me to maintain a cautious outlook for the company. If Amazon isn't able to break into the market then I will probably want to go back in time and invest in CVS, but I just don't see that happening. It seems like a logical path of expansion for the company and I believe it will lead to severe problems for CVS in the future.
I hope this helps with your research. I always try and keep my articles succinct and easy to understand so that any level of investor can join the discussion. So please comment below and don't forget to click the "follow" button up top if you enjoyed the article. Thanks for reading.
Disclosure: I/we have no positions in any stocks mentioned, and no plans to initiate any positions within the next 72 hours.
I wrote this article myself, and it expresses my own opinions. I am not receiving compensation for it (other than from Seeking Alpha). I have no business relationship with any company whose stock is mentioned in this article.