As defaults mount and loom, it may be time to dust off Meredith Whitney's analysis.
Her numbers were off, and her timing was way off, but her analysis is beginning to appear sound. In December of 2010, when Ms. Whitney made her now infamous prediction for "50 to 100 large defaults, amounting to hundreds of billions of dollars" on the CBS program "60 Minutes," she sent shock waves through the municipal bond market. Market value of municipal bonds cratered initially, only to recover relatively quickly. Only a small number of defaults materialized, and nothing on the size and scale that she was predicting. The chart below shows the dramatic rise in interest rates in the municipal bond market after the "60 Minutes" segment aired, as well as their quick turnaround.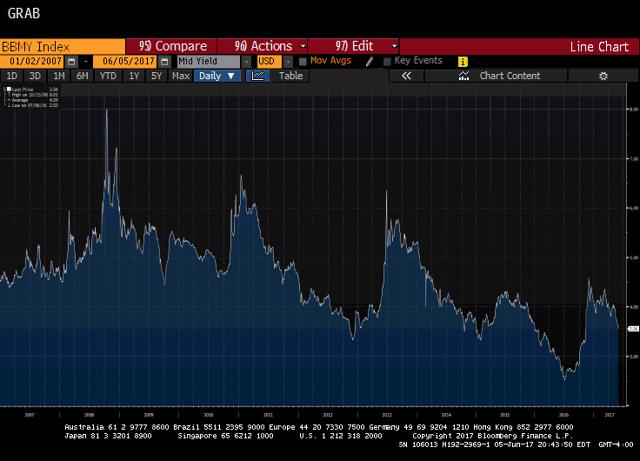 While the bottom didn't fall out of the market in the 12 months following the prediction, as many were quick to remind Mrs. Whitney, (also here, here and here) a lot did begin to change shortly after her remarks. The defaults started out small. Seemingly unknown cities such as Central Falls, Rhode Island, drew little attention outside of muniland when in August of 2011 they sought the shelter of Chapter 9 Municipal bankruptcy. Central Falls had only $19 million in outstanding general obligations bonds, but their unfunded pension and healthcare liability topped $80 million. It was their public sector benefits that lead to their downfall. Central Falls was eventually able to work out of their bankruptcy, never missing an interest payment on their general obligation debt. They reached concessions with public employee unions to bring their expenses and obligations inline. Central Falls' total debt was minuscule compared to what Meredith Whitney was calling for, but cracks in the market were beginning to show.
The crack became a fissure shortly afterwards when in October of 2011 Harrisburg, PA, filed bankruptcy in what would be the biggest filing ever at the time. Harrisburg ran into trouble after a failed and misguided attempt to build a trash incinerator. The capital of Pennsylvania had over $400 million in outstanding debt. After a three year process, direct GO bond holders were paid in full. However, Harrisburg had used its general obligation pledge to guarantee other tranches of debt that did not fare so well. Other city guaranteed debt recovered anywhere from 33 to 75 percent of their principal owed.
Jefferson County, AL, closely followed Harrisburg, when the very next month, November of 2011 they too filed Chapter 9. Jefferson County eclipsed both Harrisburg and little Central Falls, having over $3 Billion dollars in outstanding sewer debt when they filed. Jefferson County's woes were the result of a new, over-budget sewer system - oh, and outright fraud. Monoline bond insurers bore the brunt of this bankruptcy as the entirety of outstanding debt was fully insured. After reaching a settlement, Jefferson County was able to reduce their sewer debt by $1.4 billion.
Then a few years later (as well as a few other small Chapter 9 cases later that we won't discuss) came the big one. Detroit, MI, sought Chapter 9 bankruptcy. Detroit had a staggering $18 billion in outstanding debt that needed to be restructured. Detroit's demise had long been recognized and discussed which may have softened the blow of the eventual bankruptcy. Years of outmigration after the fall of the auto industry left the city underpopulated and too large. Unlimited general obligation bond holders recovered only 85 cents on the dollar with limited general obligation bonds recovering a paltry 34 cents on the dollar.
With each passing bankruptcy filing, two things became very evident. First, states and municipalities were using a lot of deficit financing and accounting gimmicks to run their operations and it was catching up to them. By delaying pension contributions, politicians were able to buy themselves more time to find potential fiscal solutions, and that borrowed time was running out. The second thing was that states and cities willingness to pay was eroding, and using Chapter 9 was becoming more common.
The next shoe to drop was Puerto Rico, which recently filed for their own form of bankruptcy claiming an unthinkable $70 Billion in bonded debt, and their indebtedness balloons to $134 Billion if you include unfunded pension obligations. Puerto Rico's unwillingness to pay is shocking as they continue to pay Christmas bonuses, dole out million dollar consulting contracts, and raid public coffers as they claim abject poverty and default on constitutionally guaranteed debt. It is still unclear what bondholder recovery will be, but pain has already been inflicted. The graph below shows the trading levels of Puerto Rico's benchmark general obligation debt over the last five years.
Puerto Rico General Obligation 5% due 7/01/41 Cusip 74514LB89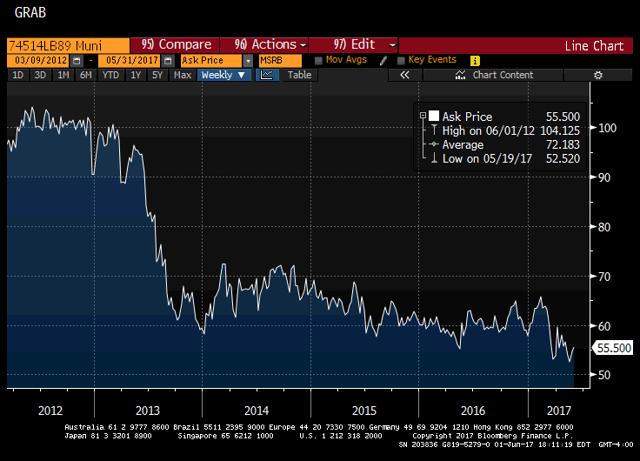 Our timeline of defaults has taken us seven years out from the "60 Minutes" airing. Growing unwillingness and inability to pay by states and cities has grown and has become evident in a few other potential scenarios. As of this writing, four large potential problems are lurking. The city of Hartford, CT, the state of Connecticut, the state of Illinois and the state of New Jersey are all creeping towards insolvency.
Hartford, a city of just over 120,000 residents, has been reporting financial troubles for over a year. Much of the land in Hartford is occupied by untaxable government entities, which restricts the amount of tax revenue that the city can generate. With few other options, Hartford has gone straight to the nuclear option, recently announcing it was consulting Chapter 9 attorneys. Hartford has $750 Million is outstanding debt and faces just a $15 million dollar deficit this fiscal year ($45 million next fiscal year). Not a fantastic financial picture, but in municipal finance terms, certainly not grounds for bankruptcy either. I featured this story last week in my Seeking Alpha article about Hartford.
The state of Connecticut is facing its own problems, and is about to test the long held theory that states and municipalities can always tax their way out of problems. Connecticut is already one of the highest taxed states in the country and many question their ability to raise taxes further to cover their deficit. Businesses and wealthy individuals are fleeing the state in droves, seeking a better life in low tax states. In January of 2016 General Electric (NYSE:GE) announced they were leaving the state and Aetna (NYSE:AET), just this past week, announced their intentions to leave the state as well. With a shrinking tax base and already sky high taxes, the state is left with few options, and there is much doubt that the state will be able to generate revenue to cover it's over $5 billion deficit.
The state of Illinois, mired in political gridlock, can only be described as a slow moving train wreck. The elected officials of the state have entered into their third straight year without a budget, leaving billions of dollars of debt in question. As a consequence of not having a signed budget, Illinois has racked up and unbelievable $15 billion dollars in past due bills to vendors. Estimates of Illinois unfunded pension obligations are wide, but many assume it totals at least $130 billion. This past week, Moody's and S&P downgraded $26 billion worth of general obligations bonds to one notch above junk after the state politicians failed to pass a budget, tattooing them with the lowest ever credit rating by a state.
New Jersey, which currently holds the second lowest credit rating out of the states, has seen its credit rating downgraded 11 times under current governor Chris Christie's 7 year reign. New Jersey has $37 billion of debt outstanding, and carries an A3 rating from Moody's and A- from S&P. What makes New Jersey unique is that a large majority of their outstanding debt is not general obligation debt, but rather appropriation debt. This means that New Jersey politicians must appropriate funds to pay the debt. New Jersey's situation was worsened by recent tax breaks and a chronically underfunded pension system. New Jersey is also unique in that the state has a history of assuming control of struggling cities (think Atlantic City) and school systems (think Camden). Consider the condition these cities and school districts must be in where a state with more than one downgrade a year for the past 7 years seems fiscally responsible by comparison.
The tidal wave that Meredith Whitney prophesied seven years ago did not immediately materialize. She underestimated the glacial pace that these events take place at. She misunderstood the leeway that a local government or state is allowed based solely on past performance and presumed credibility. Most importantly she misunderstood the lengths that elected officials will go to, to avoid a problem. It took us almost a decade to get to where we are today. A few large defaults have occurred, and more may be on the way. The problems that were outlined in the "60 Minutes" broadcast - overly generous public employees benefits, deficit financing, inability to make tough decisions, and reckless spending - are starting to take their toll. Now states are not legally allowed to file bankruptcy as Central Falls and Detroit were, and thus no state has ever done so. Remember, though, Puerto Rico was not legally allowed to either, and Congress granted them that ability without hardly blinking an eye. Many pundits will say "it will never happen." But I think if we can learn anything from the cases discussed here is that, anything can happen, especially when disenfranchised voters are involved.
NatAlliance Securities LLC may hold a position in all bonds referenced, and in the future may be a buyer or a seller of the securities. This is not a recommendation to buy, sell, or hold the securities. Las Olas Wealth Management is a wealth management group within NatAlliance Securities LLC.
Disclosure: I am/we are long PR, IL, AND VARIOUS OTHER MUNICIPAL BONDS. I wrote this article myself, and it expresses my own opinions. I am not receiving compensation for it (other than from Seeking Alpha). I have no business relationship with any company whose stock is mentioned in this article.