Note: This article was first published on my SA Marketplace service on May 12, 2017, so all data is as of that date.
Zinc is the 24th most abundant element on earth and it is normally found with other base metals such as copper and lead. Zinc is mostly used commercially for galvanizing steel (zinc protects steel from corrosion), and is also used in some batteries, brass alloys, and dietary supplements. Zinc reserves are mostly in Australia, China, and Peru. China remains the main player on the market contributing approximately 50% of global zinc consumption, hence when the China economy (notably construction) is doing well zinc prices tend to do well.
Zinc 5 year price chart - currently US$1.17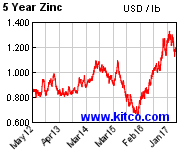 Zinc LME inventory levels at 5 year lows
The chart below shows LME zinc inventory has dropped from around 1.2m tonnes in late 2012 down to near 300,000 tonnes here in mid 2017. The chart above shows the price response with zinc prices doubling in the past year. As a result many would say we are already in zinc deficit as demand is exceeding production, and zinc reserves are falling. Added to this is that zinc mines are seeing declines in average head grades - they have declined from about 7% in the year 2000 to about 5.5% now.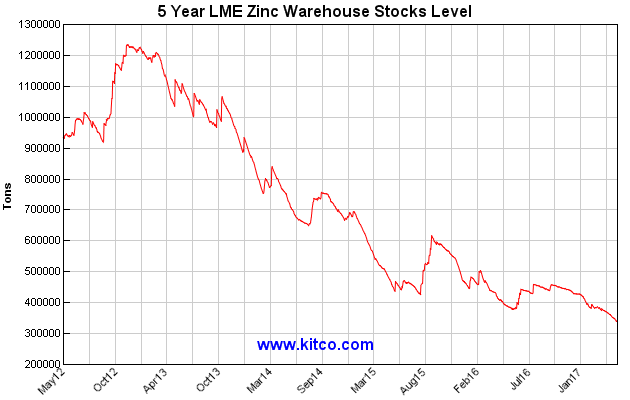 Zinc is heading into deficit now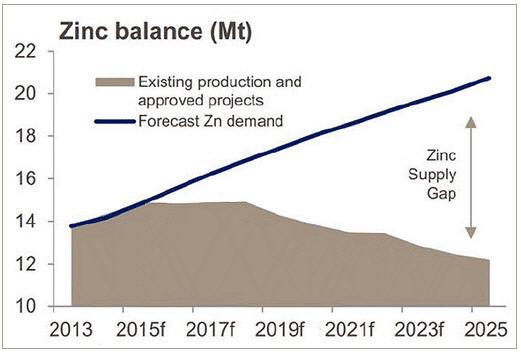 Zinc metal balance (deficit) forecasts by Woodmac and CRU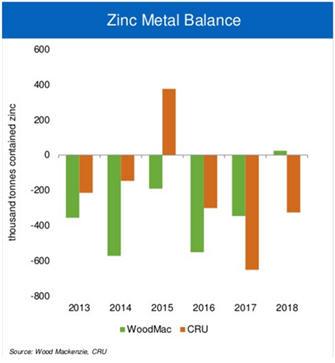 Global top ten zinc producers (work in progress)
| | | |
| --- | --- | --- |
| Zinc miner (tpa zinc concentrate) | 2016 | 2017 |
| Glencore [LN:GLEN] (OTC:OTC:GLNCF) | 1,094,100 | ~1,100,000 |
| Vedanta Resources [LN:VED](OTCPK:VDNRF) (Indian subsidiary Hindustan Zinc (OTC:HNDZY)) | ~907,000 | |
| Teck Resources [TSX:TECK](NYSE:TECK) | 660,000 | 590-615,000 |
| Lundin Mining [TSX:LUN] (OTCPK:LUNMF) | 148,050 | 150-160,000 |
| MMG limited (HK:1208) | ~120,000 | |
| Hudbay Minerals [TSX:HBM] (NYSE:HBM) | 110,600 | 125-150,000 |
| Nyrstar (BB:NYR) (OTCPK:NYRSY) | ~96,000 | |
| South32 [ASX:S32] [LN:S32] | ~80,000 | 80,000 |
| Trevali Mining [TSX:TV] (OTCQX:TREVF) | ~45,000 | ~70,000 |
| Nevsun Resources [TSX:NSU] (NYSEMKT:NSU) | 40,900 | 90-105,000 |
NB: I did not include the Chinese producers (Shaanxi Nonferrous Metals, China Minmetals Corp etc), Korea Zinc (650,000 tonnes in 2016) and Votorantim (Brazil) as it is hard for investors to buy these stocks. I would be happy to receive any input to improve the above table.
NB: Teck Resources also produces an additional approximate 300,000tpa from their refined production. The above figure in the table is their own source production.
NB: More 2016 figures are shown here. Total zinc global output for 2017 is forecast to be 12.2m tonnes.
Global zinc mine production by country 2016
We can see from the chart below that most zinc production in 2016 occurred in Bolivia, China and Peru.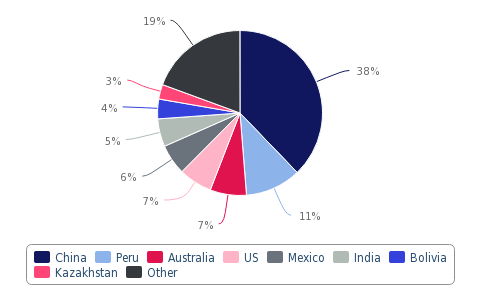 World's top ten zinc mines as of March 31, 2016
The chart below shows Teck Resources Red Dog zinc mine as having the largest 2015 zinc production, as well as the highest zinc grades at 14.6%.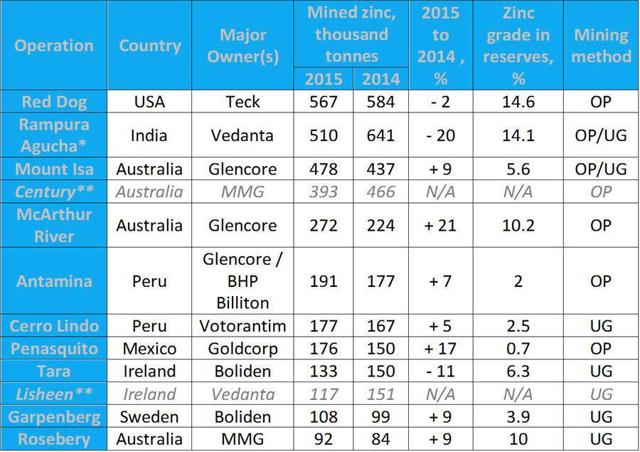 **NB: Century and Lisheen zinc mines were closed in 2015 due to ore depletion.
Global zinc mines comparison by grade
Again the Teck Resources Mad Dog mine in Alaska is a standout, with the highest grade of both zinc producers and zinc projects.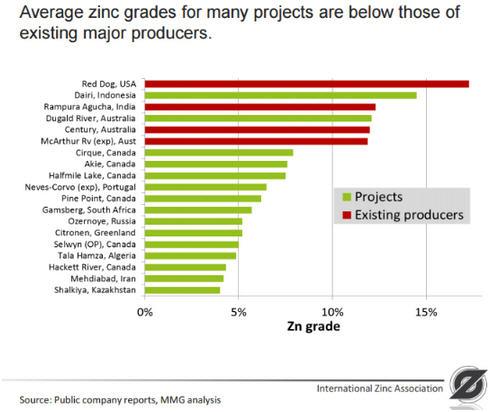 Smaller smaller zinc miners, developers and explorers to consider
In alphabetical order: Altius Minerals Corp [TSX:CN] (OTCPK:ATUSF), Arizona Mining [TSX:AZ] (OTC:WLDVF), Canadian Zinc Metals [TSXV:CZX] (OTC:CZXMF), Darnley Bay [TSXV:DBL], Heron Resources [TSX:HER] (OTC:HRLDF), Ironbark Zinc [ASX:IBG] (OTCPK:IRBGY), Ivanhoe Mines [TSX:IVN](OTCQX:IVPAF), Solitario Exploration & Royalty Corp [TSX:SLR) (NYSEMKT:XPL).
For more information on the global zinc industry investors can read a recent BMI Research report here.
Risks to the zinc price
About 30% of global zinc supply comes from recycling so this could increase.
Oversupply from new production. For now there is minimal new production in the pipeline and Glencore is holding back some of their previously shut down production. Unlikely Glencore will flood the market, as they withdrew supply in 2015/2016.
Demand could weaken. A China construction slowdown and less need for galvanized steel. Possible but not so likely given we already had a 5 year China slowdown 2011-2016.
Conclusion
The recent pullback in the zinc price from around US$1.35 to US$1.17, combined with the looming zinc deficit, make for an excellent entry point to go long the zinc miners. Most analysts are bullish on zinc with most forecasting zinc to reach US$1.35-US$1.55 in 2017 or 2018. In my next article (out very soon) I will be selecting my top 5 zinc miners.
As usual all comments are welcome.
Disclosure: I am/we are long TREVALI MINING (TSX:TV), GLENCORE (LN:GLEN). I wrote this article myself, and it expresses my own opinions. I am not receiving compensation for it (other than from Seeking Alpha). I have no business relationship with any company whose stock is mentioned in this article.
Additional disclosure: The information in this article is general in nature and should not be relied upon as personal financial advice.
Editor's Note: This article covers one or more microcap stocks. Please be aware of the risks associated with these stocks.