Commenting about the recent flurry of M&A in the chemical industry, John Gapper of the Financial Times concludes, "It is enough to make one long for the era when Dow was Dow, ICI was ICI, corporations were simpler, and there was more of a future in chemical engineering than financial." He bemoans the alleged fact that innovation has dried up, quoting a McKinsey study.
One would think that Financial Times staffers would know that any of McKinsey's alleged "research" is at best dubious. Granted, there have been no major new polymers recently. It would be foolish to maintain that polymer science has been exhausted ─ such claims are almost invariably proved wrong. But it is sufficiently advanced that true innovations are, inevitably, few and far between: not just the low-hanging fruit has been picked. On the other hand, incremental improvement is continual, and increasingly, plastics' characteristics are customized to order.
The industry has not developed any new multi-billion dollar materials because the necessary technologies are still in development. The "next big thing" in synthetic materials is molecular construction: the manipulation of atoms to form nanomaterials such as graphene. Commercially useful quantities of these materials cannot yet be produced. Significantly, Wikipedia lists twenty-one production techniques for graphene ─ all very much in the development stage. In other words, commercial graphene is some distance away. The chemical industry has by no means lost its future: it is very busy ─and expending considerable research efforts─ looking for the bridge to it.
Materials are not the be-all and end-all of chemistry: the lack of new, high-volume materials is not a useful indicator of the health of industry innovation. The last thirty years have seen a revolution in the sciences of molecular design and non-molecular compounds, including an improved understanding of catalysis. The result is what have been called "effect chemicals." They are not just a boon for manufacturing process design, but have revolutionized products from adhesives to semiconductors to cosmetics. No single product of this sort has the virtual ubiquity of polyethylene ─ of which more than 80 million tons are produced annually ─ but they are everywhere, and as a group amount to businesses of similar size.
It is important to emphasize that innovation in the chemical industry comes in at least two, only partially distinct ways:
Process innovation: this involves improving manufacturing productivity. Many commentators discount this expenditure as simply defense of entrenched products, but as suggested above, engineering is the difference between a curiosity and a multi-billion dollar commodity. Every innovation starts in a test tube and must be scaled up. And,
Molecular innovation: although serendipity is still important, physical chemistry has reached the stage that, increasingly, molecules can be designed to purpose.
The allegation that the chemical industry has abandoned either in favor of financial engineering is simply false: Dow Chemical (DOW) and du Pont (DD) alone spent an average $1.6 billion (3.1% of revenue) and $1.8 billion (7.0%) on R&D over each of the last three years respectively. In a novel innovation of anti-trust reasoning, competition authorities have used the idea that their merger would lead to reduced R&D expenditure to extract concessions from them. Cuts to aggregate R&D spending are in fact unlikely, but governments (and their clients) know the value of this research, and are happy to use this legal theory to extract some of it from its originators.
What Mr. Gapper and fail to not notice is that the industry has been in continual upheaval since the 1970s, and current developments are just a continuation of those conditions. Not surprisingly for energy-intensive businesses that also use petroleum derivatives as raw materials for many products, chemical companies came under pressure from rising oil prices. An industry that was then dominated by European plants found itself at a competitive disadvantage due to its reliance on naphtha as its primary feedstock, as opposed to the natural gas used in U.S. plants. This became catastrophic for European producers as petrochemical manufacture rose in the Mideast during the 1980s ─ all of it gas-based.
Feedstock costs affected synthetic fibers, too, but they were also under assault from another quarter. Japan's MITI had singled out fibers as a commercial priority in the 1960s. By 1980 Japanese producers dominated both production and weaving. Other Asian countries were quick to follow. They now produce more than ¾ of world nylon and polyester tonnage. The remainder is produced in the U.S., since European producers ─ once major factors in the business (polyester was a British invention) ─ have all but abandoned it.
A sizable portion of the chemical industry once resided in energy companies. Their challenges caused them to rethink their exposure, so ExxonMobil (XOM) and Royal Dutch Shell (RDS.A and RDS.B) and a joint venture between Chevron (CVX) and Phillips (PSX) are the only oil companies that remain among the world's top thirty chemical producers, although some retain minority interests in their former petrochemical divisions. Many former oil industry chemical operations were sold in the 1980s and 1990s ─ for example, LyondellBasel (LYB) was built upon ARCO's and Occidental's chemical operations and Huntsman (HUN) on Texaco's.
In the 1980s most large chemical companies had pharmaceutical divisions. Some were large, including Zeneca (spun off from ICI (itself acquired by Akzo Nobel (OTCQX:AKZOY) in 2008) in 1993 and acquired to form AstraZeneca (AZN) in 1999) and Hoechst's drug division (merged with Rhone-Poulenc in 1999 to form Aventis, which merged with Sanofi (SNY) in 2004). However, the attractions of drug manufacture became less compelling as synthesis moved from conventional organic chemistry to biotechnology. Mergers among drug makers, driven by the demands of scale,portfolio concerns and the need to increase expertise in biotechnology, drew attention to the value of chemical companies' drug subsidiaries, and highlighted the risk that industry consolidation would pass them by.
Much is made of activists' influence on this development, but chemical companies could see the logic of drug industry consolidation without their help. It is notable that only Hoechst and Bayer (OTCPK:BAYRY), the companies with the two largest drug subsidiaries, took a different path than spinning them off. Both adopted a strategy of expanding in pharmaceuticals ─ in Bayer's case, through the €14.6 billion acquisition of Schering A.G. in 2007 ─ and spinning off their chemical activities. Bayer spun off all of Lanxess (OTCPK:LNXSY), its specialty chemicals unit, but retains a majority interest in Covestro (OTCPK:CVXTY), the materials business it spun off in 2015, and as a "life sciences" company, remains a powerhouse in agrochemicals, a position its acquisition of Monsanto (MON) will strongly reinforce.
Regulation bolstered demand for scale throughout the chemical and drug industries. The formation of the European Medicines Agency in 1995 exposed drug makers in some nations to meaningful regulation for the first time, and imposed another regulator on all multinational pharmaceutical companies. Environmental legislation became ever more costly. Following the Bhopal disaster (1984), the industry increasingly found itself in the position of being required to perform the logically impossible task of proving absolute safety ─ an empirical negative. The European Union, with its adoption of precaution as a "general legal principle," is an enthusiastic proponent of such demands.
It should be clear by now that financial engineering is hardly new to these industries. To reinforce this impression, here is an unsystematic, only partially representative list of transactions not already mentioned above: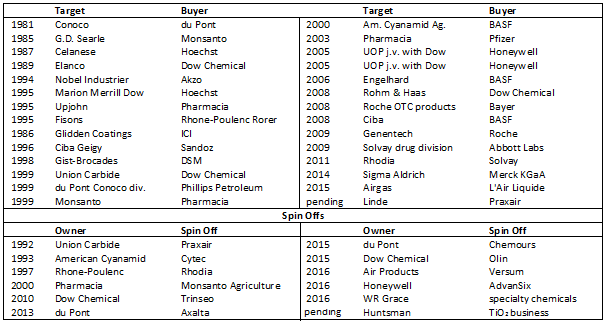 Although the value of transactions has recently increased dramatically, largely as a result of three unusually large transactions (Dow/du Pont (announced 2015), Bayer/Monsanto (2016) and ChemChina/Syngenta (NYSE: SYT), also announced in 2106, deal-making activity has been considerable for some time.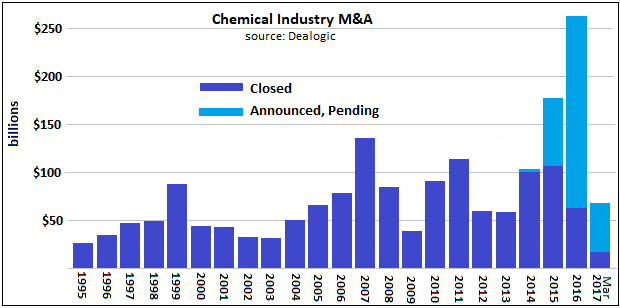 Apart from the great advances in the chemistry of specialty products, there has also been a transformation and then a re-transformation of the specialty chemicals industry. As profits from high volume materials became more difficult to obtain, chemical companies looked for higher margin niches, both through acquisition and more concerted efforts on chemistries they had already developed internally. As suggested above, scientific advances greatly benefited the latter. But recently these have become favored vehicles to spin off. Third Point, an activist investor that is a major shareholder in Dow, is lobbying for many such spin offs after Dow and du Pont merge.
Further, certain product categories ─ notably paint ─ have experienced rapid consolidation. The top ten producers of paints and coatings have nearly a 50% world market share in what was once a highly fragmented industry. Their share continues to grow, largely through acquisitions in emerging markets. PPG (PPG) may have failed to capture Akzo Nobel, but the result will be yet another specialty chemical spin off as Akzo makes good on its promises to crystallize the value of its substantial operations in that area and transform itself into a pure paints and coatings company.
Petrochemicals are again in upheaval, as a result of shale gas. Suddenly, the lowest production costs are in the U.S. While the Mideast continues to build capacity, there has been boom in Gulf Coast construction. Mr. Gapper implies that this is creating overcapacity, but there is little sign that producers will suffer from this in the intermediate term: demand is growing strongly. Eventually there will be a capacity overhang, as there always is in a downturn. When it materializes, Europe's refusal to exploit shale gas could sound the death knell for its once world-beating petrochemical industry.
Effect chemical businesses are experiencing a divergence of strategies. At the same time that more and more of them are being spun off, a number of large, diversified companies are coming into existence. Hunstman's merger with Clariant (OTCPK:CLZNY) will create one, as will the demerger of specialty chemicals from DowDuPont if Third Points fails to get it split up into smaller units. Evonik (OTCPK: OTCPK:EVKIY), constructed from a number of companies including Degussa and spun off from Ruhrkohle in 2013, and the expected spin off from Akzo Nobel are others. There are also a number of large, privately-held specialty chemical producers, such as Wacker Chemie. Whether these companies will continue as large conglomerations of specialized activities or succumb to the pressure to split themselves into more focused operating units remains to be seen. As I have discussed elsewhere, there are arguments on both sides of the issue.
The chemical industry is not senescent, it has not sacrificed its future to investment bankers or hedge funds, it is not at a technological dead end, it will not crush itself under excess capacity and it will not forever suffer from the sorts of market valuations to which it has been subjected since the 1980s. Chemistry, after all, is the science of the material world: the idea that the business of manipulating matter has reached its apogee is absurd.
But how investors should react to this confusing situation is far from clear. Mergers and spin offs will continue -- if not perhaps at the extraordinary rate of the last couple of years, certainly no less than the average of the last twenty years. Companies will continue to try to build optimal portfolios, and investors ought to be able to benefit from their efforts. Some general suggestions:
Petrochemicals and commodity plastics are not a death trap. Demand is strong, some of the weakest players have been driven out of the business, and capacity, while increasing, does not seem likely to outstrip demand before the next global recession. Firms that have invested in U.S. capacity will benefit not only from their cost advantages but because Latin America (their most natural export market) has invested far less than local demand might have justified. Smaller ones, such as Celanese (CE), could become acquisition targets.
As I have suggested, there are arguments on either side of conglomeration in specialty chemicals. There are relatively few that can be large and have a focused customer base, but some can be large and have a fairly focused technological base -- Eastman Chemical (EMN) and Honeywell (HON) are examples. 3M (MMM) might be regarded as a conglomerate of such conglomerates. Smaller firms are acquisition targets, and larger firms may well spin off interesting companies.
Investors who want to exploit the "next big thing" will have a wait on their hands: commercial-scale manufacture of structured molecules like graphene is still some way away. It may even be that chemical companies fail to win the race toward commercialization: some of the technologies involved resemble microchip manufacture far more than they resemble ethylene cracking. This technology will be developed, but when and by whom are very good questions.
Highly concentrated sectors within the chemical industry, such as paint and coatings or industrial gases, will continue to become more concentrated, largely through acquisition in emerging markets. Outside of the majors, any paint manufacturer is a potential acquisition target, although the sector is likely to attract increasing attention from competition authorities in developed markets. Sherwin Williams (SHW) is a very likely acquirer of assets that become available, especially in Europe, where its presence is too small to attract much anti-trust scrutiny.
Mr. Gapper may decry all the confusion, and long for supposed "good old days" -- neglecting the fact that they were difficult long before now. Investors are also likely to be bewildered. But the idea that the chemical industry has nothing to offer other than the occasional scraps that investors can snatch from financial engineering is clearly wrong. It is a cyclical business, and that will not change, but still a growth business. Current industry conditions recommend healthier valuations than the industry has enjoyed for decades. Financial engineering as much as Mr. Gapper may decry it, is unlikely to detract from them.
Editor's Note: This article discusses one or more securities that do not trade on a major U.S. exchange. Please be aware of the risks associated with these stocks.