On Thursday, before the opening bell, Kroger (NYSE:KR) will have an opportunity to show investors that it can thrive in an increasingly competitive retail grocery environment. The company reports fiscal 1Q17 results, with revenues and EPS expected to come in at $35.75 billion and $0.57, respectively.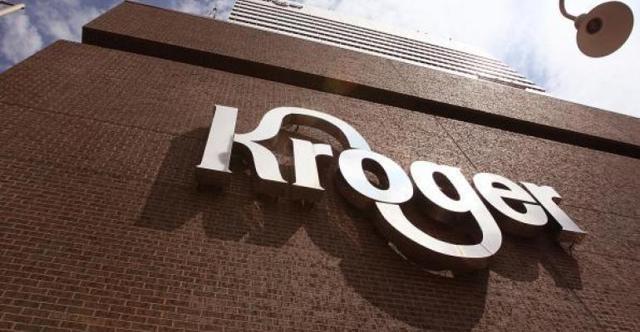 Credit: Supermarket News
First and most importantly in my mind, I will be paying attention to Kroger's same-store sales growth in the quarter. The metric dipped into negative territory last time, the worst that the supermarket chain has produced in organic growth since at least the beginning of 2014 (see graph below). With upbeat comments coming from peer Wal-Mart (NYSE:WMT) on groceries pricing power last month, I would not be surprised to see at least a trend reversal in identical sales ex-fuel in fiscal 1Q17. This would be crucial for the bull story, as I can not imagine the stock spurring interest once again (it has been down -10% for the year so far) without clear signs that the top line can show sustainable signs of improvement once again.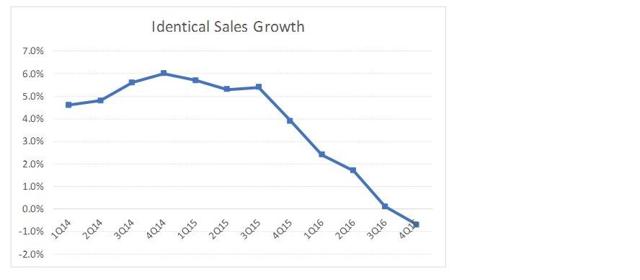 Source: DM Martins Research, using data from company reports
Secondarily, I will keep an eye on profitability, particularly as the current round of voluntary retirement comes to an end. As a recap, Kroger could see up to 2,000 associates take advantage of its employee reduction program, although management expects 1,300 of them to take advantage. Kroger had 443,000 employees as of January 2017 (for an average SG&A cost of about $43,000 per headcount in fiscal 2016), which might make a couple thousand sound like a drop in the bucket. But considering the thin op margin environment that the company operates in (about 3%, on a trailing-twelve basis, see graphs below), cost-reduction efforts could prove meaningful to the bottom line in the long run.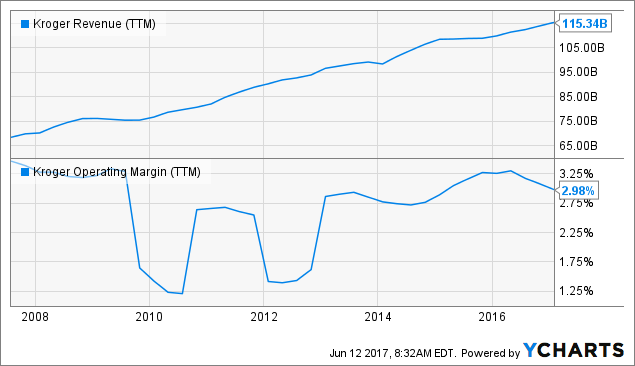 KR Revenue (NYSE:TTM) data by YCharts
On the stock
KR has been clearly hurt by the sector headwinds, which include increased competition, change in customer preferences and minimal price support. The stock is significantly off the two-year highs of December 2015, having come down 26% from that level while the broad equities market has thrived. Comparable sales are about as low as they have been in recent memory. I believe meaningful share appreciation will only happen once revenues pick up, as both seem closely associated with each other.
But on the other hand, KR is also about as cheap as supermarket stocks get in this otherwise overpriced equities market. Shares trade at 14x forward earnings (see graph below). This is not only substantially lower than the valuation of competitors' stocks, like WMT and Whole Foods (WFM), but the multiple is also trending in the opposite direction - down since the beginning of the current year.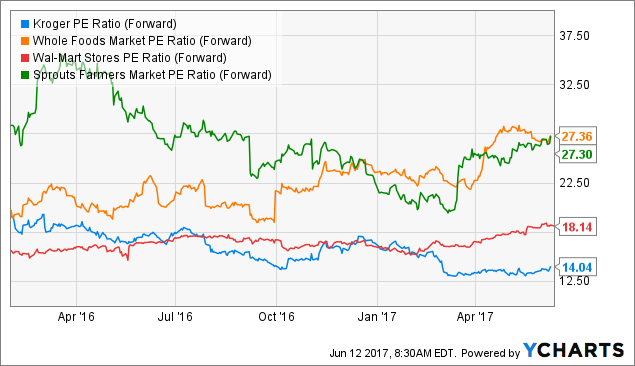 KR PE Ratio (Forward) data by YCharts
For this reason, and despite Kroger's high levels of debt, KR might be a stock worth keeping close watch on. For as long as the company produces negative identical sales growth, buying the stock could seem like dead money. But should the trend shift, this inexpensive name may become more appealing, even if the initial jolt causes P/E to rise by one or two full turns.
This week's earnings report, assuming some level of optimism, could be the catalyst that propels the stock in the right direction.
Note from the author: if you have enjoyed this article and would like to receive real-time alerts on future ones, please follow DM Martins Research. To do so, scroll up to the top of this screen and click on the orange "Follow" button next to the header, making sure that the "Get E-mail Alerts" box remains checked. Thanks for reading.
Disclosure: I/we have no positions in any stocks mentioned, and no plans to initiate any positions within the next 72 hours. I wrote this article myself, and it expresses my own opinions. I am not receiving compensation for it (other than from Seeking Alpha). I have no business relationship with any company whose stock is mentioned in this article.