Regular readers know I'm a big fan of a group of stocks I like to call my Dependable Dividend Growers. These entrenched businesses crank out oversized returns year after year. Many of them have paid out dividends for decades.
If you're looking to strike it rich on the next hot tech gadget, this strategy isn't for you. But if you like steady, regular income, then you'll like this approach just fine. In all my years investing, I've found it's these dependable dividend growers (not the sexy, cool gadget companies) that make investors the most money.
Case in point: Welltower Inc (HCN). This trust owns hundreds of senior care facilities across the U.K., Canada, and the United States. And while it has the excitement of milk toast, this company represents one of my favorite dividend stocks for a few reasons.
1 Dividend Stock for the Next 30 Years?
First, the company has a long growth runway.
The U.S. Census Bureau projects the number of Americans 75 and older will double by the early 2030s. By 2040, this group will number 45.7 million people, representing 18% of the total population.
This powerful demographic trend has already fueled tremendous growth. The number of assisted and independent living units more than tripled during the 1980s, then doubled again by 2000. Over the next decade, this number is projected to grow threefold to 79,000 units. This tailwind will keep rents rising, vacancy rates low, and shareholder returns high.
We're only in the early innings of this secular growth story. The babyboomer generation - some 76 million Americans born between 1946 and 1964 - won't hit their prime age for senior living facilities for several more years. Our target market - the 75 and older crowd - is set to add on average just over one million people per year over the next three decades.
Welltower is positioned right smack dab in the middle of this boom.
The trust owns 1,375 health care properties with some 210,000 residents. With an enterprise value topping $38.5 billion, the partnership is the 6th largest REIT in the country.
Many of these properties represent "Class A" real estate. This means downtown locations in major urban areas. Because you can't easily build new units in these dense population centers, property owners often enjoy the fastest appreciation and the biggest rent hikes.
Furthermore, the market remains highly fragmented. The health care real estate industry is some $2 trillion in size, yet even the largest REITs have less than 3% of market share. This creates a tremendous opportunity for larger players like Welltower to buy out small landlords, exploiting new economies of scale and squeezing out inefficiencies.
You could think of Welltower like a giant shark hunting down good companies that are small and easy to eat. Last quarter, management made over $100 million in such acquisitions. These purchases are good investments as is, but Welltower can earn better returns by squeezing suppliers.
Most of these profits should get passed onto owners.
Welltower has long been a dependable dividend payer. Since 1971, management has increased the distribution almost every single year. Over that period, the payout has grown at a 5.6% compounded annual clip.
Today, the trust pays a quarterly distribution of $0.87 per unit, which comes out to an annual yield of 4.7%. I expect that payout to continue growing in line with earnings at a mid-single digit clip over the next decade.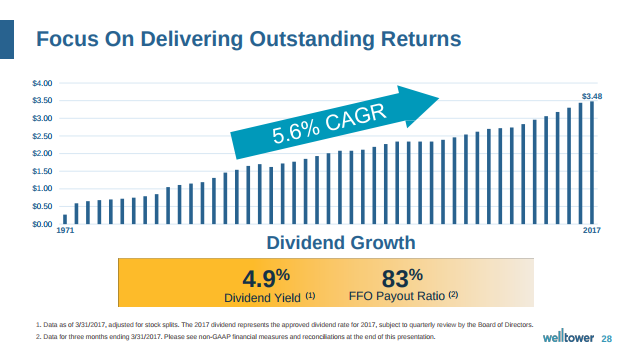 Source: Welltower Investor Presentation
Of course, Welltower is no sure thing.
Senior care is a labor intensive business, with these costs accounting for the biggest share of expenses. A tight job market could push up wages for workers. Higher interest rates, courtesy of Fed Chair Janet Yellen, could also crimp the bottom line.
That said, I'm not too worried. As the largest player in the business, Welltower puts incredible pressure on suppliers to keep costs in line. While margin pressure has clipped rivals, we haven't seen the same problems hit large players.
Furthermore, the trust's balance sheet can survive anything the Fed might throw their way. Over the past few quarters, management has sold off a number of non-core assets to pay off debt. With most of the remaining liabilities locked in for years at low rates, higher interest expenses won't likely threaten the distribution.
The Bottom Line on Welltower
Welltower represents a classic dependable dividend grower: a boring business with a long expansion runway and an increasing distribution. No, this stock won't grab the interest of your most tenacious Tesla enthusiasts. But if you're willing to trade cool tech for dependable dividends, you'll like this stock just fine.
Disclosure: I/we have no positions in any stocks mentioned, and no plans to initiate any positions within the next 72 hours. I wrote this article myself, and it expresses my own opinions. I am not receiving compensation for it (other than from Seeking Alpha). I have no business relationship with any company whose stock is mentioned in this article.