Factory Orders
Factory orders measure the change in dollar value for both durable and non-durable goods orders, updating the most recent durable goods report with new information.
Factory orders for March were revised upward from a gain of 0.2% to 1%, which was due to aircraft orders. This may be good news in hindsight, but it makes the second quarter comparison more difficult, especially since April orders fell 0.2%. This was led by a 0.8% decline in durable goods, also due largely to aircraft, and a modest 0.4% increase in non-durables, led by energy.
When we exclude the transportation and defense sectors from the April results, we find that core capital goods orders saw only a 0.1% increase. Inventories barely budged, rising 0.1%, as did shipments of core capital goods, which is the figure used to compute GDP. This report adds to a long list of negative hard data on the US economy.
In what could be interpreted as a positive, orders for motor vehicles rose 0.6%, but at the end of the food chain, we know that retail sales are struggling. This indicates that the inventory glut will only worsen in the months ahead.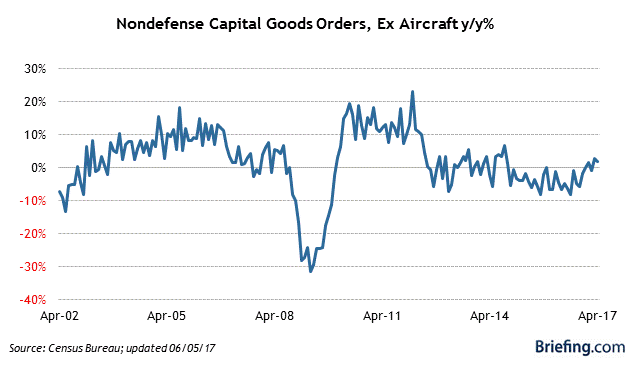 ISM and Markit Services Indices
The soft data, such as surveys, continued to reflect a stronger economy than the hard data we receive each week. The Institute for Supply Management's service sector index compiles survey results from approximately 375 companies representing a wide variety of service-sector industries. This survey continues to report stronger results than the actual rate of economic growth being realized, based on the historical relationship between the index and GDP.
The index fell modestly in May to a still very strong 56.9 reading, up from April's reading of 57. Survey results indicate continued strength in new orders and business activity, as well as employment, which runs counter to the jobs report released by the Bureau of Labor Statistics for May.
One notable aspect of this report was a plunge in the component for new export orders from 65.5 to 54.5. Readings above 50 indicate expansion, while readings below 50 indicate contraction. While exports are still growing, they have weakened demonstrably in this survey, which raises concerns about trade policy, considering the stronger readings we are seeing in foreign economies.
The current reading for this index reflects a rate of economic growth of 3.1%, based on its historical precedent. I seriously doubt we will achieve this rate of growth based on the hard data to date.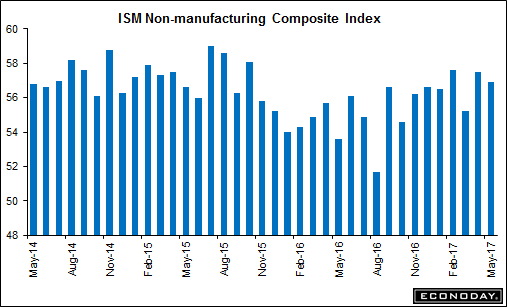 Markit's PMI Services index has had a more sobering view of the US economy, rising to a more modest 53.6 in May from April's reading of 53.1. The good news in this report is that backlogs increased for the first time since January, which bodes well for future business activity and employment. We will see if the survey results translate into real activity.
The historical comparison between this survey and GDP indicates a rate of growth of 2%, which would be markedly improved from the first quarter and consistent with what we have seen during this expansion. I still believe this survey overstates the actual activity that will be reported in the months ahead. I believe participants in both surveys are anticipating developments on the fiscal policy front that will not materialize in 2017, if at all. This reality will weigh on survey results in the months ahead.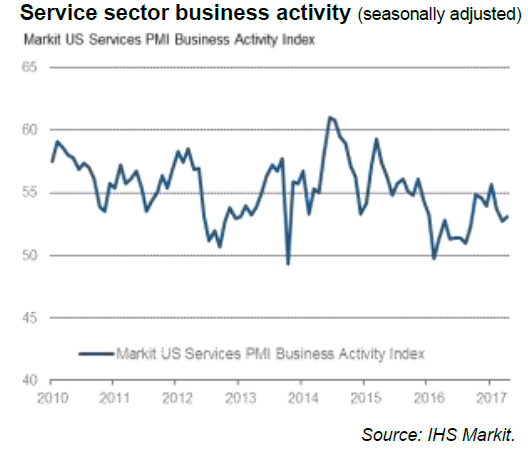 The Consumer
The consumer is what drives economic activity in the US. What has concerned me over the past 18 months is the erosion in real income to the point that it began to decline on a year-over-year basis at the beginning of 2017. I am using average hourly earnings to measure income rather than personal income figures. Personal income includes the most highly compensated, so it doesn't have as close a correlation with retail sales figures as average hourly earnings. Consumers who earn an hourly wage tend to spend a lot more of what they earn on goods and services than those who earn much larger sums.
A new development on the consumer front is raising a red flag. Moody's reported the largest increase in credit-card charge-offs between the fourth quarter of last year and the first quarter of this year since 2009. While the actual percentage of charge-offs for lenders is not that alarming, the rate of change in the increase is very concerning. It does not indicate a strengthening economy - it indicates just the opposite. It is also consistent with a weakening labor market and stagnant-to-declining gains in real income.
Conclusion
Investors often misconstrue the strength of the stock market with a strong economy. The two don't always march in lockstep. Today they are moving in opposite directions, as real economic data falls woefully short of expectations, while stock prices rise regardless of whether the data is good, bad or indifferent.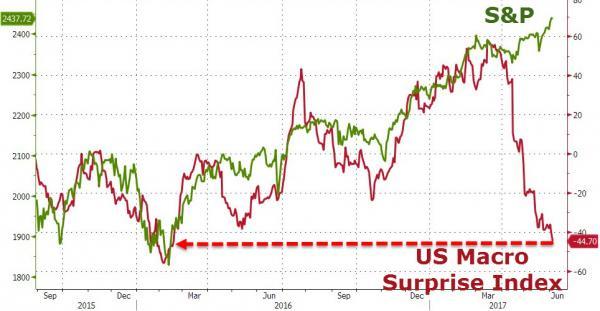 Remember that financial markets continue to be served hundreds of billions in liquidity every month by central banks, while most US consumers are starving for increases in income. This disparity is reflected in the chart above.
Meanwhile the Atlanta Fed's GDPNow model is gradually coming down to reality as the hard data forces it to lower its projections for the rate of economic growth in the second quarter. It has now fallen from 4.3% to 3%, which is similar to the path it took in the first quarter when it declined from 3.2% to a level well below 1%. The other times during my career when I can remember the stock market being this significantly divorced from the real economy were in 2000 and 2007.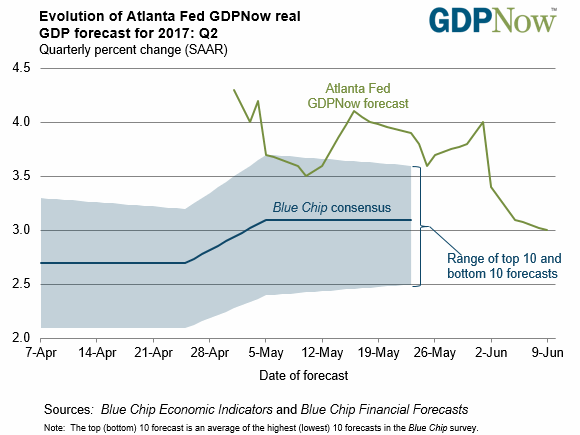 I am honored to partner with Seeking Alpha and Investor in the Family as a presenter at the DIY Investor Summit. In total, nine top investors on Seeking Alpha have gathered to share detailed tips on our core investment strategies, top advice for DIY investors, and specific ways we are positioning for the second half of 2017. This is a unique event that you will not want to miss. Free registration is now open for a limited time.
Disclosure: I/we have no positions in any stocks mentioned, and no plans to initiate any positions within the next 72 hours.
I wrote this article myself, and it expresses my own opinions. I am not receiving compensation for it (other than from Seeking Alpha). I have no business relationship with any company whose stock is mentioned in this article.
Additional disclosure: Lawrence Fuller is the Managing Director of Fuller Asset Management, a Registered Investment Adviser. This post is for informational purposes only. There are risks involved with investing including loss of principal. Lawrence Fuller makes no explicit or implicit guarantee with respect to performance or the outcome of any investment or projections made by him or Fuller Asset Management. There is no guarantee that the goals of the strategies discussed by will be met. Information or opinions expressed may change without notice, and should not be considered recommendations to buy or sell any particular security.