I remember Second Cup's (OTC:SCUPF) IPO back in 2011. It was being hailed by many as the Starbucks (SBUX) of Canada. I stayed away from the IPO because it didn't meet my first rule of retail investing. This rule is the following: "What does this company offer to differentiate itself from its competitors?" Second Cup is surrounded by stronger, better competitors. It has no moat. Six years on; earnings are terrible, debt is mounting and survival is in question. Second Cup makes an attractive short at any share price.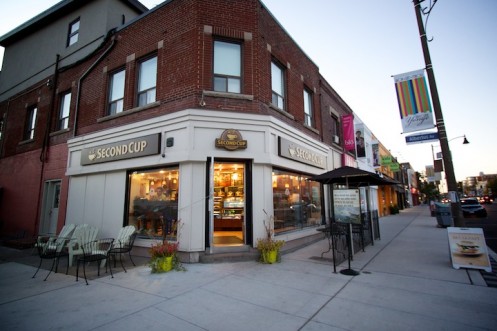 Management shakeups are worrying
Second Cup recently announced the abrupt departure of its CEO pinned with turning around the chain, who's been with the company since 2014. Alix Box will not even stick around as an advisor. She is gone from any executive position at the company…

It gets even better. Two days after the departure of the company's CEO, its CFO announced her departure as well. She's been CFO since 2015.
It always deeply concerns me when an executive leaves a company during deep challenges. Seeing both the CEO and CFO depart (more likely be forced out) at the same time is a MASSIVE red-flag. Regardless this duo will be remembered for the destruction of roughly 2/3rds of shareholder value and the mass exodus of franchises.

You're not buying the bigger picture
Second Cup equity only gives you exposure to the floundering Canadian business. While Second Cup International is a private equity and we have no access to its financials, it is growing its store base considerably and appears to be performing much better. It makes me wonder why the Canadian operations were exclusively IPO'd without the international assets. It appears that they dumped their weakest assets on retail investor bagholders. I don't see any evidence of the international firm having any interest in the publicly listed entity, thus I doubt they give a hoot how Second Cup Canada performs...
Second Cup has terrible relationships with its franchisees
Second Cup's main business is collecting fees from franchisees, so it is critically important they hold a positive brand image. The company has only 24 corporate stores and 269 franchises. Second Cup's strategy under its former CEO was to force stores to go upscale. Struggling franchises were forced into renovations as expensive as C$800 thousand. The problem with this is two-fold. Second Cup franchisees were often mom and pop operators who chose the firm because of its lower cost to franchise. Management presented a catch .22 to its franchisees. To fix underperforming cafes, Second Cup forced struggling operators into renovations. This has not gone over well and revenues have declined 22%. The company went from 337 to 269 franchised stores from Q1 2014 to Q1 2017 so clearly, franchises are not receiving any return on investment.
In fact, this has gone over so poorly that there is a Facebook community around illuminating shady business practices by the company. The company is involved in a class action lawsuit involving disgruntled franchisees… This is as the company is fighting hard to find new locations and franchisees
Air Canada is bailing
While Second Cup doesn't break down revenue it received from Air Canada (OTCQX:ACDVF) for being its coffee de-jour on flights, it's gone now…

In addition, guests were treated to a sampling of some of the new onboard menu choices that will be available for Air Canada customers starting this April, including Lavazza premium Italian coffee that becomes the airline's new coffee offering among its complimentary beverage selections for all customers
Air Canada has been partnered with Second Cup since 2005 and it begs the question, why would they switch coffee providers? It's hard to find a customer of Second Cup that isn't bailing.

Financial developments
Second Cup had a C$6 million dollar term loan expiring January 1st, 2017 and the company were forced to form a special committee to secure financing… They were able to secure a C$8 credit faculty, and considering the position they were negotiating from as you can guess, it is not pretty… The faculty bears and interest rate of 10%, 600 000 share warrants at C$2.75 (which given the current share price, will never be taken advantage of) and a seat on the board. The old loan carried an interest rate of 3.25%, and clearly, the company was forced to take the new faculty to avert bankruptcy. This means that a company generating about C$6 million in revenue per quarter will pay C$200 thousand servicing debt. This is crippling… Considering Bank of Nova Scotia had no interest in renewing its financing with Second Cup, and refinancing required a chunk of flesh, I am very concerned the company will not be able to secure additional financing should it need it. The company has posted persistent losses and they are not shrinking. Revenues declined almost 20% from 2016 to 2017.
Anything looking up for Second Cup?

I'd like to find a bright spot for Second Cup. I really can't. It's a Starbucks clone without the brand image, advertising budget, scale or balance sheet. It is so similar to Starbucks it has been sued in the past by them for attempting the make their stores undiscernable. Management has been weak and the parent seems to have no interest in helping the publically listed entity.
Conclusion

When I look for restaurants to invest in (or short), I look at the management. Second Cup's management failed to turn around the business meaningfully. Revenues continue to decline and franchises are bailing. The brand has a terrible image amongst potential franchisees. Second Cup has a balance sheet that teetered on bankruptcy only saved by an extortionary credit faculty. The coffee space is heating up and there is no reason to expect Second Cup will come out ahead of Tim Horton's (QSR), Starbucks or McDonald's (MCD).
Disclosure: I am/we are short SCUPF. I wrote this article myself, and it expresses my own opinions. I am not receiving compensation for it (other than from Seeking Alpha). I have no business relationship with any company whose stock is mentioned in this article.
Additional disclosure: Long: SBUX