To be perfectly clear, I am not a huge fan of trimming positions but in an effort to raise cash for an inevitable downturn, I will take some profits from a few stocks and increase the cash reserve of the model Team Alpha Retirement Portfolio. It might come with a temporary decrease in the dividend income stream, but given the market uncertainties, it truly is an simple way to reduce risk and increase cash immediately.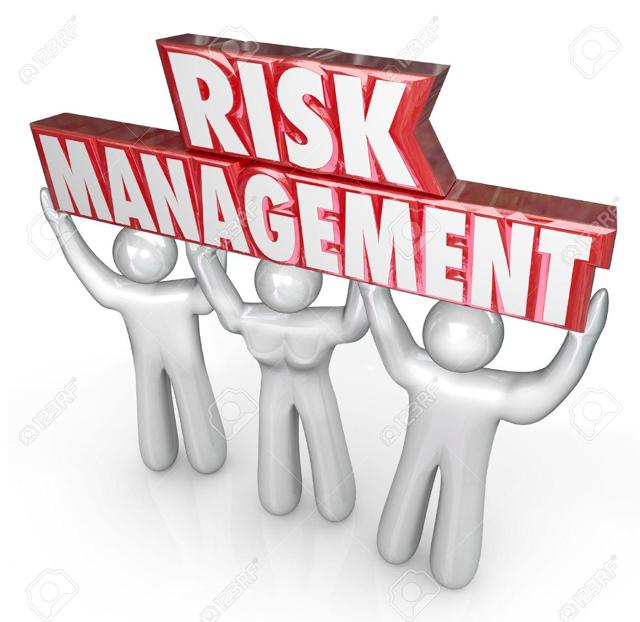 Let's Get Right To The Model Portfolio
The model portfolio now currently consists of the following stocks: Exxon (NYSE:XOM), Johnson & Johnson (NYSE:JNJ), AT&T (NYSE:T), Procter & Gamble (NYSE:PG), Coca-Cola (NYSE:KO), Realty Income (NYSE:O), Main St. Capital (NYSE:MAIN), Microsoft (NASDAQ:MSFT), Con Edison (NYSE:ED), Altria (NYSE:MO), Nuveen Floating Rate Income Fund (NYSE:JFR), Apollo Global Management (NYSE:APO), Apple (NASDAQ:AAPL), and Ford (NYSE:F).

Being hamstrung with no other cash coming in aside from dividends, trimming a few positions that have run up quite nicely means that the portfolio will be taking some profits, but lowering the overall exposure to the risk that overvalued, or generously priced stocks, have.
By lowering the risk for the near term, the dividend income stream will dip temporarily (on an annual basis) however it will add much needed cash reserves to be deployed when the opportunities present themselves.
If you look at the chart, you can see that Microsoft has passed the 50% level (the share price increased by 50% above the cost basis, so 25% of the shares will be sold.
That amounts to: 25% of 200= 50 shares at today's price of $69.15, the portfolio will gain $3,458 for its cash reserves.
As you can see by this SA chart, MSFT has had a nice long run, and with a current yield of 2.22%, this portfolio will do better than that and replace, and probably increase its income without much of a problem.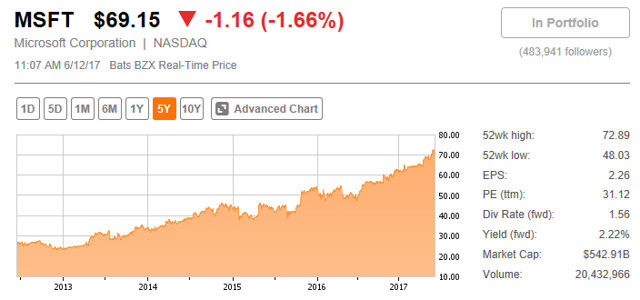 The next stock that has reached the 100% level is Altria. While this stock is a strong part of the portfolio, taking the original investment out, and letting the profits run (basically at no cost) makes sense to me with my simple strategy. 50% of the shares will be sold at today's price of $75.38 per share.
That amounts to: 50% of 300 shares @ $75.38= 150 shares sold with added cash reserves of $11,307.
Looking at the SA chart, MO has had a long run up without a strong pullback and a current yield of 3.23%.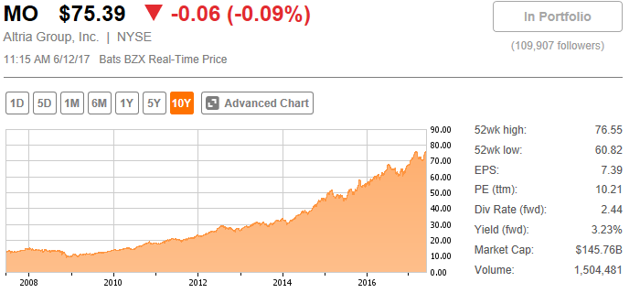 I am not a bear of any sort on MO however, once again the portfolio will be locking in a 100% increase, still have a decent amount of "free" shares left to run, and of course will increase the cash reserves by a healthy $11,307.
The End Result
By making these two minor and prudent moves, total risk is reduced slightly, the dividend income stream will be reduced by about $425 roughly, and the cash reserves will increase by $11,307+$3,458= $14,765, for a total cash reserve of just about $25,000.
I do believe the market is long overdue for a sell off and this will create opportunities to redeploy the cash back into either the same stocks at lower prices, or other accidental high yielding dividend winners or aristocrats that will quickly increase the income stream and have an even stronger portfolio.
The Bottom Line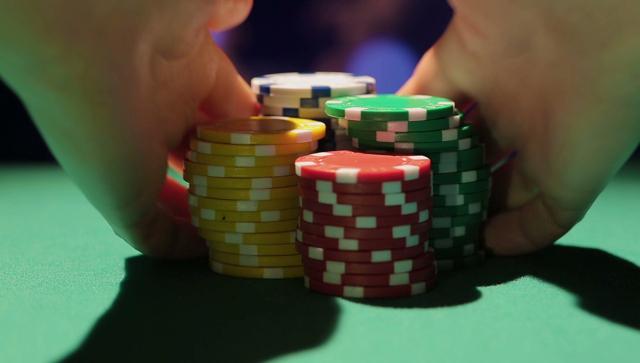 With my own simple strategy, as outlined in both this article, and this article, I am taking the steps that I feel are prudent as of now. That does NOT mean you should follow in lock step if you feel otherwise, but why not at least consider taking a few chips off the table in order to develop YOUR portfolio to hopefully become stronger in the long run, less risky right now, while bolstering your cash reserves to redeploy when opportunities present themselves?
I am not certain if I will be trimming any further, but one never knows!
It makes sense to "simple me", how about you?
Not To Bore You, But...
Knowledge is power, and many folks shy away from the investing world because that very world makes it more confusing each and every day in an effort to sell you something: stock picks, technical strategies, books, videos, subscriptions with "secret ideas," gadgets, and even snake oil.
My promise to you is that my work here will remain free to all of my followers, with the hope of giving to you some of the things that took years for me to learn myself. That being said, let me reach out to you with my usual ending:
**One final note: The only favor I ask is that you click the "Follow" button so I can grow my Seeking Alpha friendships. That is my personal blessing in doing this, and how I can offer my experiences to as many regular folks as possible, who might not otherwise receive it.
Disclaimer: The opinions and the strategies of the author are not intended to ever be a recommendation to buy or sell a security. The strategy the author uses has worked for him and it is for you to decide if it could benefit your financial future. Please remember to do your own research and know your risk tolerance. The long positions held are based upon what the model portfolio holds and I personally could have held all of the stocks noted at one time or another.
Disclosure: I am/we are long AAPL, APO, ED, F, JNJ, JFR, KO, MAIN, MO, MSFT, O, OVBC, PG, T, XOM.
I wrote this article myself, and it expresses my own opinions. I am not receiving compensation for it (other than from Seeking Alpha). I have no business relationship with any company whose stock is mentioned in this article.
Additional disclosure: The portfolio is for educational purposes only, and not an actual portfolio. The long positions are based on the model portfolio.