The recent technological advancement within artificial intelligence, the "Internet of Things", and robotics has generated significant impact on traditional businesses, causing decreasing profit margins across several sectors, whereas most of the big winners in the Wall Street IPOs are companies with innovative ideas from Facebook (NASDAQ: FB) and Twitter, (NASDAQ: TWTR) to Snapchat (NYSE: SNAP). There are two common determining factors among those successful IPOs: Ideation and User Generated Content (UGC).
In the era of big data and artificial intelligence, we will soon be able to create the tools to better capture the value from ideation and UGC, as well as spur economic growth by capitalizing on human ingenuity. With the ever-accelerating developments in technology, the world is in the process of moving from a consumer economy to a knowledge-based economy, and from a debt- based system to an equity based system, which will include movement from tangible assets to intangible assets. Hence we envision that our world economic system will operate on a new growth formula.
This growth formula is as follows:
IA > M1 ∴ IC + AI = W
which translate into Intangible Assets (IA) is greater than Money Supply ((M1)) - therefore - Intellectual Capital (IC) plus Artificial Intelligence (AI) equals Wealth (W).
With this formula, we are developing a new financial platform - The Artificial Intelligence Economic Development Corporation (AIEDC). This platform will combine artificial intelligence with human intelligence along with big data to spur long term sustainable economic development that will facilitate the discovery, as well as the advancement of ideas - from ideation to monetization, in the area of economic development through the creation of new businesses, land infrastructure projects, environmental projects, scientific research, and technological projects.
At this time, the AI community is very vibrant and open with a lot of open source projects pioneered by the likes of companies such as, Google (NASDAQ: GOOG), Facebook and Amazon (NASDAQ: AMZN). These open source projects will be extremely beneficial to the future of growth and economic development of the World.
The high performance computing technology which is quantum leaping at this time, has been fueled by the recent developments in bitcoin mining, as well as the new chips that are being released every month, such as the tensor processing unit (TPU) from Google and Volta architecture from Nvidia (NASDAQ: NVDA) that are taking AI development to the next level.
According to Accenture LLP's report "Why Artificial intelligence is The Future of Growth", research on the impact of AI in 12 developed economies reveals that AI could double annual economic growth rates by 2035, specifically by changing the nature of work and creating a new relationship between Man and Machine. The impact of AI technologies on businesses is projected to increase labor productivity by up to 40 percent and enable people to make more efficient use of their time. This additional allocation of "Time" will further seed the development of ideation and user generated content.
Government organizations around the world have been accumulating vast amounts of data - by forming public private partnerships (P3's), AIEDC's platform will help governments all over the world through strategic partnerships for economic development.
At the center of the company will reside the M.I.N.D - a Machine Intelligence Neural-Network Database. Our neural network database is a clustered computational model with artificial neurons receiving input variables similar to a biological brain in a human being. The database will be the collective sum of all the data being fed into the M.I.N.D at that time.
The M.I.N.D. enabled platform will utilize artificial intelligence to combine the aspects of incubators, venture capital firms, crowdfunding, as well as project financing. It will include, but not be limited to intellectual property registration and protection, blockchain based smart contracts, and initial cryptocurrency offerings.
Finally, the M.I.N.D. will convert the Ideas submitted by users from intellectual capital to intellectual property.
With this platform, people with innovative ideas will be able to have their ideas validated, protected and converted into capital; investors will have a new platform and mechanism to effectively invest in new ideas and or companies; industry practitioners will have more and better ideas to execute on; governments will have additional income through their stake in the platform funded projects; the society will have a long term sustainable growth model.
Here are some thoughts from industry visionaries:
DeepMind's Cofounder Mustafa Suleyman:
The following is from the Business Insider article, 'In many areas, capitalism is currently failing us'
"And yet in many areas, capitalism is currently failing us," he said. "We actually need a new kind of set of incentives to tackle some of most pressing and urgent social problems and we need a new kind of tool, a new kind of intelligence, that is distributed, that is scaled, that is accessible, to try and make sense of some of the complexity that is overwhelming us."
Facebook's Cofounder Eduardo Saverin: stated the following as well:
This quote is taken from a CNBC article title, What I Learned From Watching "The Social Network"
"Entrepreneurship involves mistakes and failures. But ultimately, if you have that intellectual capital and intimate understanding behind your project, you have a chance to succeed. Intellectual capital, and not just monetary capital, will spawn the next great product or idea. Entrepreneurs, especially in the technology sector, will create things tomorrow that we can barely imagine today".
Leonard S. Johnson, The Artificial Intelligence Economic Development Corporation.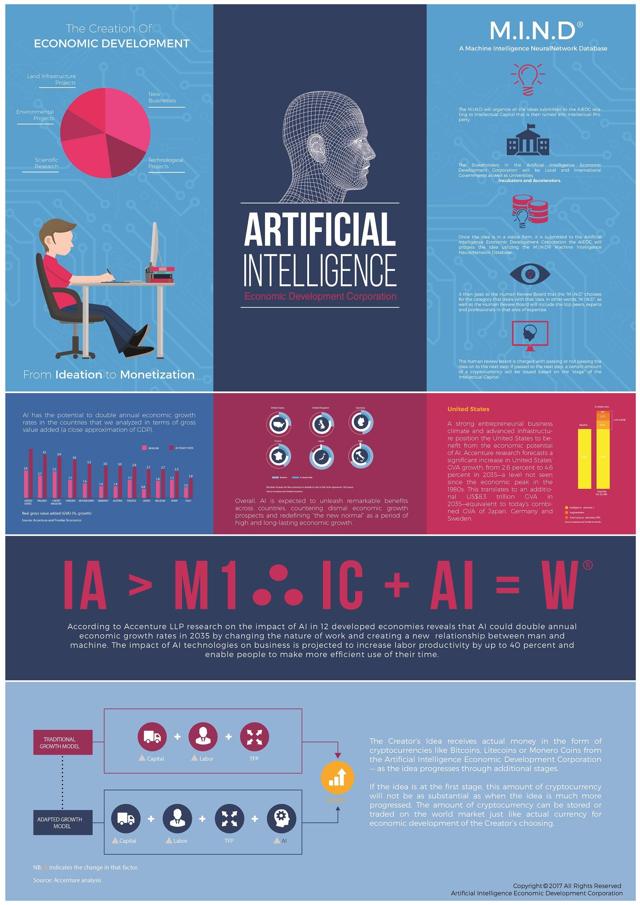 Disclosure: I/we have no positions in any stocks mentioned, and no plans to initiate any positions within the next 72 hours.
Business relationship disclosure: I am the CEO of the Artificial Intelligence Economic Development Corporation