The S&P has been range-bound with a slight bear bias in the first couple hours of today's trade, as markets stabilize after the brief sell-off on Friday. The Nasdaq is range-bound near Friday's lows as buyers and sellers fight over the short-term level.
The Japanese yen and gold (NYSEARCA:GLD) futures were both range-bound overnight as well, with gold off about 0.40% and the Yen trading stronger against the US dollar by the same.
After a brief stop at the 12-handle before falling off on Friday, spot VIX has opened the Quad Witching week at 11.54, or 8% higher than last week's close.

CNBC: Friday Close

Despite three of the four most heavily followed US stock indexes finishing positive or marginally negative, Friday's overall movement was moderately volatile. At their respective lows, the S&P (NYSEARCA:SPY) was down 20 points, and the Nasdaq (NASDAQ:QQQ) was down 170 points after opening at record highs.
Though still the best performing S&P sector year-to-date, the technology sector (NYSEARCA:XLK) sold off heavily on Friday, shedding 2.47% in the process. Meanwhile, the struggling of late energy sector (NYSEARCA:XLE) put together a strong positive day, gaining 2.41%.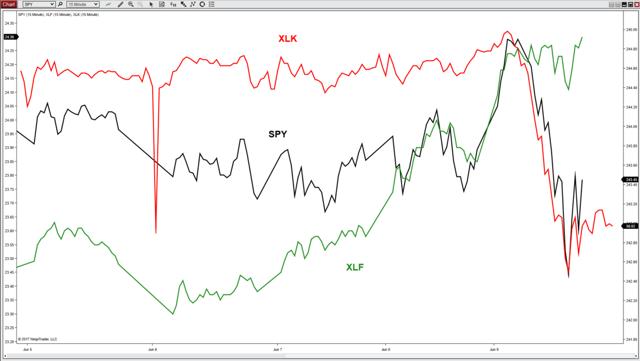 Source: The Balance of Trade
It's a heavy week of scheduled economic releases, headlined by the FOMC Interest Rate decision and following Press Conference Wednesday afternoon. Today the news begins slowly with Treasury Budget being reported in the early afternoon. Tuesday marks the beginning of the FOMC meeting, and the NFIB Small Business Optimism Index will be released as well. Philadelphia Fed information hits newswires Thursday, and in addition to Quad Witching on Friday, Housing Starts and Building Permits are both announced.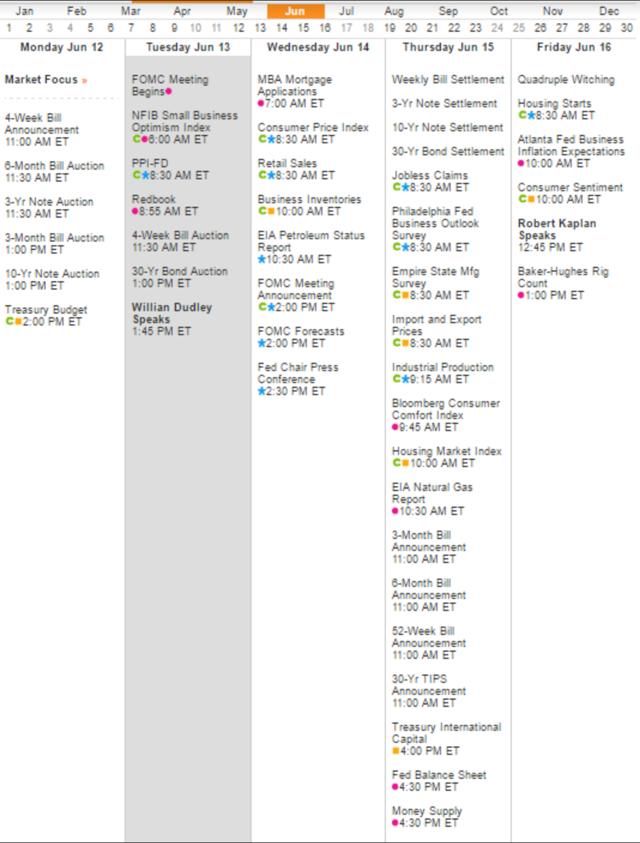 Source: Bloomberg
Shout-Out
We've already mentioned the domestic news scheduled to take place this week; however, it is an eventful week abroad as well. For some background on the other central banks slated to meet over the coming week, we look to a weekend piece by SA contributor Marc Chandler. His Sunday morning article, Politics And Economics In the Week Ahead provides a solid primer to the events taking place this week.
To start, Mr. Chandler notes that while the Bank of England and the Bank of Japan are also meeting this week, only the FOMC is widely expected to move on policy. While Bloomberg, who has recently changed its methodology for calculating rate hike probabilities, reports 97.8% odds of a June rate hike, CMEGroup's FedWatch tool has it even higher at 99.6%.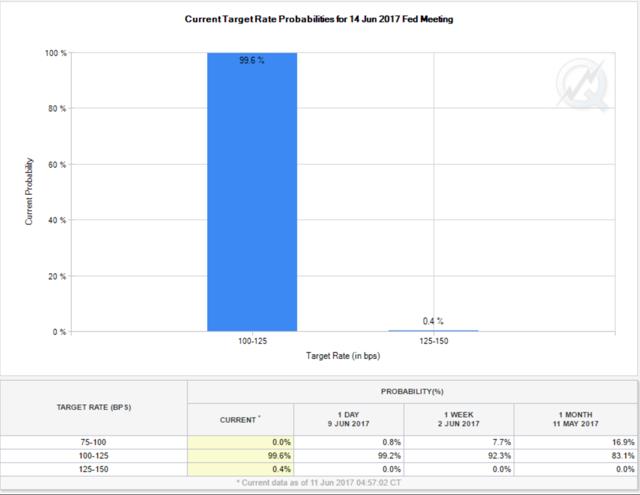 Source: CME FedWatch
The author mentions that this coming rate hike is so highly assumed, it is not even the most important element of the meeting for investors. "Investors also will focus on indications about the coming new balance sheet regime, where the Fed will not simply roll over all maturing issues. In effect, it will unwind the swap that has been dubbed QE. The Fed swapped reserves for Treasury bonds and mortgage-backed securities. Officials want to make the process as least disruptive as possible." Mr. Chandler also notes that while the market is not yet convinced of a third rate hike this year, previous dot plots from the Fed are still expecting as much.
The Bank of Japan meets. There seems to be an increase of interest pertaining to their exit strategy. The message from the Bank of Japan is patience. It is too early to have a meaningful discussion. Although by some measures deflation has abated, the Q1 GDP deflator, which some economists argue is a more accurate measure of prices, was minus 0.8%.
While the recent decline in the British pound has had investors talking, Mr. Chandler maintains that these moves are insignificant for the Bank of England. He notes that the currency is stronger against the US Dollar by 1.6% so far in Q2, and was up similarly in Q1.
Overall, the author has the following to say about the upcoming central bank meetings:
"These central bank meetings and last week's ECB meeting may render the market somewhat less sensitive to this week's high frequency data. The high frequency data is expected to confirm the general macro situation. Of note, the US reports CPI (core likely stable at 1.9%), retail sales (soft headline and steady but inspired 0.2% increase in the GDP components), and industrial output (consensus expects a small gain, but the risk is for small declines especially after the outsized 1.0% increase in industrial output and manufacturing in April)."
Thoughts on Volatility
Though the markets received a pick-up in volatility on Friday, due at least in part to a significant sell-off across the technology sector, we expect this rise to be short-lived. Nasdaq futures traded lower by another 50 points or so in the overnight market, however the aggression with which the S&P was picked up by buyers on Friday leads us to our conclusion.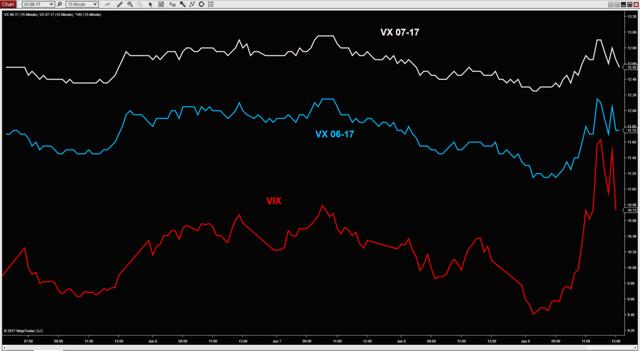 Source: The Balance of Trade
Additionally, as noted last week, it is difficult to believe any sell-off will have significant legs to it until the majority of the country's excess cash is off the sidelines. From that article:
Nikolaos Panigirtzoglou, JP Morgan managing director of global market strategy:
This excess cash acts as a backstop for financial assets, both bonds and equities, because any correction is quickly reversed by investors deploying their excess cash to buy the dip… effectively downside risk and volatility are suppressed, low levels of vol are typically seen in the mid phase of an economic or market cycle."
Though it is tough to believe any market sell-offs, that is not to say that there is free money to be had shorting vol. In fact, last Friday we wrote about the Gambler's Fallacy in some length:
The gambler's fallacy, also known as the Monte Carlo fallacy or the fallacy of the maturity of chances, is the mistaken belief that, if something happens more frequently than normal during some period, it will happen less frequently in the future, or that, if something happens less frequently than normal during some period, it will happen more frequently in the future (presumably as a means of balancing nature). In situations where what is being observed is truly random (i.e., independent trials of a random process), this belief, though appealing to the human mind, is false. Thisfallacy can arise in many practical situations, but is most strongly associated with gambling, where such mistakes are common among players."
Eventually, volatility will mean revert. But that does not at all mean that it has to do so immediately. Though in recent years, the volatility play has certainly been a one-sided trade, one should not leap to any conclusions about what vol "has" to do.
On the other hand, sellers of options or VIX ought to consider that they've basically never been so undercompensated (in absolute terms) for offering optionality and/or hedges to counterparties. This at the very least ought to give pause.

We've certainly seen a pickup in organic at-the-money volatility from Friday's comatose lows. In particular, monthly vol has taken a nice leap, alongside spot VIX. However, while weekly vol is indeed higher than it was on Friday (the first row above looks at Monday-Monday vs. Friday-Friday last week), none of these levels are "elevated", except only by comparison to some of the lowest implied volatility levels that we've seen since the inception of the VIX index.
The second column in the table above shows that annualized (these figures are always annualized) weekly vol is perfectly flat next to monthly vol. Monthly-Quarterly "contango" exists. Recall that contango is a term that actually pertains to the term structure of futures contracts; here we are looking at options. On the other hand, it is from options not unlike these that VIX term structure is determined, so we use the same language, even though that is not technically correct.
Straddles are bid off their lowest levels of last week. In particular - the Jul7 straddle was priced at $38.25 at one point!! Granted we've added a week in the table up top, and that does make a difference. But $50 is much more on par with "normal" for monthly straddle pricing. Heck - right before the first-round French elections we saw weekly straddles north of $40.
Tracking the Trade
We'll keep today's Tracking-the-Trade segment short (more tomorrow!)
That said, please read Friday's update for a solid sense of what we've been trading. We'll give you the short version here:
Last week, we began a new trade to track. Earlier last week, we had a comment from a reader on a trade they wanted to see play out: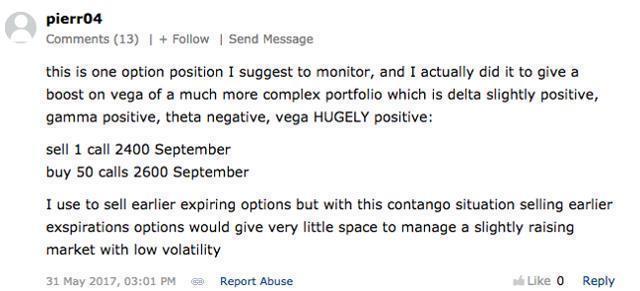 Normally, when we track a trade, we follow it for two weeks or so. Now there is nothing to say that we couldn't do two weeks for this trade as well. But what we've decided is that we will follow this trade (with a couple of modifications along the way) over the next quarter or so.

What we'll likely do is track this trade for a week or two and then head over to something else, keeping an eye on this every so often.
Remember, Tracking the Trade is meant to be educational. We do not put these positions on in reality, and we are not recommending that you trade these spreads. They're really meant to give you the reader exposure to different ways of thinking about risk and the richness of views the options market can uniquely accommodate.
Quick Update:
We'll have more to say on this, but we did hear back from Pierr04 over the weekend. He had this to say in the comment thread:
Comments (15) |Following |Send Message
hi, thank you for taking inspiration from my idea.

A couple of comments:

obviously the figure is not static, but a sort of concrete base on which to apply daily adjustments.

Since the implied volatilty remains low, I would rather do delta hedging with futures instead than placing a huge sale of option to make calendar spread. Selling futures when market rises and buying futures when market drops should give a similar amount of gains to cover the time decay losses. But they are vega neutral operations, so they would keep the high long vega untouched.

One word about theta: it is a very directional bet, with risks and rewards. When we buy or sell a stock we bet on a direction and we are ready to risk on the opposite side. with option there is a third directional possibiliy, and it is 'always stable' against 'price will go somewhere meanwhile'. with delta hedging, we can buy a straddle at the money, in the end the market could close on the strike, but meanwhile the market could have gone wherever and we would have made profits buying low prices and selling high prices.
We appreciate having Pierr04 share his ideas and comments with us. And the fact is, there are a number of ways to trade around a "baseline" position such as the one he suggested. He has offered one major way in the writing above; namely, put the entire position on, and then "trade around" that position… trying to hedge out some of the nasty theta by selling ES when the market is higher, and buying ES when the market dips ("buy the dip!").
In practice, we do ourselves use such tactics. From an educational standpoint, this can be a little trickier to write about at times. It is for this reason that we instead chose the path of modifying the trade and gradually scaling in. It is by no means the case that our method is "better"; in fact, in the first couple days of the trade Pierr04's baseline did a good bit better than did our muted, modified version. It may yet.
For a trade with as much life on it as this one has, we preferred a position that we could gradually enter and modify over the course of a few weeks.
If you have any questions about Pierr04's comment, feel free to list them in the comment section. Perhaps he will answer them himself! Otherwise, we're happy to do so.
Conclusion
That finishes up today's Market Volatility Bulletin; the market seems to be generating a tension between the large losses that "risk-on" leadership names have sustained since Friday; on the other hand, as yet there does not appear to be much belief that we can keep any kind of "risk-off" action alive.
We welcome your thoughts. Thank you for sharing your trading ideas and perspectives with us here. We saw MVB as a way to "get the ball rolling" for those from a variety of backgrounds to share what they were seeing.
Please consider following us.
Disclosure: I am/we are short SPY. I wrote this article myself, and it expresses my own opinions. I am not receiving compensation for it (other than from Seeking Alpha). I have no business relationship with any company whose stock is mentioned in this article.
Additional disclosure: Additional disclosure: We actively trade the futures markets, potentially taking multiple positions on any given day, both long and short. It is our belief that the S&P 500 is meaningfully overvalued. As such, we typically carry a net short position using ES options and futures.