Based in Santa Monica, California, Kite Pharma (NASDAQ:KITE) is dedicated to the delivery of cancer therapeutics through the innovative engineered T cell therapy ("ETCs") platform. With the dramatic results seen thus far in early clinical trials (and especially the cancer remission witnessed in refractory cases), the firm has reasons to pride itself as the leader in ETCs. This biotechnology can potentially deliver the biggest cancer treatment breakthrough since the introduction of chemotherapy more than half a century ago.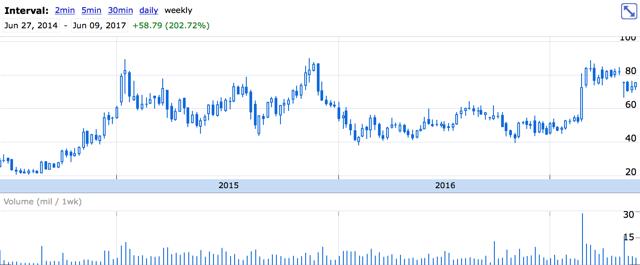 Source: Google Finance
To increase the chances of ETCs success, Kite partnered with Alpine Immunes Sciences in 2015 for the access to its Transmembrane Immunomodulatory Protein ("TIP") that, in and of itself, enhances the functioning of ETCs. As the winds of fortunes - illustrative of the corporate developments and promising early trial results - have enabled the stock to soar by more than 200% in the past four years, the elephant in the room is whether Kite will continue its flight trajectory.
"Oracle of Omaha" Warren Buffett stated that, while share price tends to fluctuate in the short term, it will almost always match the intrinsic value of a company in the long term. So that leaves us with the task of assessing Kite's true worth. For most development-stage biopharma firms, the alluded intrinsic values resides in the efficacy and safety of its therapeutics (as indicated by the drugs' mechanism of action and trial data results). That being said, we'll walk readers through the complexity of Kite's engineered T cells therapies ("CAR-TCR").
Engineered T Cells (CAR-TCR)
Similar to "the general" of an army, the thymus ("T") cells are key intelligence units of the body's defense system (coined the immune system), that direct the combating of diseases like cancer. In contrast to other diseases, cancers are quite adept at evading attacks by the immune system via evolving their cellular targets. By engineering T cells to become smarter at recognizing (and attacking) a patient's cancer cells, Kite's biotechnology can potentially deliver the silver bullets for many seemingly hopeless cancer patients.
As a personalized medicine, ETCs therapeutic is engineered in various steps. First, the patient's white blood cells (those involved in disease-fighting) are collected. Second, T cells from the sample are separated and activated. Third, either T-cell receptor ("TCR") genes or chimeric antigen receptor ("CAR") are engineered into the T cells (to enlightened the generals for upcoming oncogenic battles). In the last step, those cells are then grown in test tubes (to be harvested for later infusion into the patient).

Source: Kite Pharma
With stellar science, Kite is conducting a vast number of early clinical investigations into the potential roles of ETCs (CAR-TCR) for the treatment of various cancers. As mentioned, the firm stated that early results have been highly promising, even for refractory cases. Hence, the company decided to aggressively advance the pipeline as shown in the figure below.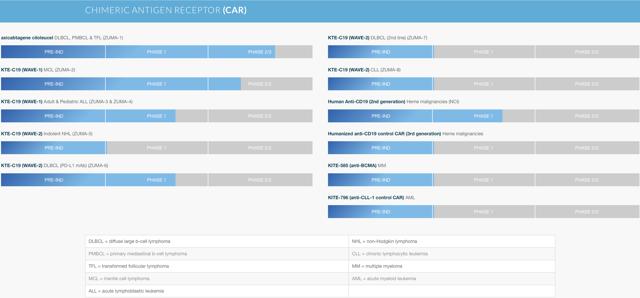 Source: Kite Pharma
Notably, "the most advanced candidate is axicabtagene ciloleucel, which was submitted to the U.S. FDA for approval as a treatment for patients with relapsed or refractory aggressive non-Hodgkin lymphoma ("NHL") who cannot receive autologous stem cell transplant." In addition, lead TCR product candidate (KITE-718) is currently being investigated in a company-sponsored trial.
Alpine Immune Sciences Partnership
Fiscal 2015 marked the partnership with Alpine Immune Sciences, which enabled Kite Pharma to further enhancing the functioning of its ETCs through the application of Alpine's Transmembrane Immunomodulatory Protein coined TIP.
The aforesaid stepping stone enabled Kite's ETCs to have the best chances of success in later clinical trials. Due to the significant contribution from TIP, Kite agreed to pay Alpine up to $535M. And we noted in the prior research on Nivalis Therapeutics (NASDAQ:NVLS) that the deal is highly favorable for both companies.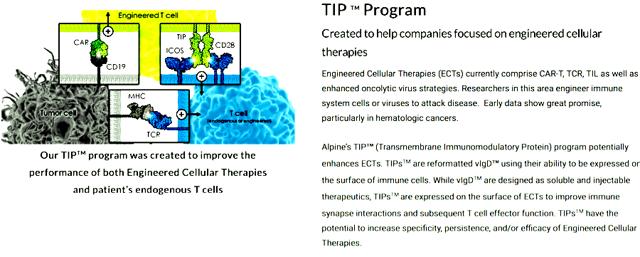 Source: Alpine (Refined By Dr. Tran BioSci)
Financial Analysis
Cash and equivalents drastically increased by 230%, from $170M to $565M during the Q4 2016 to Q1 2017 period. Meanwhile, Kite's total debts rose 60% higher ($90M to $144M). In addition, shares outstanding went up by only 6.7M counts (to an aggregate of 56.2M). Altogether, these metrics indicate the strong financial health of a biopharma: one that has an ample cash supply and is modest in its spending.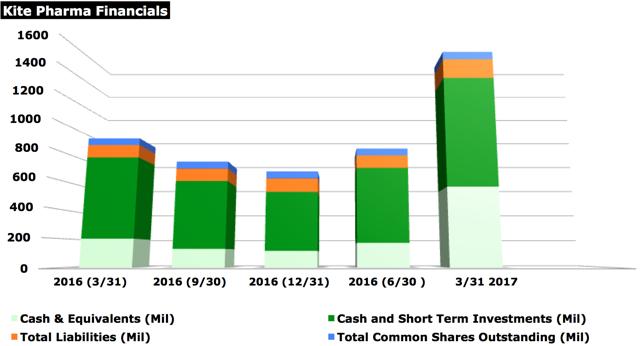 Source: Dr. Tran BioSci
The Management
Kite's senior management has the strong pedigrees and an extensive track record of performance. Chairman, President, and CEO, Arie Belldegrun, M.D., is a leader in the development of novel cancer treatments. The captain has one of the most distinguished track records of accomplishments in the bio world. Beyond the stellar achievement in medicine, Dr. Belldegrun also found and advanced several successful private companies. And for a firm that is innovating the potential cancer breakthrough of our lifetime, it's comforting to know that the leadership is of stellar quality: they will give shareholders and patients the best chances of success.

Source: Kite Pharma
Potential Risks
It is important for investors to realize that there are inherent risks in biopharmaceuticals investing. As follows, future trials results may not prove favorable. Even if ETCs showed positive outcomes in clinical studies and received regulatory approval, the therapeutics may not arguably generate blockbuster sales.
And despite that the new trend (individualized medicine) tends to deliver the best outcomes for disease management, the process can be complicated for developers and cumbersome for patients. Consequently, that complexity could deter sales.
Furthermore, given the lengthy development process, it is highly likely that Kite would need to resort to dilutive financing that, in and of itself, can lower shares price. Nonetheless, prudent dilution for a developing biopharma is warranted.
With high volatility intrinsic to biopharma investing, there can be significant drops in share price in the foreseeable future. Needless to say, it will rise to the new highs that are, if and only if, ETCs therapeutic continues to post stellar trial results.
Conclusion
Despite that it is highly difficult to gauge the future success of CAR-TCR, Kite has the sound science, promising early trial results, and stellar management to optimize the chances of success for this potential medical breakthrough. As Kite Pharma's underlying fundamentals remain strong, it is not far from the truth that the substantial gain in capital appreciation for shareholders will further be amassed.
Notably, the mismatch between the business' true worth and market value can occur in the short-term. So long as Kite continues to post strong data (and is modest in its spending), any share price decrease is an opportunistic buy for the long-term oriented value investors. On the contrary, if future trial results turn out unfavorable, then it's best to consider cutting the string on Kite.
As the final note, the future remains untold. More trial results to be seen. As for now, Kite is flying high with its wind of fortune.
Author's note: If you enjoy reading our research, be sure to click the "follow" button for the latest insights.
Disclosure: I/we have no positions in any stocks mentioned, and no plans to initiate any positions within the next 72 hours.
I wrote this article myself, and it expresses my own opinions. I am not receiving compensation for it (other than from Seeking Alpha). I have no business relationship with any company whose stock is mentioned in this article.