Investors must be exhausted by the daily theatrics on the fiscal policy side. For what was once a headline dominating event in the latest Federal Open Market Committee (FOMC) meeting, this week has seemingly been relegated to being an afterthought. But the latest Fed gathering on June 13-14 that is immediately followed with a press conference on Wednesday afternoon is worth watching particularly closely. For not only is the Fed almost certain to snatch its second quarter point rate hike in 2017 and third in the past six months, perhaps more importantly it is expected to lay out the course for some important monetary policy changes in the coming months.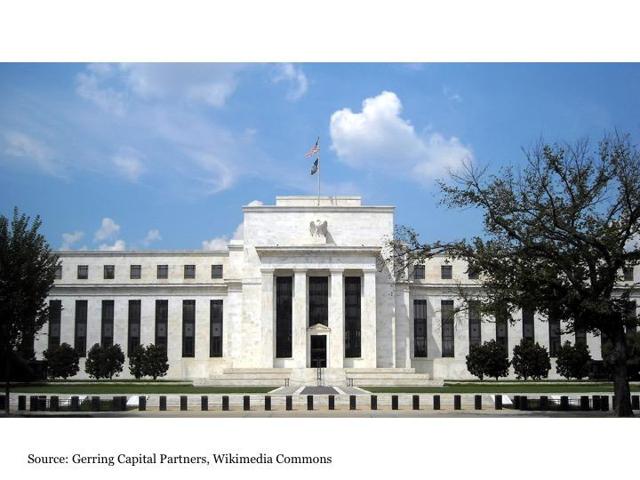 Time For Change
The U.S. Federal Reserve has a few key items on its meeting agenda this week.
June Rate Hike
First, it needs to raise interest rates by 25 basis points. This is all but certain to happen according to CME Fed Fund futures, which is assigning a 95.8% chance for a quarter point increase on Wednesday that is down from 99.2% at the end of last week.
Why would anyone think that the Fed might not raise interest rates this week? Because the economic data continues to disappoint in suggesting sub-2% growth for 2017 instead of the previously hoped for 3-4% pace. Moreover, the pro-growth fiscal policy legislation that had the markets so excited late last year and early this year appears increasingly likely to be heading nowhere. But despite the lack of economic strength, the Fed is still expected to continue forward with raising rates, as the priority to work toward normalizing monetary policy from the extreme accommodation that has been in place for so many years during the post crisis period is outweighing any concern over recent economic data that once again is falling short of expectations.
So, for the sake of discussion, let's just assume the second rate hike of 2017 is in the bag and move on to the next item on its agenda.
Future Rate Hikes
Next, the Fed needs to set market expectations for how it plans on moving with interest rates over the remainder of 2017. This is where things start to get trickier.
To begin with, while economic data continue to come up short and future expectations are increasingly dampened, the U.S. stock market (NYSEARCA:SPY) continues to surge as if everything is awesome. And, this marks the eighth year in a row now where stocks (NYSEARCA:DIA) have surged despite the economy being anything but awesome. The Fed appears to finally be waking up to the potential risks associated with this disconnect that has existed for several years now, as mentioned in the minutes from its March FOMC meeting.
"Broad U.S. equity price indexes increased over the intermeeting period, and some measures of valuations, such as price-to-earnings ratios, rose further above historical norms."

"Some participants viewed equity prices as quite high relative to standard valuation measures."

- Minutes of the Federal Open Market Committee, March 14-15, 2017
Based on its commentary in recent months, the Fed seems committed to stay on the gradual rate hike path but is keeping its options open to tighten more aggressively if say the unemployment rate continued to fall, if wage pressures accelerated or if fiscal policy makers finally started making legislative progress. Of course, it also kept options open to tighten less aggressively, but the overall direction remains toward continued tightening in the months ahead.
Thus, the question remains - by how much and when?
At present, CME Fed Fund futures are currently pricing in a 24.6% probability for another quarter point rate hike coming out of its next press conference meeting on September 19-20. This is down markedly from a 43.7% probability as recently as a month ago on May 10.
What about the next press conference meeting after that in December? CME Fed Fund futures are currently pricing in a 49.1% probability for at least one more quarter point rate hike by the time it is emerging from its December 12-13 meeting.
OK. So the market is assigning effectively even odds that we'll see at least one more quarter point rate increase from the Fed by the end of the year. What's so tricky about this point?
My concern is that the market may be underpricing the probability for a more aggressive than anticipated Fed in the second half of 2017. Here's why.
The Fed's decision making on rates likely has little to do with the fading economic outlook at the moment. Let's face it, the economy we are seeing unfold in 2017 is the same economy we have seen unfold every year since 2010 - we go into the year with expectations that things are going to change and the economy is finally going to accelerate, and we end up with the same old, same old. But the Fed has to have come to the recognition by now that keeping policy ultra-loose is doing nothing more than jacking up stock prices (NASDAQ:QQQ) and increasing future systemic risks.
At the same time, the Fed still has the flexibility to raise rates despite the weakening economic outlook. Even though the Fed has raised rates twice since December, still rampant money printing from the European Central Bank (ECB) and the Bank of Japan (BOJ) has resulted in global monetary conditions have become easier on net over this time period. This helps explain why stock prices (NYSEARCA:IVV) have continued to rise in 2017 despite higher interest rates from the Fed. And, given the Fed's increasing priority to store up more monetary nuts for the next economic recession winter whenever that may finally be (given that the traditional economic cycle from expansion to peak to recession to trough has run at about four years on average throughout history, we are looooong overdue at more than seven years and counting just on the expansion phase, albeit sluggish, in the current cycle), the fact that the ECB and BOJ continue to pour stimulus on at least for now is giving the Fed cover to potentially nab an extra interest rate hike or two in the coming months.
Future Fed Control
Next and perhaps most unpredictably, the current members of the Fed have to be realistic about how their current course of action may be changed by forces outside of their control starting early next year. Those that run the Federal Reserve are human, and they clearly have a strong view on the course of monetary policy going forward. They must also recognize that starting in February 2018, Janet Yellen's term as Chair of the Federal Reserve is set to come to an end, with Stanley Fischer's term as Vice Chair set to expire a few months later in June 2018.
Could Ms. Yellen be reappointed to her role as Fed Chair in February 2018? Certainly, although I would assign less than even odds on such an outcome at the present time. Instead, the potential exists for the President of the United States to appoint someone new to run the Federal Reserve. And it is possible that this person may have a decidedly different view on how monetary policy should be administered going forward versus what is currently being done today. This difference may range from far more restrictive monetary policy as suggested by the President's campaign rhetoric to a shift back toward easier monetary policy as implied by some of his comments since taking office. Regardless, the future path of monetary policy from the Fed remains largely unknown beyond February 2018, and if you are the people running the Fed today, the incentive exists to get more of the policies that reflect your beliefs implemented sooner rather than later before someone else takes the job and starts turning the ship in a different direction.
Putting all of these factors together, this would imply the Fed moving to take at least one more rate hike in 2017 past June if not two, which is much higher than what the market is pricing in today.
Quantitative Tightening (QT)
Lastly and perhaps most significantly, the U.S. Federal Reserve is likely to begin officially outlining its plans to begin shrinking its balance sheet. This is the same balance sheet that swelled like a hot air balloon from just over $800 billion at the start of the financial crisis to more than $4.5 trillion by 2014 thanks to three major quantitative easing (QE) programs. The Fed has kept its balance sheet steady over the past three years, but the time has now come where the Fed is ready to begin shrinking this bloated balance sheet.
Once it begins the discussion, three key questions will be worth exploring in detail on the program that can be referred to as quantitative tightening (QT).
First, when does it plan on getting started?
Second, how much does it plan to let roll off the balance sheet initially and at what rate will this increase over time?
Third, exactly what is the strategy that it will implement in shrinking the balance sheet including what assets and how much of each asset?
Previous comments from the Fed suggest that it is planning to get started later this year and plan on being gradual by focusing first on letting maturing assets roll off the balance sheet instead of reinvesting the proceeds and placing caps on how much will be allowed to roll off on any given month with this cap slowly rising over time. This implies an initial balance sheet contraction in the range of $25 billion to $30 billion per month that could slowly rise over time.
While reports suggest that FOMC members are on the same page with this type of QT process, nothing is official as of yet.
But the fact that the Fed is planning on draining money from the liquidity tub is a notable change worth monitoring closely in the months and years ahead. For at its simplest level, if the addition of billions of assets to the Fed's balance sheet helped drive asset prices artificially higher for so many years during the post-crisis period, the subtraction of billions of assets from the Fed's balance sheet implies the potential for a future drag on asset prices going forward, all else equal.
The Bottom Line
While events such as Congressional testimony, the UK elections and the recent tech sell-off have diverted eyes from the upcoming Fed meeting this week, it remains a key event worth watching. And this meeting more than many of the gatherings that have taken place in the last couple of years will be particularly important to watch, not necessarily for the rate hike that is all but in the bag for June, but to understand what the Fed plans on doing for the remainder of the year and its implications for financial markets. We will know much more come Wednesday afternoon.
DIY Investing Summit 2017 - Special Online Event on June 27-28: Please join us for the Mid-Year DIY Investor Summit coming up soon in late June. Seeking Alpha has partnered with Brian Bain from Investor In The Family once again to bring together nine top investors to share their best strategies and investments for finishing strong in 2017. I am honored to be taking part in this latest Summit with a group of leading contributors that includes Brad Thomas, Bret Jensen, J Mintzmyer, William Koldus, Mark Hibben, Ian Bezek, Lawrence Fuller, and Double Dividend Stocks.
Free registration for this special online event starting on Tuesday, June 27 is now open. Please click on the link below if you are interested in registering and learning more.
Learn More & Register For The Mid-Year DIY Investing Summit
Thanks and I look forward to meeting up at the Mid-Year DIY Investing Summit.
Disclaimer: This article is for information purposes only. There are risks involved with investing including loss of principal. Gerring Capital Partners makes no explicit or implicit guarantee with respect to performance or the outcome of any investment or projections made. There is no guarantee that the goals of the strategies discussed by Gerring Capital Partners will be met.
Disclosure: I/we have no positions in any stocks mentioned, and no plans to initiate any positions within the next 72 hours. I wrote this article myself, and it expresses my own opinions. I am not receiving compensation for it (other than from Seeking Alpha). I have no business relationship with any company whose stock is mentioned in this article.
Additional disclosure: I am long selected individual stocks as part of a broadly diversified asset allocation strategy.