I decided to write this article after seeing increased positive sentiment about Nike (NYSE: NKE) in the news and on Seeking Alpha. For example, Hoplite Capital Management's John Lykouretzos recently pitched Nike as a long bet, arguing that growth in China should serve as a tailwind for Nike in the future.
Nike bulls do have a point: Nike shares have remained relatively flat for over two years despite steadily increasing earnings and revenue; Nike remains dominant in the sportswear industry; and Nike's current PE ratio is the lowest it's been in years.
However, I'd like to argue that Nike still has further room to the downside due to competitive pressures from a resurgent Adidas (OTCQX: OTCQX:ADDYY), slowing growth and profitability, among other factors.
Nike's recent underperformance at the hands of Adidas's resurgence indicate that a paradigm shift may be occurring in the sportswear industry, specific details of which I'll outline below. For purposes of this discussion I will focus on Adidas and Nike, since they are the two largest sportswear companies by a large margin.
Investing in Sportswear
I'd like to begin this article by making a point that I believe is critical to remember when investing in sportswear companies. Sportswear is a part of the fashion industry and as such monitoring and understanding shifts and trends in consumer preferences is an integral part of investing in companies such as Nike, Adidas, or Under Armour and can lead to outsized gains.
The current "athleisure" trend favoring casual, fashion-oriented apparel and footwear is the primary reason why Nike and Under Armour's (NYSE: UAA) multi-year share uptrends were broken and why shares of Adidas have more than doubled in less than a year.
The global athletic wear industry remains robust, driven by growth in China and an increased emphasis on healthy living. Global athletic wear sales are projected to increase by nearly 20% to $355 billion by 2021, up from $290 billion currently, as per analysts from Morgan Stanley.
There are concerns that the sportswear industry is struggling due to weakness in the retail sector, and some have pointed to Nike and Under Armour's struggles as evidence of this. However, these concerns ignore how well Adidas and Puma have performed as of late.
The sportswear industry remains strong and I believe Nike and Under Armour's sales slowdowns have primarily been a consequence of Adidas's resurgence rather than weakness in retail or a supposed slowdown in sportswear sales.
A Paradigm Shift?
I first invested in Adidas when it traded in the low-$60's and wrote bullish articles on the company when it traded in the $80's. Shares now trade at $96, and I remain bullish on the company. I first invested in the company due to improved performance in the US, which I've written about extensively in past articles.
However, many remained skeptical of Adidas's sudden share price increases, arguing that Adidas's growth was temporary as it came largely from its fashion-oriented Originals segment, instead of growth in performance-gear.
I also remained cautious given that Adidas has traditionally struggled in the US. Nike has always been dominant in North America and challenges to its reign have thus far been few and far between.
However, Adidas and Nike's recent performance have made me consider whether there may be occurring a "paradigm shift" with long-term implications for the sportswear industry.
North American Growth
Adidas, to put it simply, is on a tear in North America. Sales have increased by over 20% in the region for the past five consecutive quarters, and momentum as per the below chart appears to be steadily increasing.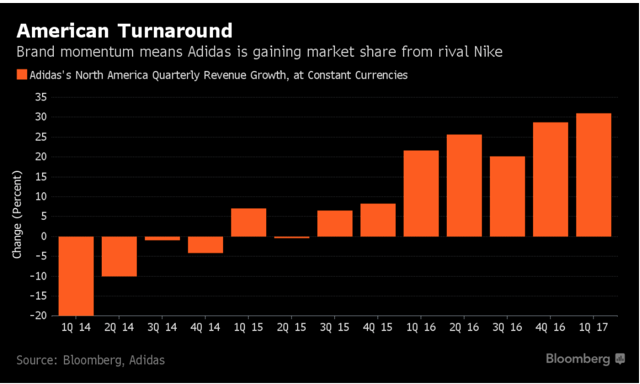 Nike, on the other hand, has experienced slowing revenue growth over the same time period: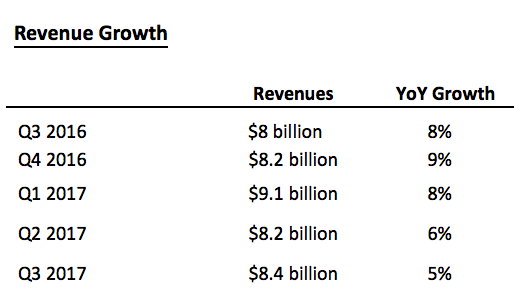 Sales growth in North America, Nike's home turf and the source of the bulk of its revenues, has also been weak: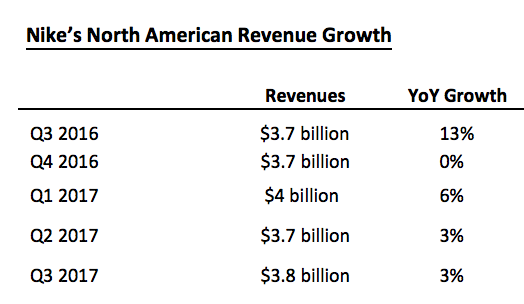 This trend, if it continues, has significant implications for investors in both Nike and Adidas, along with the sportswear industry as a whole. Adidas remains less than half the size of Nike in terms of market capitalization, as per the below industry comparison chart:

The fact that Nike's market cap is almost $50 billion more than that of Adidas despite the fact that it only earned $11 billion more over the past 12 months is a direct consequence of the fact that Nike has traditionally been dominant in North America, leading to superior operating margins.
It's important to note that Nike's dominance over Adidas is almost entirely a result of its strength in North America. Nike's North American revenue for the past four quarters was $15.2 billion, whereas Adidas's North American revenue for the same time period was $4.1 billion. This difference is almost exactly the same as the difference in the two companies' revenue for the past twelve months.
Nike and Adidas remain on relatively equal footing in regions such as Europe and China; North America is the only large geographic region in which Nike is dominant.
Valuation
The implications of this data should go without saying: if Adidas is able to continue its momentum in North America, the respective valuations of the two companies should continue to narrow. As per my above chart, Adidas's PE multiple is rather high at 31.4 compared to Nike's at 22.5.
However, looking at just price-earnings is misleading because of the large gap in the two companies' operating margins. Adidas's PS ratio of 1.7 is much lower than that of Nike, which is 2.7. This is primarily because Adidas's operating margins in North America are much lower than those in other important regions including China and Western Europe: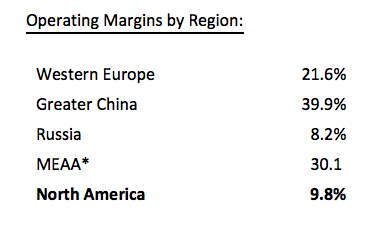 If Adidas is able to continue growing at a rapid clip in North America, margin differences between the two companies should contract. Various forms of evidence point to the fact that Adidas is making progress in catching up to Nike:
The difference in search interest in Nike and Adidas in the United States is the smallest it's been in over five years, as per Google Trends: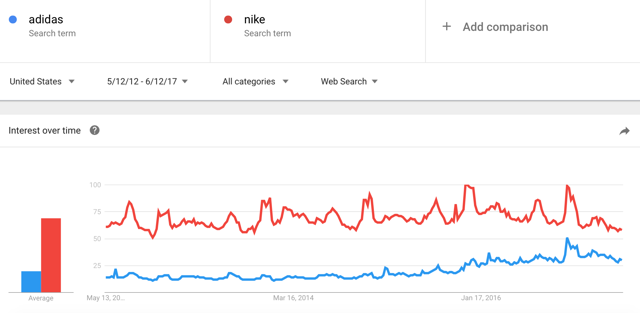 Adidas more than doubled its share of the US athletic footwear market to 10% in January versus 45% for Nike, as per the NPD Group.
While this news is a bit dated, Adidas reclaimed the No. 2 spot in the US sportswear industry from Under Armour, as per Business Insider.
"Athleisure"
There has been a shift in consumer preferences favoring casual, fashion-oriented apparel and footwear, as opposed to performance gear. This is a large reason why Adidas has done so well recently relative to Under Armour and Nike.
This "athleisure" trend has been widely covered in both traditional news outlets and investment websites and it will play a role in determining whether or not this "paradigm shift" will continue.
Additional Comments and Conclusion
I would like to stress that the sportswear industry, as with most industries driven by fashion, can be a fickle one. I do not claim to be prescient and as such cannot say with certainty whether or not Adidas will be able to maintain its North American momentum in the long-run. It's possible that Nike will quickly take the necessary steps to curb Adidas's run and regain some of its firepower in North America.
However, there exist convincing data and evidence that indicate Adidas will continue taking market share and sales at Nike's expense. If this can continue in the long-run, there will be a paradigm shift in the sportswear industry in which Nike and Adidas's respective valuations will converge. One could argue that this has already started given that just two years ago, Nike was over 4x the size of Adidas. Now, Nike is just a little over 2x as large in terms of market capitalization.
I would also like to note that I do like Nike as a company and believe it will be fine in the long-run. I believe that Under Armour's recent struggles indicate that as of now, Adidas and Nike will be able to "co-dominate" the global sportswear industry without Under Armour as a major competitive threat.
I wrote mainly about Nike and Adidas in this article as they are the two largest sportswear companies and I wanted to write an article with a broader, "macro" analysis of the sportswear industry. More specific and detailed analysis of these two companies and others can be found in my past articles on Seeking Alpha.
I will keep readers updated via articles on this site and am always welcome to any questions or disagreements either in the comments section or via email (email address is in my Seeking Alpha bio). Thanks for reading!
Editor's Note: This article discusses one or more securities that do not trade on a major U.S. exchange. Please be aware of the risks associated with these stocks.