In Step 11 of the IFA 12-Step Recovery Program for Active Managers we talk about the implementation of our 100 IFA Index Portfolios. As strong proponents of a passive investment strategy, we have options in terms of what strategies we would like to utilize to build our globally diversified portfolios.
What should come as no surprise to anyone is that we have a strong preference for strategies from Dimensional Fund Advisors and the reason is quite simple: Performance!
Many of our own investors are sometimes reluctant to "buy-into" our recommendation since Dimensional is not as widely known (although this is starting to change) as the more popular Vanguard or iShares ETFs. The train of thought is, "if I am going to adopt a passive investment strategy using index funds, why not just stick with the likes of Vanguard or iShares?"
It is a fair question. Today, we are going to discuss, in depth, why accepting our recommendation of relying on Dimensional is in your best interest versus that of iShares ETFs. We have already published a separate article covering comparisons with Vanguard.
The Basics
Let's start by simply looking at past performance. If we were to compare the past performance of our IFA Index Portfolios utilizing DFA funds versus iShares, we see that the portfolios do much better when invested in DFA funds.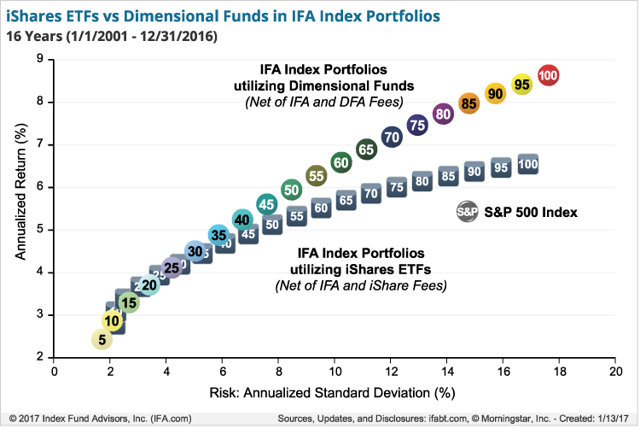 Across almost every single level of risk, IFA Index Portfolios produced an outperformance of up to 2% per year. This can have significant implications for our investors over the span of a lifetime.
But it isn't enough to just show past performance and say, "well there you have it. Now invest with us." We are going to take it a step further and explain what exactly is going on in the Dimensional strategies that give us confidence that their outperformance is expected to persist into the future.
The Language of Risk
In order to be a successful investor, you must be able to understand the role of risk when it comes to investing for the future. We refer to this as being able to speak "Riskese" which is covered in Step 8.
First, let's review the Fama/French 3 Factor Model, which was introduced in 1992 in their groundbreaking research paper, "The Cross Section of Expected Returns."
Examining U.S. equity returns from 1962 to 1989, they found three key factors that explained much of the variation in historical stock returns. They were the market, size, and relative-price (value) factors. Their findings led to a revolution in the index fund industry as new index funds built around small cap stocks emerged, which up to that time was dominated by funds tracking the S&P 500.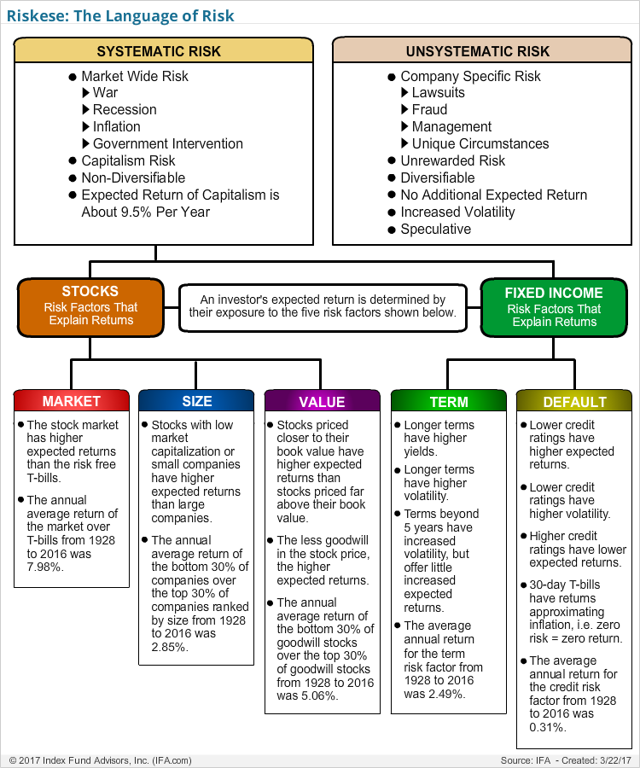 From an investment advisory standpoint, guiding investors to build globally diversified portfolios of index funds structured around these factors has only yielded better results over the long term. For the 24-year period from 1993 to 2016, the return of IFA Index Portfolio 100 has yielded a 0.87% per year premium over the S&P 500 (10.08% vs. 9.21%). In terms of the growth of wealth, $100,000 invested in IFA Index Portfolio 100 ended up with $174,000 more than just simply investing in the S&P 500.
Targeting Return Premiums
When we examine which types of funds we would like to include in our portfolios, we want to be able to gain a general understanding of how much exposure each fund has towards these three factors. We are able to do this through the use of multiple regression analysis.
A multiple regression measures correlations between a dependent variable and multiple independent variables. The question we are asking is, "how well do the independent variables explain the variation of the dependent variable?" To give a practical example, if we were looking at the iShares Russell 1000 Index ETF (NYSEARCA:IWD), we want to know how much of the variation of the fund is explained by the market, size, and relative-price factors, independently. The diagram below illustrates a multiple regression using the Fama/French 3 Factor Model.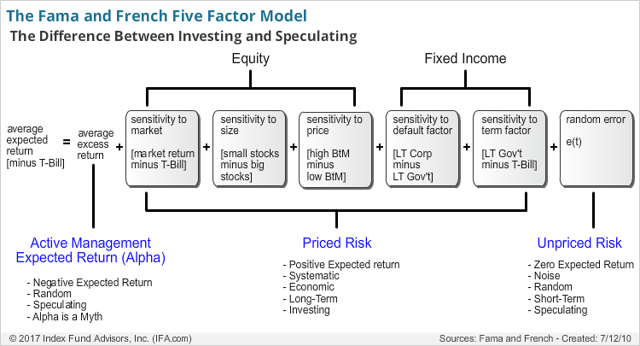 If we can gain an understanding of how much a fund is exposed to these various factors, then we can start to make statements about future performance. For example, let's compare the performance of the iShares Russell 1000 Value Index ETF versus the DFA U.S. Large Cap Value Strategy (MUTF:DFLVX) from 8/1/2000 to 1/31/2017 (the longest period where performance for both is available).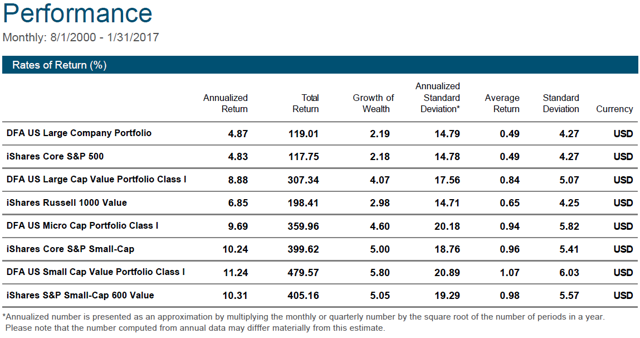 Source: Dimensional Fund Advisors. See disclosures below.
As you can see, DFLVX outperformed IWD by 2.03% per year. Aren't they both indexing value stocks? Yes they are, but not all indexes are created equal and the ability for a fund management company to capture premiums in the market is no easy task.
But we already know that the driving factor behind DFLVX's outperformance must be coming from their ability to have an exposure that is more sensitive to the market, size, and relative price premiums. This can be seen in the individual regressions for DFLVX and IWD.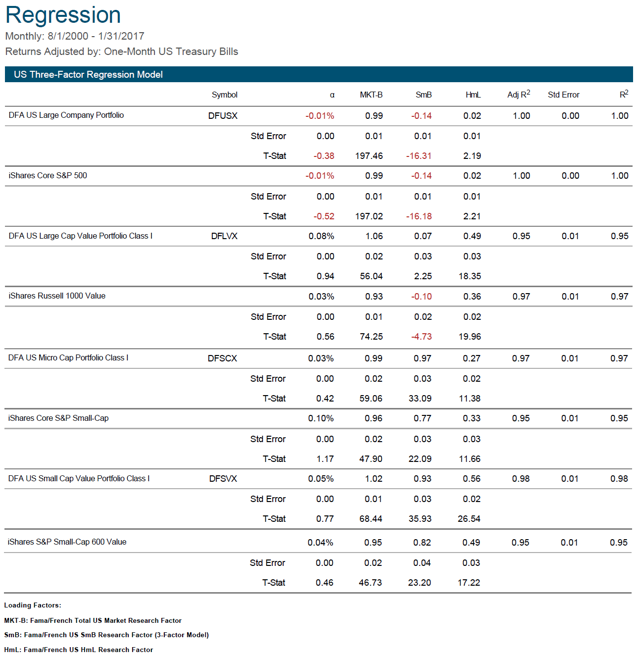 Source: Dimensional Fund Advisors. See disclosures below.
Let's first explain the variables.
Alpha (α): the excess return of the fund compared to its risk-adjusted (β) benchmark.
MKT-B: measures the fund's sensitivity to the market factor. A numerical value greater than 1 indicates the fund is more volatile than the overall market and vice versa.
SmB: measures the fund's sensitivity to the size factor. A positive number indicates an overall exposure that tilts towards small cap stocks while a negative number indicates a tilt towards large cap stocks.
HmL: measured the fund's sensitivity to the relative-price (value) factor. A positive number indicates an overall exposure that tilts towards value stocks while a negative number indicates a tilt towards growth stocks.
Adj R2: measures how well the overall model explains the variation of the fund, adjusting for the amount of independent variables. You can read the number as a percent.
T-Stat: indicates the level of statistical significance of the estimate in the model. A level of 2 or greater indicates a high level (95%) of statistical significance, making the estimates highly reliable.
First thing you should notice is that neither fund has a statistically significant alpha, which is what we would expect in a properly functioning market. Second thing to notice is the adjusted R-squared for each is over 90% meaning that the overall model explains the vast majority of the historical performance of each fund, which indicates that the model can be seen as highly reliable.
Lastly, if we look at the individual risk factors, we see that DFLVX has a greater exposure to the market, size, and relative-price factors, meaning that the overall portfolio is slightly smaller in terms of market capitalization and has a greater tilt towards value stocks compared to that of IWD. All of these estimates are highly reliable (t-stat>2). Since we know a greater exposure to these factors over time is likely to yield greater performance, we can now understand why DFA has provided superior returns.
We can use the same analysis when comparing DFA and iShares in the U.S. Small Cap and U.S. Small Cap Value segments of the market.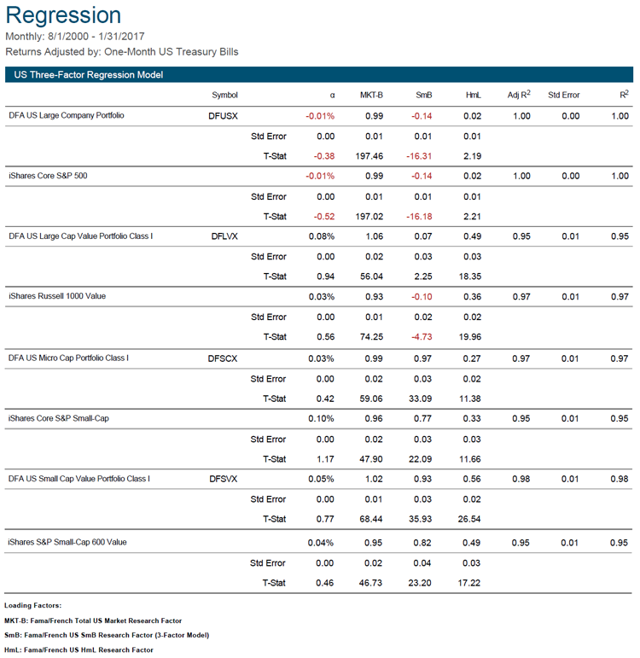 Source: Dimensional Fund Advisors. See disclosures below.
It is important to note that this outperformance is not free. As we would expect in a properly functioning capital market, a higher return must be associated with higher risk. You will notice the higher standard deviation associated with DFA strategies across all asset classes. What this means for investors is that we should expect to see more variability in the returns of the DFA strategies, emphasizing the importance of taking a disciplined approach to investing when you are pursuing risk premiums. We believe the help of an independent wealth advisor assists in maintaining that discipline and capturing the overall benefits the capital markets provide the long-term investor.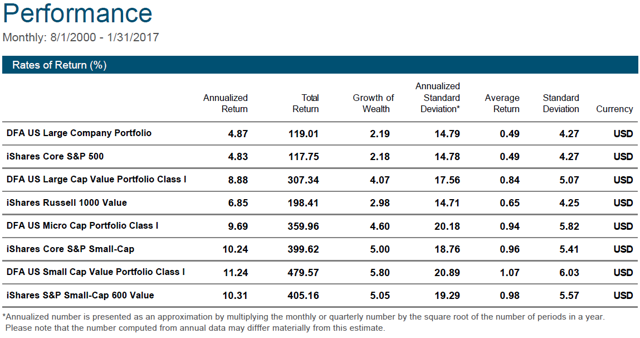 Source: Dimensional Fund Advisors. See disclosures below.
Conclusion
As a fiduciary it is our responsibility to provide guidance rooted in doing right by our clients and backed up by empirical research. Although iShares is better known in the passive investment community, we understand that Dimensional has better captured the premiums that have been shown to reward investors over the long-term. We have structured our portfolios around these premiums in a diversified manner so that they can get the most that the capital markets provide.
---
Disclosure from DFA
Performance data shown represents past performance. Past performance is no guarantee of future results and current performance may be higher or lower than the performance shown. The investment return and principal value of an investment will fluctuate so that an investor's shares, when redeemed, may be worth more or less than their original cost. Average annual total returns include reinvestment of dividends and capital gains. To obtain performance data current to the most recent month-end access our website at us.dimensional.com. See Standardized Performance Data and Disclosures. Performance for periods greater than one year are annualized unless specified otherwise. Selection of funds, indices and time periods presented chosen by advisor. Indices are not available for direct investment and performance does not reflect expenses of an actual portfolio. This report and the information contained herein are subject to the terms of the End User License Agreement for Returns Program.
Disclosure: I am/we are long DFUSX, DFLVX, DFSCX, DFSVX. I wrote this article myself, and it expresses my own opinions. I am not receiving compensation for it. I have no business relationship with any company whose stock is mentioned in this article.