By Cameron Daniels
Anchoring refers to the way we evaluate decisions and numbers based off an initial piece of information, or "anchor." Knowing the US added 138,000 jobs last month is irrelevant without knowing how many jobs there are in total and what the typical fluctuation is from month to month. Writers often use this to drive home stunning facts that shield the inherent fluctuation in the data. It can be either malicious or unintentional but it is inevitable because people consume so much information they don't have the time to properly understand the entire problem. Who has all the time right? Allow me the following two examples:
Fed Hikes Rates and Hurts Consumers
The Federal Reserve continues to signal that they intend to raise rates, increasing the already stringent Federal Funds rate above 1.00%. The Federal Funds rate is currently trending 5x the average during the entirety of 2009-2016 and is increasing at the fastest rate in the past decade. Each 0.25% increase in Federal Funds rate costs consumers $10BB in interest annually ($3.8T in consumer debt!), and makes home affordability even more out of reach for average Americans.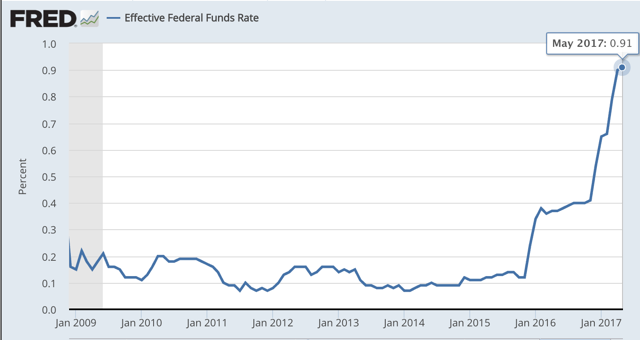 Recent rate hikes have raised concerns on slamming on the brakes too fast
"It appears that middle class consumers like me can no longer get ahead. With my medical bills and student loans, it appears that homes may increasingly be an impossible goal." – Guy Incognito, Silver Lake, 25
Federal Reserve Eases from Historic Quantitative Easing
Continuing its 30-year descent into lower rates, the Federal Reserve continues to encourage borrowing and spending against the potential for higher ROE for banking institutions and a stronger dollar.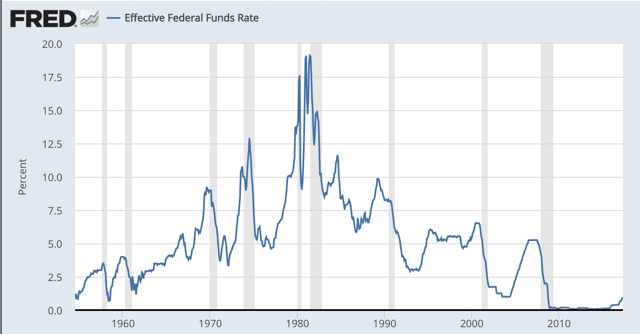 Rates continue to stay historically low
Checking accounts, savings accounts, CDs, and money market funds are showing no sign of returning higher yields. Banks are finding it difficult to loan out money profitably with the increasing global supply of investment capital.
Question The Numbers
Anchoring is so persistent because it is necessary to process information. It is simply impossible to have the time to know all the details of every story. Not everybody knows the history of the Federal Funds rate but the writer has the ability to steer the conversation in whichever way suits the story. The story is the recommendation of how to spin the data, which is often murky, muddy, volatile, noisy and difficult to parse. That is boring and doesn't fit in a headline.
This bias reveals itself in many aspects of financial reporting. Every economic report has layers of manipulations and assumptions in interpreting and reporting the data that it is difficult to understand anything besides the actual primary source, which also have biases themselves. Financial reporting often includes some form of "continues winning streak" or "lowest point since" because financial data is very volatile. There are so many datasets that there will certainly be thousands of correlations that simply co-occur and are hitting new highs and lows.
What is the solution? The only solution is to look at the truth as being revealed slightly in each report and make sure there are multiple sources that underscore the same data. For example, if the government reports 30% unemployment, I would have to weight it against other job reports. The sources should also be independent and primary. Hopefully, we can all find the time. Or, perhaps, the solution is a bit of humility in understanding difficult subjects because, after all, I have to go.