Canada's surprisingly strong first-quarter GDP report was the best quarterly print since the second quarter of 2014 and led the G7 countries, but investors shouldn't assume more of the same from the economy in the months ahead.
For the past year, we have been highlighting the signal coming from our BlackRock macro GPS, which has pointed to a steady and substantial improvement in consensus estimates of Canadian GDP (gross domestic product) growth. Estimates were consistently too downbeat about the potential for economic activity to accelerate heading into 2017 (see the chart below) but have risen nearly three-quarters of a percentage point from a low of roughly 1.5% in February 2016 and roughly 30 basis points since the year began. As a result, the gap between our macro GPS and consensus has narrowed and the outlook has stabilized at a higher level (see the second chart below).
Consensus estimates of Canadian GDP improved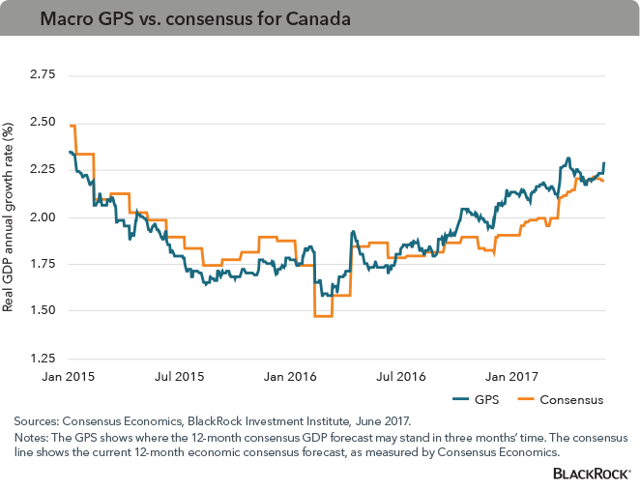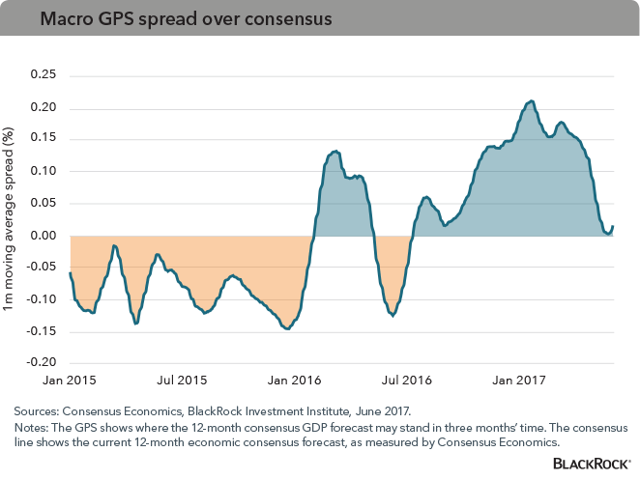 It is in this light that we consider Canada's "robust" 3.2% annualized growth in first quarter GDP (see the chart below). Three things stand out that contain our enthusiasm. Firstly, the resilience is perfectly consistent with our macro GPS tool's nowcasting and big data insights, which had been pointing to a strong recovery in Canada for a considerable period of time. In other words, the strength shouldn't have been much of a surprise.
Secondly, because much of the downturn during the early part of 2016 was related to natural resources, it would stand to reason that the upturn in Canada would be much sharper than for economies that are less commodities intensive. Lastly, although the GDP report indicated impressive strength during the first three months of the year, the figures are backward looking and give us little insight into where we might be headed.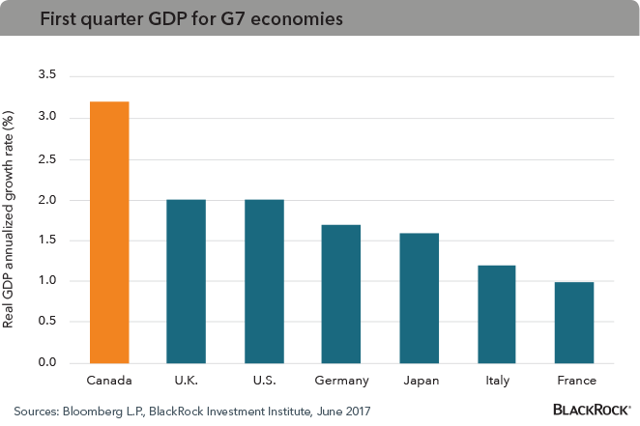 Our forecasting tool assumes GDP of roughly 2.25% over the next twelve months, which is strong enough to close the output gap and support continued modest earnings growth heading into next year. While there may still be a sliver of upside to consensus estimates of Canadian GDP over the next year relative to our macro GPS, there is little to get excited about.
The consumer continues to feel the weight of a high debt load, energy prices have eased back below $50/barrel and upside appears limited, lagging competitiveness has restrained growth in non-energy exports even despite a cheap loonie, and U.S. policy is likely to yield few new economic benefits this year and could offer periodic trade conflicts instead. Therefore, the first-quarter improvement in the Canadian economy is more of a one-off acceleration off of a very low base, rather than the start of a new above-trend pace.
While first quarter Canadian GDP offered investors an otherwise healthy economic signpost, Canadian equities had already run up before the news. Keep in mind, financial markets are discounting mechanisms that typically incorporate economic news well in advance. The rather lacklustre stock market reaction also reflects the fact that economic growth in Canada is no longer accelerating but rather stabilizing at a moderate level.
So while the economy appears robust looking through the rearview mirror, investors shouldn't expect much more than continued moderate growth for the foreseeable future.
This post originally appeared on the BlackRock Blog.