Dividend growth portfolios can be built to outperform. The traditional narrative that returns are simply a function of Beta is outdated and inaccurate. This is one of the fundamental weaknesses of efficient market theories. To help investors find the stocks to build a defensive portfolio, I went through testing my ideas on how to construct a portfolio. As my frequent readers will know, that means the focus is heavily placed on defensive allocations. My desired securities will tend to exhibit lower beta, lower volatility, higher dividend yields, and a lower price to earnings ratio. So the question remains, can I build a portfolio that would outperform without picking any of the companies directly?
The answer is a rounding "YES", but how I did it may surprise you.
How To Build a High Yield and Low Volatility Portfolio
To get a defensive tilt to the portfolio, I went hard into consumer staples and health care. These companies produce products that are literally "in-demand". Rather than selling the things that are merely nice to have, both of these sectors benefit from providing the products and services that are critical to our way of life. I designed a strategy that picks 10 stocks from each sector.
However, running a portfolio this way still leaves us potentially exposed to war. This is a challenging aspect for investors because the industrial segment has a fairly high beta. Investors want to own a few of the defense companies to round out the portfolio, but they don't want to risk the higher volatility and beta of those stocks overwhelming their portfolio. Consequently, I limited the portfolio to holding only 5 industrials.
The problem with this strategy so far is it doesn't necessarily offer a high dividend yield or any protection from absurdly high valuations. To create that protection, I ranked stocks by 2 metrics. That's right, I used only 2 valuation metrics and they are both widely available to investors.
We can look at the metrics in a moment, but first, we should take a look at the returns on the historical test: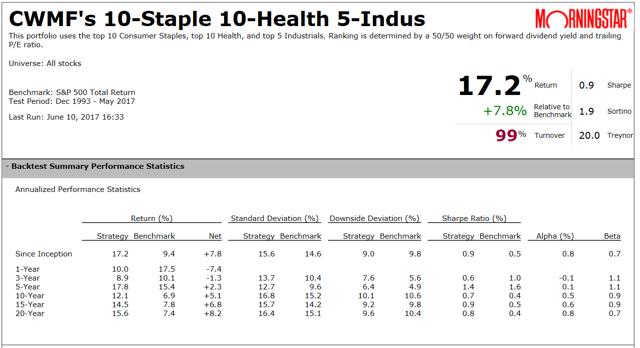 This image and all other images and calculations within this article come from Morningstar's CPMS program.
In a test running back to December 1993, this strategy decimated the S&P 500. Annualized returns came in at 17.2% and the beta came in at 0.7. Remember, the strategy picked the stocks. I didn't get to cherry pick individual companies. I simply designed the ranking criteria.
What Were the Two Metrics?
The first metric was the forward dividend yield. This isn't that complicated; it is simply annualizing the last dividend payment. Can you look up the dividend rate on a security? Congratulations. You're already doing great.
The second metric was the trailing P/E ratio. Again, this has to seem absurdly simplistic. After all, what investor can't look up the trailing P/E ratio for a stock? Surely, these two screens couldn't create a portfolio that slaughters the S&P 500, could they? As it turns out, they certainly could.
Of course, dividend investors will want to ensure it offers a solid yield. The portfolio as it would be constructed today offers a yield of 3.72%.
As I work through alternative portfolio strategies, I'll look at several different criteria we could use for selecting stocks.
When Does the Portfolio Outperform?
There are two ways to get to higher returns. One is to lose less when the market is falling and other is to gain more in bull markets. Since I have a strong preference for defensive portfolios, it should be no surprise that I was building a portfolio to outperform in those fierce bear markets.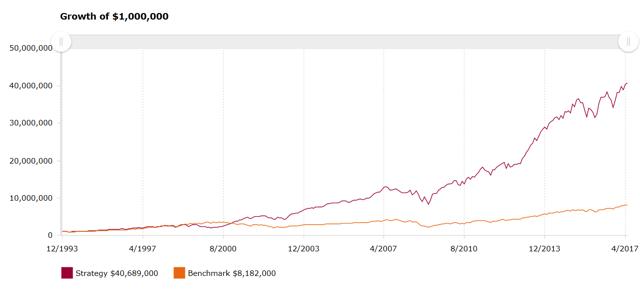 While the portfolio appears to be decimating the S&P 500 during the bull markets, the real strength is the compounding power of the portfolio. Because it took a materially smaller decline in recessions, the portfolio began the following bull markets with a substantially higher value. The percentage returns during those bull markets aren't so incredible, but it sure looks like it because there is more wealth in the portfolio to compound. A sudden 100% gain on the S&P 500 wouldn't look like a huge jump on this chart because the bar has been set so high.
How Much Better Was It?
Consider the range of returns: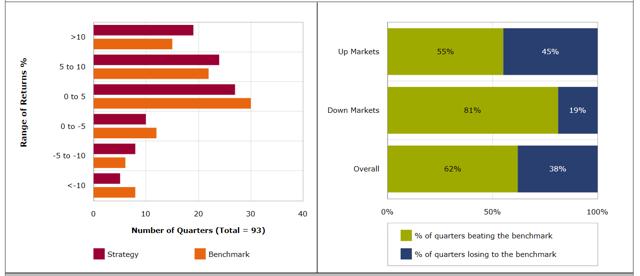 This portfolio only outperformed in 55% of the bull markets. That is nice, but far from exceptional. On the other hand, it won in 81% of the declining quarters. That strength when the market is weak is precisely what powers the total returns.
What Would It Hold Today?
This is a great index. I decided to name it:
CWMF's 10-Staple 10-Health 5-Industrial Index
Stop rolling your eyes. No one claimed the name was great.
I'm giving it such an elementary name to make it easier for readers when I introduce a few additional indexes.
Below I have the holdings it would select today:
| | | | | |
| --- | --- | --- | --- | --- |
| Ticker | Company | Morningstar - Sector | Forward Yield | P/E Ratio |
| | Frontline Ltd | Industrials | 10.81% | 6.9x |
| | R.R. Donnelley & Sons Co. | Industrials | 4.64% | 4.2x |
| | Teva Pharmaceutical Industries | Healthcare | 4.50% | 6.6x |
| | LSC Communications | Industrials | 4.71% | 7.4x |
| | Pitney Bowes Inc. | Industrials | 4.93% | 8.9x |
| | Gilead Sciences Inc. | Healthcare | 3.21% | 6.1x |
| | CoreCivic, Inc. | Industrials | 5.31% | 16.5x |
| | Target Corporation | Consumer Defensive | 4.22% | 11.5x |
| | GlaxoSmithKline plc | Healthcare | 4.74% | 17.0x |
| | Pfizer Inc. | Healthcare | 3.91% | 13.6x |
| | B&G Foods, Inc. | Consumer Defensive | 4.63% | 20.1x |
| | AbbVie Inc. | Healthcare | 3.67% | 14.1x |
| | British American Tobacco | Consumer Defensive | 4.06% | 21.5x |
| | Novartis AG | Healthcare | 3.36% | 17.2x |
| | Vector Group Ltd. | Consumer Defensive | 6.80% | 43.5x |
| | Flowers Foods Inc. | Consumer Defensive | 3.72% | 20.8x |
| | Owens & Minor Inc. | Healthcare | 3.19% | 16.5x |
| | Amgen Inc. | Healthcare | 2.80% | 13.8x |
| | Universal Corp. | Consumer Defensive | 3.23% | 17.7x |
| | General Mills Inc. | Consumer Defensive | 3.36% | 19.0x |
| | Archer Daniels Midland | Consumer Defensive | 3.05% | 17.8x |
| | CVS Health Corporation | Healthcare | 2.51% | 13.6x |
| | Merck & Co. Inc. | Healthcare | 2.92% | 17.2x |
| | Kellogg Co. | Consumer Defensive | 2.97% | 18.2x |
| | Big Lots Inc. | Consumer Defensive | 1.98% | 12.7x |
True to our expectations, this index holds precisely 10 of the Consumer Staples (shown here as Consumer Defensive), 10 of the Healthcare stocks, and 5 Industrials.
The portfolio was designed with an incredibly simple weighting strategy. Equal weight holdings, with the list rebuilt and all positions rebalanced each quarter. In practice, any trading strategy will involve some expenses. To avoid a bias in the comparison, I'm measuring index to index with no operating expenses.
This portfolio keeps track of dividend yields and P/E ratios to help investors avoid companies that are priced on hope rather than fundamentals. It keeps a full 80% of the portfolio's allocation within the defensive categories of Consumer Staples and Healthcare. The only higher beta allocations are to the Industrial sector and it is capped at 20% of the portfolio.
Where Can You Buy It?
There are no ETFs or mutual funds tracking this index (at least so far, to my knowledge). Investors who want to use this strategy would need to buy up the individual positions. That could be a little disappointing for investors because the portfolio does require frequent maintenance and it carries a high turnover ratio. This strategy would be best within tax-advantaged accounts that have holdings significant enough to handle 50 companies with a high turnover ratio.
However, investors are more than welcome to use the indexes I'm building to find individual stock ideas for their own portfolio.
Who says you can't make a high yield portfolio that also grows? Who says investors need to be stuck in the FAAMG stocks to see growth? Those are Facebook (NASDAQ:FB), Amazon (NASDAQ:AMZN), Apple (NASDAQ:AAPL), Microsoft (NASDAQ:MSFT), and Alphabet (NASDAQ:GOOG) (NASDAQ:GOOGL) to see great returns? The tech giants have done great, but these defensive portfolio strategies are far from being put out to pasture.
What Was It Holding Before?
To be able to backtest the results effectively requires knowing precisely what the index would've held for each month. The following chart shows what it would've owned as soon as the market closed on 12/31/2016: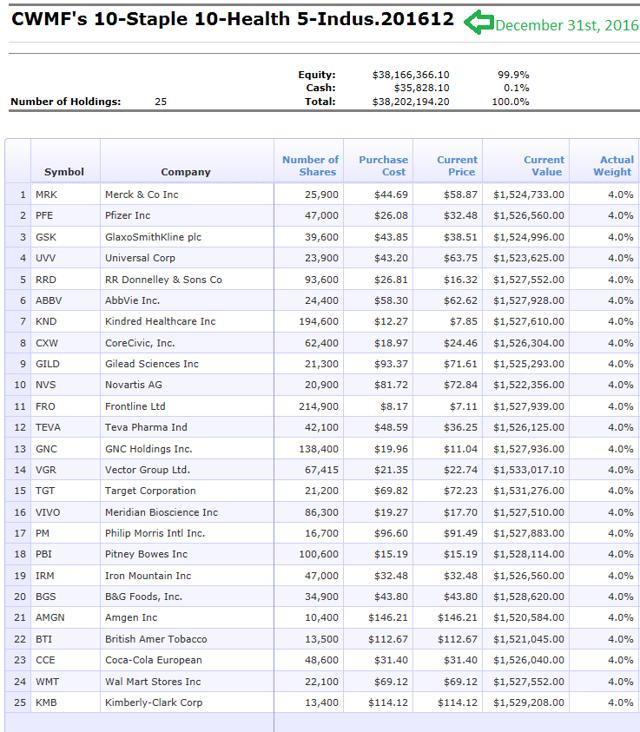 It should be no surprise to see most of my individual company allocations on there. In addition to Target, which is still on the list, we see Philip Morris (NYSE:PM) and Wal-Mart (NYSE:WMT). My only large-capitalization allocation at the time that this index wasn't holding is Altria Group (NYSE:MO). Seeing how well it lines up with the individual allocations I was picking reinforces my view that I've got a solid allocation strategy in place here.
Conclusion
High yield portfolios don't always sacrifice growth for the yield and lower beta portfolios don't always fall behind. If those cases were consistently occurring, there would be little purpose to any financial analysis at all. A portfolio constructed according to the preset financial guidelines runs somewhere between traditional indexing strategies and doing intense financial analysis on each individual holding. Whether the investor intends to use the list as a starting point for further due diligence or to create and automate a portfolio strategy, this is one batch and strategy I think works well for designing a defensive portfolio.
Your comments and critiques are always welcome, so let me know what you think in the comment section.
For more information about CPMS visit Morningstar-CPMS or contact Morningstar by E-mail: marc.messina@morningstar.com
Would you like a simple text message alert when I find a great deal on a steady high dividend investment? They are a free service for subscribers to The Mortgage REIT Forum. This is your opportunity to lock in prices at $340 per year before the next price increase on August 1st, 2017. You should sign up today. Head on over to learn about the best high dividend yield investments. Preferred shares are offering high yields between 7% and 9% combined with very low volatility.
Disclosure: I am/we are long WMT, TGT, MO, PM. I wrote this article myself, and it expresses my own opinions. I am not receiving compensation for it (other than from Seeking Alpha). I have no business relationship with any company whose stock is mentioned in this article.
Additional disclosure: There is no financial advice in this article.