Last month I wrote an article about Cisco (NASDAQ:CSCO). The stock had dropped after investors were disappointed with the company's quarterly results. I outlined why these concerns were unnecessary and Cisco would recover from this sell off in the future. Now I will provide additional insight as to why I believe that Cisco's shares have upside potential after the decline of last month, even in a relatively conservative scenario.
Restructuring of the business model
The most important thing to know when looking at Cisco is that the company is currently transitioning to another business model, as I have outlined in my previous article about this stock:
"The industry is constantly changing, and right now Cisco is trying to change with it in a drastic way. But this will take a while. Over the past few years, the company has been transforming its business away from selling individual products and services towards selling products and services integrated into architectures and solutions. The goal is now to transition the portfolio to enable delivery both on premise and through the cloud. This will be done in alignment with the strategy to shift the business model to one that is based more on recurring revenue."
The idea is that this will put some strain on short term results but lay the foundation for revenue growth while also improving margins. Besides the restructuring of the business that takes some time, there are certain growth areas to look out for and be excited about, which are AI, IoT and security. I have discussed this a bit more in the previous article I wrote.
Debt and cash flow
The main reason for this article is to outline just how much value Cisco can have for its shareholders. Because for some reason it seems that a lot of investors only think about changes in quarter to quarter or year over year financial results while Cisco already has an enormous amount of value. At the same time the company adds more value to its balance sheet every single year. At current levels the company makes 8% of its market cap in FCF each year, while also having a P/C ratio of 2.3. The strong FCF growth that Cisco has seen over the years can be clearly seen in the graph below: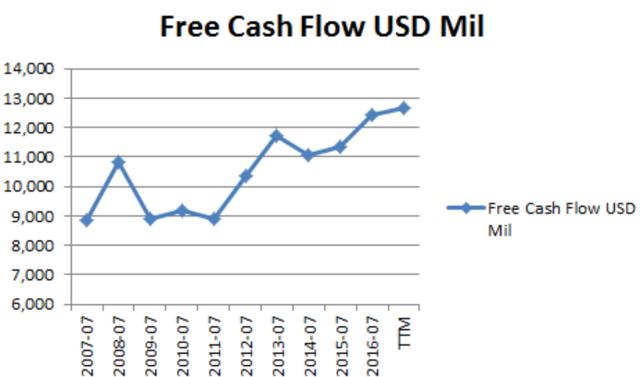 Because of this trend Cisco has been able to generate significant returns to shareholders without causing any real harm to its balance sheet. The current capital structure of Cisco consists of 66.8% equity and 33.2% debt. Most of this debt's maturity is around 2020, which could seem worrying to investors:

Source: Morningstar.com
The thing is that Cisco currently has $68 bln in cash and only $32 bln in debt on its balance sheet. On top of that the company earns almost $1.3 bln in FCF annually. So there is no reason at all to worry about the debt that the company currently has on its balance sheet.
Returning value to shareholders
In 2011 dividend was initiated at $0.12 per share. Now, the annual dividend stands at $1.16 per share. That means that between 2011 and now, the average growth rate stood at 54%, a tremendous growth rate. This has led the dividend yield to be 3.7% for present-day shareholders.
Over the years the company has also been returning quite some value to its shareholders in the form of share buybacks. Since 2007 the number of outstanding shares have declined by almost 20% in total. This trend can be seen quite clearly in the chart that follows: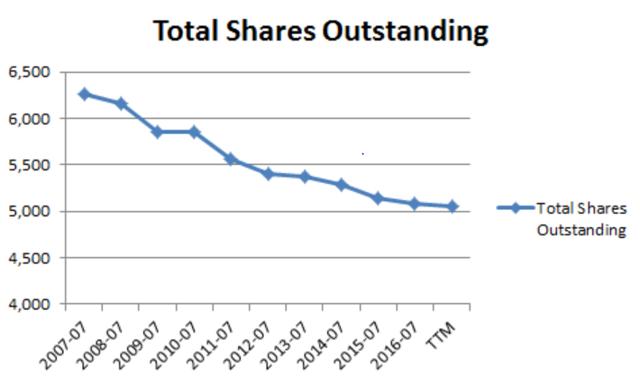 So as you can see, management has been quite keen on keeping its shareholders happy by doing plenty of share buybacks with its excess amount of cash on its balance sheet and increasing FCF, while also consistently increasing its dividend per share.
Discounted dividend model and conclusion
Now I will make an attempt to show investors what all of this could mean for the shareholders that are looking to hold this stock for the long term. This will be done by way of a discounted dividend model. I will try to be conservative in my growth rate assumptions in this model. The discount rate that I will use in this model is 9.5%.
I will start with an annual dividend growth rate for the dividends of 10%. I will then bring this up to 15%, lower it again to 10% and use a 2.5% terminal growth rate, which lies in between the average GDP growth and average inflation rate. When looking at my dividend growth rate some of you might think that 10-15% growth rates are absurdly high. But you must not forget that Cisco has had an average dividend growth rate of 54% since 2011. On top of that, only less than 50% of the current ttm FCF is being used to fund dividend. It is not until 5 or 6 years that the current FCF will make up the total amount of dividend that is being paid out to investors, while the company also has $68 bln of cash. As I outlined earlier, I also believe that Cisco will soon see additional revenue and FCF growth resulting from restructuring and new growth areas, which would make these growth rates even more conservative.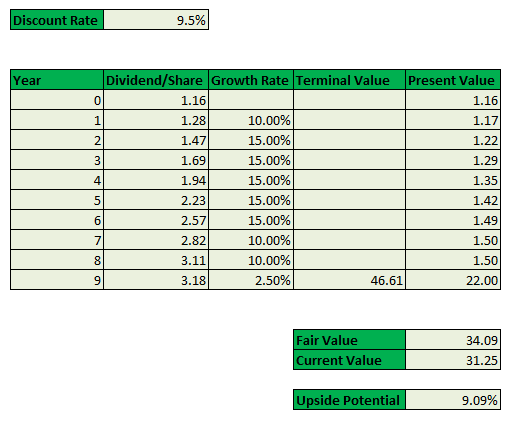 While I believe that the growth rates used in the discounted dividend model are very conservative, the model still indicates an upside potential of over 9%. And I would like to outline again that the actual FCF growth rates and therefore dividend growth rates are likely to be a lot more than this, so it is safe to say that this stock is a buy at current levels.
Disclosure: I/we have no positions in any stocks mentioned, and no plans to initiate any positions within the next 72 hours.
I wrote this article myself, and it expresses my own opinions. I am not receiving compensation for it (other than from Seeking Alpha). I have no business relationship with any company whose stock is mentioned in this article.