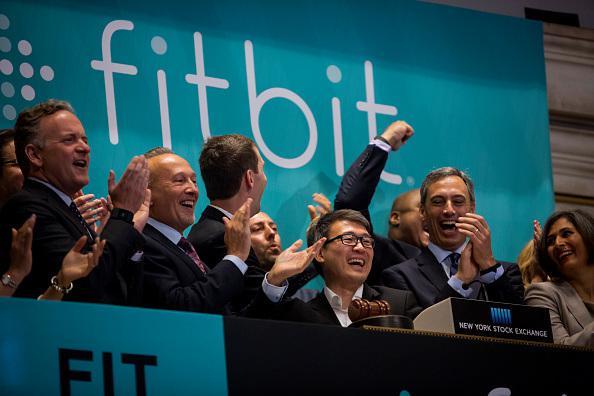 Fitbit's (NYSE:FIT) stock continues to tumble and is close to all-time lows. Fitbit once traded above $50/share, but has now sunk all the way to $5.24/share. This downward trend has been propelled by a dismal 2016 Christmas season and a scary 2017 outlook. Fitbit's CEO expects a soft first half of 2017, which is labeled as a "transition period" while the company expands into the higher-end smart watch category. This is a difficult time for Fitbit and I won't be buying the stock anytime soon, but I'm generally a fairly conservative investor. However, the stock is attractively valued and could be a decent buy in small quantities if you can accept the risk. Based on a their current enterprise value and Price/Sales multiple, I think there is big upside potential.
Financial Snapshot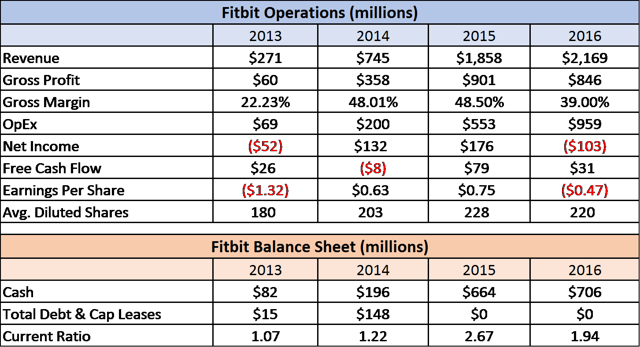 Revenue increased during 2016, but margins suffered which led to a decrease in gross profit. According to Fitbit's 2016 annual report, the decrease in gross margins for 2016 was driven by increasing costs of warranty claims for legacy products, a charge for liabilities to contract manufacturers for excess components, an increase in rebates and promotions to retailers and distributors, and accelerated depreciation of manufacturing and tooling equipment. Another concerning aspect of 2016 was Fitbit's level of operating expense, which almost doubled from the previous year, but revenues only increased by 17%.
Breaking Fitbit's performance down on a quarterly basis is where Fitbit's problems become more apparent. The last two quarters were significantly lower on a year-over-year basis.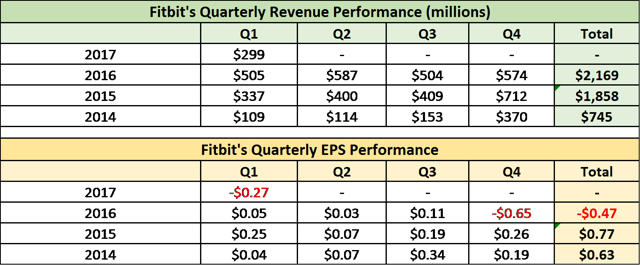 Unfortunately, 2017 isn't going to get any better. Fitbit expects 2017 sales to be in the range of $1.5 billion to $1.7 billion, which is approximately a 26% year-over-year decline. Fitbit also expects to perform at a loss with a non-GAAP net loss per share in the range of ($0.44) to ($0.22).
Valuation
I think buying Fitbit's stock right now is a huge gamble, but if they can turn it around, their stock is priced at rock-bottom levels given a Price/Sales multiple that is only 0.63x. If Fitbit can get back on a growth curve, I think you will see this ratio bounce back up to 1x or more very quickly.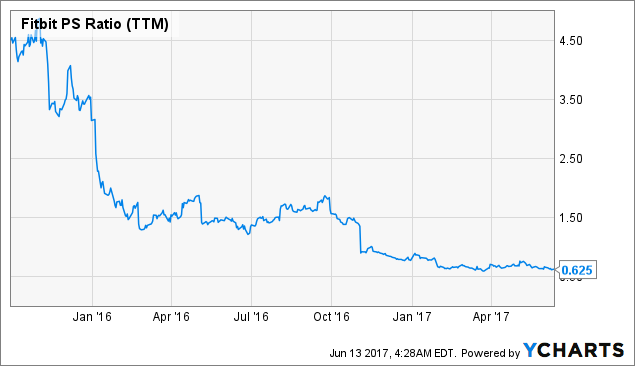 FIT PS Ratio (NYSE:TTM) data by YCharts
I consider GoPro (NASDAQ:GPRO) as an excellent comparable since they are also in the consumer hardware business and seem to have all the same issues Fitbit has right now. GoPro might actually be in an even worse position than Fitbit, but their stock currently trades at a 1x Price/Sales multiple, which indicates Fitbit is undervalued.
Wall Street's Opinion
Wall Street is surprisingly quite positive on Fitbit. According to MarketWatch, 3 out of 20 analysts recommend Fitbit as a "buy", 1 recommends a "sell", but most recommend a 'hold'. However, the average target price is $7.14 per share, which represents 36% upside from their current stock price.
Conclusion
Fitbit's recent performance and 2017 outlook should strike fear in the minds of investors. However, if you like taking big risks with big upside potential, now is a good time to buy the stock based on the following:
Fitbit trades at a Price/Sales multiple of 0.63x, which is very low even for a company that's struggling. It's also at the bottom of Fitbit's historical range. If Fitbit returns to growth, this multiple should quickly increase and yield strong stock price appreciation.
Fitbit's enterprise value is only $434 million. Given they are the fitness band market leader, it's very conceivable to think that their brand value is worth at least that much.
Fitbit has a clean balance sheet, which includes a decent amount of cash and no debt. This gives them years of operating runway on existing cash reserves to execute a turnaround.
Disclosure: I/we have no positions in any stocks mentioned, and no plans to initiate any positions within the next 72 hours.
I wrote this article myself, and it expresses my own opinions. I am not receiving compensation for it (other than from Seeking Alpha). I have no business relationship with any company whose stock is mentioned in this article.