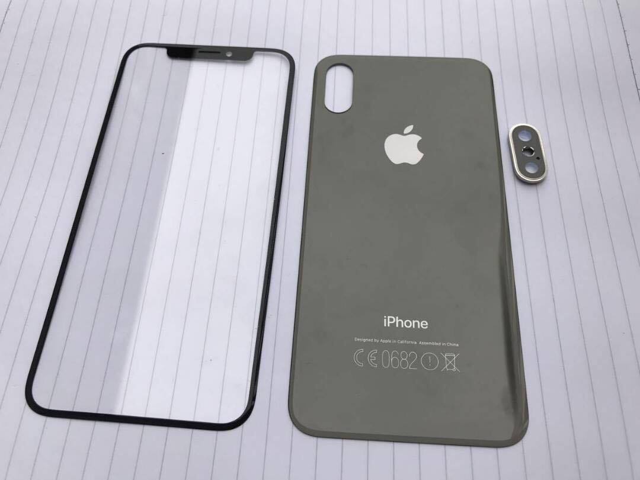 The latest "iPhone 8" component leak. This is likely the real thing.
Yesterday, I published an article where I wrote that recent developments bode well for Apple's (NASDAQ:AAPL) long-term performance.
However, at the same time, I also warned that the next two earnings reports are very risky. This is due to the present iPhone lineup facing significant headwinds in the next two quarters (the one we're in, to June - Q3 FY2017 and the next one, to September - Q4 FY2017).
This article revolves around the timing of such risks, and how they might impact the stock. Here's what Apple investors will face.
Timeline
Around July 25 - Q3 FY2017 earnings report
On this earnings report, Apple has a reasonable risk of missing expectations, and a high risk of guiding Q4 FY2017 lower.
Present expectations are as follows (blue for Q3 FY2017, red for Q4 FY2017):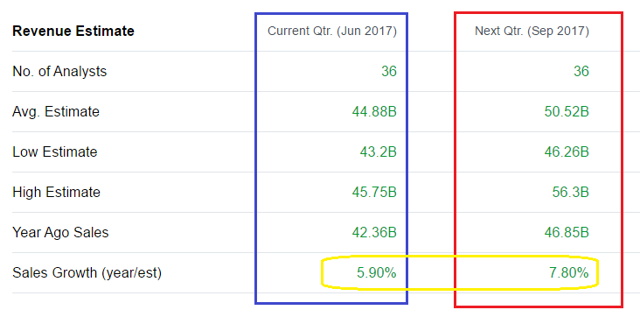 Source: Yahoo Finance
Notice the following:
Growth acceleration is expected from Q3 FY2017 to Q4 FY2017. This is only possible if the iPhone 8 starts shipping and is counted as revenues during Q4 FY2017. Since a slight delay is expected (and a slight delay is all it takes), Q4 FY2017 has a high chance of needing a guide down - maybe even a large one, as the iPhone 8 is likely to be the large driver for Apple's revenue growth for the remainder of the (calendar) year.
Q3 FY2017 is still expected to show meaningful growth (+5.9%). Indeed, this is more revenue growth than Apple had during Q2 FY2017 (+4.6%). I believe this level has moderate risk of not being attained for reasons I have already put forth (the iPhone SE being on the base quarter, the iPhone 8 anticipation being much larger).
Here, I'd also like to introduce another datapoint. We know Foxconn is highly reliant on Apple iPhone revenues, and its year-on-year revenue performance has been flat - somewhat in line with the iPhone's own sales performance.
Well, Foxconn just reported its May 2017 revenues, and they showed a significant slowdown - consistent with the thesis that iPhone sales will slow down more than expected into the iPhone 8 event.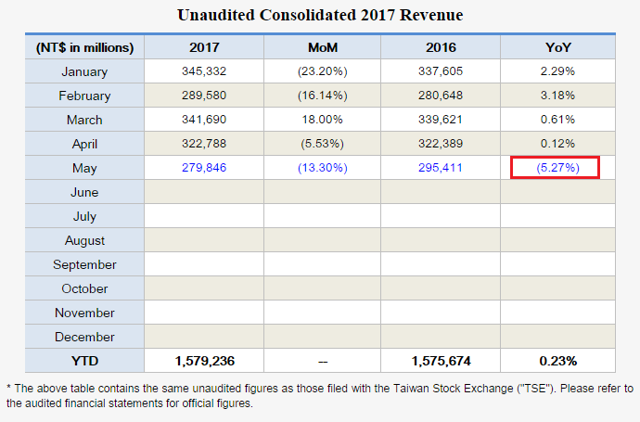 Source: Foxconn
As we will see next, I believe Q3 FY2017 probably represents the largest short-term risk for Apple investors. When Apple reports on Q3 FY2017, it will likely report unexpectedly weak iPhone sales and then guide down for Q4 FY2017. When Apple does this, it will probably not warn that the iPhone 8 might fall outside Q4 FY2017, and analysts will be left to their own devices in connecting "current iPhone weakness" with "weak expectations." This creates risk.
Early- to Mid-August - Start of the typical run into iPhone unveilings
This is something I've addressed in a past article titled "How Apple Stock Does Before New iPhones Are Introduced."
In simple terms, Apple's stock tends to outperform in the month going into iPhone unveilings. This effect will probably be amplified this year, given the expectations for the iPhone 8.
As a result, since new iPhones tend to be unveiled in early September, the stock has a tendency to outperform from early- to mid-August until early- to mid-September. This is thus an effect that should be taken into account by Apple investors seeking to initiate or reinforce positions.
Early- to Mid-September - New iPhones unveiled, including the iPhone 8
The Apple event unveiling the new iPhones takes place. Depending on how much the stock runs into the event, this can set up a temporary "buy the rumor, sell the news." The "buy the rumor" was the run into the event, the "sell the news" is the event proper, with selling often starting on the very day.
The most distinctive characteristics of the new iPhone, including the all-front display, or ARKit, as well as others, will likely all have leaked before the event. This makes it hard to generate further excitement.
Remember, though, this selling is probably temporary.
Late October - Q4 FY2017 earnings report
This report will be highly reliant on what happened in two separate events:
How low Apple guided during Q4 FY2017.
Whether the iPhone 8 shipped in quantity during September, in time to influence the earnings tally.
If the downward guidance was low enough, Apple shouldn't miss the earnings expectations even if the iPhone 8 doesn't ship in September. However, that would imply really aggressive downward guidance during Q3 FY2017.
If the iPhone 8 ships in quantity, all problems are mitigated.
This, though, also is where the timeline ends. The iPhone 8 will sell well even if late. And the future, as I wrote in my previous article, looks bright - if still reliant on high iPhone concentration.
Conclusion
The biggest risk for Apple comes with the Q3 FY2017 earnings report, around July 25. From early- to mid-August, Apple looks set to outperform. Then, there should be some "sell the news" reaction on the actual iPhone 8 unveiling.
Once that selling stops, Apple's longer-term prospects take over, and should guide the stock higher (versus the market, at the very least).
In short:
Possible underperformance from mid-July to early August.
Outperformance from early August to the iPhone 8 unveiling in early September.
Underperformance after the iPhone 8 unveiling, on a "sell the news" reaction, which could last from just a couple of days to weeks.
Then Apple's long-term favorable trend takes over, leading to sustained (but moderate) outperformance.
Disclosure: I/we have no positions in any stocks mentioned, and no plans to initiate any positions within the next 72 hours.
I wrote this article myself, and it expresses my own opinions. I am not receiving compensation for it (other than from Seeking Alpha). I have no business relationship with any company whose stock is mentioned in this article.