The highlight of Glu Mobile's (NASDAQ:GLUU) FY17 Q1 financials was the explosive growth of its social interactive interior design game Design Home.
Acquired as part of Glu's $45.5 million purchase of US developer Crowdstar in November 2016, the game, then, was something of an unknown quality.
Partly this was because it only launched post-acquisition and that during the two-month period captured as part of Glu's FY16 Q4 quarter non-GAAP bookings of $4 million didn't suggest quarter-on-quarter (pro rata) sales growth of 150 percent.
But that's what happened, with Design Home's FY17 Q1 bookings of $14.9 million easily making the game Glu's #1 performer and leading to the company to increase FY17 full year booking guidance from $215 to $225 million to $280 to $290 million.
The main reason for this positivity was Glu had already seen how increasing the marketing spend (commonly called User Acquisition in the mobile game industry) for Design Home had boosted the game's revenue.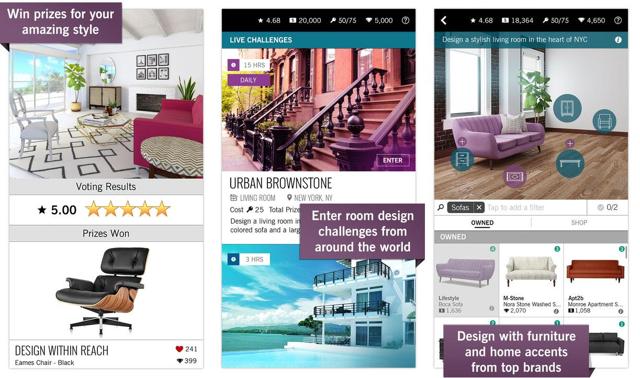 (Design Home screens)
Typically, Glu spends around $10 million a quarter on UA, but during FY17 Q1, more spending on Design Home boosted this to $14 million.
Indeed, during its earnings call, CFO Eric Ludwig said the company had allocated an additional $30 million to spend on marketing Design Home during FY17.
"Our ROI just looks really good on user acquisition spend basis," he commented.
Given this situation, now is a good opportunity to consider how this increased marketing spend could impact Glu's FY17 Q2, the period 1 April to 30 June, and beyond.
Up the charts
Looking at Design Home's performance on the US Google Play store game download chart, the impact of Glu's marketing is clear.
The period November 2016 to early March 2017 is characteristic of a popular game not supported by UA. It launched high up the charts and then slowly declined as new games were released.
Glu clearly started UA spending in mid-March, which boosted Design Home back into the top 10 on the download chart. Maintaining this level is expensive, however, and given the game's specific audience, not cost effective in the long term.
For that reason, Glu appears to have taken #60 as its floor in terms of the lowest position it will let Design Home drop to. It currently sits in the range #30 to 40.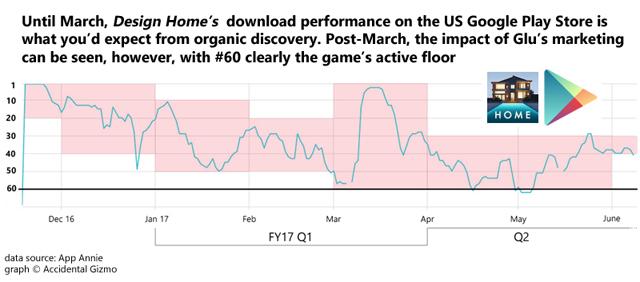 When it comes to the Apple App Store US game download chart for iPhone, the situation is broadly similar.
The game launched well but its position dropped quickly. One difference between the App Store and Google Play charts is the App Store is much more volatile on a day-by-day level, whereas Google Play offers smoother changes of position. Presumably this is, in part, due to the different time intervals used in the calculation of chart position.
As with Design Home's performance on Google Play, the impact of the start of Glu's UA spending for the iPhone version of the game in mid-March is marked. Again, #60 (or perhaps even #50) looks to be the lowest position Glu will let the game drop to.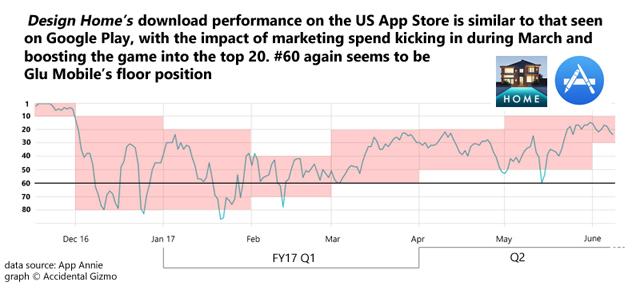 Design Home currently sits in the range #10 to 30 in terms of game download rankings on the US iPhone App Store.
Show me the money
Obviously, in-and-of-itself, Design Home's position on the download charts is meaningless. The reason to spend marketing money in this way is to generate revenue.
For this, we need to combine the game's positions on the download and the top grossing charts.
Taking Google Play first, it's clear Design Home's performance during 2017 has been strongly positive. Starting the year at #60 on the US Google Play chart for games, it's risen just into the top 20.
(Note the gap in early March is a glitch in the game ranking data from App Annie.)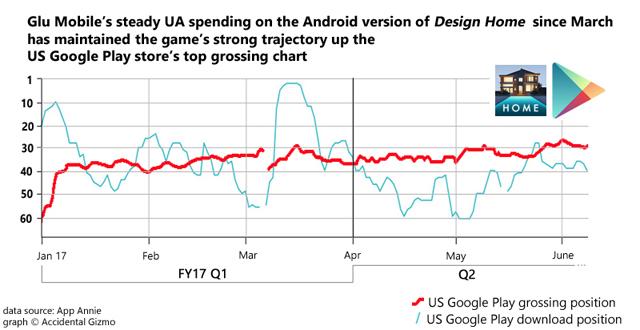 Looking at the same data on the App Store, the situation is, again, similar. As Design Home has maintained and increased its download ranking so its top grossing position has risen.
Interestingly, at this point, there's a much stronger correlation between the download and the top grossing chart positions on the App Store than on Google Play.
This is both a factor of the short time interval taken for App Store chart position, and the fact we're looking at the early phase of Design Home's lifecycle.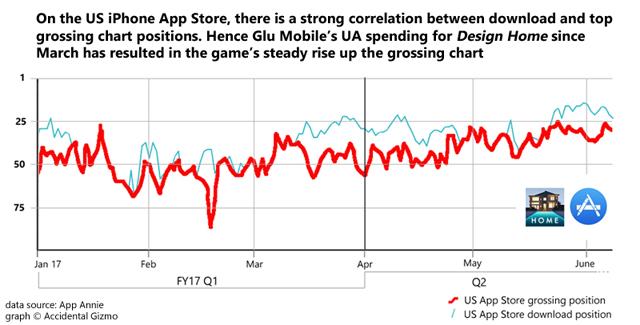 Clearly, in these early months, additional downloads convert to additional revenue in a more direct manner than will be occurring in 12 months' time, when the bulk of revenues will be generated by long term, committed players rather than new players.
This was something commented on by Eric Ludwig in Glu's earnings call, when he said, "We believe Design Home is in a unique place in its lifecycle where user acquisition will benefit bookings growth this year and next year".
How high?
Of course, until we get the official figures for Q2, it's impossible to be precise about how much Glu has spent on UA, which is vital in terms of estimating return on investment.
However, we can see Design Home's rise up the App Store and Google Play top grossing charts means it will generate more than the previous quarter's $14.9 million.
(One caveat here is app store data only captures in-app purchases, not in-game advertising revenues but Design Home's in-game advertising isn't significant.)
Glu's guidance for non-GAAP bookings for FY17 Q2 was $71-$73 million, compared to $69 million in Q1, and unless revenues from legacy games such as Kim Kardashian Hollywood collapse during the quarter, this too looks highly beatable.
The impact on Glu's GAAP net revenue will be somewhat reduced though. This is because of the way the GAAP accounting rules deal with services such as free-to-play games. For example, Glu's GAAP revenue total for FY17 Q1 ($56.8 million) only contained a percentage of the sales generated by Design Home during that period.
Indeed, Glu's balance of net deferred revenues (that is non-GAAP revenues that will be added to future quarter GAAP sales totals) jumped from $44.9 million in FY16 Q4 to $56.6 million in FY17 Q1.
The majority of this $11.7 million rise will have come from Design Home.
Depending on the game, Glu defers revenue over a period of three to seven months and Design Home's revenue is deferred over the maximum seven months.
Risks and rewards
Of course, this sort of analysis is hardly rocket science and Glu's share price is up 25 percent over the past three months, and aside from a one-day spike in July 2016 at the top of its 52-week range.
Similarly, analyst sentiment is broadly positive with Yahoo listing four holds, two buys and one strong buy.
However, given the company's reputation - it's been heavily loss-making for eight of the past 13 quarters and has a checkered history of stock price volatility - it's no surprise neither traders nor investors are yet keen to take the share price back beyond the $4+ levels of 2015.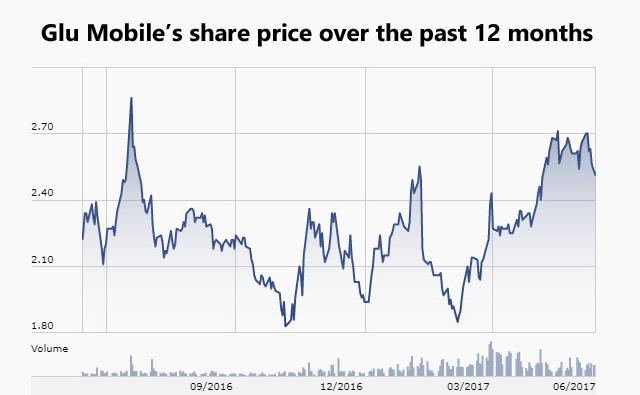 (source: Morningstar)
Indeed, looking more deeply at Glu's FY17 guidance, full year bookings would have to be in the range of $340 to $350 million in order to hit non-GAAP break-even.
All other things being equal, this would require Design Home to be generating over $35 million of quarterly bookings over the coming three quarters.
Making a GAAP profit during FY17 is almost impossible because of the impact of deferred revenues.
Takeaway
In April, May and June to-date, Glu Mobile has delivered on its promise to aggressively spend to support Design Home's position on the Apple App Store and Google Play store download rankings.
This has resulted in the game rising steadily up the top grossing charts and suggests it will generate significantly more bookings in Q2 than its $14.9 million FY17 Q1 total.
The problem for Glu bulls, however, is that to hit break-even, even on a non-GAAP level, Design Home will have to more than double its previous quarterly bookings total. This isn't likely but neither is it impossible. And over time, Glu will be able to reduce its marketing and still maintain profitable revenue from the game.
Yet, given the fact Design Home's revenues are deferred over a seven-month period while marketing costs are accounted when they occur, the company's GAAP performance will continue to lag any further uptick in Design Home's sales.
In this context, Glu Mobile provides an interesting opportunity for traders to consider but remains a risky one for long-term investors.
Disclosure: I/we have no positions in any stocks mentioned, and no plans to initiate any positions within the next 72 hours.
I wrote this article myself, and it expresses my own opinions. I am not receiving compensation for it (other than from Seeking Alpha). I have no business relationship with any company whose stock is mentioned in this article.