CNBC: 10:30 EST

After a bullish overnight session, backed by a pick-up in tech stocks, markets (NYSEARCA:SPY) have turned range-bound in the first hour of trading. Early in the session, the Dow (NYSEARCA:DIA) reached new intra-day record highs, and the Nasdaq appears to have continued stabilizing.
Gold (NYSEARCA:GLD) the Japanese yen are both weaker this morning, potentially signaling a turn back into risk assets for investors as we head into the FOMC interest-rate decision tomorrow afternoon.
After a two-day bullish streak for the spot VIX, we've opened up back inside the 10-handle, down 6%+ at 10.78.

CNBC: Monday Close

US stock indexes fell in unison yesterday, led lower by the Nasdaq (NASDAQ:QQQ), which solidified its biggest 2-day sell-off in the last six months.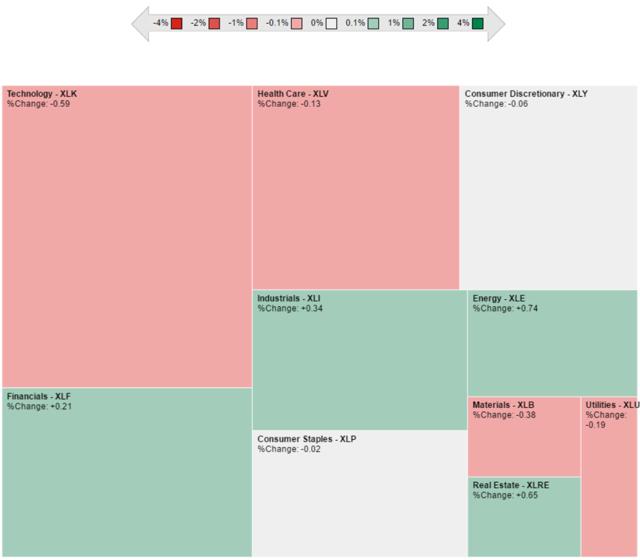 Source: SectorSPDR
Technology stocks (NYSEARCA:XLK) led the move lower for a second day in a row, losing 0.59%, with help from the materials (NYSEARCA:XLB) sector, which lost 0.38%. The energy sector (NYSEARCA:XLE) bounced back nicely from a weak Friday, gaining 0.71% during Monday trading as crude oil (NYSEARCA:USO) futures for July delivery rose 0.44%. Real estate (NYSEARCA:XLRE) gained strongly on the day as well.
Shout-Out
Today we highlight a Monday afternoon article written by SA contributor Chris Ciovacco. The recent piece is titled How Concerning Are Predictions Of A Stock Market Crash?, and briefly discusses similarities and differences between our current market, and those periods in the past where bearish headlines dominated the news cycle.
The author mentions that we have seen recent bearish forecasts from the likes of Jim Rogers and David Stockman, and have seen countless bearish headlines over the past several years.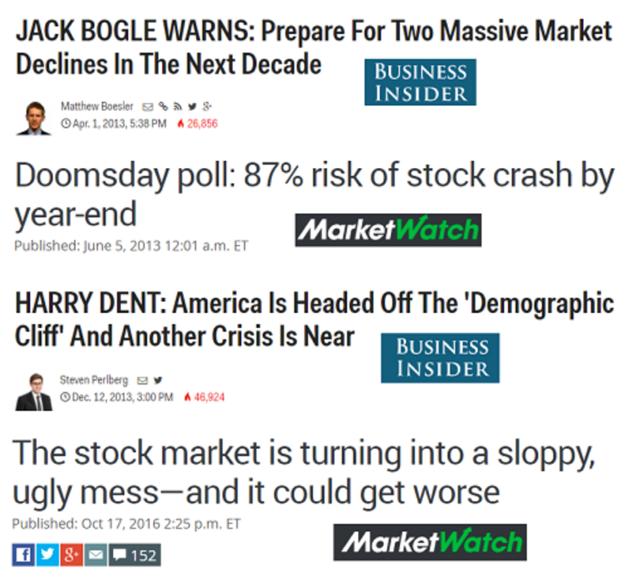 Source: Chris Ciovacco
Mr. Ciovacco notes that in recent cases where market risk-reward levels have opened the possibility to years-long bear markets (Oct. 2011 & Feb. 2016), market bulls came in quickly to right the ship.
The following screenshot is from a video posted along with the author's article, in which he discusses the importance of the recent shift in neutral sentiment of market participants as compared to the bullish sentiment of market participants.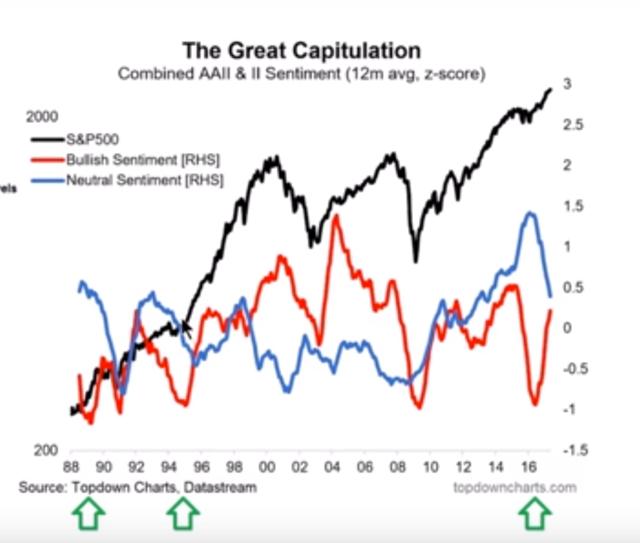 Mr. Ciovacco points out that the current shift from neutral to bullish market participants has only happened a small handful of times over the last 30 or so years, and has seen quite extended periods of buying in the past after the change has taken place.
That in fact may be, but looking at the chart above it seems the last two occurrences (and really, there are only two that we have to view; the sample size here is not too impressive) stole a lot of sentiment directly from the bearish camp. In today's situation bulls appear to be winning converts from neutral territory; who knows whether this would change sentiment-factor outcomes.
Thoughts on Volatility
Volatility was able to follow through to a second day of gains yesterday, rising nearly another 7% after the 5% jump that took place during Friday's sell-off.

As we've discussed repeatedly, any move higher in vol in our current market is likely to be sold back down.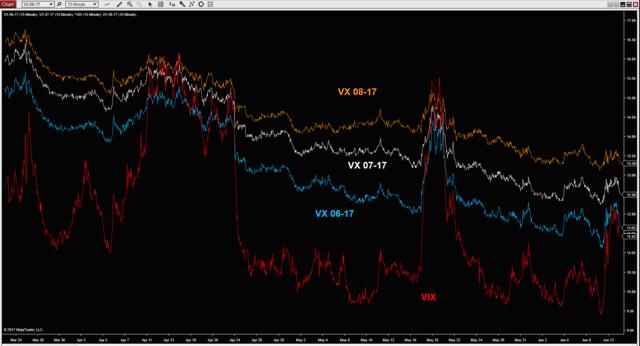 Source: The Balance of Trade
Though we are not suggesting selling volatility is guaranteed to be a winning strategy (view here and here for our discussion on "sure bets" and the Gambler's fallacy), even VIX bulls would likely admit that selling vol has been the winning strategy of late.
As shown above, there have been a few reliable entry points to the short side over the past several months, the first among them is when spot VIX nears front-month futures. In order to decrease the need to feel as though you're "calling the top" of the move, we recommend entering these positions with a small enough initial size that you can scale in and remain within your risk parameters. Scaling can be a valuable trading tactic in one's tool kit; it is to traders what dollar-cost averaging is to investors.
Though we tend to focus our attention on volatility futures and options, tomorrow we will look at the popularly traded VIX exchange-traded product XIV, and discuss possibilities for selling vol spikes on that product.

Over the last 24 hours or so, volatility has gotten wrecked on the front end - even out to the one-month expiration. Apparently ten points higher on the S&P is all it required to take the breeze out of the sails for near-dated volatility! What's more surprising frankly was the monthly vol hit.
Organic at-the-money vol is in our view demonstrating the present reality that actual volatility has to truly prove itself in order to get implied volatility to budge for any length of time. The fact is, as we write this, we are exactly where we were on the ES one week ago, and for all the hullabaloo about the "tech wreck" (which indeed was interesting), ES traveled about 14 points or so in either direction from 2433. As people are fond of saying lately: "nothing burger".
Looking down the second column, "contango" has reasserted itself in ES-options land. That said, we think between twitchy trigger fingers in tech, oil choppiness, the Pound, and the Fed meeting tomorrow, volatility could reverse itself quickly. This would be particularly true on the front end.
Tracking the Trade
Last week, we began a new trade to track. Earlier last week, we had a comment from a reader on a trade they wanted to see play out: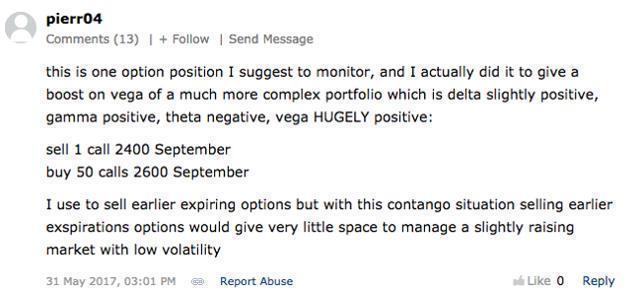 Normally, when we track a trade, we follow it for two weeks or so. Now there is nothing to say that we couldn't do two weeks for this trade as well. But what we've decided is that we will follow this trade (with a couple of modifications along the way) over the next quarter or so.

What we'll likely do is track this trade for a week or two and then head over to something else, keeping an eye on this every so often.
Remember, Tracking the Trade is meant to be educational. We do not put these positions on in reality, and we are not recommending that you trade these spreads. They're really meant to give you the reader exposure to different ways of thinking about risk and the richness of views the options market can uniquely accommodate.
Strategy:
For insight into what leads Pierr04 to believe this is a good strategy, we can read what he has to say below (taken from a comment on Monday):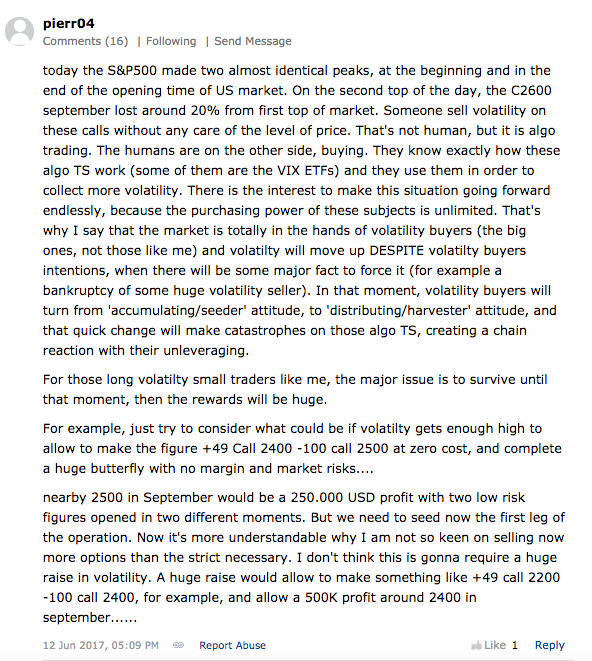 We'll quote Pierr04 again below when we address tactics. But read (especially the first paragraph) to get a real sense of thesis. Now, it is not at all important that you actually agree with his core trading belief. In fact, what's more useful to the notion of flexibility is to disbelieve it, but to ask yourself how you would trade the thesis if you did believe it. What tactics would you use? Which basic structures? These are useful skill sets to develop whether you tend to be "long vol" or "short vol"; in fact, those that could most benefit from them, perhaps ironically, are the buy-and-hold investment crowd.
Tactics
From the outset, we took a different approach to trading this structure vs. what pierr04 initiated with. That said, it is important to recognize that he did not envision just sitting on his hands for fourteen weeks. Here is what he had to say Friday: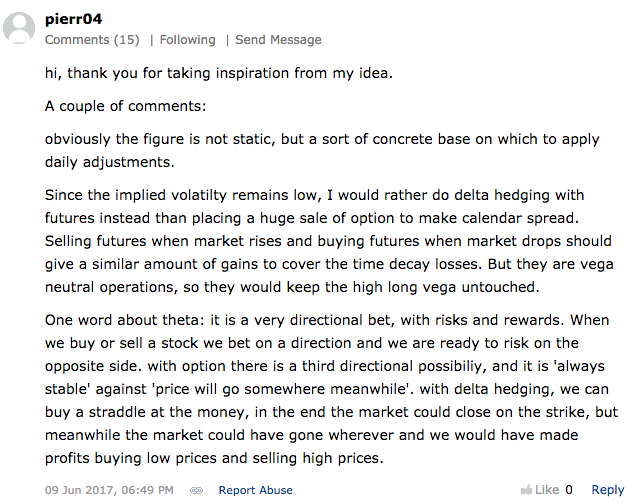 Our approach entailed scaling in more gradually; buying calendar spreads rather than just naked calls, and selling a one-month strangle to try and keep our theta more controlled. Pierr's tactic is to initiate the trade the way that he envisions it, and then to "trade around" the position: selling a futures to level out the delta when ES trades high, and buying futures when it trades low.
As with all market propositions, both approaches entail risk.
Pricing Update
Here is what Pierr's suggested baseline looks like today: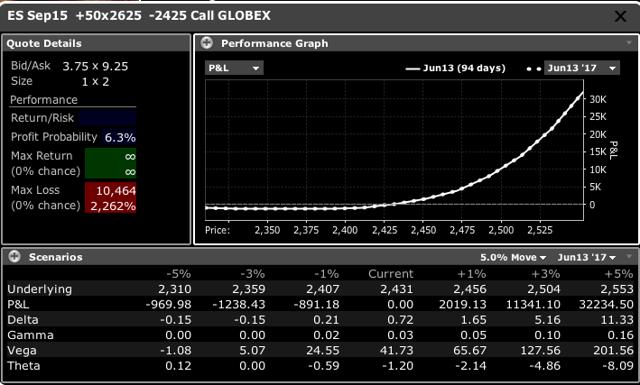 At a mid of $6.50, it is down substantially from its highs last week of around $35. That said, last week it was up a great deal from where we initiated the baseline at a mid price of $12.50. Clearly, this trade is choppy. Pierr's tactic of trading around the position may be quite important in holding onto gains. Generally we prefer strategies that allow gains to ride, though we do pare them in practice from time to time.
The strangle we sold on jobs Friday for $18.25 now trades at a mid of $13.75:

Our modified baseline that involved slightly different strikes, as well as calendars rather than naked calls looks like so: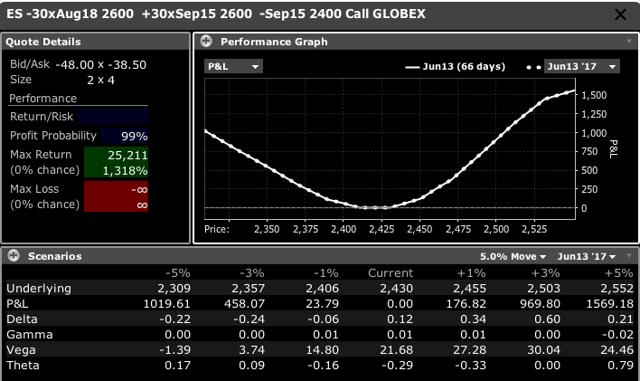 From the standpoint of the "Greeks", our theta is far less dangerous, but our core exposures are also far less exciting. In any event, the same September 2600-area "cook-off" that commenced yesterday impacted our trade pretty much the same as Pierr's. We are down a grand total of about $6 after all scaling in, modifications, etc.
The core culprit? The September upside:

The same Aug-Sep 2600 calendars that we had to pay $1.35 to get last week are now on sale at a mid of $.90. Most of that comes from the hit to September, as opposed to August getting bid; as such, both the baseline and the modified spreads have taken a hit.
Mechanics
Consistent with our desire to scale in, we will attempt to limit in on another two calendars at a mid price of $.90. That will take our total calendar spread count up to 40, with an average price of $1.1775.
Conclusion
As we finish the bulletin for today, sellers appear to have failed to seize control at range lows, clearing the way for buyers to potentially take it from here. Volatility is trading inside of a tight range as well. As mentioned yesterday, the certainty that the market seems willing to price in with regard to a FOMC move tomorrow may certainly pave the way for a big surprise if the Fed fails to meet expectations.
We welcome all readers' thoughts, and often use the bulletin to respond to strong comments that we believe will benefit all readers.
Please consider following us.
Disclosure: I am/we are short SPY. I wrote this article myself, and it expresses my own opinions. I am not receiving compensation for it (other than from Seeking Alpha). I have no business relationship with any company whose stock is mentioned in this article.
Additional disclosure: We actively trade the futures markets, potentially taking multiple positions on any given day, both long and short. It is our belief that the S&P 500 is meaningfully overvalued. As such, we typically carry a net short position using ES options and futures.