By Dr. Udaya K Maiya, MBBS, MD, DNB, DCCF-Paris
Gilead Sciences (NASDAQ:GILD) lost its balm two years ago, when fears of a decline in its HCV franchise saw the stock plummeting from its $120s all time highs to the sad avatar that it is today of an once-mighty stock giant - $60 and change.
The sad irony for Gilead is that its problems stem from the fact that it was so good at what it did. The company's products - HCV drugs Sovaldi, Harvoni and so on - are so good that they almost completely cure (or cure, in lay terms) the disease they target: HCV. Thus, they killed their own market. Nobody in the non-Western world will pay the huge prices Gilead charged to make its billions; instead, they will either make copycats, or Gilead will have to subsidise the drug.
On the other hand, in developed markets, the drug has been so effective that HCV is slowly getting eradicated. Moreover, the political atmosphere in the US today precludes high-handed pricing of medicines. Thus, although the HCV franchise still makes billions, just the fear of that golden goose dying off is enough to take the stock down.
On the other hand, competitors are also picking up pace. Again, although none of the competitors are close to where Gilead is, just the fear of encroachment is putting enormous pressure on the stock. While its latest pan-genotype drug Epclusa will hold the fort for now, Bristol-Myers, Merck and AbbVie each have million-dollar drugs for at least one of the 6 HCV genotypes.
Again, the irony is that Gilead stock sells at only a 7x price to earnings ratio. Amgen is 16, AbbVie is 17, Merck is a whopping 40x P/E. In fact, Gilead has the lowest P/E among the top 20 biotech by market cap. I will do one more - Gilead has the lowest P/E among all biotech above $10bn - about 60 large companies. Gilead is also at number 8 in terms of P/E among the thousands of healthcare firms out there - and the other 7 are all less than half a billion dollar market cap companies, while Gilead is still a $90 billion behemoth. To keep and maintain P/E of that order for such a large company is astounding. It simply means one thing - that the company is deeply undervalued. And yet this company made investors lose half their investment in 2 years, assuming they bought at the highs because they trusted the above numbers.
What went wrong?
Among the various reasons proposed by a multitude of experts, perhaps the most critical is that Gilead put its entire brand value behind its HCV franchise. 90% of its revenue came from antiretrovirals, most of its R&D efforts also went into HCV drug development.
Neglected in this scenario is Gilead's oncology drug pipeline and products set.
Gilead's oncology assets - The Zydelig Product
Gilead's only approved oncology asset is idelalisib, brand name Zydelig. Personally, I have never had occasion to prescribe it, but I believe this drug, once seen as a potential blockbuster, is now perceived as trouble. It was approved as second line therapy with boxed warning in three indications:
Relapsed chronic lymphocytic leukemia (CLL), in combination with rituximab, in patients for whom rituximab alone would be considered appropriate therapy due to other co-morbidities.
Relapsed follicular B-cell non-Hodgkin lymphoma (NYSE:FL) in patients who have received at least two prior systemic therapies.
Relapsed small lymphocytic lymphoma (SLL) in patients who have received at least two prior systemic therapies.
The boxed warning goes as follows: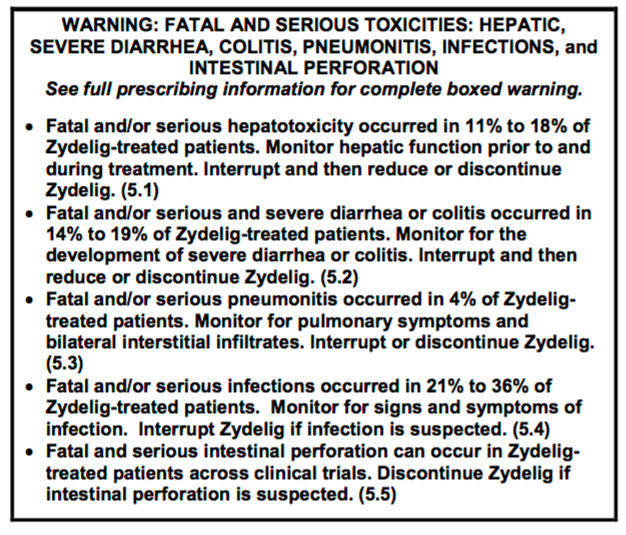 ​(Source)
Apart from that, the official prescribing document continues to say this:
Contraindications
History of serious allergic reactions including anaphylaxis and toxic epidermal necrolysis. (4)
Warnings and Precautions
Severe cutaneous reactions: Monitor patients for the development of severe cutaneous reactions and discontinue Zydelig. (5.6)
Anaphylaxis: Monitor patients for anaphylaxis and discontinue Zydelig. (5.7)
Neutropenia: monitor blood counts. (5.8)
Embryo-fetal toxicity: may cause fetal harm. Advise women of potential risk to a fetus and to avoid pregnancy while taking Zydelig. (5.9)
Adverse Reactions
The most common adverse reactions (incidence ≥20%) in patients treated with Zydelig in the monotherapy trial are diarrhea, fatigue, nausea, cough, pyrexia, abdominal pain, pneumonia, and rash. (6.1)
The most common adverse reactions (incidence ≥30%) in patients treated with Zydelig in combination trials are diarrhea, pneumonia, pyrexia, fatigue, rash, cough, and nausea. (6.1)
Common laboratory abnormalities include neutropenia, ALT elevations and AST elevations. (6.1)
What is more important to know is what happened early last year when reports came out of multiple deaths and other serious adverse events in a set of 6 trials of zydelig where it was being used in combination with a number of other drugs as possible frontline therapy for chronic lymphocytic leukemia, small lymphocytic lymphoma and indolent non-Hodgkin lymphomas - the same three indications for which the drug was originally approved in 2014, but as second-line therapy in combination with rituxan in CLL. It was approved on the basis of outstanding trial results where the zydelig-rituxan combo managed to double PFS from 5.5 months in rituxan alone to 10.7 months using the combo. However, the failed trials now showed that zydelig cannot be combined with other drugs and used in frontline therapy- where the main market is. Coupled with its serious adverse events, as well as the rise of Imbruvica from Johnson & Johnson (NYSE:JNJ) and AbbVie (NYSE:ABBV), Zydelig seems to have failed as a viable blockbuster product in the oncology sector for Gilead. Clearly, it has to look elsewhere.
Gilead's oncology assets - The Pipeline
Gilead's present onco-heme pipeline looks like this: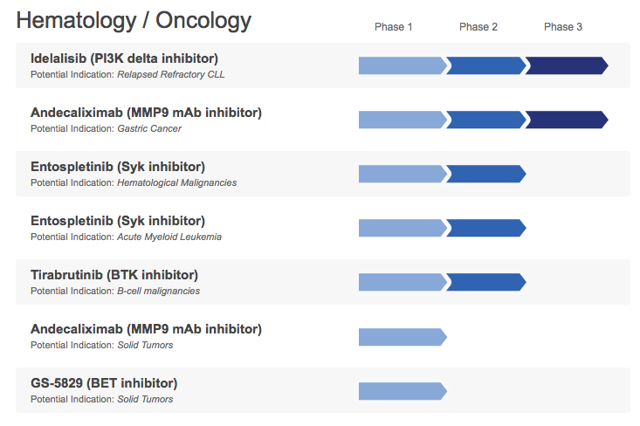 ​(Source)
Of these, idelalisib is more or less in the bin for future developments after the dismal failure from last year. Andecaliximab, an MMP9 inhibitor, is in phase 3 targeting gastric cancer. There is one SYK inhibitor, entospletinib, in phase 2 for two indications, acute myeloid leukemia, and broad heme-malignancies; and another BTK inhibitor tirabrutinib in phase 2 for B-cell malignancies. There is one other product candidate in early stages.
Andecaliximab: Andecaliximab is an MMP9 (Matrix metalloproteinase 9) inhibitor. Also known as GS-5745, this drug inhibits the action of an enzyme that enables tumor growth by degrading the matrix surrounding the target cell, and also, among other things, enabling tumor angiogenesis and vasculature in its pathogenic avatar. This is a complex area of research because these enzymes have critical physiological functions too, so the question of side effects is paramount. However, research has been ongoing for decades, and since at least 1995, "…Elevated plasma gelatinase B levels (one of the MMPs) have been detected in gastrointestinal cancer…"
Gastric cancers are difficult to treat for a number of reasons, one among them being late detection due to the cancer being quite asymptomatic in early stages. Even when diagnosed, accurate staging using TNM (tumor, node, metastasis) system is difficult to accomplish even today, which can hurt treatment planning. Its incidence has declined in developed countries, and currently it is the 13th most common cause of cancer death in the USA, with 12,100 deaths as of 2003. It is much more common, and more generally fatal, in developing and underdeveloped countries, where premium pricing is not possible.
The treatment options for unresectable gastric cancer nowadays include Herception or trastuzumab for HER2 +ve disease. Eli Lilly's (NYSE:LLY) antiangiogenic drug Cyramza (Ramucirumab) was also recently approved for advanced gastric cancer, and is expected to take a lead due to its broader usage potential. Keytruda (Pembrolizumab) is also working towards approval, although its latest trial data presented at ASCO was less than stellar for the broad population, although quite good for a small subpopulation. There are a number of other currently-approved drugs (for other cancers) that are going through trials targeting gastric cancer, and a few new drugs as well. Market size projections for gastric cancer range from between $3.3bn to $4.5bn by 2020-2024.
The problem with this scenario, for Gilead, is that even if, very optimistically, it captures a significant section of this market within 2-3 years of launch, that will only come to a few hundred million dollars - I don't see this drug reaching billion-dollar potential so quickly. Gilead's Zydelig revenue has grown, but that drug, too, with its safety issues and limited second-line use, does not have $1bn potential.
On the other hand, from its latest guidance, Gilead is going to lose upwards of $5bn in revenues just this year. As competition peaks, it will probably lose many more billion dollars out of the over $20bn it makes today. Two iffy oncology assets that together do not even make $1bn are not going to be enough. To replace a revolutionary drug asset, it needs to get another revolutionary drug asset.
As I look around for a revolution, I ask myself, where in medicine are potential revolutions in the offing?
Gilead's own little revolution - the BTK inhibitor tirabrutinib
The BTK inhibitor Imbruvica is a blockbuster drug that is expected to make $5bn per year by 2020. It blocks an enzyme known as BTK (Bruton's tyrosine kinase) which causes pathogenic mutations in B-cells. A number of critical B-cell malignancies like CLL and MCL (Mantle cell lymphoma) are now treated with Imbruvica, the only approved BTK inhibitor. The drug was purchased from a small pharma for about $3mn, then developed into what is today a multibillion dollar blockbuster.
While Imbruvica has a number of side effects because of off-target effects on EGFR, ITK, and Tec family kinases, the critical nature of the diseases it targets makes those side effects pale in comparison. However, there is scope to develop a drug which will have a better side effect profile, especially concerning the drug's effects on the heart.
The other major issue with Imbruvica is its very high pricing - its wholesale price for lymphoma goes above $150,000 per year.
Here's a table comparing second-generation BTK inhibitors with Imbruvica: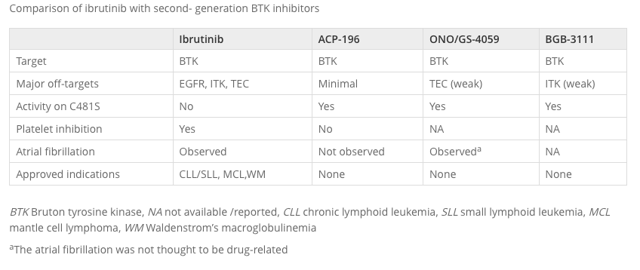 (Source)
The drug tirabrutinib competes with Acalabrutinib, another BTK inhibitor in late stage development, which demonstrated great results compared to Imbruvica, and is currently in phase 3 trials. AstraZeneca (NYSE:AZN) has already acquired a 55% stake in the small Dutch pharma that was developing the drug, with an option to acquire the rest if the drug gets approved.
If tirabrutinib can address some of the issues associated with Imbruvica, there's scope for tirabrutinib. However, this revolution seems to have been nipped in the bud due to competition. While research has been done using tirabrutinib in combination with idelalisib as well as with entospletinib, yielding better results than as a monotherapy for each of these drugs, the close competition makes it just one among the crowd, unlike Gilead's HCV platform a few years ago.
I won't discuss Gilead's Syk inhibitor entospletinib because of a variety of reasons that tell me it is not much of a revolution; the therapeutic mechanism by which Syk inhibition works in hematological malignancies is not yet clearly understood; there are a number of Syk inhibitors working through trials in rheumatoid arthritis, cancer, even Alzheimer's disease. However, the not-so-sterling results of at least one Syk inhibitor, fostamitinib, gives me pause in thinking entospletinib will be a tremendous success.
Clearly, Gilead has to look elsewhere for its next revolution.
Conclusion
This is a brief and somewhat simplistic survey of Gilead's oncology pipeline. However, it does tell us something important - that none of these drugs, or even the entire pipeline, can replace its HCV franchise. The problem with this oncology pipeline is that it has no particular focus, strategy or platform - a random mix of all sorts of drug candidates, some monoclonal antibodies, some small molecules - and none of them blockbuster potential. If oncology is something Gilead wishes to focus on, it needs to take a more focused approach in an area where there is real revolution ongoing, develop a platform from which multiple drugs targeting multiple areas of cancer could be developed, and acquire a few smart assets. Until that happens, I see little future in Gilead's oncology efforts.
In a future instalment of this article series, I will discuss which oncology asset/area/company I think is a good fit for Gilead today.
Disclosure: I am/we are long GILD. I wrote this article myself, and it expresses my own opinions. I am not receiving compensation for it (other than from Seeking Alpha). I have no business relationship with any company whose stock is mentioned in this article.
Additional disclosure: However we are reassessing our long position.