The 401(k) Fee Problem
A participant's nest egg at retirement can be adversely affected by excessive fees charged by 401(k) plan service providers. While some level of fees are reasonable, exorbitant fees unfairly inhibit the growth of the account. This in turn forces the participant to accept either a lower standard of living during retirement or additional contributions to meet a specific goal at retirement.
401(k) Asset Based Fee Model
Most 401(k) plan service providers rely on a fee strategy where annual service fees are determined as a percentage of the plan assets. This allows them to enjoy an increasing dollar stream of fees as participants and employers continue to add monies to the plan and the plan assets earn investment returns.
This approach was originally implemented by increasing the internal mutual fund expenses allowing additional fee dollars from each participant's account balance to be captured during the year. Often referred to as revenue sharing, these additional fees are "shared" amongst the service providers.
Who are the Service Providers?
The service providers utilized by a 401(k) plan include a recordkeeper and a financial advisor. A third-party administrator may also be included to provide plan document and government forms filing support. Below is a brief summary of their responsibilities.
Recordkeeper - A firm which provides website and participant account support for the

401(k) plan. The recordkeeper also controls the universe of mutual funds which are available to the plan. A recordkeeper may also provide plan document and government form filing support. Recordkeepers can be stand-alone software companies, mutual fund companies, or insurance companies.

Financial Advisor - An advisor which provides financial education and other services to the plan sponsor and the plan's participants. The advisor is usually the service provider who sold the recordkeeping services to the client originally. Not all

401(k) plans have financial advisor support. An advisory firm can be a brokerage or a registered investment advisory firm.
Revenue sharing can be quite complex. Because service providers can have differing fee requirements, mutual fund companies were incentivized to create multiple share classes with varying degrees of layered fees so recordkeepers could offer them in as many fund universes as possible.
An example is shown below:

For this single mutual fund, there are six different share classes from which to select from for inclusion in a

401(k) plan investment universe.

If an advisor sells a 401(k) plan to an employer and wants to be paid 0.50% per year for their services, the recordkeeper will compile a universe of mutual funds which have 12b-1 fees that approximate 0.50% overall. For the example above, the share class would be 2. This newly-created sub-universe of 0.50% 12b-1 fee mutual funds will be the group from which the advisor selects the

401(k) plan investment line-up. This will ensure that the financial professional will receive a fee of 0.50% of plan assets each year.

The recordkeeper receives the "Other Fee" as payment for the selected share class. In this case, 0.25% of plan assets.
If revenue sharing dollars are not enough for either service provider, additional fees can be directly deducted from participant account balances for the difference. With the recent popularity of including more low-cost index funds and exchange traded funds in the investment line-ups, which do not currently allow for these additional layered fees, service providers have had to deduct more fees directly from participant accounts as revenue sharing totals have fallen.
The Effect of the Department of Labor Regulations
The Department of Labor (DOL) issued regulations which were designed to require more detailed disclosures regarding the investment and administrative fees found in 401(k) plans. The intent of these regulations is to provide transparency to these fees and help plan sponsors and participants determine if the costs are reasonable. While the participant fee disclosures are lengthy, you can usually determine the costs that are being paid from the plan for investment management and administrative services.
The DOL regulations on fee disclosures are well intended but few plan sponsors and participants read this material. Fee information may be available on a 401(k) plan's annual Form 5500 filing, but it can be unreliable, especially for small employers using the short form, and provides very little help in determining fees. Additionally, neither the participant fee disclosure nor the Form 5500 reflects expenses paid directly by the plan sponsor out of pocket.
Historically, most advisors have been held to the "suitability" standard from the Financial Industry Regulatory Authority (FINRA). The "suitability" standard requires that the advisor have a reasonable basis to believe that their investment recommendations meet the plan sponsor's and participants' needs and objectives.
The Department of Labor's new Fiduciary Rule requires that an advisor act as a fiduciary for 401(k) plans. A fiduciary is bound legally and ethically to act in the best interest of the plan sponsor and participants. A fiduciary has a much higher level of accountability than the "suitability" standard.
Lack of Transparency
Revenue sharing and layered mutual fund fees help keep these important fees hidden from the plan sponsor and participants alike. This puts plan sponsors and plan participants at a disadvantage when attempting to determine if their plan's administrative and advisory fees are reasonable for the services provided.
Industry averages for total plan cost, including fund management fees, are available by size of plan and number of participants. Comparing total plan costs can be difficult when trying to determine reasonableness of service provider fees because the actual fund management fees can vary a great deal. As an example:

Plan A has a lower total plan cost of 1.25% when compared to Plan B which has a total plan cost of 1.50%.
Plan A has higher service provider fees of 1.10% when compared to Plan B which has lower service provider fees of 0.80%.
Plan A uses a fund line-up consisting entirely of low cost index funds, 0.15%. Plan B uses actively managed funds resulting in a higher average fund expense for the plan, 0.70%.
This example shows that more granular information is needed to make an informed decision. If Plan B moved to a similar low-cost index fund line-up like Plan A, then Plan B's total plan cost would drop to 0.95% and would be lower than Plan A's total cost.
Asset-Based Fees - The True Culprit of Ever Increasing 401(k) Fees
While we believe the current level of fees charged by service providers in the 401(k) plan industry are too high, the exponential growth of fees in the future is another problem for plan participants.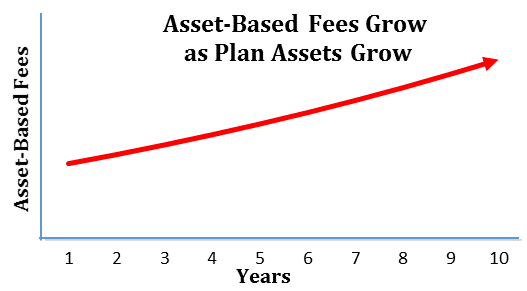 A

401(k) plan with a reasonable net cash flow into the plan and investment return assumption can double in size every 7-8 years.

The asset based fee model provides service providers an opportunity to double their pay every 7-8 years without providing additional value.
It is important to remember that much of the increase in the plan can be attributed to additional contributions by the participants and employer.
More plans are now utilizing low cost index funds and exchange traded funds which do not allow for the inclusion of these additional revenue sharing fees. This requires the fees to be set apart from the investment vehicles themselves. While it may make the fee strategy somewhat more transparent by not hiding these fees within the mutual funds, we believe that the continued practice of calculating fees based on plan assets remains flawed and the industry still does not recognize the need for meaningful fee reform.
New Entrants into the 401(k) Plan Space
New 401(k) players have been entering the service provider space, including internet-based technology-driven companies who hope to capture market share and create company value. Many of these companies focus on the customer service and internet assistance model while shying away from the traditional advisor-assisted model in the hopes that it reflects some form of savings to the participants. However, when examined closely, most, if not all, of these new entrants continue to use the asset-based fee model for calculating their service provider fees. While the escalating fee and revenue streams of the asset based model makes a compelling business case for these new entrants, we believe it is the wrong path to follow.
A Simple, Straightforward 401(k) Solution
An industry leading low cost solution - FixedFee401(k) - with:
Low Cost Fixed Fees
Eliminates all asset-based fees for administrative and advisor services.
Establishes a fixed fee for advisory services at engagement which will not change in the future unless the plan sponsor/plan goes through a material business change.
Preference to work with those recordkeepers that share views regarding a fixed fee approach and price their service without regard to plan assets.
High Quality Funds, Low Cost
Access to all available low-cost index funds, exchange traded funds and actively managed funds at the lowest possible cost with no hidden fees.
Dedicated Advisor
Participants have access to a licensed advisor for all financial counselling needs.
The advisor serves as the plan's ERISA 3(38) Investment Manager, the highest level of fiduciary support.
A FixedFee401k plan can save businesses 50% or more.
Summary
We believe that:
Excessive fees charged by

401(k) plan service providers are a meaningful detriment to the US workers' ability to save enough for retirement.

The current

401(k) Asset Based Fee model used by most service providers to calculate fees is flawed and that there needs to be meaningful fee reform.

A FixedFee

401k plan where the costs involved in providing the plan are low, fixed and transparent will help participants keep more of what they save today and in the future.
Disclosure: I/we have no positions in any stocks mentioned, and no plans to initiate any positions within the next 72 hours.
I wrote this article myself, and it expresses my own opinions. I am not receiving compensation for it. I have no business relationship with any company whose stock is mentioned in this article.