On Friday June 9th, just before the last hour of trading, a selloff occurred that was led by the tech sector, or what some people call the fang stocks. Below is a picture of the activity Amazon (NASDAQ:AMZN) experienced.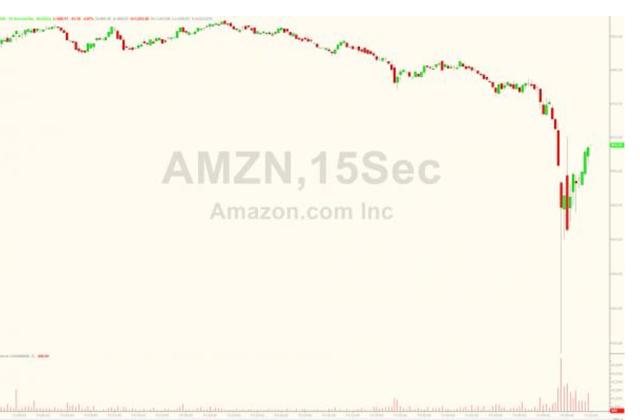 Source here.
And below is a picture of what Apple (NASDAQ:AAPL) experienced.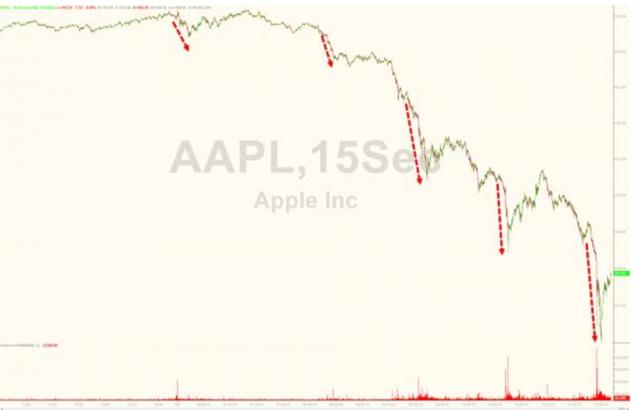 Source here.
Now if you look at both charts carefully, one can see that some buying picked up before the close, so I thought this may have just been a scare with nothing materializing. But on Monday, this selling persisted. The S&P technology sector decreased by .8 percent on Monday, adding to its Friday decline of 2.7 percent. Not only that, chief portfolio strategist says that if the economic data was worse than what it was, then I would be worried.
Now if the data was improving I could see his point, but the problem is, the data is getting worse. I wrote an article about the declining data, and why it will continue to get worse here. Now I don't feel like repeating myself, so if you want to know why, read the article. But what seems to be on investors' minds are is this the popping of another bubble.
Is there a bubble in tech, in my opinion there is. First many software engineers are now out of work as many tech companies are unable to get funding now, which wasn't the case in 2014, the number of investments made by venture capitalists have fallen by one third since 2014, home prices and rents from silicon valley are now stalling, and many companies such as Uber have massive valuations such as $68 Billion dollars, yet they are still losing money. In fact a lot of companies have valuations which are being valued at multiples of 28.
Now I am anticipating a large stock market decline over the next couple of years, and I didn't think it would occur till 2019 or 2020. But what this sell off does do, is that it has changed my mind about the timing of the upcoming decline. Normally, during this most recent bull market, large stock market declines have been due to geopolitical events. An example of this is Brexit, were roughly $3 trillion dollars were wiped out due to the UK's decision to leave the EU. As you know selloffs due to geopolitical events never persist.
But this time, there wasn't any news, so initially I thought traders were taking profits and didn't want to be in long a position going into the weekend.
But after Monday closed in the red for the tech sector, my mind has changed, and I am beginning to think that the that this stock market decline I see due to rising rates from the Fed, is closer than we think. The main reason I don't see a large stock market decline just yet, is because the banking and energy sector did rebound and perform well on Monday.
Another reason I don't think a large stock market decline is around the corner is because of the contrarian in me. Recently, Goldman Sachs claimed that the last time the tech sector acted like this was during the Dotcom bust in 1999. When was the last time Goldman Sachs has ever warned the public about a stock market crash, I would be worried if they were telling the public to buy the dip. I also think that a crash isn't around the corner because it's the summer time. During the summer, the financial markets generally are trading on lighter volume.
Lastly, I think when the Fed raises rates this week, they will praise the US economy, and that could lead to a rally. But lastly, as stated above, there has been some sector rotation money flowing from Tech into the financials and energy sectors. Sector rotation does not lead to large declines, in fact sometimes sector rotation can set up a sector for larger gains in the future.
But don't get me wrong, there are problems in the US economy, and they are just starting to be recognized by the market. Now it's long overdue as the economy has been horrid, as this "recovery" has been worse for most families then the actual recession was. And most recently, state corporate tax receipts have suffered its largest decline since the previous recession.
I am beginning to think that this sell off is foreshadowing an end to this bull market next year. We will just have to wait and see for now.
Disclosure: I/we have no positions in any stocks mentioned, and no plans to initiate any positions within the next 72 hours.
I wrote this article myself, and it expresses my own opinions. I am not receiving compensation for it (other than from Seeking Alpha). I have no business relationship with any company whose stock is mentioned in this article.