The major Greek Banks - National Bank of Greece S.A. (OTCPK:NBGIF), Piraeus Bank SA ADR ( OTCPK:BPIRY), Alpha Bank S.A. ADR ( OTCPK:ALBKY), Eurobank Ergasias SA ADR (OTCPK:EGFED) - published their Q1-2017 results. As mentioned in previous articles, the major challenges for them are the liquidity issues and the pile of non-performing loans.
Liquidity
With the exception of Eurobank, the banks have been able to reduce their reliance on Eurosystem funding as a percentage of total assets: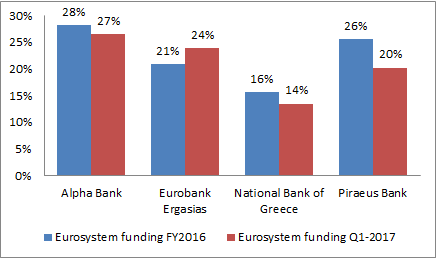 Source: Q1-2017 reports
Unfortunately, I couldn't find any reason why Eurobank has been an outlier this quarter. In April/May the Eurosystem funding for Eurobank went down again, so I will assume Q1 was an exception and monitor the following data points very closely.
Eurosystem funding has been primarily reduced with the own financial means of the banks and not with new deposits. This quarter, only alpha bank has increased deposits while the other three banks saw a reduction in total deposits. In all quarterly reports, I couldn't find a clear reason for the decrease in deposits so this is definitely something to follow closely. As a result, the Loan-to-Deposit ratios have hardly been improved with the exception of Piraeus (by shrinking the loan book).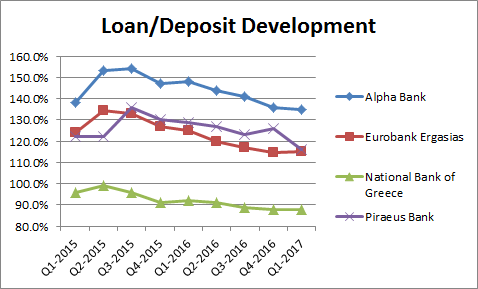 Source: Q1-2017 reports
Non-performing loans
Looking at the non-performing loan book (90 days past due), very little progress has been made last quarter. Luckily, the cash coverage ratios of these 90DPD loans seem to be comfortably high.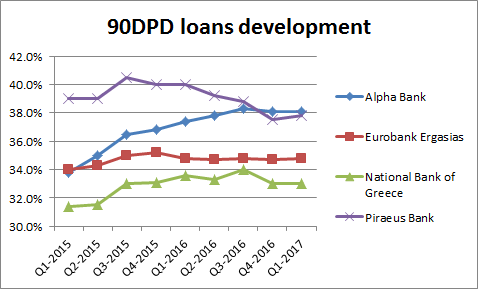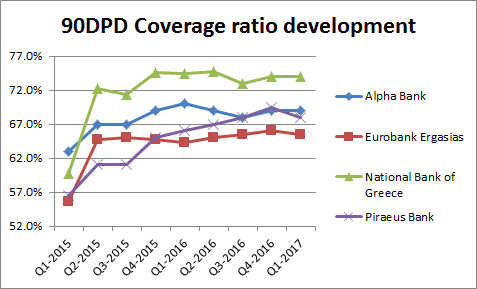 Source: Q1-2017 reports
It is amazing to see how little progress has been made with the 90DPD loans, while in Cyprus the mountain of 90DPD loans is melting under the sun. Since my first article covering the Greek banks in March 2016, I have been trumpeting the positive reforms regarding the foreclosure laws. I felt it would be the right catalyst for fixing the banks, but until now it doesn't show any results (yet).
Despite the fact I expected progress sooner, I still feel comfortable with my initial thesis: the Greek banks are very well capitalized and reserved and trade way below tangible book value. This provides a wide margin of safety.
Nevertheless, the pay-off will probably take a while so patience will be required. My investment in Cyprus shows that while the fundamentals are improving, the stock price only improves a long time after the fundamentals did. This doesn't mean the same will happen in Greece, just don't be surprised if it does!
Disclosure: I am/we are long EGFED.
I wrote this article myself, and it expresses my own opinions. I am not receiving compensation for it (other than from Seeking Alpha). I have no business relationship with any company whose stock is mentioned in this article.
Editor's Note: This article covers one or more stocks trading at less than $1 per share and/or with less than a $100 million market cap. Please be aware of the risks associated with these stocks.