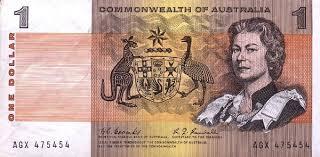 The National Australia Bank (NAB), business confidence level came in at 7, a sharp fall from April's 13 level, but the long term average is 6, so 13 maybe have just been extraordinary. This isn't an issue which would affect interest rate policy, so there was no reaction from the AUD-USD.
As reported by Daily Fx:
The Reserve Bank of Australia is not expected to alter its current, record-low interest rates for the remainder of this year and, possibly, well into next. The next major economic event for the Australian Dollar will probably be Thursday's official labor-market statistics which will be covered live via a DailyFX webinar.
Technical 'Aussie - Dollar'
The pair are holding 'higher lows', in a bullish leg in the cycle charts. According to 'Daily FX' , foreign exchange traders, are now 'contrarian' bullish, (12.3% open interest),with 56% short, against 44% long positions. The charts support their contention.
The AUD has broken over the higher horizontal selling resistance level illustrated below in green, using the 73 level as support. There's also been a test of that support, now trading outside of the March-May leg down. Although there is potential selling resistance on the previous highs, although the rise in January had minimal correction, that was from a lower price level.
It could be that the current leg will bear more resemblance to the more choppy rise from May 2016. Confirmed buying support on the higher low at 73 suggests that is a possibility on this run, but still has to break the higher potential selling levels, identified in red, and we should note the trend on the very long term super-cycle which needs a much higher break out to confirm a bullish long term trend change.
The market appears to be recovering from a minor interruption on the daily chart and closed with a bullish candle. A continuation higher to the next dotted red horizontal (just below 77), presents a possible small correction down to the higher green dotted support (see arrow), before a rise to the first solid red horizontal. A short rise to about 76 followed by a similar correction, would also achieve the same thing.
Following the bullish engulfing candlestick off the June low, coupled with a further confirmed wave up, a bearish short term pull back now seems less likely. If there was a small correction, higher support is available on the second green horizontal at about 74, with selling resistance on the higher red dotted horizontal, just below 77.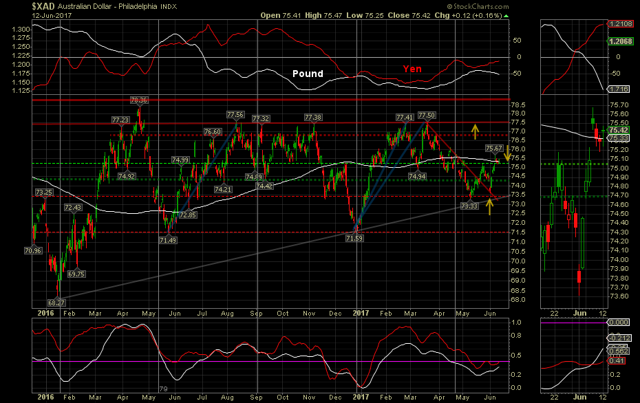 The super cycle chart below includes a trading channel extrapolated from the low of 2001 as a diagonal line. The AUD is trading below that channel but higher than the 2009 bottom, which is acting as a support level. A longer term bullish advance needs to confirm this diagonal as support, if it continues to act as selling resistance (even at a higher level), trading could fall into another deep correction. The Aussie like the Canadian dollar, is traded based on expectations of a link to commodities. (Please refer to my last 'Gold and Miners' article, for bearish gold supercycle implications).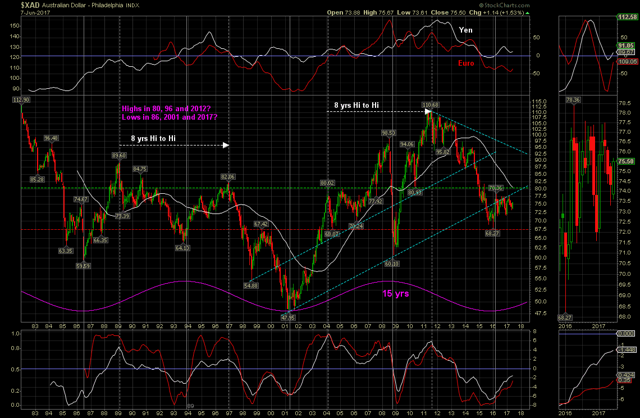 Chart source: Astrocycle.net
AUD COT Chart
The COT chart provides an insight into traders positions, and when contracted together has historically given rise to a bounce, with bullish implications.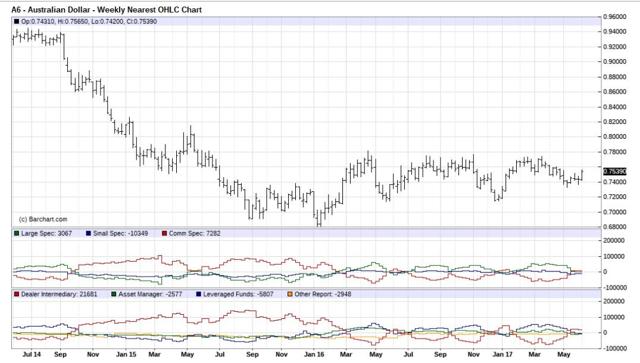 Source: barchart.com
Trader Sentiment
The following chart is offered by TraderFx, and illustrates their client positioning long versus short. They typically take a contrarian view to predict outcomes, which is currently bullish.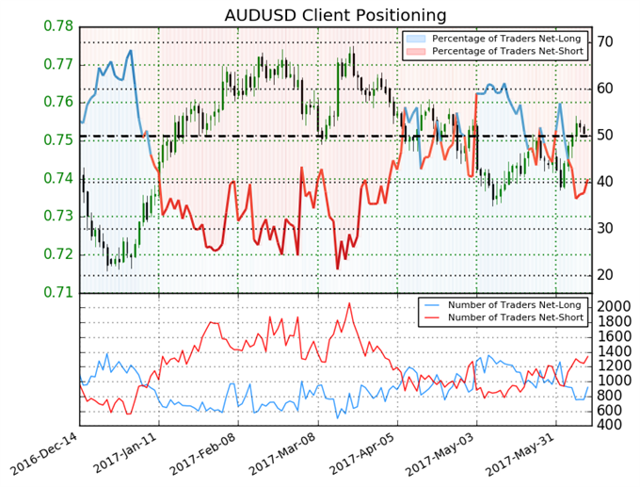 Investing in the Aussie - Dollar
To avoid the costs of and managing a forex account, it's possible to trade the AUD-USD from ETF which track it, including:
There are service fees and risks associated with ETF and in particular 'leveraged' ETF, which need to be assessed by investors.
Short term, the Aussie-dollar, is bullish, the COT chart indicates the positive likely hood of a pop, and trading is rising from a bullish engulfing candlestick up from the June low. However, a confirmed long term bull isn't as yet in place, and on a supercycle level, could still correct again. The next economic event in Australia is this coming Thursday. Risk needs to be managed accordingly.
Disclosure: I/we have no positions in any stocks mentioned, and no plans to initiate any positions within the next 72 hours.
I wrote this article myself, and it expresses my own opinions. I am not receiving compensation for it (other than from Seeking Alpha). I have no business relationship with any company whose stock is mentioned in this article.