Thesis
Dynagas LNG Partners LP (NYSE:DLNG) offers a dividend yield of 11.3% right now, the long-term outlook for the industry is positive, but cash flows in the foreseeable future will not necessarily be high enough to cover all of Dynagas' dividend payments. Due to ample cash reserves a dividend cut in the foreseeable future is not very likely, though, and even if the company cut its dividend, income generation potential would very likely remain significant.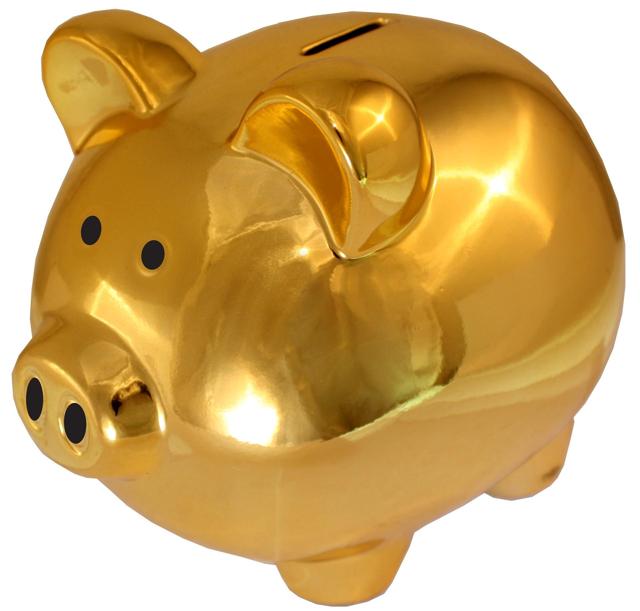 Dynagas pays a quarterly dividend of $0.4225 per unit, the payout stands at that level since the beginning of 2015: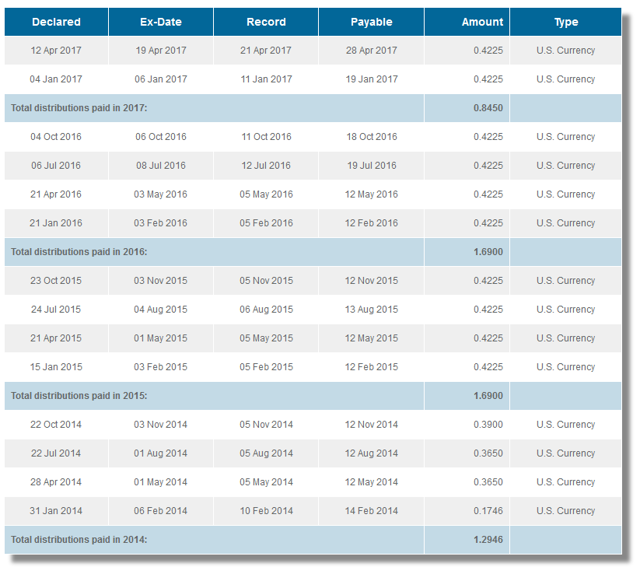 Even without dividend growth Dynagas has been a nice income investment, especially for those investors who entered their position in early 2016, when Dynagas' share price was as low as $6 -- getting an incredible yield on cost of 28%.
When we take a look at Dynagas' dividend coverage, we see that in the most recent quarter the company produced distributable cash flows of $19 million, down from $23 million in the prior year's quarter. Dynagas calculates its distributable cash flow as adjusted EBITDA minus net interest and finance costs, maintenance capital and replacement capital reserves. Dynagas' distributable cash flow number was higher than the company's operating cash flow number in the most recent quarter: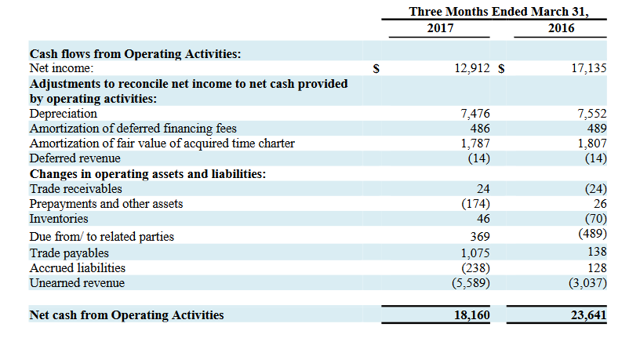 It seems prudent to use the lower operating cash flow number in order to determine how safe Dynagas' dividend distributions are.
With 31.7 million common units and a quarterly payout of $0.4225, Dynagas pays $13.4 million to its common unit holders per quarter, which is about 74% of the company's operating cash flow.
When we also factor in the dividends paid to preferred unit holders, we get to total dividend payments of $15.1 million for the first quarter -- 83% of the company's cash from operations.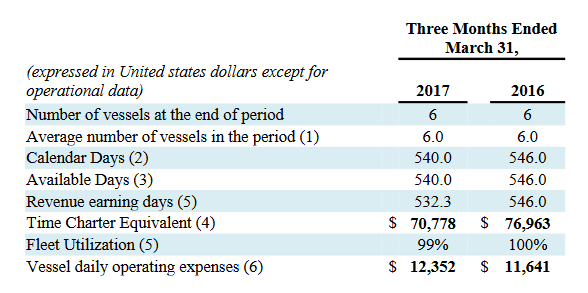 Dynagas' operational results have weakened over the last quarter, time charter equivalent was down significantly, at the same time operating expenses per vessel were up -- the combination of lower revenues and higher expenses was responsible for the big hit to the company's earnings and cash flows we have seen in the first quarter. Dynagas' management has guided for continuous weakness from its operations in the current and coming quarters, mainly due to lower charter rates for two of the company's ships (Yenisei River and Lena River) in exchange for a long term charter for Clean Energy.
The six-vessel fleet is contracted 75% in 2018 and 2019, but due to the fact that charter rates and charter times for the remaining 25% are not yet known, it is hard to forecast what cash flows will look like next year and beyond.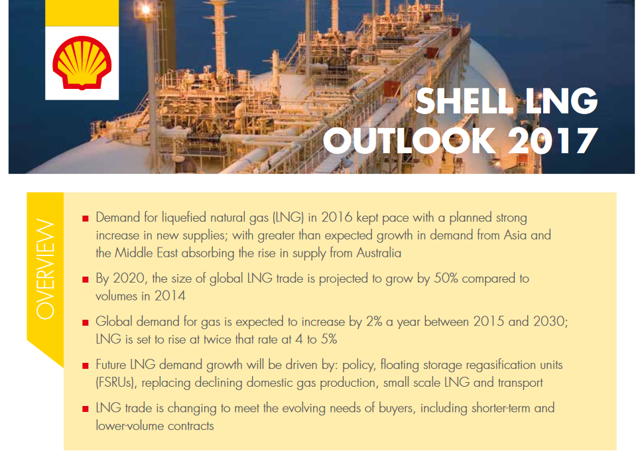 The global LNG market will continue to grow through the next decades, thus the long-term outlook for Dynagas' industry is very solid: Growing LNG demand globally will mean continuous demand for its ships, although the short term outlook is not stellar.
Dynagas has about $50 million in cash on its balance sheet, thus the company should be able to finance its dividend payments even in a scenario where its cash flows are not high enough to cover all distributions for a short period of time -- if the cash shortfall would be $5 million a quarter, Dynagas could keep its dividends at the current level for more than two years, which means the company would have enough time to find new charterers or to cut expenses. I thus believe that a dividend cut is not likely in the foreseeable future, but investors should not bet on the fact that Dynagas' dividend remains at the current level forever.
Even if Dynagas cut its dividend by 30%, its dividend yield would still stand at 7.94% -- even that would be an attractive yield for income seekers, multiples higher than what investors can get from treasuries.
Takeaway
The company's fleet is contracted through most of 2018 and 2019, but rates have come down recently and expenses have increased. The combination has pressured cash flows, and cash flows will remain under pressure in the next quarters according to Dynagas' management.
A dividend cut is not very likely nevertheless, due to ample cash reserves that could make up for a short term cash flow shortfall.
Author's note: If you enjoyed this article and would like to read more from me, you can hit the "Follow" button to get informed about new articles.
Disclosure: I/we have no positions in any stocks mentioned, and no plans to initiate any positions within the next 72 hours. I wrote this article myself, and it expresses my own opinions. I am not receiving compensation for it (other than from Seeking Alpha). I have no business relationship with any company whose stock is mentioned in this article.