The Federal Reserve Bank is widely expected to hike interest rates tomorrow for the fourth time since December 2015. Both the 10-year yield and bank stocks like Bank Of America Corporation (NYSE:NYSE:BAC) have corrected lower following the last three Fed hikes. Bank of America's stock price is heavily influenced by yields since the bank's loan book is comprised of a substantial amount of variable rate loans.
Although the market is on Fed watch to see if Yellen and company hike rates, the verbiage following the meeting will be more important since it may contain indications of winding down the enormous $4.5T Fed balance sheet.
The Fed Chair, Janet Yellen, is unlikely to make any bold statements about balance sheet reduction since Yellen has stated many times that the Fed will go about hiking at a gradual pace.
It may seem surprising (at least it was to me) that the 10-year yield has fallen in the days following the last three Fed hikes. As a result, bank stocks like Bank of America have corrected in lock step.
Other banks are influenced by the Fed-induced yield correction as well like JPMorgan Chase & Co. (NYSE:JPM) and bank ETFs like the Financial Select Sector SPDR ETF (NYSEARCA:XLF).
If you follow my articles on Seeking Alpha, you know that my writing centers around investment risk management. Since most stock brokers studied finance in college, they often focus more on P/E ratios and less on economics and global capital flows.
However, these large flows from big money (hedge fund or central bank money) create the overall trend in the markets influencing the value of bond yields, currency exchange rates, and ultimately equities like bank stocks. By monitoring the trends and the large flows of global capital, we can help avoid that dreaded "bad trade" or avoid getting stopped out of a good trade that eventually might have been a winner in the long run.
This analysis is not meant to sound negative on banks in fact, I believe banks should do well in both a rising growth and yield environment.
Below is the 10-year yield volatility following the last three Fed hikes.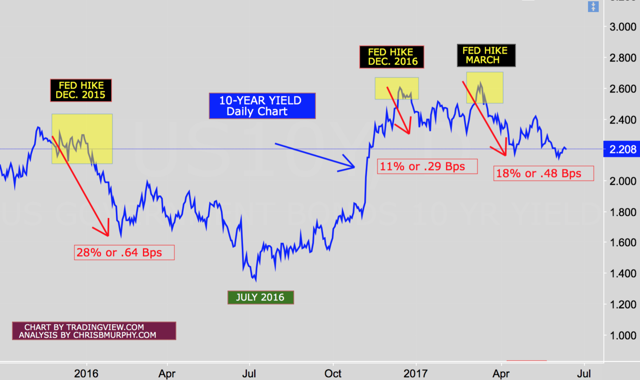 The most shallow correction in the 10-year yield was 11% in December 2016.
Most of the corrections were preceded by a rally in yields. However, the Fed meeting tomorrow is different. We're currently sitting at a 2.20% 10-year yield. As a result, it may not take much to move yields lower since the trend is bearish.
Why do yields fall after a hike in interest rates?
Lowered expectations of U.S growth due to weak Q1 growth and waning optimism in President Trump's business friendly agenda getting passed this year has weighed heavily on the 10-year yield.
The 10-year yield if you recall is largely driven by inflation and growth expectations, while the two-year yield is driven by Fed action or hikes. This is why sometimes we see the two-year yield rise after the Fed hikes, while the 10-year yield falls as investor optimism surrounding growth wanes. If you need a guide on how the two-year and 10-year move historically, save my prior article (The 2-Year And 10-Year Spreads And The Different Messages) as a reference guide for future use.
Expanding central bank balance sheets overseas are pressing Treasury yields down. As mentioned earlier in the article, global capital flows are critical to monitor and these flows out of low-yielding government bonds in Europe and Japan and into the U.S. bond market have pushed up U.S. bond prices and lowered yields.
Here's Bank of America's stock price reaction to the last three Fed hikes: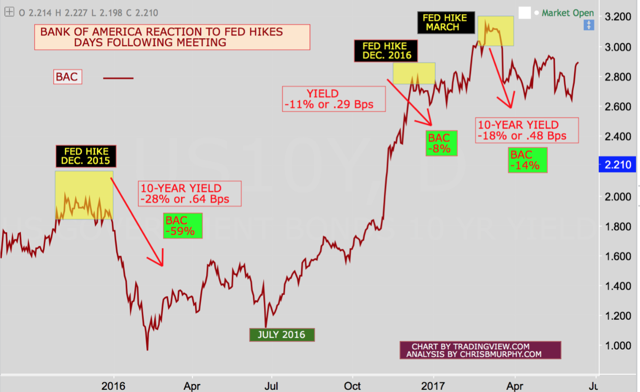 In the chart above, I removed the 10-year yield price action but left the drawings from the previous chart. Next, I added BAC to the chart without touching anything else.
As we can see, the BAC corrections line up very well with the fall in yields post-Fed hikes. The yield corrections are met with a substantial move in BAC (green boxes) with at least an 8% move lower in the days following the meeting.
Again this analysis isn't meant to scare anyone off from investing in banks. Instead, it's designed to make you aware of the impending volatility in the markets following the Fed meeting. As a result, risk management tactics (wider stop-loss orders, option strategies, etc.) may need to be employed.
Here's the 10-year yield, Bank of America, with JPMorgan Chase and the XLF Financial ETF.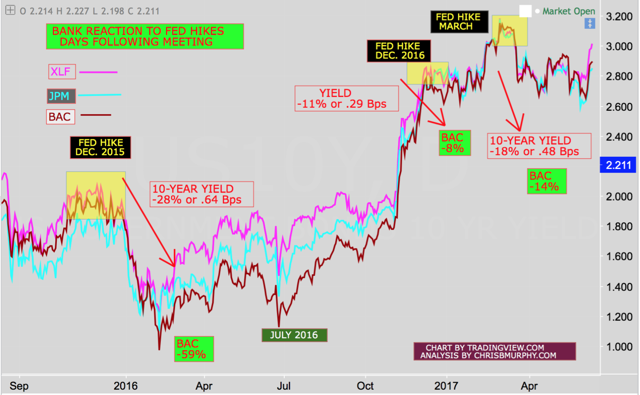 In the above chart, BofA, with its large variable loan portfolio, is not the only bank exposed to yield volatility.
Even JPMorgan Chase and its balanced approach to earnings (both non-interest income and net interest income) is susceptible to corrections following any large move in the 10-year yield. ETFs too are influenced by yields despite containing many stocks from the financial sector.
Going forward:
Global capital flows into the U.S. are driving down yields and somewhat offsetting the Fed hikes or at least, offsetting the Fed's plans for steepening the yield curve in their effort to get banks to lend more money and normalize the Fed's interest rate policy.
For investors, we must watch how yields play out and how banks react following the Fed meeting. We must also watch the Fed statement for any change in language regarding the Fed's balance sheet.
In the coming days following the Fed meeting, it's likely volatility will spike resulting in investors getting stopped out of their trades by a possible pullback in yields and banks.
However, in the medium-to-long run, yields should bottom and bounce higher, with an injection of economic growth, taking bank stocks like Bank of America along for the ride.
Good luck.
Author's note: If you like this article and would like to receive email alerts stay up to date on Bank of America, please click my profile page, and click the "Follow" button next to my name, and check "Get email alerts" to receive these articles sent via email to your inbox.
You can also find the "Follow" button at the top of this article next to my name. And of course, feel free to comment below if you have any questions, or send me a private message by clicking the "send a message" link on my profile page.