Background
Since retiring from a 31-year career in banking at the end of 2011, I have spent my time researching, writing, and speaking about US banks. One of my keenest interests is understanding why some banks do consistently well and others fail. My first book covered bank failures, while my second focused on the nation's highest-performing banks.
In my book about great banks, I discovered a few critical factors influence long-term success in banking: hands-on expert management, competitive advantage, and an intense focus on flawless execution.
In this post I want to update a chapter in my 2016 book about long-term bank investing.
As background, my book analyzed 312 US banks that were publicly traded between 2004 and 2014. Of these banks, only 31 raised dividends annually between 2005 and 2014.
How hard was it for banks to raise dividends during the Great Panic of 2008-09? As I document in my book, two out of three US banks cut or eliminated dividends in 2008 and 2009. Among the 20 biggest banks, only Northern Trust (NASDAQ:NTRS) and M&T Bank (NYSE:MTB) avoided dividend cuts during the 10 years ending 2014. However, neither Northern Trust nor M&T raised dividends during the Great Panic.
My book includes a chapter analyzing the 31 banks that boosted dividends annually during the 10 years of study. My research showed these reliable dividend payers:
Produce superior return on equity
And, more importantly, produce superior risk-adjusted return on equity
Maintain low overhead ratios
Demonstrate industry-leading productivity
And never compromise on credit quality
In addition, the large majority have assets between $1 billion and $10 billion, while the biggest held "just" $40 billion. Only three are less than $1 billion in asset size - a surprisingly low number, since banks of this size represent almost 90% of all US banks.
Also important, geographic location appears to be a prominent common factor among reliable dividend banks. Few of these banks compete in the largest metro areas of the country. Many do business in rural communities or smaller urban markets. Certain states are more likely to be home to these reliable dividend banks: Indiana, Texas, California, Kentucky, Missouri, and upper state New York.
Here's one more tidbit about the reliable dividend banks: Only one of the 31 has been sold since year-end 2014 (The Bank of Kentucky to BB&T (NYSE:BBT)). In contrast, the total number of US banks shrank by more than 10% during the same time.
In this post, you will discover why investors in these reliable dividend banks prefer independence.
Before going further, let's identify the 30 banks that succeeded in raising dividends annually since 2005. These banks are Access National Corp. (NASDAQ:ANCX), Arrow Financial Corp. (NASDAQ:AROW), Auburn National Bancorporation (NASDAQ:AUBN), BancFirst Corp. (NASDAQ:BANF), Bar Harbor Bankshares (NYSEMKT:BHB), Bank of Marin Bancorp (NASDAQ:BMRC), Bryn Mawr Bank Corp. (NASDAQ:BMTC), Bank of Oklahoma (NASDAQ:BOKF), Commerce Bancshares (NASDAQ:CBSH), Community Bank System (NYSE:CBU), Cullen/Frost Bankers (NYSE:CFR), Community Trust Bancorp (NASDAQ:CTBI), First Capital (NASDAQ:FCAP), First of Long Island Corp. (NASDAQ:FLIC), Farmers & Merchants Bancorp (OTCQX:FMCB), Horizon Bancorp (NASDAQ:HBNC), National Bankshares (NASDAQ:NKSH), Norwood Financial Corp. (NASDAQ:NWFL), Bank of the Ozarks (OZRK), Prosperity Bancshares (NYSE:PB), People's United Financial, Inc. (NASDAQ:PBCT), Stock Yards Bancorp (NASDAQ:SYBT), Tompkins Financial Corp. (NYSEMKT:TMP), United Bankshares (NASDAQ:UBSI), UMB Financial Corp. (NASDAQ:UMBF), Westamerica (NASDAQ:WABC), and Washington Trust (NASDAQ:WASH).
Table 1 provides a snapshot of each bank.
Table 1 (6/10/2017; Sources: YCharts, Morningstar)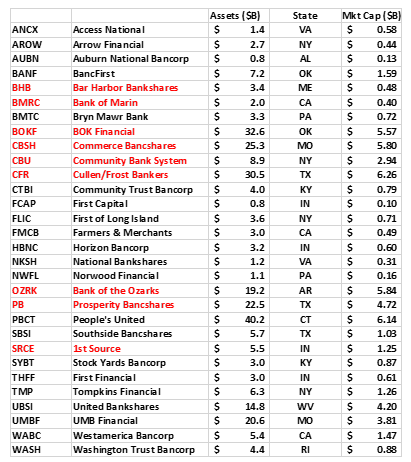 Note that nine of the banks are highlighted in red. These banks -- which we will call the "Parsons 9" -- are ones in which I have been invested for some time. (One bank I wish I owned is Stock Yard Bancorp. The bank met my investment criteria back in 2014, but I low-balled my purchase limit order. Trying to shave a couple percentage points off my acquisition cost, I lost out on a terrific Kentucky community bank that ginned out total returns of 16% in 2015 and 89% in 2016.)
To contrast the size difference of the reliable dividend banks to the big brand banks that dominate Seeking Alpha pages, Table 2 provides asset and market cap data for the nation's 14 largest banks. Five of the large banks have market caps in excess of the $60 billion aggregate market cap of the 30 reliable dividend banks.
Table 2 (6/10/2017; Source: YCharts)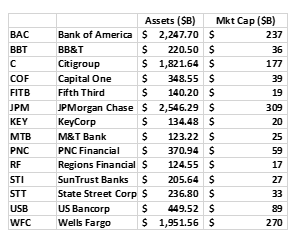 Many smaller banks operate under the radar and do not get the type of analyst or high-quality Seeking Alpha coverage common to the big banks.
Results: Finding Alpha
The charts that follow examine total shareholder returns over multiple time periods for the S&P 500, the 14 big banks, the 30 dividend champion banks, and the Parsons 9. All data are from YCharts. Total return includes dividends and stock price change.
Chart 1 is a single point in time review of total return as of June 10, 2017. As the chart shows, during the past year bank stocks have delivered returns two times better than the S&P 500. The best total returns are from the big banks, which have generated an average total return of 39%. Move out to a three-year time frame and the best average total returns are seen with the 30 reliable dividend banks. Over the past five years, big banks show the best average total returns, with the Dividend Champion banks not far behind. The 10-year returns indicate the reliable dividend banks' returns eclipse the S&P 500 by more than 50% and better than double the average big banks' returns.
Chart 1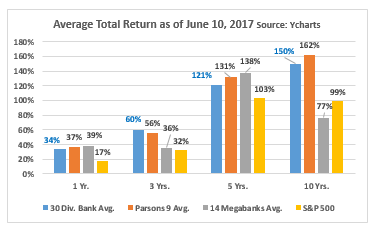 The problem with Chart 1 is that the data represent a single point in time - that is, June 10, 2017. The recent run-up in bank stock prices masks a decade of heartbreak for many a bank investor. A far better way to analyze long-term equity investment performance is to consider total shareholder returns over multiple years. Chart 2 is the first of several charts that does just this.
Chart 2 was produced by analyzing rolling one-year total returns for every quarter from year-end 2004 to June 10, 2017. From these data, an average was derived. Chart 2 shows that the S&P 500 has produced an average 12-month return since year-end 2004 of 9.2%. This number is fairly consistent with the S&P 500's record going back nearly a century. The 14 large banks have an average one-year total return of 7.3%, while the 30 reliable dividend banks have a 10.5% total return average. The best overall performance from 2004 to June 2017 belongs to the Parsons 9. While the 30 reliable dividend banks created an impressive 130 basis points of alpha (10.5% minus 9.2%), the Parsons 9 created 230 basis points.
Chart 2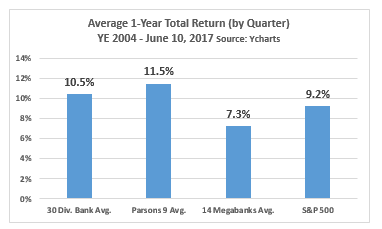 Chart 3 expands the analysis. Total returns are examined not only on rolling (every quarter) annual performance but also rolling (quarterly) three-, five-, and 10-year performance. The key benefit of this approach is that it expands the window of total return analysis to as far back as Q1 1994.
Perhaps the most important observation that can be drawn from Chart 3 is that big banks as a group have delivered very poor average total returns over the long haul of rolling 10 years. At 29% average total 10-year return since 2004, the big banks fall well short of the S&P 500. Not only have the big banks not produced superior returns, as we will soon see, investors in these banks experienced wild fluctuations in volatility.
It is the combination of volatility and low total returns that has caused so many Seeking Alpha commentators to shun bank stocks.
But investors may want to think twice about avoiding bank stocks. Chart 3 shows that the 30 reliable dividend banks have produced superior total returns over one, three, five, and 10 years. These banks as a group have created meaningful alpha for two decades.
Chart 3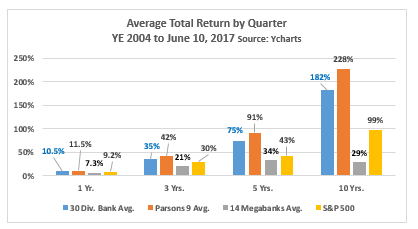 The sage investor must ask: Have the dividend champion banks created alpha at a cost of excess risk? To answer this question, it is necessary to calculate risk.
In my book about bank investing, the risk analysis centered on a bank's consistent ability to earn a return on capital above the bank's cost of capital. The term I used to measure the risk associated with bank profitability was "Risk-Adjusted Returns on Equity" (RAROE).
Calculating RAROE is a three-step process. Step 1 is to determine the average historical quarterly return on equity. Step 2 is to calculate the volatility - i.e., risk - by measuring the standard deviation of ROEs over time. Step 3 is simply subtracting the standard deviation from the historical average return on equity. There are other ways to do the math, but I find this rather simple approach is easy to communicate, and more importantly, it consistently identifies the best-performing banks.
You may wonder why I chose to evaluate RAROEs versus the more common practice of measuring volatility of total shareholder returns. The answer has to do with my concern that bank CEOs periodically get too hot and bothered about stock price, when in reality there is often little he or she can do about it in the short run.
Unlike the stock price, a bank's CEO has enormous influence over the bank's strategy and execution that produce quarterly profits. So, my goal was to focus on what management and the board can control under the assumption that consistent returns over a bank's cost of capital will be recognized by investors with an appreciating stock price.
Chart 4 moves the analysis I did for the book beyond return on equity volatility to total shareholder return volatility. To accomplish this, I first calculated the standard deviation of the rolling one-, three-, five-, and 10-year returns. The next step was to calculate the coefficient of variation for each bank, which is derived by dividing the average (mean) return into the standard deviation. The final step was to then calculate the average coefficient of variation for each population in the study.
Here's where it gets interesting for the long-term buy-and-hold investor. Note that the highest coefficients of variation in Chart 4 belong to the large banks. As a reminder, a high coefficient of variation indicates higher volatility, which is a common measure of risk. It is this volatility that burned so many bank investors over the past decade. In contrast, as the chart shows, the S&P 500 has less than half the volatility seen in the big banks, while delivering superior returns over time.
What about the 30 reliable dividend banks? As Chart 4 shows, these banks have average coefficients of variation in total return that is far less than the S&P 500's over every time period.
Chart 4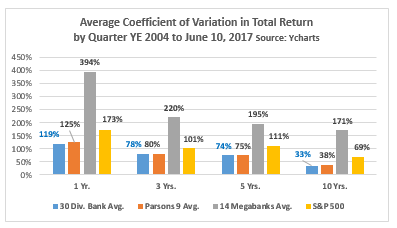 Combine the findings from Chart 3 with those of Chart 4, and it shows that the portfolio of 30 dividend banks generated alpha with the added benefit of lower volatility. See Chart 5.
Chart 5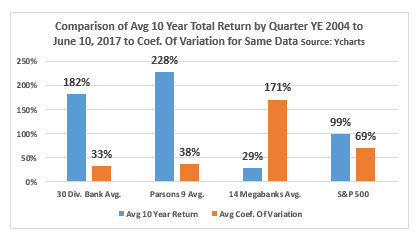 Final Observations
I am surprised by the findings of this analysis. While I expected to see superior performance, I did not expect to see so stark a difference in alpha creation and volatility reduction.
Among the 30 reliable dividend-paying banks, my main focus is on the nine banks I own plus SYBT. If there is sufficient interest, I might post on Seeking Alpha an expanded analysis of these 10 banks, where I will try to answer such questions as:
Why do I own these specific reliable dividend banks?
What competitive advantages distinguish each of these banks?
How attractive are current valuations?
How reliable are their dividends going forward?
Are insiders in these banks buying, selling, or holding? Should investors act on the insiders' activity?
What are the key emerging risks each faces?
Please let me know what you think.
Disclosure: I am/we are long BHB, BMRC, CFR, CBU, BOKF, CBSH, OZRK, PB, SRCE, JPM. I wrote this article myself, and it expresses my own opinions. I am not receiving compensation for it (other than from Seeking Alpha). I have no business relationship with any company whose stock is mentioned in this article.
Additional disclosure: Banks periodically pay me to speak to directors about bank performance. None of the banks noted in this post have paid me to speak during the past 12 months.
Editor's Note: This article discusses one or more securities that do not trade on a major U.S. exchange. Please be aware of the risks associated with these stocks.