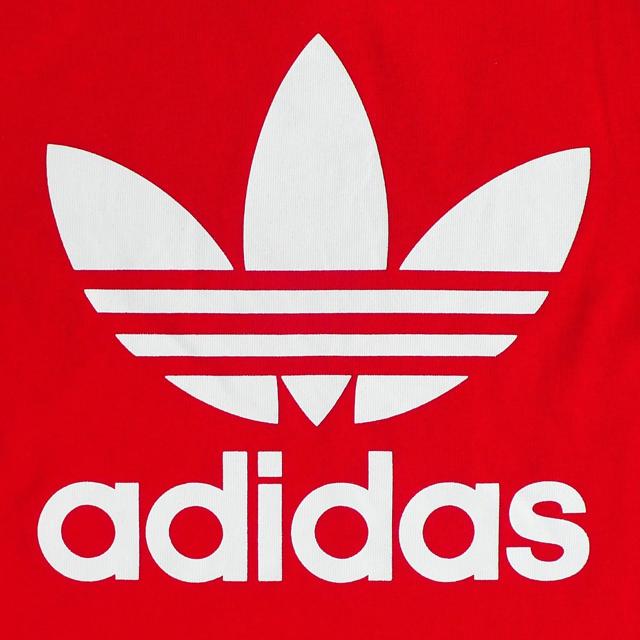 Context - Why I Am Short Adidas
Adidas (OTCQX:ADDDF) (OTCQX:ADDYY) has been a great growth stock in the last few years and is currently trading at a significant premium over peers, including the market leader Nike (NYSE:NKE). Adidas' revenue has grown at a 10.75% CAGR in the last three years, while EPS have grown at a 9.97% CAGR - a great performance that has led the stock to trade at growth multiples. Adidas shares currently trade at a price/earnings of 32.8 and an EV/EBITDA above 17, multiples that are significantly higher than those of its peers. Anyway, my initial bearish thesis, discussed in the article " Adidas - Why It's Declining And Why I am Shorting", was based on some discrepancies between valuation and expectations.
The stock's valuation multiples seemed to imply that the market was expecting a higher revenue growth or a significant margin expansion, but management's guidance seemed to suggest that we shouldn't expect either of the two. I am not going to spend too many words on something you can find in my previous article, so I will get the point. In this article, I am going to provide a follow-up to that article and show readers more evidence that Adidas' momentum is declining fast, and I will share some thoughts on the stock's relative valuation as compared with Nike.
Bullish Thesis, Slowdown And Valuation Multiples
The bullish thesis on adidas depends too much on management's promises and hopes that the company will continue to gain market share at the expense of the market leader Nike, which has not been very happy with its growth rate slowing down as a result of market share loss. Bulls show an enormous amount of confidence in "management's ability to grow market share", as if Nike were managed by inexperienced people with no clue of what's happening in the competitive landscape. The market seems to ignore that fashion trends are at the base of adidas' recent growth. Look at what Piper Jaffray wrote in a note last week:
Footwear Market Share Has Considerable Room To Go: Footwear remains a priority for growth. In North America, adidas has HSD% market share of footwear vs. the >40% market share for Nike. Management was bullish on the BOOST franchise despite being supply constrained (until 2019), and believe the BOOST franchise is developing a strong affinity with customers--further fortifying the strength of the adidas brand.
I have nothing to say on the fact that the BOOST franchise is performing well. That's not the point. The fact that footwear has room to grow has very little to do with how adidas' market share will actually change over time. Market share always has room to grow, until it reaches 100%. Whether adidas' market share will grow or not depends on how the popularity of its products compare with those of Nike and the others and, above all, it depends on whether the addias brand will grow more than Nike or the others.
This can occur only if the customers' interest towards adidas is healthy enough and higher than the interest for Nike. In my previous article, I have shown that there are some signs that the interest for adidas is converging quickly to Nike's level. I want to give you an update on that. In the chart below you can see the YoY variation of a 14-day moving average of Google searches for adidas (black line) and Nike (blue line). I think it's pretty clear that the interest for adidas is converging quickly to Nike's level. Moreover, the index is approaching negative territory - not a good sign, considered the stock's multiples.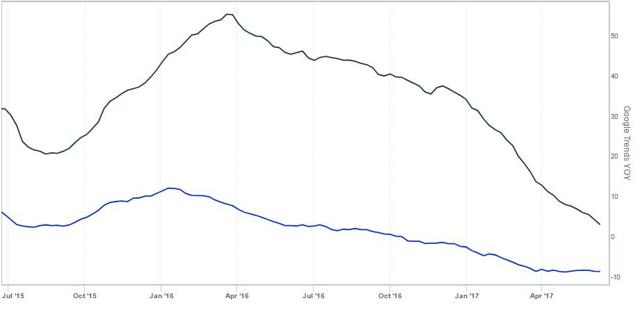 Well, maybe Google Trends may be not enough to have a clear picture. After all, it tells us how much customers are interested in a brand, and not how many pairs of shoes they buy. In the chart below you can find adidas' YoY variation in revenue according to data from SSIData, which tracks sales of a large number of retailers in the United States as of June 2nd. Each bar represents a week, while the red line, which is at 14-month lows and approaching negative territory, is the 4 week-average of the YoY variation. You don't need me to tell you that momentum is falling fast; the chart speaks for itself.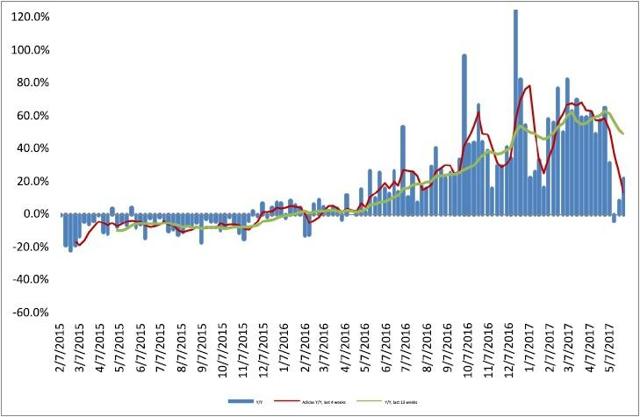 Source: SSIData; Deutsche Bank
In my previous article, I shared some doubts on the stock's valuation compared to its recent past. The prospects of a lower growth rate in the guidance, supported by the decline in customers' interest for the brand, left margins expansion as the sole factor that could justify the current valuation and the premium over the levels of 2016, in particular. But management didn't seem very positive in that regard; it actually admitted that investments for growth are the priority and that there will be no particular focus on margin growth in the short-medium term (translation: margin expansion will not occur).
The downtrend in search interest and actual sales does show that momentum is slowing, fueling my skepticism on the possibility that the company can continue to gain significant market share at the expense of Nike. The fast decline in sales momentum and the fast convergence to Nike's levels may open another bearish scenario for Adidas. After all, the stock trades at a premium over Nike according to basically every metric. Adidas' EV/EBITDA of 17.2 is only a bit higher than Nike's 16.3, but it's not a clean metric as it doesn't fully reflect the investments that adidas is making to grow, especially in the United States. Given that adidas' main problem is the lower margin compared to Nike, we should also have a look at EV/EBIT and P/E. Nike's EV/EBIT of 18.77 indicates 13% downside from adidas' 21.5, while Nike's P/E of 22.6 is 31% below adidas' P/E of 32.8. If top-line growth disappoints as a result of a lower interest for the brand, the probability of a margin expansion will approach zero. The current multiples would imply expectations of margin growth that will not materialize.
Besides the perception that adidas is overvalued based on the multiples of 2016, I am starting to believe that the stock may be overvalued compared to NKE as well. If momentum continues to decline, as it has done in the last few months, I doubt the company can meet the necessary top-line growth (especially in North America) to sustain a healthy margin expansion. In that case, the premium over NKE wouldn't be justified. Based on Nike's EV/EBIT, adidas shares have 13% downside, which gives a price target of €152, basically in line with my previous target of €153, which was based on adidas' multiples in 2016. I remain short and I confirm my target of €153 in 3-6 months.
Thanks for taking the time to read the article. If you liked it, click on the follow button at the top of the page. You will get my articles as soon as they are published. I am available to further discuss the topics of this article in the comments section. If you are interested in having access to my best long and short ideas in the consumer industry, please consider joining Consumer Alpha. You can have a 2-week free trial and only for this month, I am offering a 25% discount on both monthly and annual subscriptions.
Disclosure: I am/we are long NKE. I wrote this article myself, and it expresses my own opinions. I am not receiving compensation for it (other than from Seeking Alpha). I have no business relationship with any company whose stock is mentioned in this article.
Additional disclosure: I am/we are short Adidas shares
Editor's Note: This article discusses one or more securities that do not trade on a major U.S. exchange. Please be aware of the risks associated with these stocks.