Background
Every August to September, Chinese and Filipino-Chinese (we call them Chinoys) groups celebrate the Ghost Month festival, which is described as:
The Ghost Month refers to the Festival of the Hungry Ghost, which usually lasts from August to September. Buddhists and Taoists believe that during this month, the gates of hell are opened and the spirits normally trapped inside are free to roam the earth. Extra care should be taken to honor these spirits and avoid angering them.

Buddhists believe that the festival began when a Buddhist monk, having attained enlightenment, decided to check on his parents in the afterlife. He found that his mother was suffering in hell, so he asked the Buddha how he could save her. He was instructed to offer food and participate in rituals so that eventually, he helped his mother's soul leave hell and reincarnate. Today, sacrifices of food, incense, and hell notes (folded paper that are burned so they can be used as currency in the Chinese afterlife), are offered to honor one's deceased ancestors and to help lost spirits, the most important celebration of which will be held around end of August.

Since there are more spirits about during ghost month, believers are advised to exercise caution in everything they do, just so they don't attract unwanted attention from wandering spirits. Big events, such as weddings, baptisms, moving houses, and business openings should not be held, lest they be saddled with ill luck. Big decisions such as contract signing and buying big-ticket items should be postponed until the next month.
During the said event, Filipino-Chinese groups typically avoid making stock purchases or transactions. It has such a big impact on the Philippine stock market since a substantial portion of the country's businesses are owned by Filipino-Chinese families. Just look at the biggest conglomerates in the country and corporations with the largest market cap, most are owned by individuals and families of Chinese descent (evident with their Chinese surnames):
Henry Sy (owner of SM Investments, SM Prime Holdings, BDO Unibank, China Bank)
George Ty (owner of Metropolitan Bank & Trust, GT Capital Holdings)
Andrew Tan (owner of Alliance Global Inc, Megaworld Corp)
John Gokongwei (owner of J.G. Summit Holdings)
Lucio Tan (owner of LT Group Inc, Philippine National Bank, Philippine Airlines)
Lucio Co (owner of Puregold Price Club Inc)
Tony Tan Caktiong (owner of Jollibee Foods Corp)
Ramon Ang (owner of San Miguel Corporation)
Impact on Philippine Equities
Historically, the ghost month had a notable effect on the Philippines' stock market returns. Analyzing the monthly returns of the PCOMP (or more known as the PSEI), the country's market-cap weighted index composed of the 30-biggest companies, I found that on average, the month of August posted negative returns in almost all time-periods.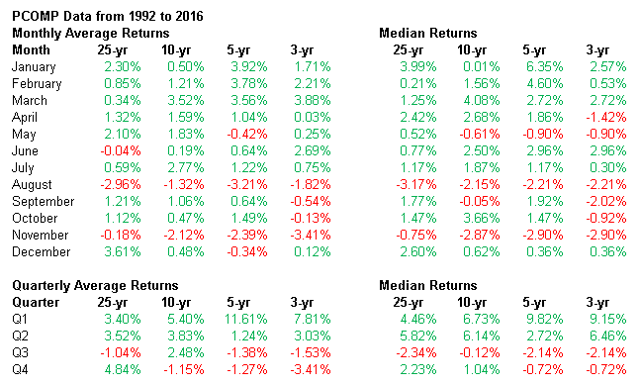 If that is not convincing yet, the table below shows that over a 24 year period, the stock market's value on the month of August went down by 66% or 2/3 of the time, which is the highest probability if you compare it to other months.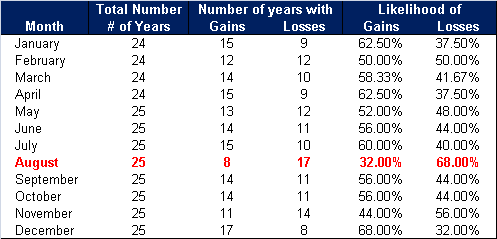 Impact on iShares MSCI Philippines ETF (EPHE)
I have also analyzed the Ghost Month impact on EPHE and found similar results, with the month of August having the most frequent losses and lowest average return. I used only data from 2010 (inception on 9/28/10) to 2016.
How to Benefit or Gain Alpha
There are different ways in which an investor can take advantage of the ghost month (assuming you already hold an exposure to Philippines):
Sell your stock holdings before August and buy back at August end.

Buy stocks by end of August using additional funds or excess cash holdings, taking advantage of the temporarily low prices and hold until around Q2, considering that the first half of the year is when most stock prices rally.
Conclusion and Strategy Simulation
Over the long-run, reducing exposure to the month of August enables the investor to outperform and capture alpha. I have run a simulation of one of the strategies provided above, which is to sell holdings before August and buy at the end of August (Strategy #1) on EPHE. We make use of the EPHE monthly returns from 2011 to 2016 (2010 was excluded since EPHE inception was in September). We assume that we would avoid the losses for the month of August, making our returns for the months of August all zero percent (0.00%). During the period, on average, we would have outperformed by 5.11% annually. Cumulatively, our total return would have been higher by 33.55%.

Disclosure: I/we have no positions in any stocks mentioned, and no plans to initiate any positions within the next 72 hours. I wrote this article myself, and it expresses my own opinions. I am not receiving compensation for it (other than from Seeking Alpha). I have no business relationship with any company whose stock is mentioned in this article.
Additional disclosure: I have already reduced my exposure to Philippine equities weeks before and plan to initiate a position by around end of August.