The Consumer Price Index for All Urban Consumers decreased 0.1% in May on a seasonally adjusted basis, the U.S. Bureau of Labor Statistics reported today. Over the last 12 months, 'headline' inflation rose 1.9%.
The May number is significant for a couple of reasons: 1) the consensus estimate was for 0.0% inflation, so this is a downside miss, and 2) 12-month inflation has now dipped below 2.0% for the first time in six months.
The BLS noted that a 2.7% decrease in the energy index was the main contributor to the monthly fall. The cost of gasoline fell 6.2% in the month, and fuel oil prices fell 6.4%. Apparel prices also fell sharply in May, down 0.8%. Also falling were prices for new and used vehicles, both down 0.2%.
Food prices, however, rose 0.2% and are up a moderate 0.9% over the last 12 months.
Core inflation, which removes food and energy from the equation, was up 0.1% in May and rose 1.7% over the last 12 months. Year-over-year core inflation has now fallen below 2.0% for two consecutive months. Inflation is waning in mid 2017, as this chart clearly shows: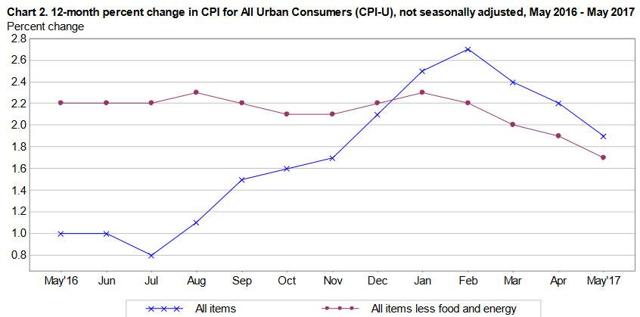 What this means for inflation-protected investments. Holders of Treasury Inflation-Protected Securities and I Bonds are also interested in non-seasonally adjusted inflation, which is used to adjust the principal balances on TIPS and set future interest rates for I Bonds. May's inflation index was set at 244.733, up 0.09% from April.
This means that principal balances on TIPS will rise 0.09% in July. Here are the new inflation indexes for all TIPS.
The variable interest rate on I Bonds will be reset November 1, based on non-seasonally adjusted inflation from March to September 2017. So far, two months into this period, non-seasonally adjusted inflation has increased 0.38%. Here are the numbers: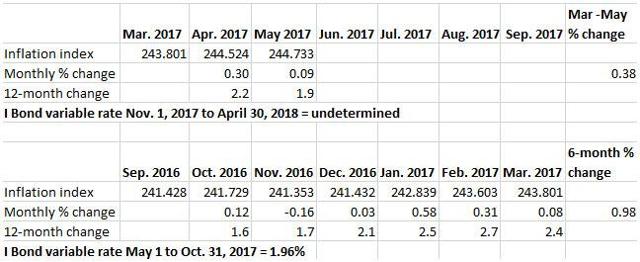 What this means for future interest rates. The Federal Reserve is widely expected to raise its key short-term interest rate today by 0.25%, to a range of 1.00% to 1.25%. I think today's inflation numbers won't change that, but certainly will remove pressure for any 'surprise' interest rate increases in the near future. The central bank will release a statement and economic forecasts at 2 p.m.
Could the Fed back off in the face of waning inflation? Michael Ashton, who writes on inflation, tweeted this a few minutes ago:
The Fed funds rate is too low and almost certainly rises today. But with a sudden zig in CPI...it wouldn't SHOCK me if they delayed.

- Michael Ashton (@inflation_guy) June 14, 2017
As it stands, the consensus view is that the Federal Reserve will raise interest rates today and then once more in 2017. But if inflation continues on a downward slope, rate increases could be off the table.