Fannie Mae (OTCQB:FNMA) and Freddie Mac (OTCQB:FMCC) are two companies that have been handing over all their income to the government since conservatorship began in 2008. Investors have filed lawsuits for a variety of reasons trying to protect the value of their shares. The problem with the law is that it takes people to uphold it and finding judges inside DC willing to rule against the defendants when the defendants are government agencies is admittedly very difficult to do. That becomes even more increasingly difficult when one of them is operating under new law (HERA), even though that law was modeled after the FDIA according to its authors. We know that the government used accounting logic instead of cash logic to justify its cash drain of Fannie Mae and Freddie Mac but the courts have ruled that the law says the facts don't matter and that FHFA was operating within its legal authority according to their interpretation of the law.
Investor court losses have come for a variety of reasons as far as I can figure as a non-lawyer. For starters, I think that judges are people, just like you and me and people are capable of making mistakes. In this case, they've been misinterpreting the law and a huge problem with the cases ruled thus far is that none of them has simultaneously questioned the validity of the law itself. That's because they didn't have to since the lawsuits never brought that up as an issue until recently with the new Michigan case. Unfortunately, the GSE's capital buffer runs dry in 2018, which is sooner than any court action can end the sweep. I don't think the courts can save Fannie and Freddie and the 30 year mortgage at this point if the government truly wants to destroy them.
Investment Thesis: Despite the fact that the investors have so far not been able to stop the net worth sweep in court, a plan was proposed by Trump allies that would provide shareholders with some value to their equity stake. The plan basically exercises the warrants, converts the government's preferred stake to common as well as some of the non-government preferred stake to common and raises capital via new equity issuances over a few years. The plan sports common share valuations of over $10 in some scenarios which is multiples of the current share price.
Legal Issues
Despite the fact dozens of lawsuits have been filed in multiple federal and state jurisdictions to catch the government breaking the law for multiple reasons, none has succeeded in preventing a quarterly net worth sweep payment so far. Investors have filed lawsuits saying that a preferred stock cannot take 100% of the earnings, that the net worth sweep is illegal as it gives everything for nothing, and more.
Most recently, in Michigan a new lawsuit has been filed that argues that either what the government did is illegal or the law is illegal. The nondelegation doctrine teaches us that congress can't hand over carte blanche authority without guidelines to a federal agency. FHFA has argued that it can do whatever it wants and won so far based on their interpretation of the law. This new lawsuit seems to finally back the judges into the corner of deciding what is illegal, the law or the interpretation. Thus far, the battle has been sort of crazy if you ask me. At face value, there's no question based on a study of the cash flows and actual needs of the enterprises that accounting was leveraged against the SPSPA to circumvent shareholder rights.
Even the Moelis plan shows them not needing a bailout: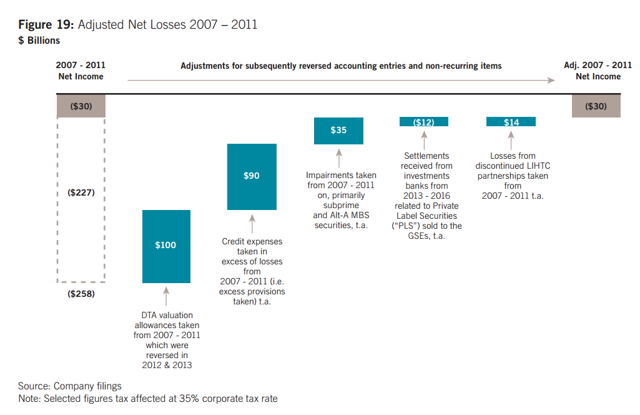 Mind you that this looks very familliar for those of us who have studied the forensic accounting reports and lawsuits. It would seem that based on how the Deloitte one ruled that PwC chickened out in their case and settled when they could have simply kept winning by asserting that the government can do whatever it wants no matter what.
If you look at the timelines of the courts so far, it's increasingly unlikely that they can issue a ruling that would stop the sweep before capital runs dry at Fannie and Freddie and there is a draw. Even if shareholders won a lower court ruling on the Jacobs/Hindes it would seem to me that the government could simply appeal it and keep stealing money in the interim if it wanted to.
Moelis and Co Blueprint
The key here is that this blueprint is backed by Trump allies: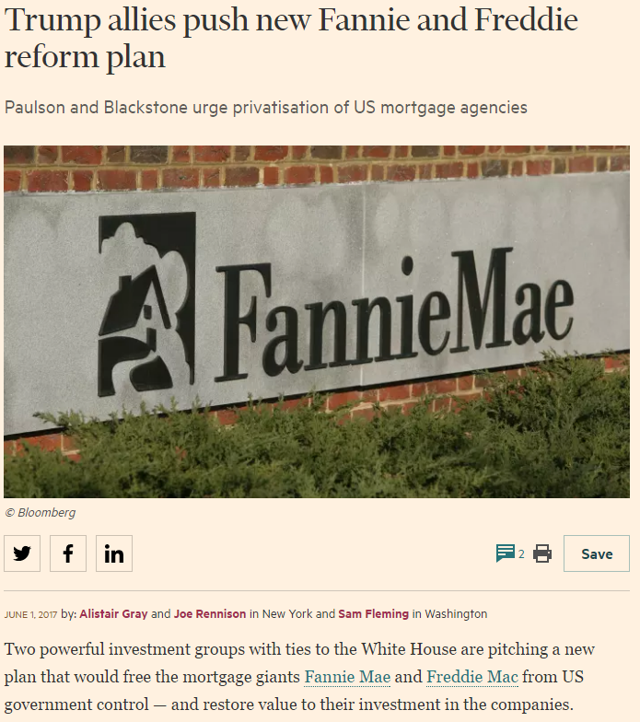 Interestingly enough, in this blueprint the net worth sweep stops this month. That is to say footer xiv reads:
xiv. This calculation is inclusive of dividends paid on March 31, 2017, but not dividends scheduled to be paid on June 30, 2017
Further, this blueprint provides that the warrants are executed before the existing junior preferred stock is partially converted to common. Based on the conversion terms, it looks like they convert at par. In this plan roughly half the preferreds are converted. What we don't know is if the various classes of the preferred are handled differently. If not, it would make sense to enjoy the cheaper discounts to par of the lower yielding junior preferred. As for me, I'm sticking to what I've got. I also don't really have a sense for which GSE is better to own equity in (Fannie or Freddie).
The biggest piece of this blueprint is that it allows Fannie and Freddie to build up a massively unprecidented fortress balance sheet of capital in relatively short time (2 years) via the public markets. Whether or not they need the amount of capital that this blueprint has them raising is another question for another time. The blueprint itself shows that the early conservatorship losses were basically covered by the capital at the GSEs before they were put into conservatorship which confirms the lack of need for the conservatorship altogether.
Even still, providing a recapitalization blueprint that raises enough capital to weather the 2008 mortgage meltdown a couple times over simply raises the question why Fannie and Freddie are still in conservatorship still when this plan is fairly straight forward to implement and it fixes the main problem: capital. The plan raises $40B a year for two years from common equity and at the end raises more junior preferred equity at which point it is reasonable to assume that the enterprises would resume dividends in 2020.
This sounds a lot better than the goose egg that some other proposals mainly sponsored by TBTF banks offer shareholders.
Fitch's Analysis on GSE DTA Writedowns
On February 9, 2017, Fitch put together an analysis of the impact of Trump tax cuts:
Fitch estimates that if the applicable corporate tax rate is reduced to 20% from the current 35%, Fannie Mae and Freddie Mac would write down their DTAs by $15.0 billion and $8.0 billion, respectively.
Combined, that's $23B of writedown. That number exceeds Moelis' 2017's forecasted net income for the combined GSEs: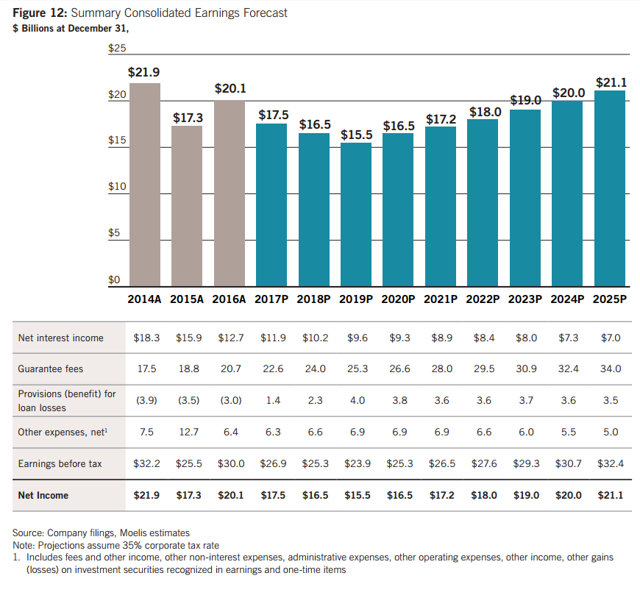 As such, it may be to late to even prevent a tax reform sponsored Treasury draw. At the very least stopping the sweep may only minimize what increasingly appears to be an inevitable draw. At present it is hard to say and by some accounts Fannie and Freddie remain overreserved. If a capital buffer is put into place and some of those reserves are released, a draw due to tax reform could be avoided entirely.
Watt's GSE's Capital Buffer Speech
If tax reform is passed as scheduled and they do not stop the sweep immediately, there will be a draw. Melvin Watt said that FHFA has explicit statutory obligations involving not risking the loss of investor confidence and retaining a capital buffer to prevent/minimize a draw would logically fall into that category. Below are excerpts from Watt's speech that I have compiled that seem to suggest the sweep not only may stop this month, but at the very least ought to stop this month. Whether it does or not remains to be seen. Before I get into the analysis I want to offer a brief outline and note that in the actual analysis I've bolded these parts for your convenience:
FHFA has explicit statutory obligations.
FHFA cannot risk the loss of investor confidence.
Draws of taxpayer support could erode investor confidence.
Draws are foreseeable and they come from short-term operating losses.
Tax reform will cause short-term losses.
FHFA's Melvin Watt on May 11, 2017 outlined FHFA's explicit statutory obligations that include not risking the loss of investor confidence:
FHFA has explicit statutory obligations to ensure that each Enterprise "operates in a safe and sound manner" and fosters "liquid, efficient, competitive, and resilient national housing finance markets." To ensure that we meet these obligations, we cannot risk the loss of investor confidence.
Watt even outlined business-as-usual normal course short-term operating losses would lead to a Treasury draw risks the loss of investor confidence:
Like any business, the Enterprises need some kind of buffer to shield against short-term operating losses. In fact, it is especially irresponsible for the Enterprises not to have such a limited buffer because a loss in any quarter would result in an additional draw of taxpayer support and reduce the fixed dollar commitment the Treasury Department has made to support the Enterprises. We reasonably foresee that this could erode investor confidence.
Watt says that certain draws are a foreseeable risk:
The challenge is that additional draws of taxpayer support would reduce the amount of taxpayer backing available to the Enterprises under the PSPAs and the foreseeable risk that the uncertainty associated with such draws or from the reduction in committed taxpayer backing could adversely impact the housing finance market.
Watt even outlined what we can reasonably expect to cause the first massive drawdown:
We also know that a short-term consequence of corporate tax reform would be a reduction in the value of the Enterprises' deferred tax assets, which would result in short-term, non-credit related losses to the Enterprises.
So there you have it. Watt basically is saying that FHFA has statutory mandates that require them to establish a capital buffer to avoid draws, especially foreseeable ones. If that risk is to be taken seriously, the sweep would have to stop immediately.
Summary and Conclusion
I own 4050 FMCCH, 22188 FMCCP, 7370 FMCCT, 1341 FMCKO, 12885 FMCKP, 12788 FNMFN, 5 FNMFO. I had to sell more than usual lately because I'm in the process of relocating. It would seem that the latest recapitalization plan that has been presented by Trump's team aligns with recent logical conclusions that can be drawn from Watt's testimony.
The net worth sweep was put into place before Melvin Watt got to FHFA. It sure would be interesting to know if he was there at that time if that's something he would have done. Previously Watt said the law got Trumped by the agreement with Treasury (net worth sweep).
I continue to fail to escape the logical conclusion that the sweep must stop immediately based on Watt's testimony. If you think I'm right, I think that the preferred shares would return to their highs from earlier this year if the net worth sweep was stopped this month. I am not holding my breath. As much as I wish logic applied to this investment, I must always continually admit to myself that I have been consistently wrong about legal outcomes. I could be wrong here, too, but I doubt it.
Disclosure: I am/we are long FMCCH,FMCCP,FMCCT,FMCKO,FMCKP,FNMFN,FNMFO.
I wrote this article myself, and it expresses my own opinions. I am not receiving compensation for it (other than from Seeking Alpha). I have no business relationship with any company whose stock is mentioned in this article.
Editor's Note: This article discusses one or more securities that do not trade on a major U.S. exchange. Please be aware of the risks associated with these stocks.