Retail sales were abysmal in May, despite the steady increase in financial market prices across nearly all asset classes, soaring consumer confidence (for reasons I still can't understand), and the burgeoning collective wealth of Americans. Sales declined 0.3% in May, well below the expected 0.1% gain, in what was the steepest drop since January 2016. Even when we exclude autos, which have been deteriorating since the beginning of this year, sales fell 0.3%. A 2.4% decline in gasoline sales was the key factor in the disappointment, but even when excluding autos and gasoline, retail sales in May were unchanged from April. You can expect another downward adjustment to the expected rate of second-quarter economic growth in coming days.
I find it particularly interesting that restaurant sales declined 0.1%, yet the Bureau of Labor Statistics told us last week that 38,000 of the 138,000 new jobs created last month were in bars and restaurants. It is important to understand that job creation is primarily a result of consumer spending, even though it is also a secondary contributor to that spending. I expect the rate of job creation to continue to wane.
The trend in core retail sales, which excludes autos, gas, building materials and food services sales, continues to deteriorate on a year-over-year basis. This is the number used to calculate GDP. On a positive note, the rate of growth in core sales for April was revised upward from 0.2% to 0.6%. It was zero in May.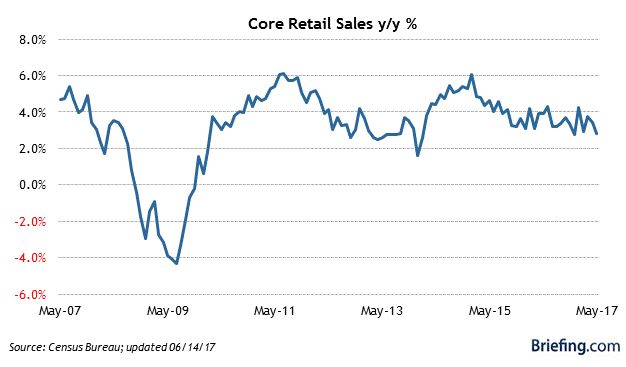 These poor results should come as no surprise to readers of my weekly economic articles, which have been reporting for a gradual erosion in the rate of consumer spending growth for months, despite the expansion highs in consumer confidence. Consumers can't spend confidence, which is what the consensus of economic forecasters seem to have been relying on when predicting a strengthening consumer and economy.
The fuel that drives consumer spending in our country is income rather than the tally of new jobs that most seem to focus on myopically. The best measurement of income, when trying to forecast consumer spending, is average hourly earnings. I focus on real (inflation-adjusted) earnings because the rate of economic growth is reported in real terms.
We learned today that real weekly income rose 0.6% on a year-over-year basis, which is the best rate of growth so far in 2017. Real income growth declined in the first three months of this year. Real income growth of 0.6% is nothing to get excited about, as it was 1.2% a year ago, and closer to 2.5% two years ago. Real income declines lead to declines in the rate of real consumer spending growth.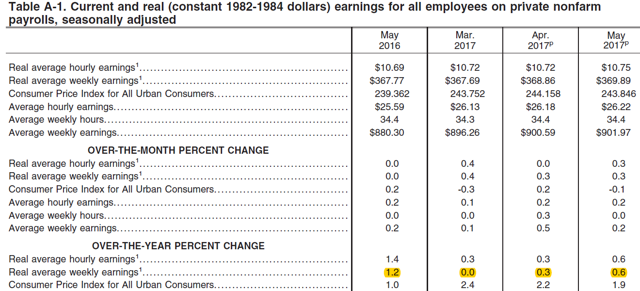 This disappointing hard data is having no impact on the stock market. This is because the computers that dictate prices in our financial markets are interpreting disappointment to mean that the Fed will be more dovish in its normalization efforts after years of unprecedented stimulus. It doesn't seem to matter that the stimulus did little to help the real economy. It was, and continues to be, steroids for markets.
Additionally, we now have two economies. We have the real one that all of us live in from day to day, and we have the financial one that thrives on Wall Street. The Federal Reserve is still not willing to admit that its stimulus efforts predominately rewarded the financial economy, leaving the real economy to its own devices. Yet it readily takes credit for the very gradual healing in the real economy we have realized since the financial crisis of 2008, regardless of the fact that this healing would have occurred on its own.
If Fed stimulus was healing the real economy, then the unprecedented liquidity, combined with zero-percent interest rate policy, would have encouraged investors to invest in real businesses rather than stocks and bonds in search of returns. The problem is that consumer demand is so weak that most investors don't see opportunity in the real economy. The financial economy looks far more appealing. The irony in all of this is that eventually the real economy and the financial one will collide. The question is which one will rise and which one will fall. I think you know my answer.
DIY Investor Summit
I am honored to partner with Seeking Alpha and Investor in the Family as a presenter at the DIY Investor Summit. In total, nine top investors on Seeking Alpha have gathered to share detailed tips on our core investment strategies, top advice for DIY investors, and specific ways we are positioning for the second half of 2017. This is a unique event that you will not want to miss. Registration is now open for a limited time.
Disclosure: I/we have no positions in any stocks mentioned, and no plans to initiate any positions within the next 72 hours.
I wrote this article myself, and it expresses my own opinions. I am not receiving compensation for it (other than from Seeking Alpha). I have no business relationship with any company whose stock is mentioned in this article.
Additional disclosure: Lawrence Fuller is the Managing Director of Fuller Asset Management, a Registered Investment Adviser. This post is for informational purposes only. There are risks involved with investing including loss of principal. Lawrence Fuller makes no explicit or implicit guarantee with respect to performance or the outcome of any investment or projections made by him or Fuller Asset Management. There is no guarantee that the goals of the strategies discussed by will be met. Information or opinions expressed may change without notice, and should not be considered recommendations to buy or sell any particular security.