Have you ever been curious about the discrepancy between the American Petroleum Institutes ("API") survey data and the EIA's Weekly Petroleum Status Report ("WPSR"), or been tempted to use the former to bet on the latter? Both reports ostensibly reports US crude oil, gasoline and distillate inventory levels based on surveys and samplings. Same general "methods," but usually very different results. The week to week fluctuations can often cause some heartburn for traders and energy investors.
We'll show you why, using some summaries of the data sets we've created. Let's tackle 2016 first.
2016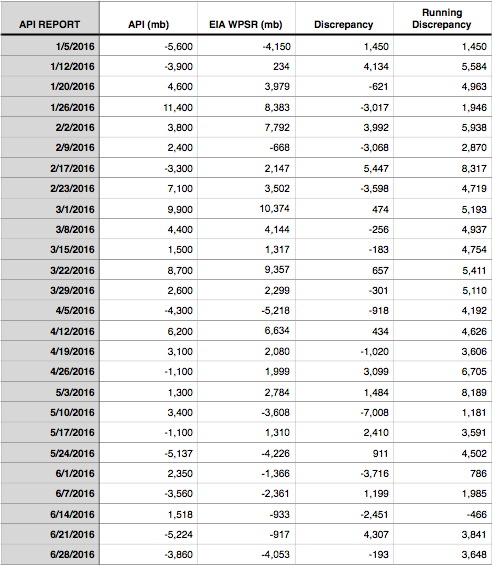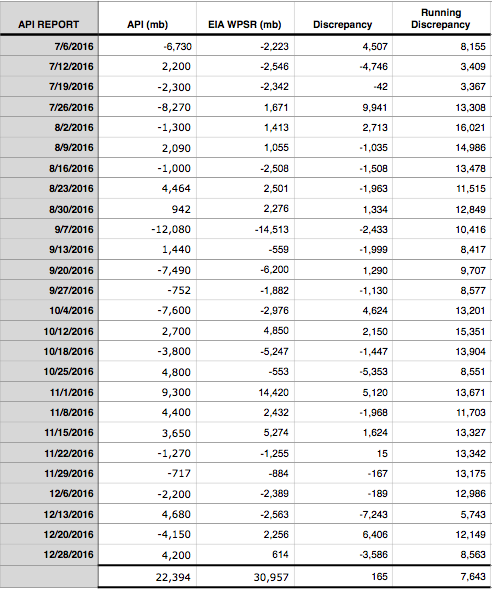 As you can see, the two sources are rarely in sync. A few weeks of congruence are followed by long stretches of discrepancy. If EIA is considered the benchmark, then the API data has a habit of missing wide. In 2016, the API survey data reported a cumulative bet build of 22.4M barrels of crude vs. the EIA's own 31.0M barrel build. The 8.6M barrel delta is close to a 30% underreporting on the API's side, or an average of 165K barrels per week.
2017
What about this year? Year-to-date 2017? Thus far, API's accuracy is also running "off."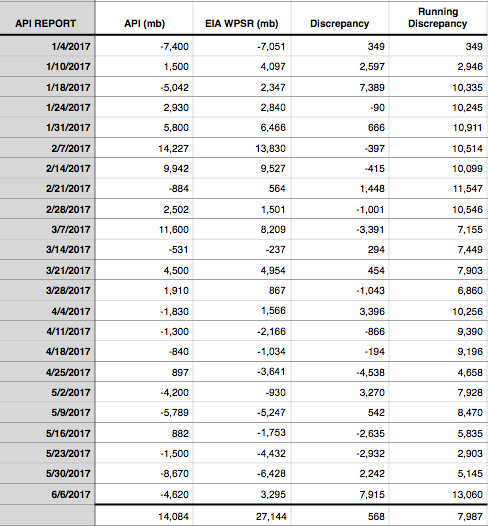 API has reported a 14.084M barrel build in crude YTD, whereas EIA has reported a 27.1M build. A large part of the discrepancy was last week's "blowout" (i.e., API reported a draw of 4.6M whereas the EIA reported a build of 3.3M), which caused the cumulative gap to widen by over 8M barrels to 13M barrels today. Tomorrow's EIA report (6/14) will no doubt see a revision to this. So far, however, the delta is running an average of 568K barrels per week, almost 3x higher than last year. We'd anticipate this to trend down as the months go on, which means API will likely need to report builds relative to EIA's numbers.
In the end, the EIA is taken as the gold standard for energy data collection and dissemination, given its transparency and timeliness. While the WPSR itself is a model that has its own flaws (the data is adjusted in the Monthly Petroleum Supply Report with a 2 month lag), the numbers are considered definitive. Investors often look at the results of the API survey the night before to predict the EIA results the day after, but we're wary of its predictive value on a week-to-week basis.
API, which includes a FAQ, on its website also states that generaly the monthly data is accurate to within 1% approximately 70% of the time, but this means there's a discrepancy almost a third of the time on a monthly basis let alone a weekly one. So similar to EIA data, the API data is best used to give a big picture outlook, separate the forest from the trees because looking too closely tends to confuse more than clarify most of the time.
As always, we welcome your comments. If you would like to read more of our articles, please be sure to hit the "Follow" button above.
ETFs: USO, OIL, XLE, UCO, VDE, ERX, OIH, SCO, XOP, BNO, DBO, ERY, DIG, DTO, USL, DUG, BGR, IYE, IEO, FENY, DNO, PXE, FIF, OLO, PXJ, RYE, SZO, NDP, GUSH, DRIP, DDG, FXN, OLEM, CRAK
Disclosure: I/we have no positions in any stocks mentioned, and no plans to initiate any positions within the next 72 hours. I wrote this article myself, and it expresses my own opinions. I am not receiving compensation for it (other than from Seeking Alpha). I have no business relationship with any company whose stock is mentioned in this article.