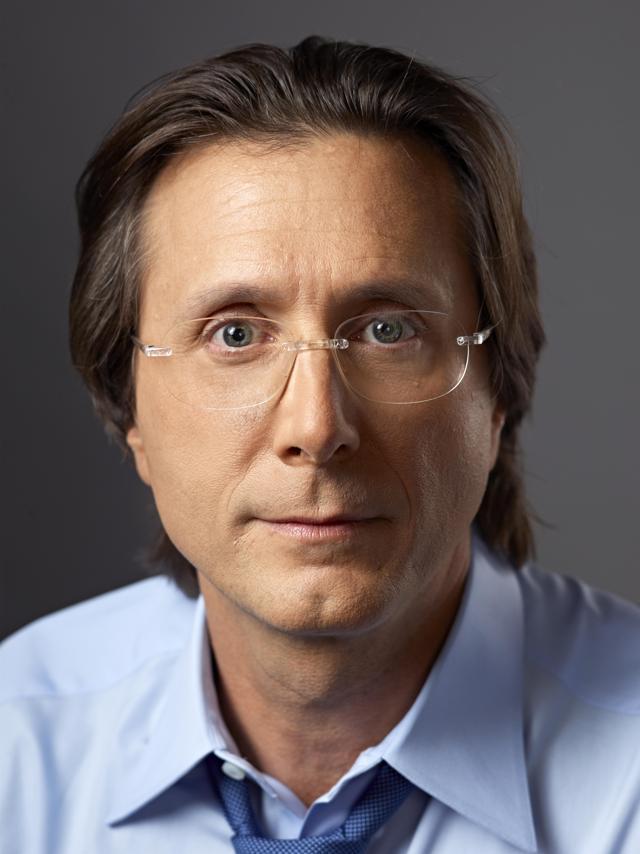 Bruce Berkowitz is the portfolio manager for The Fairholme Fund (MUTF:FAIRX). With the S&P 500 up 9% YTD and The Fairholme Fund down 10% YTD, I decided to email Mr. Berkowitz to request an exclusive Seeking Alpha interview. I have been an investor in The Fairholme Fund since 2005 and wanted to discuss some issues I had with his fund holdings. To my surprise, Bruce not only responded directly, but he called me last Friday and we spoke for well over an hour.
The Fairholme Fund has an excellent long-term track record of 11.06% annually vs. the S&P 500's 4.53%, according to its annual report from 2016. Bruce's mantra has always been to "Ignore the crowd." He lives by this every day and eats his own cooking with a large percentage of his personal assets (and even his mom's assets) invested in various Fairholme funds. His concentrated investments often result in The Fairholme Fund performing quite differently than the S&P 500. Value investing comes in and out of favor based on performance vs. major indexes. During the dotcom crash of 2000 to 2002, the NASDAQ plunged 78% yet The Fairholme Fund rose substantially while it was still a small mutual fund managed from Short Hills, NJ, with assets under $100 million. Excellent long-term performance led Bruce Berkowitz to be named Morningstar Fund Manager of the Decade in 2010. While this catapulted The Fairholme Fund's assets under management to a high of nearly $20 billion in 2010, it also led to challenging times at the fund when performance lagged and the hot money disappeared. Assets in The Fairholme Fund currently exceed $2 billion and likely consist primarily of long-term value investors such as myself who don't buy and sell fund shares as a short-term trading vehicle. A true contrarian value investor would currently be a big buyer of The Fairholme Fund which is now down nearly 21% from its $24.36 high on 2/16/17 to its current price of $19.33, largely as a result of weak performance in Fannie Mae (OTCQB:FNMA) and Freddie Mac (OTCQB:FMCC) preferred stock during this time frame.
Fannie Mae and Freddie Mac
FNMAS and FMCKJ are preferred stocks and the largest Fannie and Freddie holdings in The Fairholme Fund. It had 38% of assets in these securities in its latest fund facts sheet as of 2/28/17. Most of my conversation with Mr. Berkowitz was spent discussing the path forward for Fannie and Freddie. The Fairholme Fund has pursued two lawsuits against the Federal Housing Finance Agency and the United States Treasury that date back to 2013. His aim has been to protect our rights as owners of preferred shares in Fannie and Freddie. Although I believe Fannie and Freddie investors will be rewarded for their patience in the end, my concern was the size of the Fannie and Freddie position. There are still significant political and legal hurdles to overcome. Bruce spoke about his large investments in financials such as Wells Fargo (NYSE:WFC) in the 1990s, and AIG (NYSE:AIG) during the financial crisis which reached as high as 60% of the fund's assets. Many thought he was crazy for taking such concentrated bets, but they worked out well in the end. He believes this will happen with Fannie and Freddie.
I questioned Bruce on the status of the government releasing the 11,000 buried documents in the Fairholme case against the federal government. He acknowledged that 3,500 documents were recently released and his lawyers are reviewing them. He said he is prepared to take the case to the U.S. Supreme Court to prevail if necessary, but remains open to a negotiated settlement first. He believes that senior officials and key advisors in the Trump Administration all understand the Fannie/Freddie situation. He believes more and more people are beginning to understand, but 99% of the world won't care until they face the prospect of paying higher fees on their mortgages than is the case with Fannie and Freddie providing liquidity to the secondary mortgage market. Bruce is looking for some positive news during the second half of 2017 and believes that FHFA Director Mel Watt may direct Fannie and Freddie to retain some of their earnings in the near future. He said Mel Watt recently testified about the need for capital at Fannie and Freddie just last month. Bruce said: "The law needs to be respected and taxpayer math tells the story about public gain backed by private capital. The math shows lots of public good backed by private capital ever since Fannie and Freddie were converted to shareholder-owned companies decades ago." He suggested that I look at the Moelis Blueprint to restore safety and soundness to Fannie and Freddie. The Blueprint calls for building $180 billion in capital at the companies and would ultimately result in additional taxpayer profit of up to $100 billion (on top of the current ~$80 billion profit). This sounds like a "win win" for all stakeholders which makes a lot of sense to me. He also suggested that I look at the newly filed lawsuit in the United States District Court for the Western District of Michigan challenging the constitutionality of the "Net Worth Sweep."
Bruce said:
"The plaintiffs in the new suit argue that FHFA was operating in violation of the constitutional separation of powers when it agreed to the Net Worth Sweep because it was not subject to meaningful oversight by any of the three branches of the federal government. In addition to being headed by a single Director who is independent from the President and other federal agencies, FHFA is not subject to supervision by Congress through the normal appropriations process. Instead, FHFA raises funds by directly imposing assessments on Fannie and Freddie. Other courts that have heard statutory challenges to the Net Worth Sweep have concluded that judicial review of FHFA's actions is severely constrained except when FHFA violates the U.S. Constitution. FHFA is thus insulated from meaningful supervision by the Executive, Legislative, and Judicial Branches."
He added:
"The Michigan suit also contends that FHFA's acting Director, Edward DeMarco, occupied his office in violation of the Constitution's Appointments Clause when he approved the Net Worth Sweep. The Appointments Clause requires that agency heads and other "principal" officers of the federal government take their positions only after being nominated by the President and confirmed by the Senate. President Obama never nominated Mr. DeMarco to lead FHFA, yet Mr. DeMarco had been the agency's acting Director for three years when he imposed the Net Worth Sweep. No court has ever approved such a lengthy tenure for the acting head of a federal agency."
Bruce stated:
"The new suit also asserts claims under the nondelegation doctrine, which requires that Congress articulate an intelligible principle to guide federal agencies when it gives them discretion. As interpreted by courts that have upheld the Net Worth Sweep under the Housing and Economic Recovery Act, that statute places no limits on what policies FHFA may pursue when acting as the conservator for Fannie and Freddie. The Michigan plaintiffs contend that the courts must vacate the Net Worth Sweep if any of their claims succeed."
Bruce expects the administration to focus on healthcare and tax reform first, and then they will turn to other economic growth initiatives, including Fannie and Freddie (and housing more generally). He believes we will have a better sense of the path forward for Fannie and Freddie in the second half of 2017, and that a positive outcome for investors should become apparent in 2018.
Sears Holdings (NASDAQ: SHLD)
The Fairholme Fund had about 9% of assets (a mix of common stock and bonds) in Sears' stock and bonds according to its latest fund fact sheet. I understand Bruce Berkowitz and Eddie Lampert collectively control approximately 80% of Sears' common stock. Bruce is also on the Sears Holdings' board of directors. He told me that Sears is focused on halting its cash burn, which is critical to the company's long-term success. I spoke about my concern that Sears' stock could go to zero. He did like my idea of Sears Holdings selling off more real estate holdings and operating as an asset-light retailer (perhaps as a small Amazon.com). Bruce said: "Eddie Lampert would never sell assets at fire sale prices. A lot of effort has been expended trying to transform the company, and there are still lots of remaining assets. Progress is being made on the turnaround plan." I hope to see Sears Holdings turn around, but they are operating in the toughest retail environment I have seen in my lifetime and Eddie Lampert is a financial guy running a retailer that has been in decline for many years. I'd like to see better leadership at Sears Holdings on the e-commerce and retail front. I like what Wal-Mart (NYSE:WMT) is doing on the e-commerce and retail side. I also like what Best Buy (NYSE:BBY) has accomplished both on the e-commerce and retail front. I believe this type of leadership could benefit Sears Holdings greatly.
How Much Valuable Real Estate Does Sears Holdings Still Own?
With regards to Sears Holdings, he referred me to the information provided in the Portfolio Manager's Report which was published on 01/28/2016.
Page iii of this report includes a chart that clearly shows that the properties sold to Seritage were NOT exclusively the "crème de la crème of SHLD's real estate portfolio as many have falsely asserted. Instead, the quality of the properties included in the [Seritage] transaction closely mirrors the approximately 170 million square feet of real estate retained by Sears." See chart below: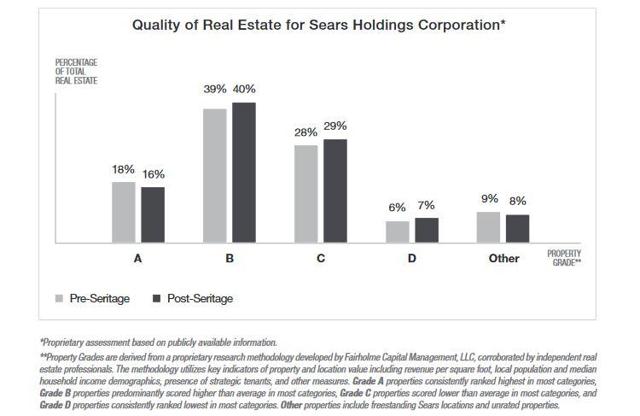 St. Joe Company (NYSE: JOE)
The Fairholme Fund had about 14% of assets in St. Joe Company according to its latest fund fact sheet. According to Bruce, St. Joe has been profitable in each of the last five quarters despite only a small amount of monetization of its assets. St. Joe is a land development company headquartered in Watersound, Florida. Bruce said the company currently owns over 100,000 acres across the Florida Panhandle Region from the international airport (ECP) to the Gulf of Mexico in Florida, and can build 120,000 homes and millions of square feet of commercial space. He said GKN Aerospace is a major new tenant at VentureCrossings, strategically located adjacent to ECP airport. He said he does not know when its acreage will reach critical mass but that the land value is there and real estate prices remain in an upswing. He said Florida is a friendly state for investors, and said St. Joe's land is even more beautiful than the Hamptons. I have anecdotal evidence that this is true. An investment professional friend of mine has a client who is a radiologist earning $800,000 a year. He can afford to vacation anywhere and does most of his vacationing right smack where St. Joe owns all its land. He said it is the last warm undeveloped vacation spot in the USA.
Seritage Growth Properties (NYSE: SRG) and other owners of shopping malls
I decided to see what Bruce thought of Macy's (NYSE:M) as an investment since it is currently $22.26 down from $78.19 on May 5, 2006, yet real estate prices such as its Herald Square location are quite valuable. Although he didn't come out and say it is a buy, he did say that there is a major valuation disconnect between private owners of shopping malls and public companies that own shopping malls. This led him to speak about Fairholme's holding of Seritage Growth Properties (4% of Fairholme assets according to its latest fund facts sheet), which owns valuable real estate from former Sears and Kmart location and examples on the disconnect.
Disconnect between public and private company values from Bruce Berkowitz
Sears Holdings/Seritage Growth Properties Examples from Bruce
Aventura Mall in Florida: Aventura Mall is one of the most productive and valuable malls in the United States. It is 2/3 owned by the Soffer Family and 1/3 owned by Simon Property Group (NYSE:SPG). Seritage Growth Properties owns the 12 acre site that encompasses the 173,300 square foot Sears box. The Sears store will be demolished, enabling Seritage to take advantage of the entitlements and increase developable square footage to 300,000.
South Coast Plaza is a privately owned mall controlled by the Segerstrom Family with an estimated value of $3 billion. Sears Holdings owns its 21 acre fee simple property at this mall.
Santa Monica, California: Mark 302 is a mixed-use redevelopment of the former Sears property in Santa Monica. This is a valuable 3-acre parcel owned by Seritage Growth Properties. The images below walks you through the redevelopment and what Seritage Growth Properties is looking to build inside the Sears. The outside can't be demolished due to the property having a historical designation. Santa Monica is a very tight market with not a lot of real estate to develop on (the approval process is also very slow). Development for phase 1 will take 2 years to build, but once stabilized, the revaluation will occur at cap rates trading in the area which could be ~4%.
Sears Aventura Today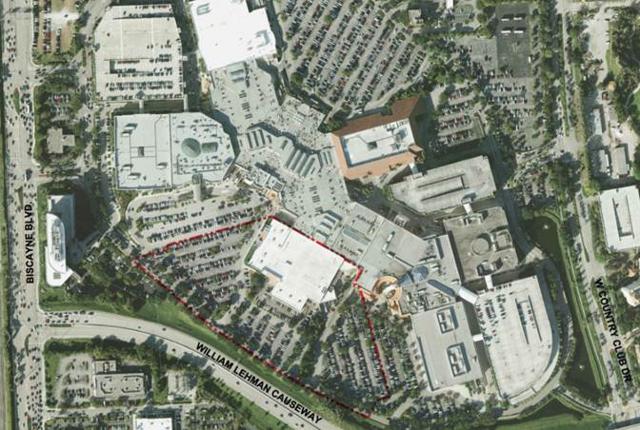 Sears Aventura 2019/2020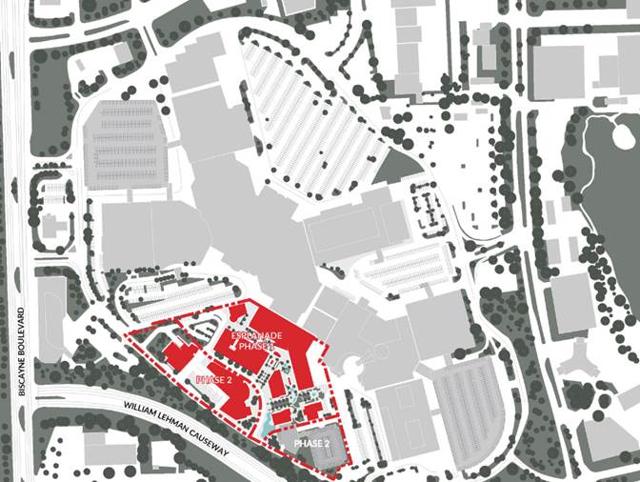 Below are a few examples of the valuation disconnect on real estate transactions on what would be considered average to below average value operating malls.
Landmark Mall, Alexandria VA (Mall owned by Howard Hughes Corp. and Seritage Growth Properties owns the Sears sitting on 18 acres).
"C-" grade given by Green Street.
Property has mixed-use development plans and progress was slowed down due to operating covenants. Howard Hughes Corp. had trouble moving forward with Sears and Macy's owning its real estate.
In January 2017, Howard Hughes Corp. acquired the Macy's and its 8 acres for $22.2 million. This implies that the Seritage Growth Properties 18 acres are worth more. Value is significantly more than value assigned by Green Street.
In August 2016, Cypress Equities (private company) acquired the Sears at Lloyd Center in Portland, OR, and Eden Prairie Center in Eden Prairie, MN, for $27.5 million. Green Street has both malls graded as "B." Cypress acquired both malls from publicly traded REITs in 2013 for $470 million.
Washington Prime Group Examples (NYSE: WPG)
Sells 49% interest in their high quality real estate to O' Connor at 5.25% cap rates to take advantage of the valuation gap (2 separate transactions).
May 2017 - Sold 49% interest in 7 properties at a 5.25% cap rate valuing the properties at $600 million.
June 2015 - Sold 49% interest in 5 properties at a 5.25% cap rate valuing the properties at $1.625 billion.
I also have my eyes on Hudson's Bay's (OTCPK:HBAYF) stock which is at $6.52, down from a high of $14.35 on June 26, 2015. They own lots of valuable real estate, especially the Saks flagship location on 5th Ave in NYC. Fairholme also owns Washington Prime Group which is a cheap mall REIT ($8.29 down from a high of $21.26 on May 23, 2014) which yields almost 12% and owns a good, diverse portfolio of locations.
Imperial Metals (OTCPK:IPMLF)
Fairholme has 7% of assets (mostly in bonds) in Imperial Metals according to its latest fund facts sheet. Imperial is an exploration, mine development and operating company based in Vancouver, British Columbia. Bruce believes improved copper prices and higher recovery rates will enable profitable operations, a reduction of leverage, and execution of a plan to double or triple mining production at this world-class asset.
Many believe Bruce Berkowitz has lost his magic touch in investing. I am not one of them. He is a high conviction guy when it comes to investing and does his homework when researching investment ideas. He concentrates on his best investment ideas. I asked him what would make him want to sell a security. He said when the price of a security went up a lot and it was no longer a good value or if he was wrong. I believe the holdings in The Fairholme Fund's portfolio are still selling at a deep discount to their intrinsic value with their depressed prices, but Bruce may be wrong with Sears. However, he knows much more about the inner workings of Sears Holdings as an investor for a decade and a member of its board of directors.
I own The Fairholme Fund and indirectly own its holdings which include Fannie Mae and Freddie Mac preferred shares, SHLD, JOE, SRG, IPMLF, and WPG.
Disclosure: I am/we are long FAIRX.
I wrote this article myself, and it expresses my own opinions. I am not receiving compensation for it (other than from Seeking Alpha). I have no business relationship with any company whose stock is mentioned in this article.
Editor's Note: This article discusses one or more securities that do not trade on a major U.S. exchange. Please be aware of the risks associated with these stocks.