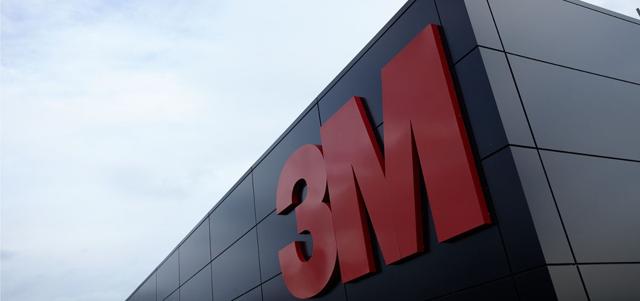 Overview
3M (NYSE: MMM) is a diversified technology company that manufactures industrial and consumer products via Industrial, Safety & Graphics, Health Care, Electronics & Energy and Consumer segments.
While sales, margins, and earnings all appear to be going well for 3M, I am concerned that the market has overpriced the stock. Further growth vis-à-vis lofty, revised targets need to be met by management in order to continue the stock's upward trend. As a result, I see more downside risk than upside potential. 2Q17 earnings are planned to be released on July 25, 2017; I expect the stock will drop and be valued at a more reasonable level.
Trade Ideas
3M stock needs to take a breather. Note, I do think that the overall market is due for a small (5%) correction, which most likely will bring 3M down with it. I would be a buyer of 3M in the 190-195 range with current technicals and fundamentals. However, for now, I am looking at a bear call spread whereby call options are bought and sold together to minimize upside risk. Looking at the options that expire right after July 25 earnings - selling the July 28 212.5 call at 2.60 and buying the 215s for 2.00 - throws off a 0.60 net gain per share with a max loss of 1.90 per share (if the stock continues to rise). The gain/loss ratio is 3.2, which is within my risk tolerance.
If you own the stock, and want to continue to hold it, you could sell covered calls to earn a little bump on top of the dividend - again, sell the 212.5 for 2.60 per share. The stock would have to trade above 215.10 before you would have been better off to buy and hold the stock (not adjusting for taxes).
Finally, another direction to take if you have solid gains in the stock, consider selling half (or all), bank your gains, and look for a better entry point.
Stock Price & Dividend Yield
3M has been chugging along nicely with a 2.27% yield and a 52-week stock increase of over 25% and almost 36% over the last two years.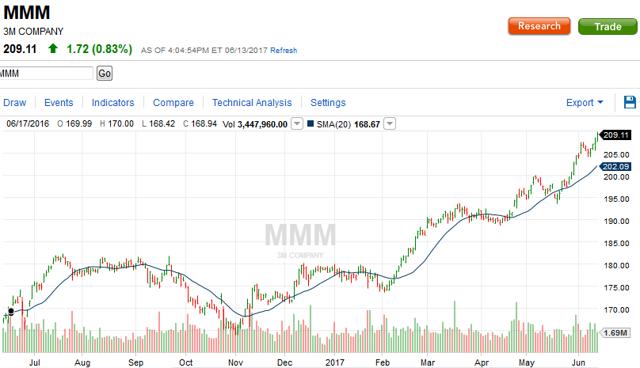 Source: Fidelity.com
In the 1Q17, 3M registered its 59th consecutive year of annual dividend increases. With the dividend yield at 2.27%, as well as the impressive dividend growth rate of 9.1% over the last 10 years, the buy and hold investor has done quite well in this stock - maybe too well. As stock performance is gained too easily, it is easy to forget about why the stock is doing so well. Removing the yield spike in 2008, one can see that 3M's yield generally rides in the 2-3.5% range. The relatively lower yield now might be pointing to an overpriced stock - at least from a historical perspective.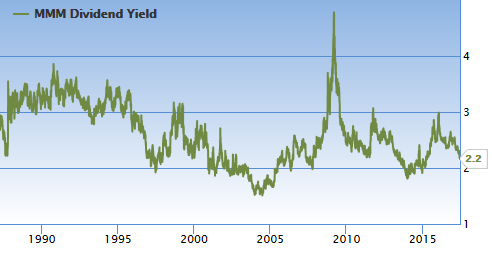 Source: GuruFocus.com

Source: GuruFocus.com
Technicals
3M's Relative Strength Index (RSI) is currently above 77. This could mean either that the stock is in a lasting uptrend or just overbought and therefore set to correct (stocks can stay 'overbought' longer than you can usually stay short). The MACD is positive and above its signal line. 3M is above its 20 and 50 day moving average (respectively at 200.93 and 196.35) and is currently trading at its 52 week high reached at 209.67 on June 14, 2017.
Support should be seen at 203.1; however, if the price breaks through this level, 199 and 197.3 are the next supports. Resistance is at 210.8 and 213.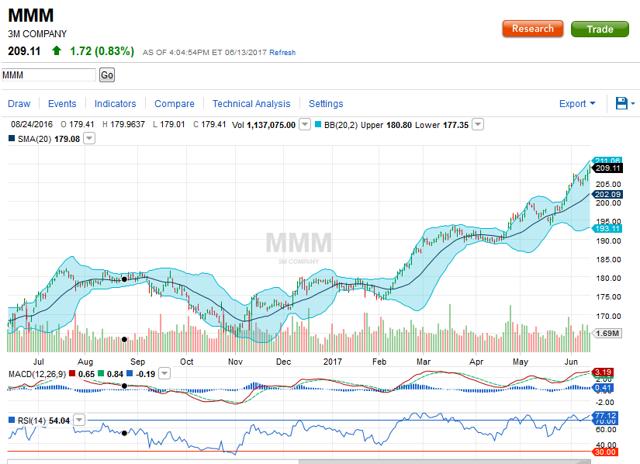 Source: Fidelity.com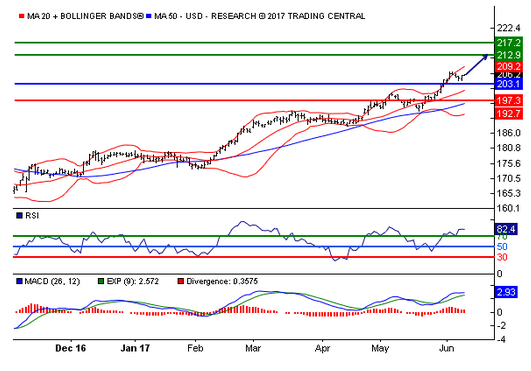 Source: Fidelity.com
Fundamentals
Overall, fundamentals look cautious for 3M. While it is hard to compare 3M with other very large, diversified companies, it does at least give the reader some comparison. There are a few key ratios that I like to look at, these follow.
As noted below, overall and segment sales did well year over year from 1Q16 to 1Q17. Gross profit slipped 0.8 points, but appears relatively minor, as their 1Q17 gross profit was a healthy $3.8B. Due to increased spending in SG&A as well as in R&D, operating income fell by 0.8% or 23.1% of sales primarily due to: increases in operating margin from organic volume and productivity of 1.2% and price increases of 0.5%; offset by, strategic investment costs (1.8%); higher pension and related costs (0.3); and, F/X activity of (0.4%). Earnings per share increased 5.4% from 2.05 in 1Q16 to 2.16 per share in 1Q17 primarily due to strong organic growth.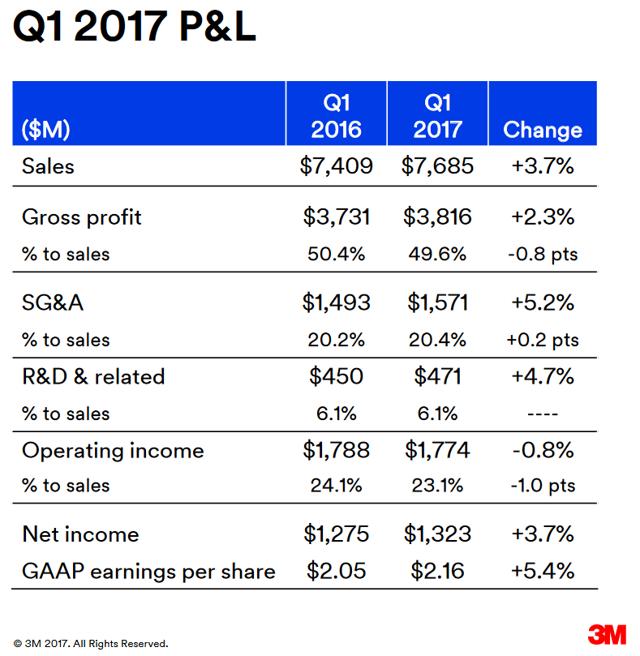 Source: 3M.com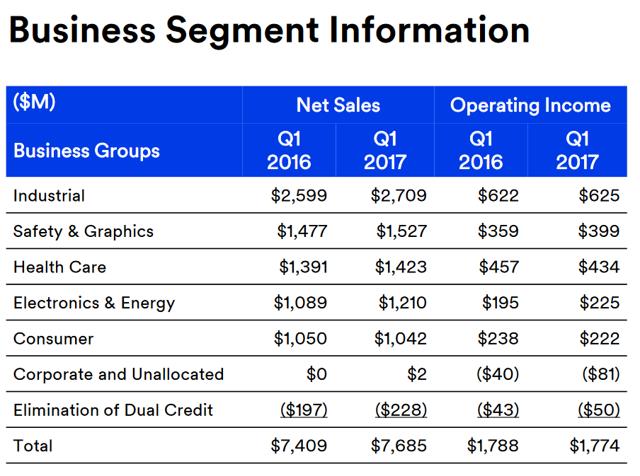 Source: 3M.com
As noted above, from an accounting viewpoint, things are looking good for 3M. The Street likes what it sees and, in my opinion, has pushed 3M's stock price beyond a reasonable level. 3M's price-to-earnings (P/E) ratio is higher than some of its peers and is currently at the highest level since 2009 at 25.29. Their Price/Earnings to Growth (PEG) ratio is mixed when comparing to peers. However, their PEG is towards the top end of historical records which points to 3M's stock being overvalued. The PEG compares the stock's price-to-earnings (P/E) ratio divided by the growth rate of its earnings and generally provides a more complete picture than the P/E ratio alone. From the table below, all of the ratios that compare price to another measure, all generally point to a possible overpriced stock.
3M generated free cash flow of $701 million, which was down $245 million year on year primarily due to higher pension contributions.

Source: Fidelity.com

Source: Fidelity.com
Insider Activity
While not a perfect indicator, it is interesting to view (legal) insider trading activity over a time period. Some investors believe there is a direct correlation to insider trading activity and the future stock performance. This will be a topic for another article. However, I generally don't think that insiders are that much better than the public in determining the direction of a stock. Many times, insiders exercise shares for a number of reasons, some of which have nothing to do with where they think the stock is headed.
MMM has consistent insider sales. Moreover, the volume is somewhat high compared to the number of shares that are held by insiders. As such, the activity seen in these trades might point to a stock reversal, which would appear to support the overpriced stock hypothesis made above.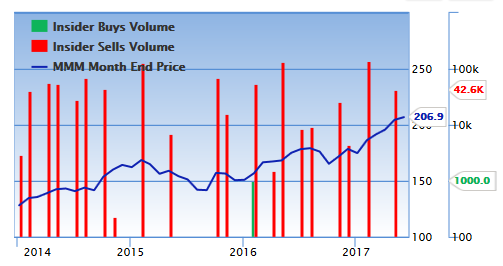 Source: GuruFocus.com

Source: GuruFocus.com
Summary
3M stock has had a great run and continues to be a solid company. It has a solid dividend track record and plenty of free cash flow to continue to pay its dividend for some time to come. However, market enthusiasm has pushed this stock to where it must meet adjusted expectations to just maintain its current price. I look for the stock to drop from its current price.
Additional Disclosure:
Thank you for your time in reading the above article. I read and write on a wide range of companies on a regular basis. If you would like to stay informed with articles like these, please click the "Follow" button at the top of this report and select "Get email alerts." If you have additional insights on the topic or contrasting views, please kindly share them in the comments section.
This article is intended to provide educational information to readers and in no way constitutes investment advice. Investing in public securities is speculative and involves risk, including possible loss of principal. The reader of this article must determine whether or not any investments mentioned in this article are suitable for their portfolio, risk tolerance and accepts responsibility for their decisions. Neither information nor any opinion expressed in this article constitutes a solicitation, an offer or a recommendation to buy, sell, or dispose of any investment or to provide any investment advice or service. An opinion in this article can change at any time without notice.
Disclosure: I/we have no positions in any stocks mentioned, but may initiate a short position in MMM over the next 72 hours. I wrote this article myself, and it expresses my own opinions. I am not receiving compensation for it (other than from Seeking Alpha). I have no business relationship with any company whose stock is mentioned in this article.