CNBC: 11:00 EST

After opening higher, the US stock indexes have been distinctly bearish in the first hour of trading, after a Virginia shooting involving several members of Congress. The Dow (NYSEARCA:DIA) opened at a new record high before falling off, which the S&P (NYSEARCA:SPY) opened roughly two points off of all-time highs.
Gold (NYSEARCA:GLD) and Japanese Yen futures are both stronger this morning, potentially showing investors taking an interest in risk-off assets before the FOMC announcement later today, but likely as well a reaction to the aforementioned shooting.
As a reminder, here's what the market is expecting from the interest-rate decision later today.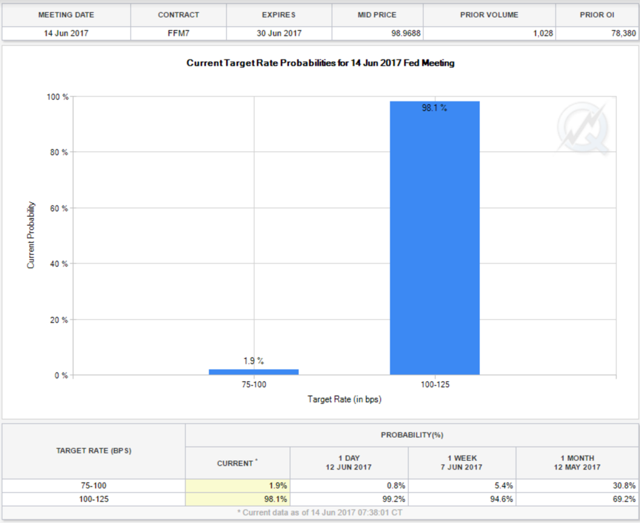 Source: CME FedWatch
Crude oil (NYSEARCA:USO) futures are trading lower by nearly 4% after EIA Inventories showed a surprise draw in stockpiles over the last week.
After some whipping around during the first hour of the session, the VIX is up roughly 3%, now printing 10.83.
CNBC: Tuesday Close

Stocks rebounded Tuesday ahead of today's FOMC interest rate decision as the tech sector (NYSEARCA:XLK) posted a firm 0.72% gain on the day. The Dow closed at record highs, and the S&P closed just five points from its own record high. After weakening earlier in the session, risk-off assets gold and Japanese Yen futures finished roughly flat. Crude oil futures closed about $.40 higher, despite falling after the API inventory reported a surprise gain in stockpiles.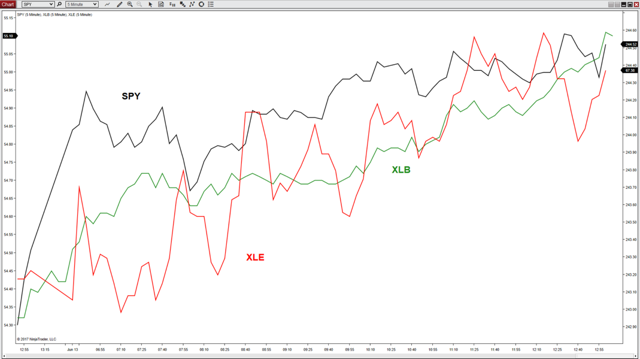 Source: The Balance of Trade
All S&P sectors closed positively yesterday, as the materials (NYSEARCA:XLB) sector bounced back from a dip on Monday, posting a 1.25% jump. Consumer staples (NYSEARCA:XLP) logged the weakest gain at 0.16%.
Shout-Out
Today we highlight a Monday morning article from SA contributor Lawrence Fuller, titled The Stock Market Is Not The Economy. In the piece, Mr. Fuller dissects scheduled news events such as factory orders, ISM and PMI Services, and others to determine the financial health of the consumer. He reaches the conclusion that while "the stock market may be marching upwards… the economy is heading in the opposite direction.
To begin, Mr. Fuller defines factory orders as the measure of change in the dollar value for both durable and non-durable goods orders, providing an update to the most recent report. April orders fell by 0.2%, dragged down by falling aircraft orders in the durable goods category.
3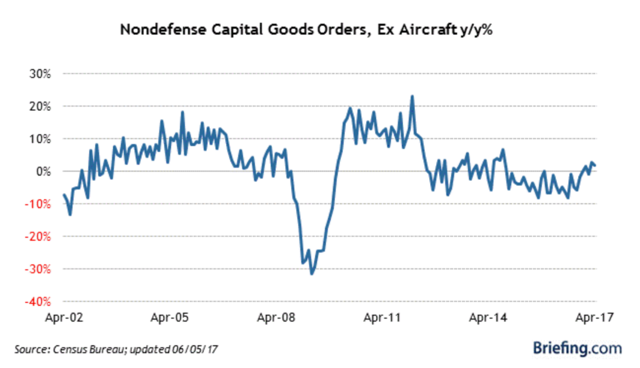 Source: Lawrence Fuller
Survey data, such as the ISM and Markit Services continue to show increased sentiment towards our current market, while the hard data we receive is often weaker than the surveys would suggest.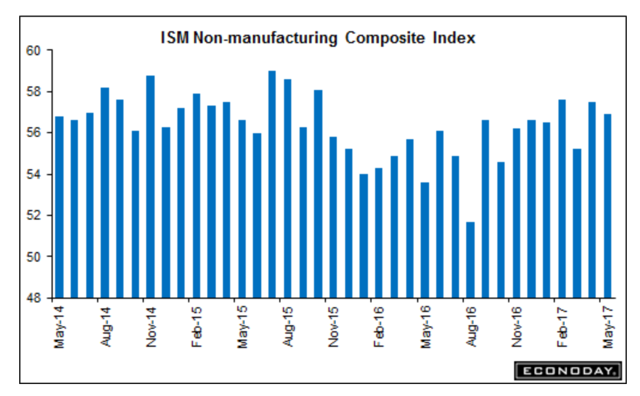 Source: Lawrence Fuller
While the ISM surveys show exports still growing, the plunge in export orders is concerning for Mr. Fuller. He states, "they have weakened demonstrably in this survey, which raises concerns about trade policy, considering the stronger readings we are seeing in foreign economies. The current reading for this index reflects a rate of economic growth of 3.1%, based on its historical precedent. I seriously doubt we will achieve this rate of growth based on the hard data to date."
Moving on to financial health of the consumer, the author notes a recent Moody's report which found the largest increase in credit card charge-offs since 2009 occurred between Q4 2016 and Q1 2017. Mr. Fuller describes the issue, "while the actual percentage of charge-offs for lenders is not that alarming, the rate of change in the increase is very concerning. It does not indicate a strengthening economy - it indicates just the opposite. It is also consistent with a weakening labor market and stagnant-to-declining gains in real income."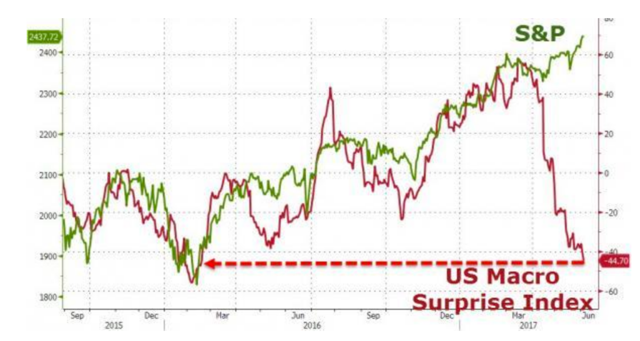 Source: Lawrence Fuller
To conclude, Mr. Fuller notes that while investors often assume that the financial markets move in lockstep with the economy, this is occasionally not the case.
"Remember that financial markets continue to be served hundreds of billions in liquidity every month by central banks, while most US consumers are starving for increases in income. This disparity is reflected in the chart above." In addition to this significant realization that investors must come to understand, Mr. Fuller mentions the Atlanta Fed's GDPNow model, which is gradually slowing along with the slowing in hard data.
Thoughts on Volatility
After a brief move higher from Friday into Monday, spot VIX values moved sharply back downward on Tuesday, losing nearly 10% as index markets stabilized ahead of today's FOMC interest rate decision. In the overnight session, the VIX is up marginally. Heading into the open, spot is printing 10.43, while F1 (NYSEARCA:JUNE) futures trade for 11.45, and F2 (July) futures are trading for 12.30.

There quick volatility compression we've seen recently is not only limited to the front of the VIX futures curve. That compression has been seen all the way through to the back of the curve, keeping F4-F7 contango in the area of 10%.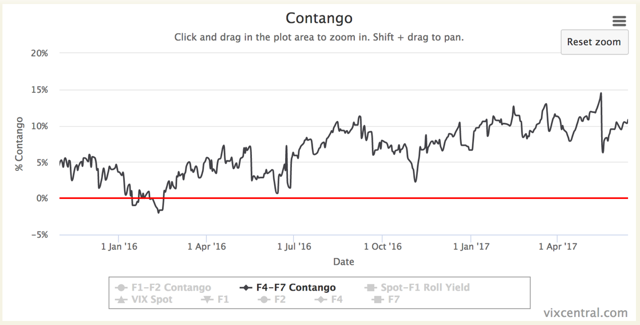 We've mentioned in the past that a heavy contango at the front of the curve makes it expensive to hold VIX ETPs such as VXX or TVIX; the same can be true for the mid-to-far end of the curve as well. Though not as commonly traded, ETPs such as the VIXM provide a mid-term exposure to volatility, and are consistently expensive to hold for a longer time period.
Finally, a brief look at a daily chart of the popularly traded volatility exchange-traded product XIV, since the beginning of 2017.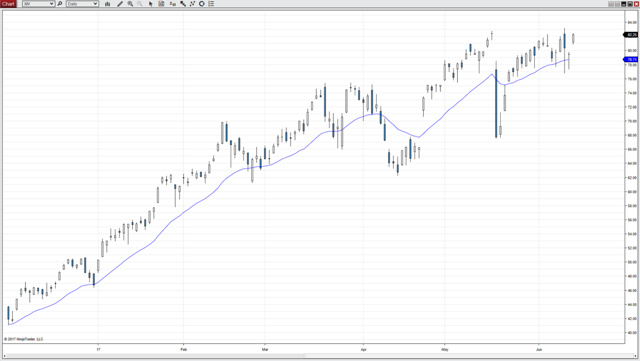 Source: The Balance of Trade
It is worth stating that while neither of us tend to trade equity products, many trading principles can hold true no matter the asset class.
Because it is quite obvious that XIV bulls have been in control of this product all year (and likely much longer), I would anticipate the move continuing, and therefore limit my positions to only longs. In a market this aggressively bullish, nearly any form of pullback is being bought back up through the highs. The difficulty in a market like this is to locate a likely entry area where there will be minimal risk, with a larger potential for reward.
So far this year, some of the best entries for XIV bulls have been buying at the close of large bear days and riding the move back up to the highs, especially if those days close underneath the moving average (in this case a simple 20-day). As always, we recommend trading with a small enough initial entry size that additional scale in opportunities are possible, all while keeping within your own personal risk parameters.

Organic at-the-money vol has maintained its overall shape from yesterday, though the monthly expiration has tilted to the higher side; this results in increasing weekly-monthly "contango", while simultaneously closing the gap between monthly-quarterly expirations. Recall that all of these vol figures are annualized, so that apples-to-apples comparisons in implied volatility are easier to make. This is very similar to rates markets, where one-month bills are still quoted as an annual rate.
We find that organic volatility is off its very lowest levels put in last Friday (when the VIX put in its lowest level since 1993!), but is still very much a bargain. When considering strategies for trading products related to the S&P or VIX (such as VXX, XIV, TVIX, etc), one really ought to take a glance at one the options markets are doing: this is where indexes such as VIX are ultimately sourced from (though they use a different basket than at-the-money options).
The straight fact in the options market is balancing two countervailing realities. First, realized volatility has been very low over the last several months; this is particularly true of the last few weeks. Second, volatility is ultimately mean reverting, and can revert powerfully and even overshoot. In August 2015, for instance, spot VIX went from 10.5 to 53 in under a week.
Shorting options - like shorting VIX - is an asymmetric proposition in that the size of losses on any contract greatly exceeds the size of gains. This is really the structural source of ongoing contango when spot VIX is this far below its long-term mean of about 19.50 or so.
Tracking the Trade
We have a Fed announcement coming up here, so we'll keep this short.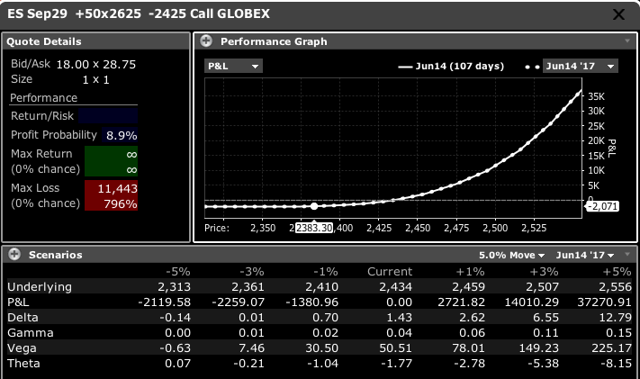 With the increase in ES since yesterday, the initial baseline trade that we've been following is up substantially: about $15 over the last couple days. Indeed, as we have discussed over the past couple weeks, the September 2625 calls that were dogs on Monday and even Tuesday morning, have since caught a bid again, sending this baseline spread on the rise.
We'd be happy to get you updated Greeks and pricing on our modified version of the spread, however with the Fed's release the trade screens are extremely jumpy and subject to immediate change at the moment.
Conclusion
We recommend that traders and investors take a broad view when considering a position in markets. Looking at the overall landscape, including factors such as volatility, can help frame one's outlook in accordance with risk tolerances and time horizons.
Thank you for reading Market Volatility Bulletin, and we hope you decide to share your thoughts.
Please consider following us.
Disclosure: I am/we are short SPY. I wrote this article myself, and it expresses my own opinions. I am not receiving compensation for it (other than from Seeking Alpha). I have no business relationship with any company whose stock is mentioned in this article.
Additional disclosure: We actively trade the futures markets, potentially taking multiple positions on any given day, both long and short. It is our belief that the S&P 500 is meaningfully overvalued. As such, we typically carry a net short-delta position using ES options and futures.